Sim Bullas had a brief professional baseball career in the United States in his early 20s, the peak of which was a 13-game spell with the American Association's Toledo Blue Stockings in 1884. By the late 1880s, it seemed that Bullas's prospects for a return to pro ball were limited indeed. But while he did not play again professionally in the States, a fortuitous link to a wealthy English industrialist led to a brief but fascinating foray into paid baseball overseas.

But let's start at the beginning. Baseball-Reference.com was updated in 2010 to record Sim Bullas as being born in England in January 1863, with the previous listing having been Cleveland, Ohio, in April 1861. The spark for the change was a discovery in the 1900 US Census made by SABR's Biographical Research Committee in 2008.[1] In accordance with this discovery is a pair of articles from 1890 in an English newspaper, the Lancashire Evening Post, one listing him as being "a native" of the Midlands town of Dudley[2], and the other explicitly stating that he was born there.[3] If this is the case, a record for Bullas should show up in a search of British birth registries and censuses; however, no such details seem to be available. Until the data from the US Census of 1900 can be corroborated in British records, it seems rash to make a definitive conclusion on the player's birthplace.

It is known that Sim had a brother namd Frank, who was around 10 years his junior. A census record for Frank notes that the brothers' parents were English-born. However, in line with the limited nature of the details available on Sim's birth, it may be unsurprising to learn that there is nothing more to report on the major leaguer's family members or early life. Nevertheless, the fact that he seems to have been born in England is of great interest in itself, as it tentatively places his name on the short list of major-league players who were born in Britain. This list includes, most famously, pro baseball pioneer Harry Wright and Bobby Thomson of "the shot heard round the world." Another noteworthy performer among this group is Dave Brain, a Herefordian who led the major leagues in home runs in 1907.

Bullas, a 5-foot-7 right-handed catcher and outfielder, earned a spot on the Blue Stockings' roster in 1884 after a spell during the previous year for a team in Youngstown, Ohio, which competed in the Western Interstate League.

In his 13 major-league games in 1884, 12 at the position of catcher, Bullas managed just three singles and a triple, for a batting average of .089. Unremarkable as his spell with the Blue Stockings was, he was there long enough to at least pick up a nickname. The fans in the home bleachers called him Bullets to acknowledge his ability to handle a group of strong arms. The pitching staff that year included Tony Mullane, an Irish-born ambidextrous hurler who compiled a record of 284 wins and 220 losses in an exceptional major-league career.

Also of note from Bullas's time in Toledo is that another catcher making his debut in the majors with the Blue Stockings that year was Moses Fleetwood Walker. Some baseball historians state that Walker was the first African American to play in the big leagues, while others give that title to William Edward White, who played in one game for the Providence Grays of the National League on June 21, 1879.[4] After the 1884 season, it would be more than six decades until the big-league color barrier was broken again, by Jackie Robinson.

Bullas also played during the 1884 season with Hamilton in the Ohio State League. The last record for him on Baseball-Reference.com is a stint with the Chattanooga Lookouts in the Southern League. For that club, in 1885, he posted a .153 batting average, with 26 singles and a pair of doubles from his 183 at-bats.

By the late 1880s Bullas was working as a metal molder in a foundry in Cleveland. In March 1890, the management at the foundry received a letter from an industry partner named Francis Ley, who operated a malleable castings factory in Derby, England. Ley had written to them to ask that any.two men who could work and play baseball be transferred from the Cleveland plant to his works in Derby in order to continue with their trade and also play for a team that was being entered in a four-team professional circuit in Britain that year. This league, the first of its kind in Britain, was in part a continuation of Albert G. Spalding's efforts to increase baseball's international popularity, which had seen him take two teams of professional ballplayers on a world tour in 1888-89. Sim Bullas was one of two men sent across from Cleveland that April in response to Ley's request. The other was John Reidenbach, a left-handed hurler. At Derby, the two men were managed by Ohio native Will Bryan on a roster otherwise filled out by native players.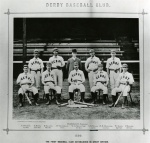 Opening Day in Britain's pro baseball league of 1890 was set for June 21, and the Derby nine quickly emerged as the strongest in the league. However, the team's use of the dominant southpaw Reidenbach was perceived by some to be against the interests of baseball in Britain. An agreement was reached in which pitchers from the States were to be used only in games between Derby and Aston Villa, the second strongest nine in the league, but when Derby was deemed to have gone back on this agreement the controversy erupted. In a game played during this eruption, Bullas caught 26 strikeouts from Reidenbach as the opponent, Preston, refused to strike at the ball, in order to protest against the use of Reidenbach in the box. The one out that did not result from three strikes was a caught stealing that followed a player reaching base on a walk.

As a result of the disagreement, Ley removed his Derby team from the league on August 5, reducing the circuit to a mere three teams. This may have come as some relief for Bullas, who had been ever-present as the team's catcher, despite having sustained a bad injury to his hand during the opening weeks of the season. "He must have suffered agonies with the pain at times," reflected the manager of one of Derby's opponents.[5] The gutsy catcher finished with a batting average of .279 in 118 at-bats; his hits comprised 23 singles, nine doubles, and a triple. Ley honored players' contracts up to September 1, and they were said to have been kept on with good jobs in the factory.

At the close of the British pro baseball season, Sim Bullas returned to the United States, and by mid-September he was reported—along with batterymate John Reidenbach—to have joined an amateur team in Cleveland. As a player, Bullas was described as "the life of [the Derby] team," and he was remembered in the town for some time after his departure.[6] In March 1891, for instance, Bryan wrote that Bullas was "asked about every day," with his friends being "legion."[7] Sadly, Bullas lived only into his mid-40s, passing away in Cleveland in January 1908.

Sources

In addition to the references cited within this biography, the author consulted the following sources:

Gray, Joe. What About the Villa?: Forgotten Figures From Britain's Pro Baseball League of 1890. Ross-on-Wye, United Kingdom: Fineleaf Editions, 2010

Baseball-Reference.com
---