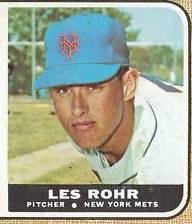 Amidst the wealth of pitching talent developed by the Mets in the 1960s, few hurlers arrived in the organization with as much promise as Les Rohr. But the big left-hander—the second player ever selected in baseball's amateur draft—would have only fleeting success in the big leagues.
Leslie Norvin Rohr was born on March 5, 1946 in Lowestoft, England, where his parents had met. His father, Norvin, was finishing a tour of duty with the U.S. Air Force and his mother Lilian, was a local girl. The family settled later that year in Billings, Montana. Norvin worked in Billings as a truck driver.
Les Rohr grew into a dominant amateur athlete, leading the Billings American Legion club to state championships and national appearances throughout the early 1960s. And as a senior at West High, Rohr compiled a 23->0 record and a 0.64 ERA. Scouts raved about his power arm and 6-foot-5, 200-pound frame. Following Rohr's selection in the amateur draft, Mets officials acknowledged having scouted him for four years.
Still hungry for talent and possessing a financial advantage over most of their competitors for amateur ballplayers, the Mets were strongly opposed to the implementation of the amateur draft, which baseball launched to put a drag on bonuses in 1965. But New York was more than satisfied to have come away with the 19-year-old Rohr with the second overall choice. Arizona State outfielder Rick Monday, the consensus top available amateur that year, went to the Kansas City Athletics with the first overall pick.
John "Red" Murff, the Mets' scout who 10 rounds after gathering in Rohr would sign Nolan Ryan, did not hold back his regard for his top choice. "He is as impressive as Ray Sadecki when the Cardinals signed him," Murff told Leonard Shecter of the New York Post following the draft, which took place in New York on June 7, 1965. Sadecki by then was a 24-year-old lefty coming off his first—and as it turned out, his only—20-win season.
"[Rohr] strikes out everyone," Murff continued, "and his own catcher is in danger of being injured. He should be a 20-game winner in the big leagues in a few years."
Mets assistant general manager Bing Devine described Rohr as having an overpowering fastball, rare poise for teenager, and an excellent move to first base. With negotiating help from his father, Rohr signed for about $55,000, including bonuses and was assigned to Class AA Williamsport, where despite a 4-6 record he posted an ERA of 1.84 over 12 starts.
Rohr spent part of 1966 at Williamsport again but this time was 0-6 with a 4.32 ERA. In Class A Auburn, he showed he could dominate hitters—striking out 91 in 82 innings—but also struggled with control, walking 53. "All he needs is to learn to move the ball around and improve [his] curve," according to a scouting report published in Baseball Digest in 1967. "[His] fastball is alive. If he continues improvement he has good future, even in the majors."
Military service commitments delayed Rohr's 1967 debut until July of that season. And after 33 innings at Class A Durham (during which he struck out 41 and fashioned a 2.45 ERA) Rohr was recalled to the Mets when rosters expanded in September. In his big league debut—a start on September 19 at Shea Stadium—Rohr threw six innings, struck out six, and earned the victory as the Mets defeated the Dodgers, 6-3.
Rohr beat the Dodgers again less than two weeks later in Los Angeles, outdueling Don Drysdale in a 5-0 Mets victory. He finished his first stint in the majors with a 2-1 record, a 2.12 ERA and 15 strikeouts in 17 innings. "That was something else, to pitch against someone like Drysdale and have a great game like that," Rohr was quoted as saying by mlb.com in a 2006 article. "I thought I was on my way after that."
But it wasn't to be. Although he made the Opening Day roster in 1968, an injury that Rohr suspects was sustained during a bizarre 24-inning affair at the Astrodome on April 15 hastened a trip to the disabled list and a long road back to NewYork.
That game, which began as a battle between respective aces Tom Seaver and Don Wilson, would eventually go down as the longest night game and longest shutout in baseball history (breaking the record of 23 innings set by the Mets in a 1964 loss; they later broke it in a 25-inning loss in 1974). Rohr, who had expected an off-day after throwing 20 minutes of batting practice that afternoon, was New York's eighth pitcher, entering the scoreless game in the bottom of the 22nd inning. He wound up as the loser in the 24th after Norm Miller led off with a single, was balked to second base and later—at 2:37 a.m. to be precise—he scored on an error by shortstop Al Weis. The bad hop on that play led to a change where ground crews would drag the infield every seven innings, regardless of how long the game lasted.
Rohr believes his strenuous day led to an elbow injury. "My arm swelled up real bad," after the game, Rohr later told mlb.com. In his next appearance, six days later, he couldn't get out of the fourth inning in a start against the Dodgers at Shea Stadium, surrendering eight hits, three walks, and three runs. He was summarily optioned to Class AAA Jacksonville and spent the summer rehabbing his arm over 10 games split between Jacksoville, Class AA Memphis, and Class A Durham.
Rohr spent the 1969 season primarily with Memphis, helping the Blues win the Texas League championship. In 21 starts, Rohr went 9-7 with a 3.18 ERA, striking out 116, and walking 52 in 150 innings. He was recalled to the Mets following the Texas League playoffs and got into one game, being charged with four runs in 1 1/3 innings in relief in an 8-2 loss to Pittsburgh at Shea Stadium on September 19. The Mets would clinch their first division title five days later.
Rohr struggled in 1970 at AAA Tidewater, posting a 5.65 ERA over 15 appearances. He also spent part if that season in Class AA Memphis, going 4.3, 2.89 for the Blues.
That October, the Mets traded Rohr to Milwaukee on a conditional deal but a physical by the Brewers revealed Rohr was suffering from a ruptured disc in his back. They returned Rohr to New York, and the Mets subsequently released him. Rohr reportedly had spinal fusion surgery and never played professionally again.
Rohr took on several manual labor jobs to support his family in Billings, which included his wife Jean and children Jason and Angela. He coached for many years for the same Billings American Legion team he'd played for as a teen, and in 2003 was inducted into the Billings American Legion Hall of Fame, named after its coach Ed Bayne. Orioles great Dave McNally, who was a legend in Billings when Rohr was growing up and faced the Mets twice in the 1969 World Series, was in the inaugural Ed Bayne Hall of Fame class a year before Rohr.
Rohr's major league record shows a 2-3 mark and a 3.70 ERA over six appearances and 24 1/3 innings. He won 27 and lost 37 over six seasons in the minor leagues. Rohr never achieved the greatness predicted of him because of injury, but he does have his place in history as the first player drafted in Mets history—and the second ever chosen.
Sources
Girandola, Chris. "Injuries Curtailed Rohr's Big-League Stint,", mlb.com.
Leone, Jack. "Baseball's Gone Autograph Hunting." Newsday, June 9, 1965.
Shecter, Leonard. "Mets, Yanks Pick Pitchers" and "The Drafters", New York Post, June 8, 1965.
"Billings American Legion Post 4 Baseball History" (billingsbaseball.org).
 "Gaspar of Mets Sent to Padres," New York Times. October 21, 1970.
"Mets Lose in 24th, Longest Night Game," New York Times, April 16, 1968.
 "Ultimate Mets Database" (ultimatemets.com)