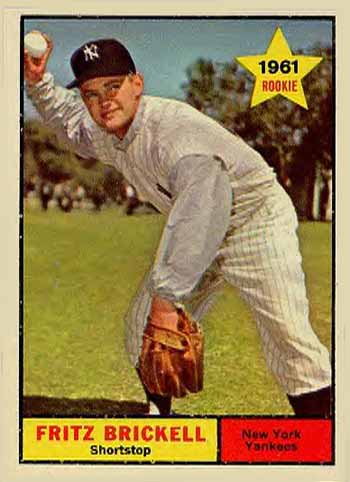 Fritz Brickell's biggest claim to fame is probably that he was the Los Angeles Angels' starting shortstop for the first seven games of their inaugural season in 1961. But he had a brief major-league career and died of cancer at the age of 30.
Fritz Darrell Brickell was born on March 19, 1935, in Wichita, Kansas. His father was George Frederick "Fred" Brickell, who was an outfielder for the Pittsburgh Pirates and Philadelphia Phillies from 1926 to 1933. His mother was Zerita Marie Himebaugh. He had a brother named Dudley. Fritz credited his dad with teaching him to swing hard and "to hustle, hustle, hustle."1 Fritz was not a big man, variously listed between 5-feet-5 and 5-feet-6 and around 150 or 160 pounds (baseball-reference.com says 157 pounds), and not particularly fast.
Brickell attended East High School in Wichita, where he appears in yearbook photos on both the football and basketball teams despite his lack of size, but not on the baseball team. He graduated in 1953 and was signed by scout Tom Greenwade of the New York Yankees after playing in the Kansas State semipro tournament. The Yankees sent him to Joplin of the Class C Western Association, where he finished the season.
In 1954 Brickell was a Western Association All-Star, when he hit .306 with 11 homers and 97 RBIs for St. Joseph (New York had moved its affiliation from Joplin), and earned an invitation to the Yankees' rookie school the following spring. He was assigned to Binghamton of the Class A Eastern League but was bothered by a pulled leg muscle2 for most of 1955, playing in only 97 games and slowing his progress. After the season Brickell married Mada Joan Butts in St. Joseph.3.
In 1956 Brickell moved to Birmingham, where he rebounded for a .281 season, earning another trip to the Yankees' school in 1957 and a promotion to Triple-A Denver, where he replaced Tony Kubek. Denver manager Ralph Houk said, "This boy Brickell is farther advanced right now than Kubek was at this same time last year."4
Comparing Fritz to Kubek, Frank Haraway wrote, "Brickell bounds around like a little rabbit, grabbing everything in sight and getting the ball away with amazing speed. Both are sure-handed. … Brickell hits the longer ball. He is an excellent pull-hitter and can hit the towering ball that goes for a home run as well as the sharp line drive to any field."5 He was listed as having a batting fault and a tendency to rush his throws, and told Haraway, "I'll bet three-fourths of my errors last year were throwing errors. My problem is to learn how much time I have and not hurry the throw when I don't have to."6
Ralph Houk said, "Fritz makes the play on the slow-hit ball coming in with the best of them." "And I don't know anybody any better at starting the double play from the ball hit into the third base-shortstop hole. He does that as well as any big leaguer I've seen. … At the plate he's improving all the time and has amazing power for a little guy. His power is to all fields, too, so the defense never knows quite how to play him."7
A scouting report in the March 1958 issue of Baseball Digest described Brickell this way: "Not ready. Strong arm, but erratic thrower. Agile, with good hands and gets ball away fast. Great hustler. Good minor league hitter. Will not hit big league pitching. Stands away from plate; likes low ball."
On April 22, 1958, Brickell was a guest on the CBS television program To Tell the Truth, on which celebrity panelists tried to guess which of three contestants was the one described by the host. Actor Jim Backus was the only one of the four panelists who correctly identified Brickell.8 Eight days later, on April 30, he made his major-league debut, entering the game as a defensive replacement after Bobby Richardson was batted for. He played again on May 11, but was returned at cutdown time to Denver, where he was "the darling of the Denver fans … for his fielding ability as well as his pixie appeal."9 At the behest of Yankee manager Casey Stengel, he was working on hitting to right field, and was hitting .266 in July, when he suffered a broken ankle.10 After recovering, he played for Licey in Dominican League that winter.
Brickell's stature rose a bit in the March 1959 Baseball Digest scouting report: "Handicapped by broken leg much of last year. Has quick arm and fair range. Hitting deficiency may keep him out of majors." Yankee catcher John Blanchard, who had played with Brickell in 1957 and 1958, told a sportswriter, "He's great at coming over the bag on a double play. He goes into both holes very well, and you ought to see him come in on slow-hit grounders. He's marvelous." 11
Brickell was recalled by the Yankees in June 1959 and on July 25 he hit his only major-league home run, in Detroit off future teammate Tom Morgan. Soon after, he was sent back down to make room for Clete Boyer. He did not report promptly and was suspended.
The March 1960 Baseball Digest scouting report said of Brickell that it was "questionable whether he could handle major league pitching for respectable average." He twisted his knee on opening day of that season while with Richmond. He returned on June 3 and spent the entire season there. His stock rose with the Baseball Digest evaluators in March 1961: He "could help some big league club and may stick with Yankees as utility infielder." By this time, Fritz was getting tired of the minors. He said, "I never really felt I had a chance to play in the big leagues. I know I was hurt down here last year, but the year before, Stengel hardly used me at all. I only played a few innings, then back to the minors I went. … You can't do anything if you don't get a chance to play. Ralph's given me the chance and I've been lucky enough to cash in on it."12
Brickell had a hot spring in 1961, hitting .368 in exhibition games, and that may have contributed to creating interest from the brand-new California Angels.13 Yankees general manager Roy Hamey had been trying to trade Brickell as an extra piece, but "found no great demand for him."14 Finally, Angels general manager Fred Haney offered pitcher Duke Maas, who had been picked from the Yankees in the expansion draft. Sportswriters in both cities lauded the trade as a steal (each from their own point of view).
The deal was completed on April 4, just a week before Opening Day. Four days later, on April 8, Brickell's father died unexpectedly of a heart attack at the age of 54. At his mother's insistence, Fritz remained with the Angels and was the starting shortstop on opening day, April 11. With the Angels already leading the Baltimore Orioles 7-0, Brickell made two errors on one play in the second inning, allowing the Orioles' first run to score. They were the first two errors in Angels history.
Brickell was the Angels' starting shortstop in their first seven games in 1961 and in 13 of their first 20 games. After a 3-for-11 start, he went into a 3-for-38 free-fall. He made his last start on May 8, and his last appearance on May 15.
Brickell was savaged in the local press. Braven Dyer wrote in The Sporting News, that Ken Hamlin and Brickell "try hard, but just don't have the speed and jump to cover the ground which a major league shortstop should cover."15 Hank Hollingsworth wrote, "Wasn't Willie Rigney carrying his Angel 'youth movement' a bit far by constantly playing the inept Fritz Brickell at shortstop and letting the very scrappy Rocky Bridges wither in the dugout? Mr Brickell isn't even close to hitting his weight ... and Fritzie's a mere 150-pounder."16 New York sportswriter Dick Young wrote, "Fritz Brickell makes the mistake of holding the bat far down on the end, like all little men who seem determined to prove they are sluggers"17 On May 24 the Angels sold Brickell to Triple-A Toronto. He hit a career-high .307 at Toronto that season, but never played in the major leagues again.
In 1962 Brickell played mostly third base. He spent some time on the disabled list with various knee problems, and finished the season in Louisville. He retired after the season because of injuries,18 and went into the sporting goods business in Wichita.19
By 1965 Brickell had contracted cancer of the jaw.20 Mickey Mantle held a hitting exhibition on August 29 for "Fritz Brickell Appreciation Night" at the National Semi-Pro tournament in Wichita. Brickell died on October 15 in Wichita. Funeral services were held at the Broadway Mortuary in Wichita. Pallbearers included former teammates Dick Sanders, John Blanchard, Mark Freeman, Frank Leja, Deron Johnson, John Gabler, and Sam Suplizio. He was buried in Memorial Park Cemetery, St. Joseph, Missouri. 21
He was survived by his wife, Joan; son, Mark; daughter, Laura; brother, Dudley; and his mother, Zerita Brickell. (His mother married Hall of Famer Burleigh Grimes later that year. She died in 1974.)22 Fritz's wife, M. Joan (Butts) Brickell, died on September 15, 2001 in St. Joseph.23
Brickell was inducted into the Kansas Baseball Hall of Fame, part of the Wichita Sports Hall of Fame, in 1976. He joined his father as the only father-son combination in the Kansas Hall.24
Sources
Baseball Register, 1961
Baseball Digest
The Sporting News
Brickell's clipping file at the Baseball Hall of Fame (newspapers typically not identified)
Retrosheet.org
Notes