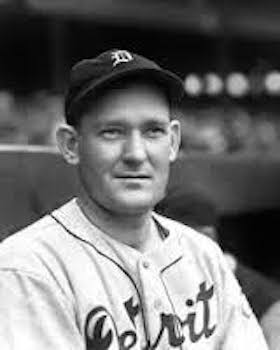 ---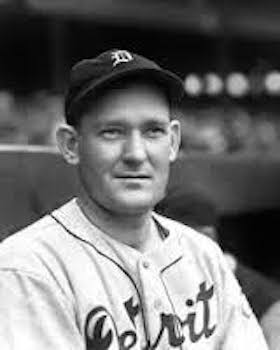 "Al Benton, 45, once the relief pitching ace of the Tigers, now partly blind, was one jump ahead of the FBI on a car-theft charge today."1
That's the kind of news story that attracts attention. Indicted in May 1957 on charges of driving a stolen car from Sacramento to Oklahoma City three years earlier, Benton had been located in June at a hotel in Pontiac, Michigan. He fled when he learned that the agents had found him, and it took until October to arrest him in Salinas, California. He was also sought by Detroit police for questioning regarding cashing some phony checks. In January 1958, his attorney said that the check forgery charges had been dismissed after a $150 money order had been sent to make restitution. Benton was reportedly working at the time as a car salesman in Los Angeles.2
Let's focus first on his life as a ballplayer.
John Alton "Al" Benton was born in Noble, Oklahoma, on March 18, 1911. His father, Wood Benton, was a farmer from Texas and his mother Annie was a native Oklahoman. He had two older brothers, Ralph and Ray. His father died when he was young and he and his brothers were raised by their mother. He attended public school in nearby Wayne, Oklahoma, through the 11th grade. He played one year of high school baseball and one year of semipro ball.
Benton was a right-handed pitcher with a major-league career spanning the years 1934 through 1952. He stood 6-feet-4 and was listed at 215 pounds.
Benton's professional baseball career began in 1931 with the Lincoln Links in the Class-D Nebraska State League. He pitched 142 innings with a record of 8-7 and an earned run average of 6.15. He also pitched in seven games for the Class-A Western League's Oklahoma City Indians; there he was 2-1 (5.34.) For the next two years, he pitched for Oklahoma City as well, working over 200 innings both years. During February 1933, he married Moneta Richardson.
In 1934, Benton debuted in the major leagues with the Philadelphia Athletics. Scout Ira Thomas had recommended three pitchers from the '33 Oklahoma City team: Benton, Vern Kennedy, and Harry Matuzak.3 The Athletics' Connie Mack signed all three, and all three made the majors.
Benton's first game in the big leagues, a 4 2/3-inning relief stint, came on April 18, 1934, at Shibe Park against the New York Yankees. He squelched what was a four-run rally in the top of the fourth, and allowed just two more runs over the course of his work. On April 25, Connie Mack gave him his first start, at Yankee Stadium. He pitched seven innings, yielding but two runs, but lost the game. His first win was more than a month later, on May 30, a complete-game 5-3 victory over the visiting Red Sox. It was his first home start, and he singled to drive in the fifth run in the bottom of the eighth.
He won some and lost some as his first year wore on, finishing with a 7-9 record and a 4.88 earned run average, marginally better than the fifth-place Athletics' team ERA of 5.01.
In 1935 his starts declined from 21 to 9, and his ERA ballooned to 7.70. His record was 3-4. He worked in 12 games at Class-A Williamsport over the last month and a half of the season. He was at the time a "thrower" – relying almost exclusively on his fastball and without a curve or a change of pace.4 The next two seasons were spent in the minor leagues – 1936 with Albany (3-11) and Chattanooga (6-6) from early July. Both were Washington Senators farm teams where he worked on option. He was recalled to Philadelphia in October.
He hurt his hand while fielding a drive back to the box during a March exhibition game in Mexico City; the hand became infected and he required hospitalization. On April 8, 1937, considered as something of a castoff by Connie Mack, Benton was one of four players traded to Memphis in the Southern Association for pitcher Lynn Nelson. In Memphis, he was 16-16 with a 3.65 ERA. On August 14, his contract was purchased outright by the Detroit Tigers.
Benton started the 1938 season with the Tigers, was optioned to Toledo at roster cut-down time in mid-May, then recalled at the beginning of August. He worked six complete games in the last couple of months, wrapping up 1938 with a 3.30 ERA and a 5-3 record.
He started about half the games in which he appeared, both in 1938 and 1939 (he was 6-8, 4.36 in 1939), but became a full-time reliever in 1940. Working in 42 games, he led the majors with 17 saves (a statistic that was calculated later), though his record was 6-10, 4.42. The Tigers won the pennant, losing the World Series in seven games to Cincinnati.
Manager Del Baker said, "We never could have won the pennant without him. He saved game after game where he didn't pitch an entire inning. He was in a tough spot every time he walked to the box."5 Nonetheless, in the Series itself, Baker had him warming up in the bullpen on one or more occasions but never called on him to pitch. Benton did, however, receive a full Series share. Bobo Newsom was 2-1 in his three games, working all but one inning of his three starts. In the spring of 1941, Newsom declared of Benton, "There is the best relief pitcher in the business right over there. There's a man for you. Works harder and better'n anybody I ever saw. You don't mind leaving a game in his hands when you gotta go."6
Benton was an All-Star in both 1941 and 1942, putting together back-to-back years of considerable success mixing starting and relieving. He was 15-9 with a 2.97 ERA in 1941, and improved his ERA to 2.90 in 1942, though his won/loss record was 7-13. He didn't appear in the 1941 All-Star Game, held at Detroit's Briggs Stadium, but he pitched the final five innings of the 1942 game, in relief of Spud Chandler, giving up just one run on the way to an AL 3-1 win. Benton was credited with a save and not the win.
There was one remarkable game for Benton at the plate, on August 6, 1941. During an 11-run inning against the Indians, he set a record by sacrificing twice in the same inning.
Benton was never much of a hitter. Over the course of his 14 seasons in the majors, and 579 plate appearances, he batted .098. He had 14 career RBIs.
After the 1942 season concluded, Benton joined the United States Navy. He missed the full seasons of 1943 and 1944, but was discharged (due to migraine headaches) in time to rejoin the Tigers in April.7 He'd played baseball in the Navy and reportedly won 39 games in his two years.8 He became a starter for Detroit, starting in 27 games and closing in four others. He won his first five decisions, three of them shutouts. The first game he lost was a 1-0 defeat against the visiting Senators. He would have appeared in more games, but was out for 40 days after being struck by a line drive that broke his right ankle in the May 24 game against Philadelphia.
Despite the two years off, he worked to an ERA of 2.02 and a record of 13-8, third only to Hal Newhouser and Dizzy Trout, and the Steve O'Neill-led Tigers made it to the World Series. They beat the Cubs, four games to three; this time Benton saw some action. As it happens, the three games in which he appeared were the three games the Tigers lost, but he worked 4 2/3 innings, gave up one run, struck out five and walked no one. He might have had a chance to win Game Three, but Claude Passeau of the Cubs threw a one-hitter.
The 1946 and 1947 seasons again saw Benton with split roles – starting and relieving in more or less the same number of games, a little heavier on the relieving side in 1947. His earned run average began to climb, to 3.65 in 1946 and 4.40 in 1947. In 1948, Benton was hampered by a back injury early in the season. He was used exclusively in relief, working in 30 games with a further deterioration of his ERA to 5.86 and a 2-2 record. On December 2, the Tigers unconditionally released him; the AP story said he had been "overweight."9
Benton's career was not over yet, however. He appeared in four games for Sacramento before his contract was sold to the Cleveland Indians on April 19, 1949. Reserve infielder Fred Marsh was optioned to Sacramento as part of the deal. .
Benton was very effective for the Indians in 1949, though they failed to repeat as pennant winners. He started 11 games, closed 18, and worked relief in another 11, pitching to a record of 9-6 with an ERA of 2.12. He had a brief role in the 1949 film, The Kid from Cleveland.
He worked in 36 games, all in relief, in 1950 and was 4-2 with a 3.67 ERA in 63 innings, about half the load of the year before. After the season, a newspaper story emerged saying that Benton was being sought on charges of passing bad checks to Lakeland, Florida, service stations.10
His 1951 season was spent in the Pacific Coast League, working in 25 games for Sacramento and 18 for San Diego.
At age 41, Benton began the 1952 season with San Diego and was 6-1 when the Boston Red Sox purchased his contract on June 27 and brought him back to the big leagues. Boston sent pitcher Bill Henry to San Diego.
Benton put in a fair amount of work for the Red Sox, relieving in 24 games. He recorded a very good 2.39 ERA in 37 2/3 innings of work. His won/loss record was 4-3. Weight was apparently an issue; he was said to have weighed 240 pounds and there was reportedly a sign in the Fenway Park clubhouse that read, "No potatoes or biscuits for Benton."11 He did have the opportunity to pitch against rookie Mickey Mantle several times in 1952, earning the distinction of being the only big-league pitcher to have faced both Babe Ruth (in 1934) and Mantle (1952) in the major leagues.
Benton returned to San Diego, at his request, for one more year of baseball in 1953, working in 50 games as a reliever (6-6, with a 2.85 ERA). Following the season, he retired.
He apparently took up work as a car salesman, and was jailed for a while on the charges reported at the beginning of this brief biography. San Francisco police released him a day after his arrest when San Diego authorities dropped charges on a 1954 bad check (forgery) charge against him after the restitution was made.12 He was given a year and a day suspended sentence and five years' probation on the stolen auto charge.13
Benton was working as a motel manager at the Southern Motel in Lynwood, California, when an accidental explosion in a motel room burned him severely. He died in St. Francis Hospital of the "extensive thermal burns," on April 14, 1968.14 He was survived by his wife, Moneta.
Sources
In addition to the sources noted in this biography, the author also accessed Benton's player file and player questionnaire from the National Baseball Hall of Fame, the Encyclopedia of Minor League Baseball, Retrosheet.org, Baseball-Reference.com, Bill Lee's The Baseball Necrology, Rod Nelson of SABR's Scouts Committee, and the SABR Minor Leagues Database, accessed online at Baseball-Reference.com.
Notes
Born
March 18, 1911 at Noble, OK (USA)
Died
April 14, 1968 at Lynwood, CA (USA)
If you can help us improve this player's biography, contact us.
http://sabr.org/sites/default/files/BentonAl.jpeg
600
800
admin
/wp-content/uploads/2020/02/sabr_logo.png
admin
2016-10-10 16:44:06
2016-10-10 16:44:06
Al Benton