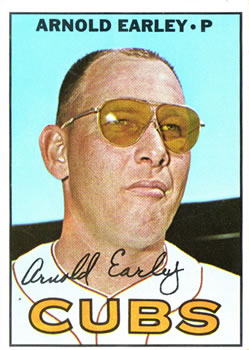 ---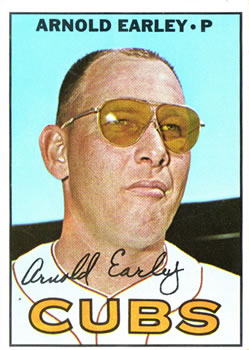 Arnold Carl Earley wound up in the same field of work his father had pursued — a policeman. His father, Walter Earley, was a city policeman in Lincoln Park, Michigan, at the time of the 1940 United States census. Born in Lincoln Park on June 4, 1933, to Walter and Edna (Tiedeman) Earley, Arnold was the second of nine children, preceded by Arthur and followed by Willa Mae, Ruth Ann, Doris, Earl, Jean, Joan, and Wally.1 Walter was a native of Missouri; Edna was a Michigander.
Arnold grew up in Lincoln Park, attending Calvary Lutheran School for eight years and then Lincoln Park High School for four. The high school yearbook shows him on the baseball team.
Earley was signed by Boston Red Sox scout Maurice DeLoof on July 3, 1952.2 Earley was 6-feet-1 and listed at 195 pounds. He was invited to Ocala, Florida, in the spring of 1953, where three bonus rookie pitchers were invited to Red Sox minor-league camp, two from colleges — Dick Sisler from Princeton, and Al Antonelli from Colgate — and Earley, who had left high school to go pro. The camp included Red Sox farm teams in Albany, Greensboro, Roanoke, and Salisbury, and was overseen by assistant farm director Charlie Wagner and Greensboro manager Eddie Popowski.3 The three returned to their schools and were assigned to different teams in June.
Earley pitched for the Roanoke Red Sox; he didn't pitch much — in six games and 16 innings, he was 0-2. He later moved to Greensboro (also a Class-B team), but pitched only rarely. In fact, when he was brought into the August 23 game against Fayetteville, he hadn't pitched for six weeks and wound up walking the first five batters he faced. The first four batters didn't even take a swing.4 He appeared in one other game for Greensboro and was 1-0 on the season. Earley also appeared in one game for the Albany Senators, without a decision. On September 24 he married Phyllis Sergent.
Earley was called to military service, entering the United States Army on the 12th anniversary of the attack on Pearl Harbor — December 7, 1953, and discharged on December 7, 1955. As happened with a number of ballplayers, "a baseball-buff officer kept Earley from going overseas so he could pitch for the camp baseball team."5
The Red Sox asked him to pick up where he had left off, and Earley put in another season with Greensboro in 1956. Before spring training, he told the Boston Traveler that if it weren't for baseball, he'd want to be a policeman.6 He had caught Red Sox farm director Johnny Murphy's eye early in spring training. Murphy said, "Looks like he might make a big leaguer."7 Scout DeLoof thought he would be better than another highly-touted prospect, Frank Baumann.8
He hadn't lost anything; he had a 3.10 earned run average and a record of 8-10. He started in 21 of his 26 games and at one point had three shutouts in four starts, and he was named an All-Star in midseason. But his season came to a quick conclusion on July 26 when he fractured his left leg in a game against the Wilson Tobs.
Advanced to Class-AA for 1957, he held his own, with a 3.28 ERA, 6-13 mark with the Texas League's Oklahoma City Indians. He was kept busy; he started 22 games and relieved in 18 others. He walked more batters than he struck out, though, 110 to 103.
In 1958 he again split his time between starting (17 games) and relieving (20 games) for the Double-A Memphis Chicks. He had a 4.01 ERA and a record of 6-13. He struck out 90 but walked 93. He also pitched in two games for the Triple-A Minneapolis Millers and was 1-0.
When 1959 began, at least one veteran Boston sportswriter, Joe Cashman, wrote, "Arnold Earley is a long way from being a major leaguer."9 He was, in fact, assigned to Single-A ball, and pitched for the Allentown Red Sox. He improved his walk-to-strikeout ratio (27-66) but he didn't appear in all that many games (16, 8 starts) with a record of 2-5 (4.82) due to an injury sliding back into first base on May 20. He was only out a few weeks, but simply was not used much during the season. He did get called up to the big leagues in September 1960.
Earley's call-up came after working the season for the Indianapolis Indians (Triple A, American Association), where he had a 3.96 ERA with a 6-10 record, striking out 89 and walking 42. He started 16 games but was used more in relief, pitching in another 22 games. Being a lefty gave him an advantage.
Pinky Higgins was the Boston manager, having replaced Billy Jurges before midseason. The team was pretty solidly in seventh place. Earley's debut came at Fenway Park against the Baltimore Orioles on September 27. Ike Delock had started the game, but given up five runs in an inning and two-thirds. Earley was brought in with nobody on base, asked to get the final out in the top of the second and then keep on. Unfortunately, he walked the first two batters he faced and then gave up an RBI single to Jim Gentile, before he got Brooks Robinson to fly out. He gave up a double, but saw no scoring in the third. In the fourth, he was knocked out of the game. He secured two strikeouts, sandwiched around two singles, then threw back-to-back wild pitches, allowing a run to score. That batter (Robinson) walked, as did Ron Hansen behind him, then Gus Triandos singled to drive in two. It was 9-0, Orioles, and Hansen scored after Earley had been removed. The final score was Baltimore 17, Boston 3.
The next day was September 28 and Ted Williams hit a home run in his final at-bat in the major leagues.
On October 2 the season ended in Yankee Stadium. The Red Sox held a 6-5 lead when Earley was inserted to pitch the bottom of the seventh. He got through the inning, and saw the Red Sox add an insurance run in the top of the eighth. He needed it; a leadoff triple in the bottom of the inning let to the lead tightening once more, now 7-6. And in the bottom of the ninth, a leadoff single and a Dale Long home run into the New York bullpen gave the Yankees a walk-off win and Earley his first decision, a defeat. His ERA for the two games was 15.75. The 89 losses for the Red Sox was the most they had suffered since 1932.
Earley split his 1961 season between Seattle and Boston. He'd been treated near the end of spring training for a back problem that had hampered him in 1959 and proved to be a congenital problem with three vertebrae. He'd been told his baseball career may be over. But training in more-humid Florida with the Seattle Rainiers at DeLand, rather than with the Red Sox in Scottsdale, Arizona, seemed to help him.10 He opened the season with Seattle. Earley had also started to wear eyeglasses, which might explain his improved strikeouts-to-walks ratio.
The Seattle Rainiers were Boston's Triple-A club at the time, like Pawtucket in the early twenty-first century but 3,000 miles further away. He started in Seattle, before being brought to Boston at the very end of June. With the Rainiers under manager Johnny Pesky, he had worked solely in relief, throwing 37 innings in 28 games with a 4-1 record a very enviable 1.22 ERA. The Red Sox played an exhibition game against the Rainiers in Seattle on June 19 and he held them scoreless for six innings. He'd earned a shot at the majors.
His first game with Boston in the 1961 season was on June 29 (he was called up after Chet Nichols's hand was broken), but he was used frequently after arriving. That first game gave him his first big-league victory. The Red Sox had a 7-3 lead over the Twins in Minneapolis, but with the bases loaded in the bottom of the fifth, it seemed to be time to take out the starter, Don Schwall. Earley got them out of the inning and pitched the rest of the game, allowing just two runs.
He appeared in 33 games, closing 22 of them and earning seven saves. In wins and losses, he was 2-4 (3.99). One of the losses reflected difficulty with fielding; he threw wildly on an 11th-inning play on August 13 in Baltimore. The Red Sox had taken a 5-4 lead in the top of the 11th, Mike Fornieles had allowed two singles. With two left-handed batters coming up, Earley was brought on to relieve Fornieles. Earley fielded a bunt and threw to third base, but so wildly that even the baserunner on first base was able to round the bases and score the go-ahead run. Over the course of his career, Earley committed 11 errors in 97 chances (.887).
His pitching suited the needs of the Red Sox of the day. For the next four seasons, Earley was in the big leagues.
There was optimism heading into 1962, but it was the year he struggled the most — witness his 5.80 ERA. He was 4-5. Before the season began, Bill Liston wrote an appraisal in the Boston Traveler that ran under a six-column headline; he wrote that "Bespectacled Arnold Earley is a late-blooming southpaw who could end up becoming one of the top left-handed relief pitchers in baseball."11 Instead, he had an off-year. Earley was with the team all year, not losing any time due to injuries. He just wasn't that good, and not used that much, though his 68 1/3 innings reflected work in 38 games (three starts — one a win, and two as losses). His first start was the win, on July 14 in Kansas City against the Athletics. He pitched eight shutout innings before he tired; he got a 4-2 win.
Dick Radatz stood out among Red Sox relievers that year, with 62 appearances and a 2.24 ERA. Earley and Chet Nichols shared the left-handed reliever duties; Nichols pitched in 29 games.
In 1963, Johnny Pesky became the manager in Boston. This was the season in which Radatz was 15-6, 1.97, all as a reliever. Earley and Nichols were the two lefties in the pen, Earley used more than twice as often. He worked in 53 games, with a career-high 115 2/3 innings. His record was 3-7, 4.75. He struck out 97 and walked 43. He was 2-2 in four spot starts.
Pesky had liked Earley since they had worked together in Seattle. The pitcher didn't live up to Pesky's hopes in 1963, but he excelled in 1964. Before the season began, he was said to be the "only left-hander on the Sox staff who has ever won a game in the majors."12 As of July 1, Earley had an ERA of 1.88 and earned himself the opportunity to try again as a starter. It was, wrote Tom Monahan of the Boston Traveler, a chance to "finally break the shackles of mediocrity that has marked his career with the Red Sox."13
He gave up four runs in five innings and lost the July 11 start, but on July 15 pitched a complete-game 11-2 win, scattering four hits. A third start, on July 19, resulted in a no-decision. Much worse, he had to leave the game in the seventh after wrenching his elbow throwing a pitch that was a called strike. It was the last he pitched in 1964. Even after a couple of days' rest, he could neither lob the ball nor throw it underhand.14 Six days later, the decision was taken; he was out for the year. It had been his best season, reflected in his 2.68 ERA (1-1, in 25 appearances.)
He recovered well and made the staff again in 1965, this time used only in short relief stints. He was used in 57 games, but for a total of 74 1/3 innings. His ERA was 3.63.
The Earleys made their home in Indianapolis, but in the summers Phyllis and their four children made their way to Boston where they stayed at a hotel near the ballpark. "Arnold can walk to the ballpark," Phyllis Earley said, "I can do my laundry in a nearby laundromat, cook our meals in an electric frypan, or eat out, depending on how we feel, and the children can spend the day in the pool."15 Arnold worked in construction during the offseasons to help ends meet.
It was perhaps wise that the Earleys hadn't purchased a home in the Boston area. On December 15, less than six hours before the interleague trading deadline, he was dealt to the Atlanta Braves with first baseman Lee Thomas and a player to be named later (Jay Ritchie) for two right-handed pitchers, Dan Osinski and Bob Sadowski.
He never pitched for the Braves. They assigned him to their Triple-A club, the Richmond Braves, at the start of the 1966 season. He was 2-4 (3.91) in 23 innings (12 games), before being traded (with Marty Keough) to the Chicago Cubs for John Herrnstein on May 29. Earley pitched in 26 games for the Cubs' Triple-A team in Tacoma (3-3, 2.61) before being called up to the big leagues again. He first appeared for Chicago on July 31 and stuck with the team for the remainder of the season, going 2-1 (3.57).
It was back to the Tacoma Cubs in 1967, until he was traded to the Houston Astros for second baseman Marv Breeding of the Oklahoma City 89ers (the Astros' Triple-A affiliate) on June 27. Houston brought him up from the minors on July 18. He pitched in two games — giving up two runs (one earned) in a full inning on July 22 and then, in just one-third of an inning on July 25, giving up three earned runs.
He appeared in a combined 39 games for Tacoma and Oklahoma City, with a 2-1 (2.90) record.
Back in June 1966 he had said, "I'm not going to be a baseball bum. Baseball owes me nothing. I've made a living, had a lot of fun. When it stops being fun, I'll quit."16 The time had arrived. The 1967 season was his last in professional baseball.
He and the family moved to Flint. Michigan, and from 1969 through 1977 he was employed as a sheriff's deputy with the Genesee County Sheriff's Department — in the same field of work his father had pursued.17 Son Don Earley says, "He'd gone down to the sheriff's department and the sheriff at the time happened to be a big baseball fan. One thing led to another and Dad had a job. He became a certified sheriff."18
There was one interlude, however. Phyllis Earley worried that Arnold would get hurt in law enforcement, so he took a position with General Motors.19 His son Don says, "He worked at A.C. Spark Plug for a while. He was like an inspector. He inspected parts on the line. With his fame in baseball, he wasn't just a normal manufacturer laborer. They kind of gave him a better job, I guess you would say. Dad wasn't one who liked to be cooped up. He came home one day and told my mom, 'I can't work in a shop. I can't be closed in.' So it was back to the sheriff's department."
Earley, who had left high school to play professional baseball, earned his GED (General Equivalency Diploma) in 1974. His daughter Susan graduated high school in 1974, so both father and daughter earned diplomas in the same year.20
In 1977, though, he had a massive heart attack. "That pretty much ended his law enforcement career," Don said. "He was on permanent disability from them on. He got a little stir crazy around the house and he went back into coaching. Jim Abbott — the one-armed ballplayer — Dad actually coached Jim in Davison, Michigan. He worked with Jim back when Jim was younger — 14 or 15-year-old baseball. 16-year-old baseball."21 He also coached the Michigan State Police softball team at Flint for a few years, and a number of Little League teams over time.
He was otherwise active in the community, with involvement with the Peace Lutheran Church. Among other things, he helped out with lawn maintenance, riding the mower. He also enjoyed golf, and was active with the Flushing Rifle and Pistol Club in Flushing, Michigan, taking part in a number of competitive pistol tournaments, winning a number of prizes. Phyllis Earley played banjo with the Flint Banjo Club for quite a few years.
On September 29, 1999, Arnold Earley died at home. He had suffered a number of health issues after the heart attack (he required open heart surgery in 1982) and the cause of death, while inconclusive, may have been congestive heart failure. He was survived by his wife Phyllis, sons Gregory and Don, and daughters Susan Kay and Karen, and eight grandchildren. He is buried in Sunset Hills Cemetery.
Sources
In addition to the sources noted in this biography, the author also accessed Earley's player file and player questionnaire from the National Baseball Hall of Fame, the Encyclopedia of Minor League Baseball, Retrosheet.org, and Baseball-Reference.com. Thanks to Ben Sergent, and to both Don Earley and Karen Earley Smith.
Acknowledgments
This biography was reviewed by Norman Macht and fact-checked by Jeff Findley.
Notes
1 Communication from daughter Karen Earley Smith on January 7, 2018.
2 Per Edna Earley responding to an inquiry by the author in March 2003, and submitted by the author to SABR's Scouts Committee on March 26, 2003. See also Ken Williams, "Radatz Nearly Was By-Passed," Boston Globe, June 16, 1963: 73.
3 Smith Barrier, "Routine Drill Tops Pat Daily Session," Greensboro (North Carolina) Daily News, April 9, 1953: 19.
4 Earle Hellen, "Pats Break Out of Hitting Doldrums But Team Faces Tough Week Ahead," Greensboro Record, August 24, 1953: 24.
5 Hy Zimmerman, "Early on the Rise — A Puzzler to the Medics," Seattle Daily Times, May 9, 1961: 38.
6 "Future Book," Boston Traveler, February 11, 1956: 6.
7 Sam Cohen, "Red Sox Farm Chief High on Kid Hurler," Boston Daily Record, February 21, 1956: 16.
8 Arthur Sampson, "Earley Potential Red Sox Ace," Boston Herald, February 21, 1956: 32.
9 Joe Cashman, "Casale Best Bet As Red Sox Starter," Boston Daily Record, April 2, 1959: 27.
10 Hy Zimmerman. See also Hy Hurwitz, "Wood Upped To Red Sox," Boston Globe, June 27, 1961: 25. Earley said, "The doctors thought I'd never pitch again…After getting baked out, the soreness left me."
11 Bill Liston, "Early Late-Budding Red Sox Star," Boston Traveler, May 11, 1962: 41.
12 Larry Claflin, "Red Sox Have 6 New Faces for 1964 Campaign," Boston Record American, April 12, 1964: 40.
13 Tom Monahan, "Earley Aims to Arrive Late," Boston Traveler, July 10, 1964: 29.
14 "Arm Hurts, Earley Can't Lob Ball," Boston Globe, July 23, 1964: 42.
15 Gloria Negri, "Earleys Have Pitcher, 4 Bathers," Boston Globe, July 19, 1965: 9.
16 Hy Zimmerman, "It May Be Later Than Earley Wants to Believe," Seattle Daily Times, June 16, 1966: 37.
17 "Arnold Earley," Sports Collectors Digest, October 29, 1999: 10, and "In Memory of Arnold Earley," http://www.astrosdaily.com/players/obits/Earley_Arnold.html
18 Author interview with Don Earley, January 4, 2018.
19 Communication from Karen Earley Smith.
20 Author interview with Don Earley, January 31, 2018.
21 Don Earley interview, January 4, 2018.
Born
June 4, 1933 at Lincoln Park, MI (USA)
Died
September 29, 1999 at Flint, MI (USA)
If you can help us improve this player's biography, contact us.
https://sabr.org/sites/default/files/EarleyArnold.jpg
600
800
admin
/wp-content/uploads/2020/02/sabr_logo.png
admin
2018-03-08 10:28:36
2020-04-09 14:40:22
Arnold Earley