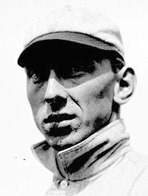 ---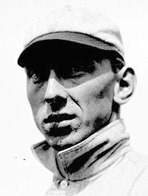 One might not expect a pitcher turning in a 5-23 record in his first year in the big leagues to be asked back to give it another shot, but Beany Jacobson was indeed given a second chance. His first year had been for the 1904 Washington Senators. They were, perhaps unsurprisingly, last-place finishers in the eight-team American League, 55½ games behind the first-place Boston Americans. The Senators finished 38-113, just barely winning more than 25 percent of their games.
Washington's team ERA was 3.62, a full run worse than the league average of 2.60; the second-highest ERA was the 2.83 recorded by the St. Louis Browns. Washington never got over its 1-16 start under catcher/manager Malachi Kittredge, who was bounced at that point. His successor Patsy Donovan's record was 37-97. Jacobson, a 23-year-old, 170-pound left-hander who stood an even 6 feet tall, wasn't even the losingest pitcher on the team. Happy Townsend was 5-26 with a 3.58 ERA, and Casey Patten matched Jacobson in losses at 14-23 (3.07 ERA). Jacobson's own earned-run average was 3.55 in 1904, better than the team ERA. And he was invited back to play for Washington in 1905.
Albin Leonard Jacobson was born in Port Washington, Wisconsin, on June 5, 1881. His father, Peter, was a laborer in a chair factory at the time of the 1910 census. Peter's wife, Mary, gave birth to four children: Alice, Lillian, Olgot, and Albin (who became known as Beany, and was also known as Albert, something of an Americanization of his first name). He attended elementary school in Port Washington but went no further.
Jacobson's professional baseball career began with Port Washington in the Lake Shore League in 1901, and then with 44 innings pitched for the American Association's 1902 Milwaukee Brewers. It was the year he first met his future wife, Julia Jackson of Decatur, Illinois. The couple married in October 1904 in St. Louis. Jake (as he was known at first) was 1-4 that first year. In 1903 he pitched for the Decatur Commodores, a club in the Class B Three-I League. He appeared in 22 games and batted .254, but we don't have a won-loss record for him. He was selected by the Senators in that year's equivalent of the Rule V draft. Julia Jacobson was apparently a bit of an anomaly among baseball wives of the day, typically traveling (by train) with her husband. She was known as Jakie and was of real assistance, as she "always spent about an hour each night rubbing liniment into his pampered left arm and then covering it for the night with a red flannel sleeve."[1]
Many of the other players found it both expensive and "confining in the evenings" to travel with their spouse. Mrs. Jacobson talked with a reporter about some of the zealous female fans who brought flowers and candy to the team hotel. "Some of them were most persistent," she said. "They'd call our hotel room and ask to speak to Jake. I'd tell them Jake wasn't in and then add, sarcastically, 'It's Mrs. Jacobson speaking.' 'Oh, that's all right,' they'd reply. 'Just tell him to call my number when he comes in.' "[2]
When they were based in the nation's capital, Julia Jacobson became friendly with Presidents Theodore Roosevelt and William Howard Taft. Jakie and Roosevelt's daughter Alice sat in "adjoining box seats and together were recognized as the Senators' noisiest feminine fans." She's said to have considered Connie Mack as a "second father."[3] She and Jake were friendly with theater folks as well.
The 1904 Senators lost every one of their first 13 games, and Jacobson's debut on April 30 (a 4-1 loss to the Boston Americans) was the tenth of those games. It was only in his fifth start (May 23, a 4-2 win over visiting Detroit) that Washington won one of his starts. His best game was a 12-inning game in Cleveland, a 1-0 victory over the Naps' Earl Moore.
Jake's 5-23 record was matched in a way by his .091 batting average; he drove in two runs all season. He rarely advanced the runner, striking out in 43 of his 88 at-bats.
The 1905 season was much better. Jacobson appeared in only 22 games, two-thirds of the 33 of the prior year, and threw 100 fewer innings. His record on the mound was 7-8 and he had a 3.30 ERA, a bit better than the year before. At the plate, he hit .159, though without even one RBI. The Senators improved to seventh place, 11 games ahead of the last-place St. Louis Browns. That December Jacobson was traded straight-up to St. Louis for Willie Sudhoff.
The Browns improved significantly in 1906, climbing to fifth place while Jacobson posted a 9-9 record, with a 2.50 ERA. His batting average was again .091, this time with an 17-to-1 strikeout-to-walk ratio.
Jacobson struggled to get wins with St. Louis in 1907, with a 1-6 record despite a 2.98 ERA. The team saw the opportunity to acquire Boston's Big Bill Dinneen and sent a reported $1,500 plus Beany Jacobson to secure Dinneen on June 8. Jacobson appeared in only two games for Boston, the first one a start on June 19, when manager Deacon McGuire pulled him immediately after he walked the first two batters. His only other appearance was on the 24th, when he threw the last two innings of an 11-3 beating against New York, allowing two hits and one run. He stayed with Boston for a number of weeks, with his sale to the Toronto Maple Leafs for $1,000 first mentioned on August 29. He finished out the season 2-2 with Toronto in five games.
In 1908 and 1909, Jacobson played again for Decatur, 13-10 and 12-8, respectively. The Grand Rapids Raiders signed him as a free agent and had him pitch for them in 1910, and he was 13-17 for the Class B Central League team. In 1911 he dropped to Class C and pitched an excellent 26-9 season for the Kalamazoo Celery Pickers of the Southern Michigan League. In 1912 he played in Ontario for the Canadian League's St. Thomas Saints. In 1913 Jacobson appears to have left the game, but came back, with Kalamazoo (now named the Kazoos) in 1914. He played for the Bi-State League's Streator Boosters in 1915, and ended his career as an umpire in the Canadian League.[4]
After leaving baseball for good, Jacobson took a position as a mechanic with the Wabash Railway steam locomotive shops in Decatur and worked there until he died on the last day of January in 1933. He had suffered influenza, but the main cause of death was a complex of three elements of heart disease, described succinctly by his sister as "enlarged heart." Jake and Jakie had no children. He left his wife and two sisters.
August 10, 2011
Sources
The Beany Jacobson player file at the National Baseball Hall of Fame library was a helpful source, as were contemporary newspapers such as the Boston Globe, New York Times, and The Sporting News.
---
Born
June 5, 1881 at Port Washington, WI (USA)
Died
January 31, 1933 at Decatur, IL (USA)
If you can help us improve this player's biography, contact us.
http://bioproj.sabr.org/bp_ftp/images5/JacobsonBeany.jpg
600
800
admin
/wp-content/uploads/2020/02/sabr_logo.png
admin
2012-01-04 20:41:55
2012-01-04 20:41:55
Beany Jacobson