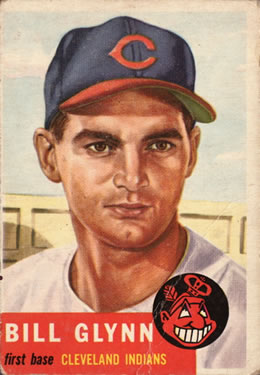 ---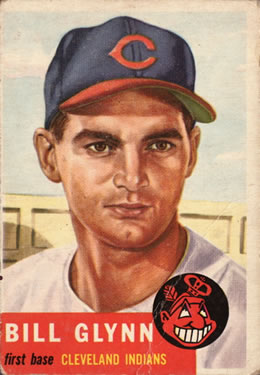 Even the Detroit Tigers faithful were cheering Cleveland first baseman Bill Glynn on as he stepped into the batter's box in the eighth inning on July 5, 1954. Glynn was having the greatest game of his major-league career in the first game of a doubleheader at Detroit's Briggs Stadium. In his first three at-bats, Glynn hit three home runs and drove in seven runs. Facing Ralph Branca in the third inning, Glynn hit a grand slam down the right-field line. Batting with one on in the fifth inning, he hit a homer to right field. In the seventh inning, Glynn hit a solo home to right-center off Dick Weik.
When Glynn came up again in the eighth inning, the bases were loaded, and he was staring baseball immortality in the face. If he hit another homer he would become the seventh player in the major leagues to hit four home runs in a game. Another round-tripper would also give him 11 runs batted in in the game, tying a record set by the New York Yankees' Tony Lazzeri in 1936. Glynn bashed the ball 440 feet to deep center field, only to see Detroit outfielder Bill Tuttle snatch the ball at the fence; the runner on third scored after the catch, Glynn's eighth RBI in the game. The final score was Cleveland 13, Detroit 6.
The Indians did not fare as well in the second game, losing 1-0 in 11 innings. Glynn was unable to sustain the magic, going 0-for-5. Afterward, he said, "I wish I could've saved a homer for the second game."[fn]Hal Lebovitz, Cleveland News, July 6, 1954, 4-D.[/fn]
William Vincent Glynn, who played for three seasons with the Indians in a four-year major-league career, was born on June 30, 1925, in Sussex, New Jersey, the second son of Marshall Nelson, a laborer in a zinc mine, and his wife, Esta. A premier athlete at Franklin High School, Glynn lettered as a first baseman in baseball, a running back in football, and a forward in basketball. He played against a future Indians teammate, Larry Doby, in basketball and baseball at the state tournament level. (Doby's team, Eastside High Schol of Paterson, won in both sports.)
Glynn graduated from high school in 1942 and, with the US in World War II, he entered the Army, where he was trained as an infantryman. Stationed at Leghorn, Italy, for 21 months, he spent some of his free time playing baseball and softball drawing the attention of several major-league scouts.
In 1946, after his discharge, Glynn was signed by the Philadelphia Phillies scout Chuck Ward and was assigned to Americus of the Class D Georgia-Florida League. Glynn was regarded by Phillies scout Gil Smith to be the finest prospect in the league as he hit .328 with 104 RBIs and was named to the all-league team, and inspired an Americus sportswriter to pen this ode: "It's Glynn again, the ball's on the wing again. Let us sing again the praises of Glynn."[fn]Hulme Kinnebrew, "Phillies Beat Tigers 10-8, Cusick Hurt." Article in Americus (Georgia) Times Recorder, date unknown, in Glynn's file at the National Baseball Hall of Fame Archives. [/fn]
In 1947 and 1948 Glynn played for the Utica Blue Sox of the Class A Eastern League. The 1947 team was considered by many to be the best team Utica ever had, posting a 90-48 record and finishing ten games ahead of second-place Albany. His batting average fell to the .260s in both seasons, but his slugging continued; in 1947 he hit two home runs in the BlueSox' pennant clincher.
The Phillies promoted to Triple-A Toronto in 1949. They considered him major league-ready defensively. He had 19 home runs for the Maple Leafs but was hitting only in the .260s, principally because he had trouble against left-handers. Farm director Joe Reardon believed that Glynn would overcome this problem, and Glynn was a September call-up to the Phillies, playing in eight games and getting his first major-league hit off the St. Louis Cardinals' Gerry Staley on September 20.
Back at Toronto in 1950, Glynn hit 25 home runs but batted only .234. The Phillies switched their Triple-A affiliation to Baltimore in 1951 and Glynn played that season for the Orioles, who were two years away from their return to the major leagues. He continued his impressive fielding, but his offensive numbers were unimpressive:.249, 14 homers, and 51 RBIs in 143 games.
After the season the Phillies sent Glynn to Sacramento of the Pacific Coast League for outfielder Gerry Scala. Sacramento was looking for a power-hitting first baseman. Player-manager, Joe Gordon had Glynn bat just ahead of him, so that he could offer advice from the on-deck circle. Glynn responded, hitting .306. Gordon and several scouts recommended Glynn to Cleveland. In midseason the Indians needed a first baseman and on July 15 they purchased Glynn for minor leaguers Dino Restelli and Ben Taylor. Glynn backed up Luke Easter (named the American League Player of the Year by The Sporting News that year), at first base and also pinch-hit.
As the 1953 season began, the Indians were once again considered to be a major contender for the pennant, having finished just two games behind the Yankees in 1952. Indians' expectations for Glynn were high. General manager Hank Greenberg said that if Glynn had been with the Indians at the beginning of the 1952 season, the Tribe would have been stronger at both first base and right field and would have easily made up the two games.
Less than a week after the season began, on April 18, Luke Easter broke his foot, and Glynn became the starting first baseman. "He'll give us some speed in the infield and he's dangerous at the bat," Greenberg said. "He won't hit the long ball as often as Luke, but he gives it a battle."[fn]Hal Lebovitz. "Indians Get Early Chance to Test Improved Bench," The Sporting News, April 29, 1953, 11.[/fn] Greenberg's assessment of Glynn's power (or lack of it) was accurate. It wasn't until May 31 that he hit his first home run, in an 8-1 victory in Detroit.
Easter returned in mid-June and Indians manager Al Lopez said that he had to put Luke back on first because one homer was worth more than three singles on the power starved Indians, "especially with a club with as little speed as ours." Lopez added, "When the ball is hit out of the park, the runners can creep around the bases and still score."[fn]Hal Lebovitz, "Luke's Homers Add Up to Plenty of Singles," Cleveland News, August 15, 1953, 9.[/fn] Meanwhile Glynn worked on his hitting weaknesses. Teammate Hank Majeski helped teach him the finer points of bunting and showed him how to employ a more open batting stance. Glynn was a good pupil, realizing that he night not be successful in every at-bat.
The Indians played the Yankees on July 30, Yankee manager Casey Stengel's 63rd birthday. Glynn spoiled Stengel's day by driving a triple to center field to plate Wally Westlake with the winning run in the eighth inning of the Tribe's 4-3 victory.
By August 6 Glynn was hitting so well that Lopez was considering moving him to right field to keep both him and Easter in the lineup. On August 22 Glynn smashed a three-run homer as Mike Garcia defeated St. Louis, 4-1.
Before the 1954 season some of Cleveland's sportswriters did not expect Glynn to make the team. Although the competition at first was fierce with Easter, Glynn, and newly-acquired Rocky Nelson, first base was still regarded as the weak spot for the Indians. Lopez kept repeating that the starter at first would be the person who hit the best in spring training. Because of his previous injuries, Easter quickly became a nonfactor and was optioned to the minor leagues after six unsuccessful pinch-hitting appearances. (He never played in a major-league game again.) The competition came down to Nelson and Glynn. Glynn had a tremendous spring, hitting .333 with two home runs, eight RBIs, and 11 runs scored; the Cleveland Plain Dealer dubbed him the most improved hitter on the team. By contrast, Rocky Nelson was playing himself off the Tribe, and was sold to Brooklyn on April 13. So, in the big surprise of the spring, Glynn emerged as Cleveland's Opening Day first baseman.
Opening Day in Chicago on April 13 saw Glynn go 1-for-3 in Cleveland's 8-2 win. Perhaps the game foreshadowed his future as Hank Majeski batted for him in the eighth. The next day Glynn went 4-for-5, all singles. He turned in the defensive play of the game, nabbing Ferris Fain's smash to end the game in the Tribe's 6-3 victory. All of his hits came off left-handers, whom he usually could not hit. The following day, the 15th, the Indians hosted Detroit in their home opener, and Glynn was 2-for-4, although Cleveland lost, 3-2.
After nine games Glynn, at .419, was leading the American League in batting but had only one extra-base hit, a home run. To generate more offense, Al Lopez benched him, moving Al Rosen from third to first and installing rookie Rudy Regalado at third. Glynn became Rosen's defensive replacement.
The Indians made a deal on June 1 that altered the season for Glynn, when they acquired first baseman Vic Wertz for pitcher Bob Chakales. "I think Vic can do us a lot of good," said Lopez. He's going to be good insurance."[fn]Harry Jones, "Indians Trade Chakales for Wertz," Cleveland Plain Dealer, June 2, 1954, 1D[/fn]Eventually, the offense Wertz injected into the lineup made it impossible to sit him down. Glynn was relegated to backup duty.
Glynn regained the starting job[fn]"Glynn Returns to First Base Tonight," Cleveland Plain Dealer, July 2, 1954.[/fn] against the White Sox on July 2, the start of a four-game series. "We'll need all the defense we can get against the White Sox. They like to run and bunt," Lopez said in explaining the move. However well it aided Cleveland's defense, the switch to Glynn also gave the Indians an edge at the plate, as Glynn continued his domination of Chicago's pitching (he hit .381 against them for the season). In the four-game series, a sweep by the Indians, Glynn went 7-for-19. The Tigers followed the White Sox into Cleveland, and Glynn's three-homer performance came in the first game of that series.
Glynn continued to play regularly through July 19, supplying steady defense but generating little offensive punch. From July 22 to the end of the season, Glynn was used primarily as a defensive replacement and as a pinch-runner for Wertz. (His only starts were in the last two games of the season.) The system worked for the Indians as the Tribe benefited from Wertz's lethal stick and Glynn's exceptional glove in the late innings.
In the World Series, Glynn pinch-hit in two games. In Game One he struck out in the tenth inning. In Game Three Glynn doubled and scored in what turned out to be his last major-league at-bat. The Indians sold Glynn to Indianapolis in 1955. He was there about a month, and then was sent to the Seattle Rainiers of the Pacific Coast League. Glynn hit and fielded well for Seattle and then the San Diego Padres. When San Diego traded Glynn to Birmingham of the Southern Association after the 1958 season, he retired rather than move. He and his family moved to California, where he worked a retail milk route for Dairy Mart for 14 years. In 1974 he became a retail supervisor for the Alta Dena Dairy in City of Industry, California. In 1976 he was inducted into the Sussex County, New Jersey, Sports Hall of Fame.
In retirement, Bill Glynn resided in San Diego with his wife, Dolores, whom he married on December 9, 1950. They have two sons, Bill Jr. and Patrick.
He passed away on January 15, 2013.
This biography is included in the book Pitching to the Pennant: The 1954 Cleveland Indians (University of Nebraska Press, 2014), edited by Joseph Wancho. For more information, or to purchase the book from University of Nebraska Press, click here.
Sources
Americus (Georgia) Times Recorder
Cleveland News
Cleveland Press
Cleveland Plain Dealer
The Sporting News
Glynn's file at the National Baseball Hall of Fame, Cooperstown, New York.
www.retrosheet.org
http://www.baseball-reference.com
This biography is included in the book Pitching to the Pennant: The 1954 Cleveland Indians (University of Nebraska Press, 2014), edited by Joseph Wancho.
For more information, or to purchase the book from University of Nebraska Press, click here.
Born
July 30, 1925 at Sussex, NJ (USA)
Died
January 15, 2013 at San Diego, CA (USA)
If you can help us improve this player's biography, contact us.
http://sabr.org/sites/default/files/GlynnBill-1954-Topps.jpg
600
800
admin
/wp-content/uploads/2020/02/sabr_logo.png
admin
2012-01-04 20:03:25
2012-01-04 20:03:25
Bill Glynn