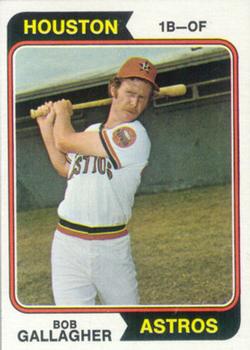 ---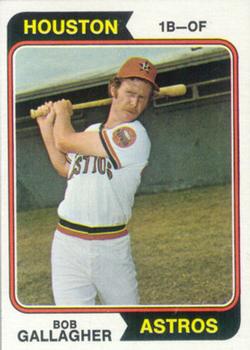 Born on July 7, 1947, in Newton Center, Massachusetts, to Charles and Eleanor (Collins) Gallagher, Robert Collins Gallagher was named for his mother's brother, Robert, who had been killed on Iwo Jima in WW II. His grandfather, Shano Collins, was a former outfielder and first baseman who had played for the Chicago White Sox and Boston Red Sox from 1910 to 1925, and managed the Red Sox in 1931 and for the first 55 games of the 1932 season.
As a kid, Shano Collins had sold peanuts at the Walpole Street Grounds. Bob still retained a faint memory of sitting on his grandfather's knee.
Bob's father had played professional baseball as well, including 139 games for the Gainesville G-Men (Class-D Florida State League), playing third base and batting .271 in his only full season. Earlier, he'd broken his thumb in the Cape Cod League. A broken ankle followed and helped put an end to his aspirations.1
When Bob was six, a job opportunity opened up for his father in California and the family, which included two older sisters Judy and Paula, moved west.
"He worked for a scale company, Howe Scale Company. He sold scales. He was a salesman. Industrial-type sales," Bob recalled in 2018. "We drove across country in 1956 and saw some of the first games of the Giants when they got out here. We saw Willie McCovey break in at Seals Stadium. We moved to a couple of places and then found a home in Los Altos."2
Eleanor Gallagher was primarily a homemaker, but went to a secretarial school and did some work to help put Bob through a private high school and help support him in college.
Bob attended St. Williams Elementary School in Los Altos, then Bellarmine College Prep in San Jose, where he played both baseball and basketball, and finally Stanford University in Palo Alto, from which he graduated with a B.A. in History. In June 1969, just before he turned 21, Bob married Maureen Ann Collier. At the time of the August 2018 interview, they lived in Santa Cruz and were looking forward to their 50th anniversary less than a year ahead. The marriage is a strong one. "We've always done real well. She's the first person I ever dated. She had a little more experience than I did, so she had to bring me by the nose the first few years of marriage and figure out how we're going to do it. I'm more in love with her now than ever," Bob said.3  
He had played a lot of baseball while growing up — Little League, Colt League, and both Babe Ruth and American Legion baseball. He played baseball at Stanford where he was co-captain of the freshman team in 1966, and in 1967 (batting .302) helped lead Stanford to the Pacific Eight and NCAA District Eight championships. Stanford finished third in the College World Series. The following year he was named to the All-Conference and NCAA All-District Eight first teams and The Sporting News All-America team.
For three summers starting in 1966, he played semipro ball in Fairbanks for the Alaska Goldpanners, leading them to state championships all three years, and a fourth-place tie in 1967 at the National Baseball Congress. One memory lingers: "The mosquitos were just unbelievable. They got in the way. Standing in the outfield, I was just waving my hand in front of my face. The mosquitos were just swarming within less than a foot of you. You had Off! on then — the repellent. You sprayed it on your sanitary socks and you sprayed it on your hand and your head. We went through about 10 cans of that a game."4 The Goldpanners toured Hawaii and Japan and Gallagher hit a home run in Tokyo Stadium. In the winter of 1967, he played Bay Area baseball in the Peninsula Winter League, batting .437 and setting league records for hits and RBIs.
On June 7, 1968, he was drafted by the Los Angeles Dodgers in the 17th round and signed by Dodgers scout Dwight "Red" Adams. The following year was his first in professional baseball. He played outfield for the Bakersfield Dodgers in the Class-A California League, appearing in 76 games and hitting .270 with 32 RBIs. He then played rookie league ball in the Arizona Instructional League.
In 1970, Gallagher was advanced to Double-A ball and played in Albuquerque (Texas League), hitting .336 over the course of 101 games, which placed him second in the league in batting average. He was named to the league All-Star team and also to the National Association's Class-AA West All-Star team.
Gallagher played in 108 games for the Pacific Coast League Spokane Indians in 1971, batting .307 at Triple A. He was a legitimate prospect, having hit .300 in Single A, Double A, and Triple A, but the Dodgers apparently felt they had better prospects and he was not protected in the Rule 5 draft that November. Gallagher himself had said that manager Tom Lasorda and he "didn't get along that well. It's like a new lease on life not having to go back and play for him."5 He was drafted by the Boston Red Sox. The Sox had a need and the Boston Record American wrote, "Gallagher is hardly a household name, but his chances of making the team are good, If he shows anything in Winter Haven, he will probably take Mike Fiore's job."6
Gallagher batted and threw left-handed, standing 6-foot-4 and listed at 190 pounds.7
The Red Sox placed him with the Triple-A Louisville Colonels, and he got off to a very strong start, leading the team in hitting in the early going. Carl Yastrzemski was placed on the 15-day disabled list due to a May 9 injury and Gallagher was brought up to the big leagues. He was hitting .430 for the Colonels at the time. He'd never been to big-league camp and the only person he knew was Bill Lee, because Lee had played in Alaska, too.
His major-league debut came in Milwaukee's County Stadium on May 17. After eight innings, the Brewers led the Red Sox, 4-1. Leading off the top of the ninth, Gallagher pinch-hit for catcher Bob Montgomery, facing reliever Ken Sanders. He grounded out to first base, unassisted. "It was very difficult," he said decades later, "I wasn't used to being a backup. They sat me for a week, and then I got a pinch-hit opportunity in Milwaukee and grounded out."8
Two days later, at Yankee Stadium, manager Eddie Kasko asked him to pinch-hit in the fifth. The Yankees were up, 4-0, but Boston had runners on first and third with just one out. He hit for starter Bill Lee. Mel Stottlemyre struck him out and then got Tommy Harper to ground out.
Gallagher pinch-ran on May 21, then pinch-hit on the 29th, fouling out to the catcher. He struck out in two more pinch-hitting roles on June 2 and June 4, and pinch-ran once more on June 7. The next day, he was re-optioned back to the Colonels and Yaz was reinstated. All in all, he had a good year with Louisville, playing in 99 games and batting .292. But it had to have been frustrating, called to the majors, appearing in seven games, and having to wait the rest of the season and the offseason that followed, still hungering for his first major-league base hit. He never got it — for the Red Sox.
"It was less than a stellar performance," he reflected. "I just wasn't very good at just sitting there after taking five swings in batting practice. It was in the spring so there was a lot of cold weather. I just didn't adapt quick enough, and they had Ben Oglivie and Rick Miller backing up Yastrzemski. Tommy Harper — good guy. And Reggie Smith in right. Nowadays the extra guys get to play about once a week. When you get to the big leagues, these guys are serious pitchers. You can't just wander up to the plate once a week and expect to… it's like playing golf once a month. You're just not going to do well. Some guys like Jesus Alou can do that, but I just didn't adapt very well to that."9
When he did get his first base hit, it was for Houston. The Red Sox did not protect him and on November 27, 1972, the Astros drafted him in the 1972 Rule 5 draft. He had a good spring training and made the Astros, but still had to wait a while to get that elusive hit. He pinch-hit in vain on April 6 and 12, bracketing a pinch-running appearance on April 10. Gallagher appeared in both games of the April 15 doubleheader in San Diego, and — though he didn't get a base hit either time he pinch-hit, he did connect for a sacrifice fly in the first game and picked up his first big-league run batted in. His fly ball to center field drove in the only Houston run of the game in a 5-1 loss. He'd thus collected an RBI even before he got a base hit.
Finally, in his 15th major-league game, in the Astrodome on April 27, he got his first base hit. The Expos led, 5-2, and Gallagher was asked to pinch-hit, leading off the bottom of the eighth. He singled, moved to second on another single, stayed on second while two outs were recorded, then scored when Bob Watson singled in two, and later scored himself, tying the game, 5-5. Gallagher played left field in the top of the ninth, the first time he'd taken the field on defense. With the score still tied, he led off the bottom of the 10th and struck out, but Houston scored that inning and won the game.
The very next day, he pinch-hit and singled again. His fourth hit was a home run, on May 22 off Cincinnati's Ed Sprague. By the time the 1973 season wrapped up, Gallagher had accumulated 39 base hits, including two homers, three doubles, and one triple. When he had enjoyed the opportunity to play more regularly, at one point he put together a 12-game hitting streak; from August 19 through September 12, he saw his average jump from .218 to .299 as he knocked out 20 hits in the 12 games.
He still hadn't had as much opportunity to play as he would have liked. There were too many established players on the team. "I felt very comfortable in Houston. I was well-accepted and I felt comfortable at the plate. I wasn't nervous. I think I played well in center field, but they just didn't rest them — Bob Watson, Jimmy Wynn, and Cesar Cedeno. They didn't rest them and they didn't get hurt, so I just didn't play."10
The two home runs were the only two of his career. He had driven in 10 runs and scored 16. His batting average was .264 on the season, but he had struck out 27 times in 148 at-bats. He had played 42 games in the outfield and one at first base. He handled 79 chances without an error.
"I felt like I was really on the way to being a player but then Greg Gross came up from the minor leagues in the spring of the next year. He and I had quite a battle but he was given the chance to start in right field, because they traded Jimmy Wynn. He really started off in San Francisco with 3-for-4 and 4-for-5 and I didn't really even see the lineup until the end of the year."11 Gross played in 156 games, hit. 314, and placed second in Rookie of the Year voting.
That said, Gallagher's 1974 season was his busiest one in the big leagues in terms of games, albeit not in plate appearances. He played in 102 games, 62 in the outfield, four at first base, and the rest as a pinch-hitter or pinch-runner. He committed the first of his two errors; the second one came in 1975. All told, Gallagher is credited with a career fielding percentage of .985. Over the course of the 102 games, he had — as it happens — exactly 102 plate appearances, about two-thirds as many as in 1973. His batting average slipped from .264 to .172, but he quadrupled his walks and so bumped up his on-base percentage from .275 to .280. Gallagher drove in three runs and scored 13.
Less than a month after the season ended, Gallagher was traded to the New York Mets on October 29 for infielder Ken Boswell. At the time of the trade, Boswell had played more games at second base (506) than any other Met. Why did the Mets trade the more-experienced Boswell for Gallagher? SABR biographer Mike Bender writes, "There was some suspicion that general manager Joe McDonald had made the trade in part due to Boswell's refusal to make a postseason trip to Japan. Two other players that had taken a similar stance — Duffy Dyer and Ray Sadecki — were also traded over the winter."12 Jack Lang of The Sporting News wrote as much.13 Lang added, "The Astros may not exactly need Boswell, but they had no need for Gallagher." Lang, however, also quoted Mets GM Joe McDonald in another article: "He's a fine defensive outfielder with a good arm. Gallagher hit well in the minors and we are hopeful he will hit in the majors if he gets more of an opportunity to play."14
Gallagher began and ended the 1975 season with the Mets. As the season began, more often than not, he took over near the end of the game playing an inning or two in the outfield but never coming to bat. In only four of his first dozen games did he come to the plate. His one base hit was a double. It was only in his 33rd game, in the second game of the September 26 doubleheader, that he collected a second hit. He was 2-for-15 (.133) on the season. He'd been sent down to Tidewater for a couple of weeks in early May, then recalled, and optioned to the Iowa Oaks on June 10 until recalled at the beginning of September. He hit .280 for Triple-A Iowa.
On March 16, 1976, Gallagher was traded by the Mets for Leon Brown of the San Francisco Giants. "I asked to be traded," Gallagher said, "I just wanted to get back home, get back out west." Gallagher played 125 games for the Phoenix Giants in 1976, batting .258 with six homers and 61 RBIs. "I didn't have a very good year in Triple A, so that was time to get my kids in school and start another career somewhere doing something else."15
Gallagher's baseball career was complete. He had, however, achieved the dreams of his childhood — becoming a major-league ballplayer. In early 1972, he had been asked to complete a player questionnaire for the National Baseball Hall of Fame. In it, he responded to the final question asked of players completing the form: "What do you consider your outstanding achievement in baseball?" Gallagher answered thus: "Being able to fill out this questionnaire (it means I made it to the Big Time!)" He added a note, "I am not being facetious."
After baseball, Gallagher turned to teaching. Maureen Gallagher had been raising their children. "When I finished baseball," Bob said, "she decided to start a daycare home because she didn't want to give her kids up during the day and go to work. She and I opened a family daycare home with 15 kids out of our home. We're a couple of blocks from the beach so we'd go to the beach a lot, and go out on camping trips and hiking and biking, for 24 years. In the middle of that, I really felt like I need to get some sort of health insurance. Life insurance. Get a car. So I went back to San Jose State and became a teacher.
"I got a job the first year, started at $12,000 a year — before taxes — and then just found that I got great satisfaction out of dealing with the kids. Knowing when you had them in the palm of your hand, and they were really receptive, and knowing when to change direction when they weren't receptive.
"I gained a lot of confidence in daycare — became confident that I could run a group of kids. It was kind of by the bootstrap when I first started because when I went to San Jose State for the credential, it wasn't the best experience that I ever had in the classroom. But I just threw myself in there and eventually became pretty good at it."16
Bob Gallagher had been a history major at Stanford. He devoted 27 years to teaching Government at Santa Cruz High School — 27 years in the very same classroom. "I just retired six or seven years ago. I got a lot more satisfaction out of that than anything I ever did in baseball."
The Gallaghers have three children — Erin, Zachary, and Kenna. Zachary went to Stanford as well and majored in Economics. He played some baseball, but it was water polo that captured his interest. He actually just walked onto the team and ended up playing in the goal as Stanford went to the national championships. He is active in the field of advertising. Erin works for a catering company and Kenna is a teacher at Aptos High in the Santa Cruz area.
Thinking back just a bit about his days in baseball, Gallagher said, "Baseball wasn't work. I'd just go out there and you do what you do. You're outside and you're running and jumping and flying around. You hear the sound — the crack of the wooden bat against a ball. Really, sort of dreamy."
But it was teaching that became his calling. "I was not your average student at Stanford. I struggled the whole time." But engaging with both the students, world history, and running debates and simulations — he was the advisor for the mock trial for 10 years — left him with a sense of having fulfilled a purpose: "The teaching was gratifying, really fun. I'm glad I did that."17
Last revised: October 1, 2018
Acknowledgments
This biography was reviewed by Norman Macht and fact-checked by Alan Cohen.
Sources
In addition to the sources noted in this biography, the author also accessed Gallagher's player file and player questionnaire from the National Baseball Hall of Fame, the Encyclopedia of Minor League Baseball, Retrosheet.org, and Baseball-Reference.com. Thanks to Rod Nelson of SABR's Scouts Committee.
Notes
1 Ron Coons, "Louisville's Gallagher Hopes to Maintain Family Tradition," The Sporting News, May 6, 1972: 33. Charles Gallagher is in the Providence College hall of fame as a basketball player.
2 Author interview with Bob Gallagher on August 25, 2018.
3 Ibid.
4 Ibid.
5 Ron Coons.
6 Larry Claflin, "Majors Pass Up Tony C," Boston Record American, November 30, 1971: 17.
7 These figures are self-reported on his May 1972 player questionnaire, and as reported in the Ron Coons article noted above. Other sources show him as 6-foot-3 and 215 pounds.
8 August 25, 2018 interview.
9 Ibid.
10 Ibid.
11 Ibid.
12 Mike Bender, "Ken Boswell," SABRBioProject, at https://sabr.org/bioproj/person/2b9f7642.
13 Jack Lang, "Three Trades Add Muscle to the Mets' Puny Offense," The Sporting News, November 16, 1974: 53.
14 Jack Lang, "Boswell Dealt for Gallagher," Star Ledger (Newark, New Jersey), October 30, 1974.
15 August 25, 2018 interview.
16 Ibid.
17 Ibid.
Born
July 7, 1948 at Newton, MA (USA)
If you can help us improve this player's biography, contact us.
https://sabr.org/sites/default/files/Gallagher%20Bob.jpg
600
800
admin
/wp-content/uploads/2020/02/sabr_logo.png
admin
2018-09-30 21:49:00
2021-09-26 15:01:42
Bob Gallagher