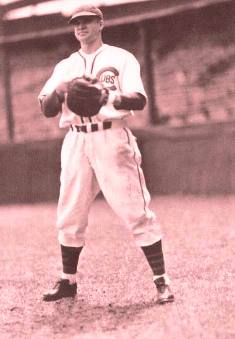 ---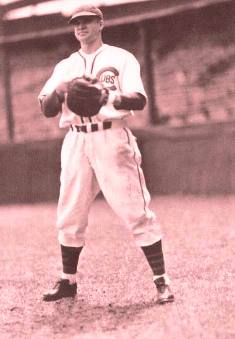 Both Bob Garbark and his brother Mike played major-league ball, both wrapping up their big-league careers in 1945 when Mike was with the Yankees and Bob was with the Red Sox. Both brothers had the same middle name – Michael. The elder brother was Bob – Robert Michael Garbark – and he was born on November 13, 1909 in Houston.[1] Bob debuted on September 3, 1934, almost 10 years before his brother (Nathaniel Michael Garbark, b. February 2, 1916, also in Houston), who broke in with the Yankees on April 18, 1844.
Who was the Michael that both honored with their middle names? That would likely be their father Nathaniel Michael Garbark, an immigrant from Poland who'd arrived in 1887. At some point, Michael met Clara Lubnar, an immigrant from Germany who'd come to American in 1890. They were both naturalized in November 1896. They married on June 14, 1905 in Chicago, but moved to Houston in large part because to distance themselves from Clara's parents in Chicago, who disapproved of the marriage. Michael The 1920 census tells us that Michael worked "elevator" at the Otis Elevator Company. He worked in construction originally and then in sales for Otis until his death in 1945. [2] The two brothers were part of a family with 10 children: Agnes, Arthur, Robert, Helen, Clara, Nathaniel (listed as Michael Jr.), Thelma, Mary, Thomas, and George. The family moved from Houston to East Orange, New Jersey, still working for Otis Elevator, and eventually to Edgewood, Pennsylvania, a borough adjacent to Pittsburgh.
Art, the oldest of the five boys, pitched in 1927 (11-8) for the Frederick Hustlers (Blue Ridge League) and in 1929 played outfield for the Columbia Comers in the South Atlantic League, appearing in only 18 games. At least one mystery may have been cleared up in organizing this biography. For years, people may have wondered who "Unknown Garbark" was who in 1932 played third base for the Fort Smith Twins, Muskogee Chiefs, and the Hutchinson Wheat Shockers in the 1932 Western Association.
Not only was it hard to keep track of some of the players. It was the heart of the Depression and it was even a little hard to keep track of the teams, though the Encyclopedia of Minor League Baseball tells us that the Muskogee team moved to Hutchinson on June 8, and the Fort Smith team crept in to Muskogee on July 1. Then the Hutchinson team disbanded on July 18. Two days later the Independence Producers moved to Hutchinson – this being the same team which had moved from Joplin to Independence on June 10. Before they were in Joplin, the team had been in…Independence (before moving on May 23 to Joplin.)
The Sporting News of November 24, 1932 tells us that the Unknown Garbark on the Western Association teams was this same Art Garbark, and it seems clear it was he who had previously pitched in the 1928 Piedmont League for the Salisbury-Spencer Colonials. [3]
Bob's first year in professional ball was 1932. He'd played four years of high school ball for Edgewood High. Garbark majored in mathematics and graduated from Allegheny College that summer (he later earned a master's degree in education in 1950), but the college had no baseball team so his only prior work had been in semipro ball, with the Edgewood Amateurs and two teams named Book Shoe and Pitcairn. Garbark captained the Allegheny Gators football team for three years, scoring an even 30 touchdowns, half of them in 1931 when he was the nation's fifth leading scorer. He lettered in basketball all four years.
He was spotted and signed by Cleveland Indians scout Buzz Wetzel, and was assigned to Allentown in July 1932, but the Eastern League disbanded before he got into a game and he was transferred to the Williamsport Grays (New York-Penn League), another Indians affiliate. [4] He was a catcher throughout his career; he hit .254 for Williamsport. He reported that his most unusual day came in a game for the Grays, playing against York – he caught seven foul fly balls all in the same game. Another standout day came against Hazelton; his ninth-inning hit was the only hit off pitcher Elmer Knetzer. Garbark was added to Buffalo's roster, and remained on the Indians' reserve list over the winter of 1932-33, but didn't play ball in 1933. In October that year he married Eleanor Marie "Toots" Rice, who he had met at Allegheny. The couple had our children.
Bob Garbark batted right and threw right, was 5-feet-11 and is listed at 178 pounds. He spent the entire 1933 with the Indians but worked exclusively as the bullpen catcher and never appeared in even one game. It's hard to know whether to fault the team's three managers – Roger Peckinpaugh, Bibb Falk, and Walter Johnson – or to credit them for letting him stick with the team. In 1934, Bob began the season under option with the Toledo Mud Hens and he shone, hitting .341 in 59 games. He was promoted to the Indians when Frankie Pytlak was laid up and his first game was the aforementioned September 3 date. Glenn Myatt and Moe Berg were among Cleveland's six catchers that year. Garbark appeared in five games, with 12 plate appearances. He struck out three times, walked once, and scored once. His batting average was .000, but he was invited to spring training with the team in 1935 before being ticketed to Toledo once again. He hit. 318 in 136 games. In another September callup, he got into six games, this time batting .333 and getting his first two big-league hits and two runs batted in during a 10-0 win over the Athletics in Philadelphia on September 18. In a third season with the Mud Hens, Garbark appeared in 106 games, batting .290. There was no callup in 1936.
The Cubs purchased his contract from Toledo late in 1936. He traveled to Catalina Island for spring training with the Cubs, but fractured his thumb in early April. He had impressed with his throwing, however, and was kept with the big-league club but only had one pinch-hit at-bat, on May 15, recording an out, before being sent south for more seasoning on May 27. He did well in the Southern Association, batting .319 for Birmingham in 85 ballgames.
In 1938 and 1939, it was big leagues all the way, albeit in a third-string role for the Cubs. There were 23 appearances in 1938 and 24 in 1939, but he had 56 plate appearances (hitting .259) in 1938 and only 21 (batting .143) in 1939. Gabby Hartnett was the primary catcher, and managed the ballclub, too, the second half of '38 and all of '39. The Cubs won the pennant in 1938 and went to the World Series (Hartnett and Ken O'Dea doing all the catching), but were swept in four by the New York Yankees. Bob was voted a full share of the Cubs' Series proceeds.
On December 7, 1939, Garbark was released on option to the Milwaukee Brewers and he played 1940 and '41 in the American Association, hitting only .217 in 101 games the first year, and appearing in only 31 games in 1941 before Bill Veeck took over the Brewers on June 23. Within five days, he'd made moves involving a dozen players, among them sending Garbark to the Toronto Maple Leafs for first baseman Bob Latshaw, both players with an option string attached. He hit .287 in 68 games for Toronto and someone – for whatever reason – gave him one vote in that year's International League MVP voting. [5]
In the meantime, Mike Garbark attended Villanova on a football/baseball scholarship (as a football lineman, he is in Villanova's sports hall of fame). He signed with the Yankees organization and had been advancing in their system, starting in 1938 with Akron and moving along with stops in Augusta and Binghamton. Mike was a catcher, too, and spent 1942 with Kansas City, while Bob was with Buffalo – purchased by them on December 2, 1941. Both were Double A teams, but in different loops. Bob hit .238 in 72 games for the Bisons, a Detroit Tigers farm club, though he missed a fair part of the early part of the season with an injured knee. Right after he came back, he was injured by a swing of the bat while catching. Nonetheless, he made the International League All-Star squad that year.
During the wintertime, Bob Garbark signed on as a physical education instructor and the basketball coach at Allegheny College in Meadville PA, his alma mater, and was also in charge of the phys ed training of 200 Army Air Corps cadets billeted there. [6] He put himself on the voluntarily retired list. As his third child arrived in January 1944, Bob continued to work training the 31st College Training Detachment. Mike kept playing baseball throughout. He worked in a war plant in the offseasons, and was called once or twice, but classified 4-F due to a hernia.
Bob rejoined the Bisons in the spring of 1944, though reporting rather late. Near the end of June, Connie Mack purchased his contract, despite his only hitting .183 in 31 games. The rosters were war-depleted and Mack needed another catcher to back up Frankie Hayes. Starting on July 1, Garbark got into 18 games and batted .261. The first time he played for a team opposing his brother was on September 4 in Yankee Stadium. Mike was 1-for-5 for the Yankees; Bob pinch-hit, and was 1-for-1 for the Athletics (the Yanks won, 10-0 in the first game and 14-0 in the second – this time Bob failed to pinch hit successfully, while Mike was 2-for-4.) After the season, Garbark's contract was purchased in mid-November by the Louisville Colonels, the top Boston Red Sox farm club.
In the wintertime, it was back to Allegheny and a late report to spring training with the Red Sox (he'd had to complete his duties at the college and then be reinstated from the retired list.) His first game was April 26, and probably the game which pleased him the most was the June 7 game against the Athletics, when his single in the bottom of the 10th inning won it for Boston. Though duties were shared by five different catchers during the course of the season, Garbark got into more games than any of the others (68 games, batting .261 with 17 RBIs.) There were four games in which Bob caught for Boston while Mike caught for the Yankees. Mike was 0-for-6 in the three games, and Bob was 1-for-9, the one hit driving in a run in a 7-5 win on August 1. Mike wound up hitting .244 for the 1944 and 1945 Yankees over the course of 475 at-bats.
Bob's last game came on August 19 – and he stayed behind in St. Louis to have a surgeon look at his shoulder, which suffered from a "neuritic shoulder condition." [7] He never played another game in professional baseball. He spent the winter refereeing high school basketball games in Pennsylvania and Ohio. He retired from baseball and was released in late March. There were so many men coming back from the service that there really wasn't a place for a career .248 hitter, with 145 games to his credit over parts of seven seasons. He'd played more major-league games in 1945 than any other year, but the postwar Red Sox were on their way to a 104-win season and a pennant and they had what they felt were better options. Bob had turned 36 in November and it was time to look for other work.
Bob returned to Allegheny College, and started the baseball program there, securing a position both as head basketball coach, and re-launched their football effort in the postwar era as head football coach, replaced by Big Bill Daddio in March 1947. Garbark also resurrected the college baseball program as head baseball coach in 1947 and supervisor of intramural sports; he spent 32 seasons coaching baseball at Allegheny College, winning 14 conference titles in the 20 years that Allegheny was a member of the Presidents' Athletic Conference. [8]
His obituary says he managed in the minor leagues during the 1950s, though the obit is a bit problematic. Son John reports that he never coached in the minors, but did play and coach for a local semipro baseball team in the Meadville-Crawford County area for a few years. [9] While teaching at Allegheny, one player in particular stood out: Glenn Beckert, a 1962 graduate and infielder. Bob is credited with seeing him signed to the Boston Red Sox upon graduation. Beckert hit .283 over 11 major-league seasons, nine for the Cubs and the last two for the Padres.
Garbark died of a heart attack on August 15, 1990 in a hospital at Meadville, after a short illness. His wife Eleanor had preceded him in death in 1979. The couple had had two daughters and two sons.
Sources
In addition to the sources noted in this biography, the author also accessed Garbark's player file from the National Baseball Hall of Fame, the online SABR Encyclopedia, Retrosheet.org, and Baseball-Reference.com, and the Encyclopedia of Minor League Baseball.
---
Born
November 13, 1909 at Houston, TX (USA)
Died
August 15, 1990 at Meadville, PA (USA)
If you can help us improve this player's biography, contact us.
http://bioproj.sabr.org/bp_ftp/images4/GarbarkBob.jpg
600
800
admin
/wp-content/uploads/2020/02/sabr_logo.png
admin
2012-01-04 20:40:18
2012-01-04 20:40:18
Bob Garbark