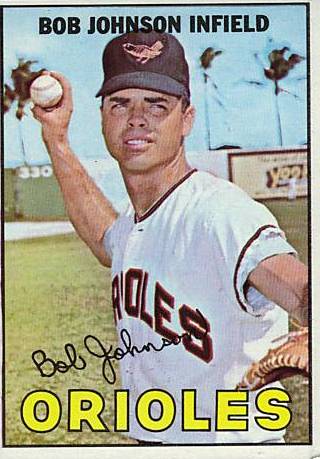 ---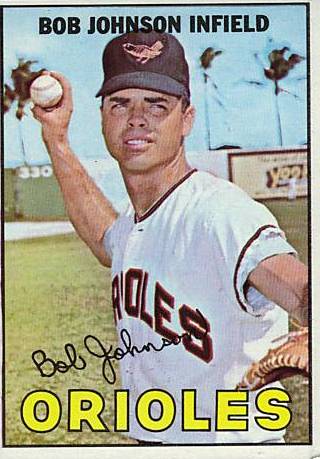 Bob Johnson built an 11-year career in the major leagues by being a versatile infielder and a sought-after right-handed hitter who could deliver in the pinch. His distinctions include hitting the first home run in D. C. Stadium (later named Robert F. Kennedy Stadium) in Washington, D. C., in 1962 and tying a then-American League record of six consecutive pinch-hits in 1964.
Robert Wallace Johnson was born March 4, 1936, in Omaha, Nebraska. His dad, Wally, was a hardware salesman who had grown up in the Twin Cities. Soon after his marriage to Lillian Miller, Wally was transferred to Bozeman, Montana, and then to Omaha. The Johnsons had another child there — Janet, born in 1942 — and remained in Nebraska until Wally was transferred to Minneapolis in December of 1947.
The Johnsons lived in St. Louis Park for a year, with Bob attending sixth grade at Lenox School on Minnetonka Boulevard, then moved into a house they had built in Edina. Johnson played midget baseball in St. Louis Park, and, after the family moved, joined the Edina midget team, which was coached by Howard Merriman, who was to serve 23 years as athletic director at Edina High School. Johnson's teammates on the Edina midget team included George Walters, a tall left-handed pitcher with an amazing fastball. Johnson and Walters became good friends and remained linked through high school and into professional baseball.
Johnson attended seventh grade at Wooddale School and began eighth grade in the fall of 1949 at brand-new Edina-Morningside High School. (The school, a combined junior-senior high, contained the Morningside name for many years since its students included residents of Morningside, which was then a separate community and now is a part of Edina.) He joined the varsity baseball team as a sophomore and also played basketball.
In the summer of 1952, following his sophomore season, Johnson played on the town team in Chanhassen in the Carver-Hennepin League. He recalls going four-for-five with two home runs and a double in his first game and said, "That's where I got my really good experience in playing amateur baseball." He played for Chanhassen again in 1953 and briefly in 1954.
In his senior season at Edina, Johnson was compelled to join the football team at the urging of its coach, Warren Beson, who was looking for another tailback and was also Johnson's baseball coach. Johnson was reluctant to play football. "I was staking a lot on baseball, and I didn't want to get hurt," he explained. But he also did not want to go against the wishes of his baseball coach. Johnson served as the backup tailback in the days of single-wing football and also did the placekicking and punting. Edina won the Lake Conference title and finished third in the state that year in the poll of Minneapolis Tribune sportswriter Ted Peterson.
The Hornets also finished third in the state in baseball in the spring of 1954. The Edina pitching staff was led by Walters, who had been on the team since he was a freshman, and Dick Siebert Jr., son of the Minnesota Gophers' baseball coach. However, it was the team's number-three pitcher, Tom Lowe, who drew the starting assignment in the first game of the state tournament, which was played in St. Cloud. Johnson opened the scoring by singling home a run in the third inning, and Lowe carried a shutout into the sixth, when Walters relieved him and struck out four batters over the next 1-2/3 innings to finish the game.
In the second round, a team from Denfeld High School in Duluth beat Siebert and Edina 3-1. Johnson gave Edina the lead by knocking in a run with a ground out in the first inning, but Denfeld tied the game in the fourth and scored twice in the fifth off Siebert for the winning margin. The next day, with Walters on the mound, Edina won the third-place game.
A number of scouts attended Edina baseball games, including Angelo Giuliani of the New York Giants, Vedie Himsl of the Chicago Cubs, George Moriarity of the Detroit Tigers, and scouts from the St. Louis Cardinals. Although they focused their attention on Walters, they also kept an eye on Johnson.
"We'd always assumed we'd sign together," said Johnson of him and Walters. However, he was not aware at the time that Walters had made it clear to the scouts that he would not sign unless Johnson was part of the package. A few weeks after their high-school careers were over, Walters and Johnson signed contracts with the Tigers organization, Walters receiving a $4,000 signing bonus and Johnson half that.
Both were flown to Detroit to work out at Briggs Stadium (later Tiger Stadium) while the Tigers were out of town and then assigned to a Class D team in Jamestown, New York. Jamestown played an exhibition game against the Tigers' AAA farm team from Buffalo, and Johnson played right field in the game. However, he banged up his leg making a catch against the fence and was unable to play for about a week. Before he could ever appear in a regular-season game with Jamestown, the Tigers optioned him to an independent Class D team, the Pauls Valley Raiders in the Sooner State League.
Johnson went to Oklahoma City, then took a Greyhound bus to Pauls Valley, approximately 60 miles to the south. He was directed to a Cities Service gas station for information. There he found a man sitting behind a roll-top desk. When Johnson asked where the baseball office was, he was told he was standing in it. Johnson remembers Pauls Valley mostly for the hot weather and cold showers. "I played two months there and saw 10 minutes of rain," he said, adding that he and his teammates often went to the movies just for the air conditioning. As for the showers, Johnson said the team's pitchers were often knocked out of the game early and would use up all the hot water before the rest of the team could get into the locker room. Pauls Valley finished in last place in 1954, 51 games out of first place and 20 games behind their nearest competitor.
However, Johnson learned a new position with the Raiders. Upon his arrival, the team had two shortstops. Because he could make the pivot, Johnson was moved to second base, and he was grateful for the opportunity because it led to him becoming a valuable utility player. "That was crucial to my career," he said of playing second base.
Johnson had another new position, third base, with Valdosta (Georgia) in the Class D Georgia-Florida League in 1955. However, a jammed thumb limited his playing time, and he was sent to Panama City in the Alabama-Florida League, another Class D League. He enjoyed being able to go to the beach in Panama City, rather than having to take refuge in a movie theater to stay cool as was the case in Oklahoma. Panama City was managed by Bill Adair, a man who would manage Johnson in other places, and won the pennant and league playoffs.
With a .316 batting average for Panama City, Johnson earned a promotion to Class C in 1956 and played for Idaho Falls in the Pioneer League. He had a terrific season, finishing second in the league with a .357 batting average, driving in 90 runs, and scoring 133 in addition to 43 doubles, 19 triples, and 25 stolen bases. One of his teammates in Idaho Falls was George Walters, who was in his final season of pro ball. Walters had hurt his arm early in his career and never recovered. Although Walters lasted only three years, Johnson was doing well and on his way up.
He bypassed Class B and went to Augusta in the Class A South Atlantic League, where he was reunited with Adair. However, he didn't do as well against the stronger pitching. "They were expecting me to hit home runs, to hit a little more long ball," he said. Johnson matched his previous season's total of seven home runs, but his batting average dropped to .232.
Despite the drop-off in Augusta, he was invited to spring training in 1958 with the Toronto Maple Leafs in the Class AAA International League. Being able to play shortstop, second base, and third base made him valuable as manager Dixie Walker was looking for a utility infielder. As a result, Johnson made the team and hit .242 in 118 games.
After the season, Johnson went into the service for six months, giving him a chance, as a returning serviceman, to be placed on Detroit's major-league roster at the start of the 1959 season. However, since he had missed spring training, Johnson didn't think his chances of sticking with the Tigers were very good and opted instead to return to Class AAA for additional development. He first went to Charleston (West Virginia), managed by Bill Adair, in the American Association, but, after playing 21 games, he was sent down to Birmingham in the Class AA Southern Association.
Johnson roomed with Steve Boros and another Minnesota native, George Thomas, in Birmingham. Thomas, like Johnson, was a free-spirited type, and the pair did a lot of cruising in Johnson's pride and joy, a 1959 Impala Sport Coupe. It was Boros who urged Johnson to go back to school in the offseason, and Johnson followed his advice after the season.
For many years, Johnson had returned to the Twin Cities and worked in the coin department of Northwestern National Bank, wrapping coins. In 1959, however, he enrolled in classes at the University of Minnesota. For the next four years, he went to school fall quarter, then hung around the school winter quarter and worked out in the Field House until it was time to go back to spring training.
While on the campus in early 1960, Johnson noticed a young woman from St. Paul, Karen Klett, and finally got up the nerve to talk to her and ask her out. The two were married February 11, 1961.
By this time, Johnson had finally gotten his chance in the majors. The Kansas City Athletics had taken him from the Tigers after the 1959 season in what is now called the Rule 5 draft, and he played in 76 games for them in 1960. He also got a nickname, Rocky, from teammate Bill Tuttle, because of his resemblance to Detroit slugger Rocky Colavito.
After the 1960 season, the Washington Senators selected Johnson in the expansion draft. However, he was sent to the minors to start the 1961 season. "I was ticked," Johnson said about being sent down, "but it turned out to be a blessing."
Because the Senators did not yet have any farm teams above the Class D level, Johnson was optioned to the Baltimore Orioles' AAA affiliate in Rochester, New York, where he thrived. He was hitting .332 and leading the league with 16 home runs, one more than teammate Boog Powell, when he was called up by the Senators in mid-July. A few weeks before his call-up, Johnson, with a two-run single off Tommy John, had driven in the only runs in a 2-0 victory for the International League All-Stars over the Cleveland Indians. Johnson said his experience in Rochester was "a turning point in my life" in terms of confidence. After doing so well, he said he never doubted himself again.
Johnson continued hitting with the Senators, getting eight hits, including a home run, and driving in six runs in his first six games. He finished his season with Washington hitting .295 and followed that up the next season with a .288 batting average with 12 home runs in 135 games.
The highlight of the 1962 season for Johnson came in the opener, which was also the first game to be played in D. C. Stadium. As was customary for Opening Day in Washington, the president was on hand to throw out the first pitch. Along with John Kennedy was Vice President Lyndon Johnson as well as cabinet members, including former Minnesota governor Orville Freeman (Kennedy's Secretary of Agriculture), and members of Congress, including Minnesota Senator Hubert Humphrey.
Johnson brought the dignitaries to their feet in the fourth inning by hitting the first home run in the new stadium. It was a two-run shot to left, over the head of namesake Rocky Colavito, that broke a scoreless tie and sent the Senators on their way to a 4-1 victory over Detroit. Johnson had also singled in the second for the Senators' first hit in D. C. Stadium, and singled in the eighth, making him 3-for-4 in the game.
After the 1962 season, the Baltimore Orioles made a trade with Washington to acquire Johnson, a player they were well aware of because of his great season with the Orioles' top farm team the year before. Baltimore needed a shortstop, and it was thought that either Johnson would take the spot or Jerry Adair would move to short from second with Johnson taking Adair's position. However, a few weeks after trading for Johnson, the Orioles made another deal, acquiring All-Star shortstop Luis Aparicio from the Chicago White Sox.
As a result, Johnson started the season on the bench. However, when Adair slumped at the plate, Johnson moved into the starting lineup at the beginning of May. He hit well right away, getting eight hits, including two home runs, in his first 19 at-bats after taking over for Adair. Later in the month, Johnson got eight straight hits and raised his batting average for the season to .339.
Johnson battled injuries in 1963 and played in only 82 games, finishing the season with a .295 batting average. Although Johnson performed well after moving into the starting lineup, Baltimore manager Billy Hitchcock valued him for his versatility, particularly since he could insert Johnson anywhere in the infield without having to shuffle other players around.
By the following season, Johnson's skill as a pinch-hitter was being noticed. He was a favorite hitter off the bench for new manager Hank Bauer and led the league with 15 pinch-hits in 1964. At one point, he had six consecutive pinch-hits, tying an American League record (since broken), and would have extended the streak to at least seven if not for a nice play by New York's Tony Kubek, who went to his left to snare a grounder and throw Johnson out at first by a half-step. Back in Minnesota after the season, Johnson was honored at the annual Twin Cities Winter Baseball Dinner as the Upper Midwest Player of the Year.
In 1966, the Orioles won the pennant, their first championship since moving to Baltimore from St. Louis after the 1953 season. Johnson remembers the celebration in the clubhouse after the Orioles clinched the pennant in September. The team's owner, Jerold Hoffberger, was president of National Brewing Company, which made National Bohemian beer. At Hoffberger's directive, beer was sprayed in celebration rather than the usual champagne.
Johnson hoped to get a chance to play in the World Series, especially in the second game. Boog Powell, a left-handed-hitting first baseman who sometimes platooned with Johnson, had been nursing a sore hand, and Johnson thought he might start in his place against Los Angeles Dodgers left-hander Sandy Koufax. However, Powell was well enough to play, and Johnson never did get into the Series. Neither did another 11 of his teammates as Baltimore used only 13 players while sweeping the Dodgers in four games.
Still, Johnson earned a World Series share of $11,683, which he called "the largest unemployment check I ever received."
Early in the 1967 season, the Orioles traded Johnson to the New York Mets, where he played every infield position while hitting .348 in 90 games. He was again relied on for his pinch-hitting skills and led the National League in pinch hits. Johnson was in the National League again the following year, splitting the season between the Cincinnati Reds and Atlanta Braves.
At the end of the 1968 season, Johnson had to make a choice. For a number of years, he had an offseason jobs with Gateway Transportation Company. The company had terminals in many U. S. cities, including those Johnson visited, and he even worked in some sales calls during the season. Gateway eventually offered him a full-time, year-round position as assistant general sales manager, which would have required him moving to LaCrosse, Wisconsin. He also would have had to give up his baseball career, something he was not yet ready to do. Johnson opted to stay in baseball, both to get additional service time for his pension and also because he still wanted to play.
Johnson was traded again, during spring training in 1969, to St. Louis. He played in only 19 games for the Cardinals before being put on waivers. When Oakland manager Hank Bauer saw that Johnson was available, he had the Athletics arrange an inter-league deal to get him. Bauer and Johnson had been teammates with the Kansas City Athletics in 1960. Bauer had been a coach and then manager when Johnson was with Baltimore. In Oakland, the two were happy to be back together. "He was the best [manager] I ever saw," said Johnson of Bauer. "All he asked you to do was stay in shape and get your rest."
Johnson played with the Athletics through 1969, hitting .343 in 51 games, and the first half of the 1970 season, which included a short stint in Iowa of the American Association, Oakland's AAA farm team. He appeared in his final game on June 20, appropriately, as a pinch-hitter.
Johnson completed his 11-year major-league career with a .272 batting average. His lifetime batting average as a pinch-hitter was also .272. He said the proper attitude was the key to being an effective pinch-hitter. He'd come to the ballpark everyday ready to play but wouldn't be disappointed if he didn't. When the opportunities came, he made the most of them.
Johnson hit 44 home runs during his major-league career and homered in 17 different stadiums. One that eluded him was Yankee Stadium, but Johnson had a near miss in the second game of a doubleheader on Labor Day in 1961. Yogi Berra had entered the game as a defensive replacement for Bob Cerv for New York at the beginning of the eighth inning. Washington trailed the Yankees 3-2 with two out in the ninth when Chuck Hinton walked and Johnson stepped in to face Bud Daley. Johnson hit a long drive to left. According to Tommy Holmes in the New York Herald Tribune, "Racing as fast as his stumpy legs could carry him, Yogi Berra reached the low rail in front of the leftfield stands just in time. A backhand sweep of the great man's gloved hand did the rest. It brought back the ball Bob Johnson, young Washington shortstop, had hit on the line, just before it would have become a two-run homer. Even as young Mr. Johnson was jumping up and down to celebrate a smash that would have put the Senators in front, he stopped short in grim realization that the game was over and the Yankees had won, 3-2." Although Berra saved the game for the Yankees, he injured his wrist making the catch and was out for the next 10 days.
After his playing career was over, Johnson returned to Minnesota. He became a salesman for liquor distributor Ed Phillips & Sons and stayed with that job despite an opportunity to become Dick Siebert's assistant coach with the Minnesota Gophers in 1972. Jerry Kindall had left the job to become the head coach at the University of Arizona, where he won three national championships, and Johnson had a chance to take over, along with a promise to be promoted to head coach after Siebert retired. However, the job description for the new assistant coach included being the director of the Williams Fund, and Johnson was not enamored with the prospect of fundraising. He decided to stay with his sales job. (The coaching job went instead to Johnson's former minor-league teammate, George Thomas.)
Later in the 1970s, he worked in commercial real estate before going to work for the Minnesota South District Office of the Lutheran Church-Missouri Synod. For the next two years, he was involved in mission development and evangelism training, and he began drawing his baseball pension to supplement his income.
In 1982, Johnson began working for Spartan Promotional Group, selling specialty advertising items. Johnson enjoyed selling so much that he was still doing it more than a quarter-century later, while his wife worked as a home health-care aide. Bob and Karen had three children, Greg (born in 1961), Stephanie (1963), and Todd (1969), and seven grandchildren.
After his playing career, Johnson stayed active in baseball. He worked for 13 years on the Minnesota Twins youth clinics and spent many winters managing a Fantasy Camp team for the Orioles in Florida.
In the lower-level family room of his home on the east side of St. Paul, where he and Karen lived since 1964, Johnson had some mementos from his career, including several baseballs. One was from his 500th career hit, off Al McBean in 1967 ("I knew I wasn't going to get to a thousand, so I kept the 500th," he said); another was the ball from his sixth consecutive pinch-hit; and the prize was the ball he hit for a home run on Opening Day in 1962. But on the other side of the room was his favorite: a ball signed by Eric Johnson, his baseball-playing grandson. "It means as much to me as any of them."
Bob Johnson died at the age of 83 on November 9, 2019.
An earlier version of this biography appeared in SABR's "Minnesotans in Baseball" (Nodin Press, 2009), edited by Stew Thornley.
Sources
Interview with Bob Johnson, Thursday, January 10, 2008 with follow-up telephone interview Sunday, January 13, 2008.
"St. James Tops Final Grid Poll" by Ted Peterson, Minneapolis Tribune, Thursday, November 12, 1953, p. 1S.
"Edina Downs Washburn 1-0; West Wins," Minneapolis Tribune, Wednesday, April 28, 1954, p. 27.
"Edina, Tonka, Robins Win; Walters Ace," Minneapolis Tribune, Friday, May 7, 1954, p. 21.
"Park, Edina Keep Winning to Lead Loop," Minneapolis Tribune, Friday, May 14, 1954, p. 21.
"Edina, Austin, Norwood, Duluth Sweep Openers" by Bob Harris, Minneapolis Tribune, Thursday, June 17, 1954, p. 24.
"Duluth Denfeld Tips Edina 3-1" by Bob Harris, Saturday, June 19, 1954, p. 13.
"Edina's Walters May Be Pro Soon" by Jim Byrne, Minneapolis Tribune, Sunday, June 20, 1954, p. 4S.
"Edina's Walters, Johnson Sign Pact with Detroit" by Bob Harris, Minneapolis Tribune, Monday, June 28, 1954, p. 34.
"International League: Record 21,885 See All-Stars Top Tribe" by Cy Kritzer, The Sporting News, July 5, 1961, p. 31.
"Vernon Nixes Nice-Guy Rep, Blisters Nats" by Shirley Povich, The Sporting News, August 2, 1961, p. 30.
"Yanks Rally to Sweep Nats, 5-3, 3-2; Maris Hitless: Mantle Plays 1 Inn.; Berra Catch Decisive" by Tommy Holmes, New York Herald Tribune, Tuesday, September 5, 1961, p. 22.
"Nats Muffle Maris But Lose Twice" by Bob Addie, Washington Post, September 5, 1961, p. A17.
"Orioles Tap Handyman Johnson to Break Up Infield Juggling Act" by Doug Brown, The Sporting News, December 15, 1962, p. 19.
"Spare Part Johnson Shifts Oriole Attack to High-Speed Gear" by Doug Brown, The Sporting News, May 18, 1963, p. 14.
"Orioles' Johnson Shortens Swing and Sprays Hits" by Doug Brown, The Sporting News, August 3, 1963, p. 8.
"Pinch-Hitter Johnson to Be Honored," The Sporting News, January 23, 1965, p. 19.
"Johnson, Pocket-Size Colavito, Specializes in Batting Streaks" by Doug Brown, The Sporting News, June 19, 1965, p. 22.
"Mets Landed a Live One When They Nabbed Swatter Johnson" by Jack Lang, The Sporting News, September 9, 1967, p. 19.
"The Morning After" by Tom McEwen, Tampa Tribune, March 1, 1968.
"Johnson Seen as Another Card Master Deal" by Neal Russo, The Sporting News, April 12, 1969, p. 10.
"Pinch-Hit Star Johnson Perks Up A's Offensive" by Ron Bergman, The Sporting News, August 23, 1969, p. 11.
"Bunts and Boots," The Sporting News, April 18, 1970, p. 37.
"Now Batting for the Pitcher, Bob Johnson" by Brent Kelley, Sports Collectors Digest, March 30, 1990, pp. 240-243.
Photo Credit
The Topps Company
Born
March 4, 1936 at Omaha, NE (USA)
Died
November 9, 2019 at St. Paul, MN (USA)
If you can help us improve this player's biography, contact us.
http://bioproj.sabr.org/bp_ftp/images4/JohnsonBob.jpg
600
800
admin
/wp-content/uploads/2020/02/sabr_logo.png
admin
2012-01-04 20:25:25
2022-04-04 13:52:22
Bob Johnson