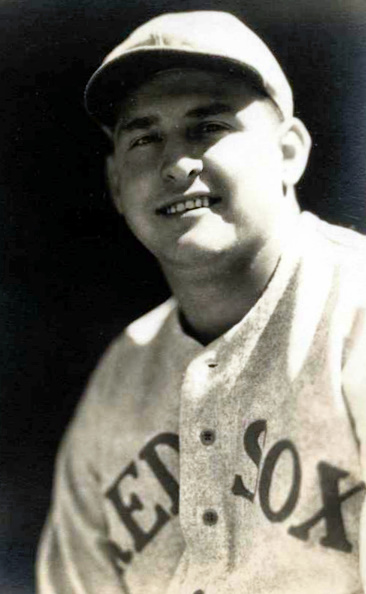 ---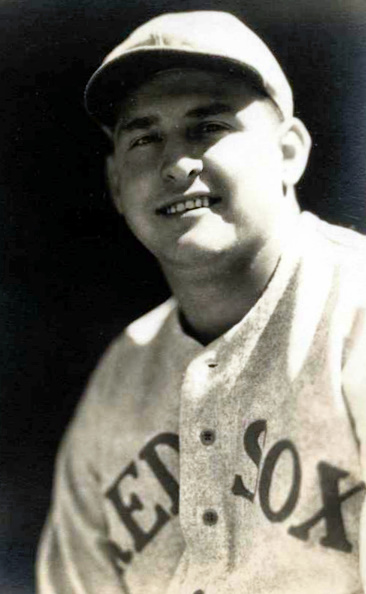 Right-handed pitcher Bob Kline was a very large ballplayer, with a self-reported playing weight of 235 pounds and standing 6'4". [1] When Red Sox trainer Bits Bierhalter put him on a diet regime, he lost effectiveness.
Red Sox scout Jack McCallister discovered him at Central High School in Columbus, Ohio, where he played baseball, football, and other sports. Kline was faced with a choice: an Ohio State alumnus had offered to pay his way through college, while McCallister offered him a contract which would place him with the Central League team in Springfield, Illinois, immediately after graduation from high school. Kline chose baseball.[2]
Bob Kline was born in the community of Enterprise, Ohio, in December, 1909. Most baseball record books give the date as December 9, but Kline reported it as December 1. He was of German/Irish background. At the time he was born, his father George Kline worked as a merchant at a hardware emporium and lived in Falls, Ohio. Ten years later, at the time of the 1920 census, George was an automobile salesman. Mother Willamette Kline kept house, busy with six sons: Clyde, Orville, Frank, Ray, Joseph, and Robert. Both parents were Ohio natives, as were all four grandparents.
At Springfield, Kline struggled. He posted a record of 3-8 with a 5.29 earned run average. One never would have guessed that he'd be in the major leagues the next year, and Kline himself may have second-guessed his decision before he pitched in 1930 for the Erie Sailors (also in the Class B Central League). Springfield won the league championship that year, but Kline made the All-Star team and led the league in wins, with a 23-9 record and a 3.95 ERA in 305 innings of work.
This earned him a September callup to the Red Sox, and he appeared in his first (and only) game of the year, throwing the bottom of the eighth inning of the September 17 game in Detroit. He faced four batters, allowing just one hit; the Sox scored once in the top of the ninth, but lost, 9-7.
In 1931, he won his first four decisions and as late as mid-July, veteran Boston sportswriter Burt Whitman wrote, "The youthful and huge Bob Kline is pitching as well as any of the Red Sox corps." [3] He appeared in 28 games (including 10 starts), and a total of 98 innings, but his record had slipped to 5-5 – and he was felled by appendicitis. He didn't appear in a game after August 3.
The illness and subsequent operation cost him the rest of the season, and he lost 30 pounds. He returned in 1932, pitching for the eighth-place Red Sox, recording an 11-13 record (a much better winning percentage than his team's 43-111), but his 5.28 ERA was higher than the dismal team average 5.02. That said, Kline would have had a far better record had it not been for two opponents in particular: the Athletics (0-5) and the Indians (0-3). "Doggone Athletics," Kline said. "They just would not let me get started. I guess I was their cousin all right." [4]
His sheer size caught the eye. One Chicago Tribune sportswriter wrote of the two-hit shutout he dealt to the White Sox on July 16: "Bob Kline, a mere youth of 21 years and some 220 pounds, awed the White Sox today as a circus elephant awes school kids. It may have been the youth's phenomenal size that made the Chicagoans forget to hit. Then again it may have been a back breaking curve ball that Kline insisted on serving his guests." Kline was given the name "Junior" by his teammates.
The entire team escaped tragedy as they made their way north as they wrapped up spring training in April 1933, when the train they were on derailed during the night, killing the engineer and fireman. None of the Red Sox was seriously injured, but accounts suggested that Kline was badly shaken up. He got in a full year of work in 1933, largely in relief, pitching in 46 games (eight starts). His year-end record was 7-8, with an improved (if not impressive) ERA of 4.54, working around a slight fracture of his foot which became infected in late May.
The Red Sox, under new owner Tom Yawkey, started spending money to acquire star players, and took advantage of Connie Mack's financial straits in a December 12, 1933 trade in which they acquired Lefty Grove, Rube Walberg, and Max Bishop from the Athletics. It cost Yawkey $125,000 and the contracts of Rabbit Warstler and Bob Kline. It was only one of Mack's sales that month.
Kline started his time with Philadelphia at a disadvantage; he broke his arm while ice skating back home in Columbus and when he did report to camp, he weighed a reported 246 pounds.[5] He was ready by the time the season began, however, and by May 9 had a record of 5-1 (including two defeats of the Red Sox), more wins than Grove and Walberg together. It was a shock to the Shibe Park patrons when Mack put Kline (6-2) on waivers and let him go to the Washington Senators on June 23 for an amount perhaps as much as $2,500 over the $7,500 waiver price. But Kline's ERA was 6.35, and Mack may have foreseen a steeper decline.
His acquisition was welcome news to manager Joe Cronin but presented Washington's assistant trainer Frankie Baxter with a problem – finding a uniform that would fit. They had none large enough, but an appeal to the Spalding Co. turned up one from back in 1929. [6] He only appeared in six games for Washington, throwing just four innings. He was 1-0, but with a 15.75 ERA. His last game was on July 15. Those were the last four innings he threw in the major leagues.
Washington sent him to their affiliate in the Southern Association, the Chattanooga Lookouts, without keeping a string on him, in exchange for Ed Linke. There Kline was 6-3, with a 3.84 ERA. In December, his contract was purchased by the Buffalo Bisons.
In the offseason, Kline married Irene Mildred Hartman in early February. He enjoyed three seasons in Buffalo, finishing 17-10, 12-10, and 11-14 in 1935-37, and then 8-13 and 6-10 in 1938 and 1939 which, presumably, he didn't enjoy as much, though his 3.50 ERA in 1939 was one of the lowest of his career. In December, the Milwaukee Brewers traded Roy Johnson to Buffalo and acquired Kline.
In 1940, Kline was 8-5 for the American Association Brewers, then just 3-3 for the Minneapolis Millers in 1941. He suffered a knee injury that put him on crutches at the end of the 1941 season. He appeared in only three games and only four innings in 1942, also for the Millers, before he was released in May. He was hired for a position in Columbus to work with young boys on city playgrounds.
Kline contemplated coming back with the Columbus Red Birds in 1946, but the position he took came in midseason when he was named manager for the Marion (Ohio) Cardinals in the Class D Ohio State League, a St. Louis Cardinals affiliate. While there, he threw one-third of an inning. In 1947, he managed the Johnson City Cardinals in Tennessee.
From 1948 through 1957, Kline worked as a scout for the Cardinals, and (after marrying for the second time, to Florence Bohlander in 1957) he worked in 1958 and 1959 for the Kansas City Athletics. He left the game and took a couple of positions in Ohio state government, one with the Highway Department and the other for the Administrative Office, State of Ohio. [7]
Preceded in death by both wives, Bob Kline died in a nursing home at Westerville, Ohio, on March 16, 1987 at the age of 77.
Sources
In addition to the sources noted in this biography, the author also accessed Kline's player file from the National Baseball Hall of Fame, the online SABR Encyclopedia, the Encyclopedia of Minor League Baseball, Retrosheet.org, and Baseball-Reference.com.
---
Born
December 9, 1909 at Enterprise, OH (USA)
Died
March 16, 1987 at Westerville, OH (USA)
If you can help us improve this player's biography, contact us.
http://bioproj.sabr.org/bp_ftp/images5/KlineBob.jpg
600
800
admin
/wp-content/uploads/2020/02/sabr_logo.png
admin
2012-01-04 20:38:31
2012-01-04 20:38:31
Bob Kline