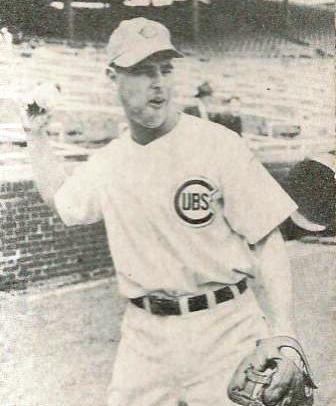 ---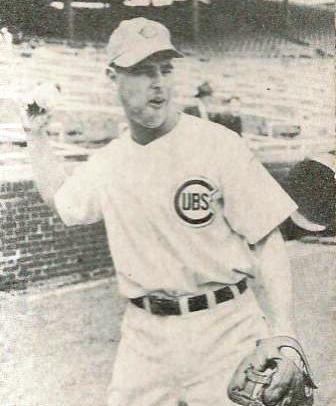 For Cubs fans of the 1940s and 1950s, Bobby Sturgeon will always be linked with two other shortstops who broke into the majors during the spring of 1940 — 10-time All-Star Pee Wee Reese of the Dodgers and seven-time All-Star Marty Marion of the Cardinals.
As the story goes, Cubs manager Gabby Hartnett was pushing the team's front office to acquire a young shortstop, and had his eye on Reese, whose contract the Dodgers had acquired from the Red Sox for $75,000 and prospects the year before. The front office considered the price for Reese too steep, instead opting for a less expensive option from the Cardinals. The Cards apparently offered the Cubs a choice between prospects Sturgeon and Marion for $50,000. The Cubs took Sturgeon. It was later reported that Hartnett became agitated every time he thought about this decision by the North Siders' management. But while it's true that Sturgeon was no Reese or Marion, he was a solid ballplayer and a key reserve on the 1948 NL champion Braves.
Robert Harwood Sturgeon was born in Clinton, Indiana, on August 6, 1919; he moved to Long Beach as a youngster and lived in Southern California the rest of his life. He attended Long Beach Polytechnic High School, noted for a strong baseball program, and starred on the varsity with future major-leaguers Chuck Stevens and Vern Stephens. Poly High's 1936 team featured Sturgeon as the starting shortstop and took the Southern California title with a 14-4 win over Escondido for the Jackrabbits' first championship. Many consider this team to be the best in the school's history.
In the summer of 1937, Bobby began his career in pro ball with the Cardinals' Class D Albuquerque affiliate in the Arizona-Texas League, having been signed by St. Louis scout Bob Hughes — who was also his American Legion Juniors coach in Long Beach. Turning 18 that summer and receiving $75 a month, Sturgeon excelled as a lanky right-handed-hitting shortstop, batting .298 with 148 hits and 82 RBIs — results that earned him a first team all-star selection. Albuquerque defeated El Paso in a best-of-seven series for the championship and beat the Wink Oilers, champions of the neighboring West Texas-New Mexico League, two games to none, for regional bragging rights. In the second game of the best-of-three series, Sturgeon knocked in the winning run in the bottom of the ninth for a 5-4 clinching win.
Sturgeon's strong rookie performance earned him a promotion in 1938 to a solid Sacramento Solons team of the talent-laden Pacific Coast League, and a role coming off the bench to spell starting shortstop Joe Orengo. Unable to adjust to this new role and his limited playing time, Bobby batted just .122 in 49 at-bats over 22 games with a similar drop in his normally reliable glove work — an .898 fielding percentage.
In early July Sturgeon was returned to Albuquerque after much lobbying by team president Sam Minces, who found his Cardinals in the cellar after the first half of the season. Later that summer, Sturgeon's contract was assigned to the American Association Columbus Red Birds by St. Louis general manager Branch Rickey. Sturgeon remained with Albuquerque for the balance of the '38 season, earning a second league all star selection while batting .335 in 52 games.
The next spring Sturgeon reported to Columbus, where he produced a stellar season — batting .297 and leading the league in assists while recording a strong .942 fielding percentage. He caught the eye of several major-league scouts, despite competing for attention with two other American Association shortstops, Phil Rizzuto of Kansas City and Pee Wee Reese of Louisville. That winter the Cubs forked over the $50,000 for his contract at the recommendation of scout Clarence "Pants" Rowland.
Invited to spring training in 1940, Sturgeon quickly impressed manager Hartnett with his slick fielding. By making that season's opening day roster, Bobby, at 20, was among the youngest players in the National League. He appeared in seven games at shortstop, batting .190, before being assigned to Jersey City of the International League in early May. He saw action in 124 games at shortstop for the Double A Little Giants, batting .234. Sturgeon said years later of his Cubs debut and quick demotion, "I was pretty cocky about the whole thing. I made seven errors in my first week and found myself in Jersey."
Sturgeon again broke camp with the Cubs in 1941, spending his first full season in the majors as the Cubs' regular shortstop and batting .245 in 129 games with 45 runs scored and 25 RBIs for new manager Jimmie Wilson's sixth-place club. In an indication of his approach at the plate, Bobby had only nine walks in more than 400 plate appearances. It was a much better year all around for him, though; in October, he married sweetheart Doris Hoke.
The following season, however, was not as fruitful. Sturgeon was relegated to a utility role on the Cubs when rookie Lennie Merullo became Chicago's regular shortstop. He saw action in only 63 games, largely splitting time between second base and shortstop, and batted .247 with eight runs and seven RBIs. That offseason, Sturgeon joined hundreds of other major leaguers in the war effort, enlisting in the Navy and serving for the next three years. About this break in his playing career, Sturgeon recalled, "The time I spent in the Navy counted toward my player's pension, and I had a job when the war was over."
Since his military assignments kept him Stateside, Sturgeon had the opportunity to maintain his baseball skills playing for the Long Beach Major-Minors of the Southern California service league. He also spent time on a 1943 service all-star team with other big-leaguers, including Joe DiMaggio, playing war benefit games around greater Los Angeles.
Upon his return to the majors in 1946, Bobby joined a Cubs team that was coming off its first pennant in seven years and he enjoyed his best season, batting .296 in 100 games for the third-place club. Sharing time again at both short and second, he scored 26 runs and had 21 RBIs. He also hit his only major league home run, a second-inning solo shot into Wrigley Field's left-field bleachers off Howie Pollet of the Cardinals on September 22. Another '46 highlight was the season-ending series in St. Louis, when the Cubs took two of three games to drop the first-place Cardinals into a tie with the Brooklyn Dodgers — bringing about the first-ever playoff to determine the National League pennant. While Bobby enjoyed the outcome, he did not see action, because of a dislocated finger sustained earlier in the week.
The next season, his last with the Cubs, Sturgeon played in 87 games, batting .254 with 16 runs and 21 RBIs. He was again slowed by injury; he broke two ribs on a stolen base attempt by Brooklyn Dodgers rookie Jackie Robinson, who instead of sliding into second threw a take-out block that knocked Bobby halfway into left field. Many felt this was retaliation for a game six weeks earlier when Sturgeon hit Robinson in the chest with a throw on a double-play relay.1
A highlight of the '47 season was the 6-to-5 triple play Bobby started on September 1 on a line drive off the bat of Cincinnati's Ray Mueller. Sturgeon caught the liner, stepped on second to double off Eddie Miller, and fired the ball to third, where Peanuts Lowrey nailed Eddie Lukon for the third out. Away from the park, the prominent event for the Sturgeon family was the birth of their only child, son Jim.
That offseason had more changes in store, as Sturgeon was traded to the Boston Braves in late February 1948 for infielder Dick Culler and pitcher Walt Lanfranconi. As a dependable glove man, Bobby was deemed best suited to a backup infielder role — a veteran who could both fill in at second base and back up rookie shortstop Alvin Dark. He was also felt to be a positive clubhouse influence by manager Billy Southworth based on their time together in the Cardinals farm system. The trade also enabled the Braves to move the outspoken holdout Culler, who was not popular with manager Southworth.
Two highlights of Sturgeon's year with the Braves came first in mid-June, when he knocked in the tying run and scored the winning run in a four-run ninth inning rally over the Reds that propelled Boston into a first-place tie, and then in late July, when he was recalled from a three-week stint with the Braves' Milwaukee affiliate after second baseman Eddie Stanky broke his ankle. Bobby had been optioned to Milwaukee on July 2, when the Braves recalled pitcher Al Lyons from the affiliate, and this time he stayed with the big club the rest of the pennant-winning season. While he was a member of the Braves' World Series roster, he did not appear in the Series; he was, however, awarded a full runner-up share of $4,570 and a championship diamond ring. All told, Bob played 34 games with the NL champs that year, batting .218 with 10 runs scored and four RBIs.
Despite the disappointment of losing the Series, Sturgeon appreciated the work of his close friend Bob Lemon, who won Games Two and Six in Boston for the Indians while sporting a 1.65 ERA. The two had grown up in the same Long Beach neighborhood with Chuck Stevens and Vern Stephens, and the three would come by Lemon's house to help him with his chores, so the future Hall of Fame pitcher could join his friends on the local baseball diamond. Later the two Bobs were groomsmen in each other's weddings.
The exciting summer of '48 was Sturgeon's last season in the majors. The Braves sold his contract to Seattle of the Pacific Coast League that offseason. He was far from through with the game, however. After two seasons in the PCL with Seattle and Los Angeles, batting .272 and .202 respectively, Bobby hooked on with Class B Victoria Athletics of the Western International league in 1951. It was here that he got his first opportunity as a player-manager, taking over the team in midseason for "Kewpie Dick" Barrett.
The next season, Sturgeon was signed as player-manager of the Class C Ventura Braves of the California League. While he batted .329 in 59 games, the team was far less successful, having fallen to seventh place by late July. The club also ran into financial difficulties according to Bob, who resigned on August 2 "to help out" since he was drawing the largest salary.2 He returned to one of his old haunts, catching on as a second baseman with last-place Sacramento of the PCL and batting .239 in 50 games.
Looking to continue his managerial career, Bob signed on in 1953 as player-manager for a new Class A franchise, the Edmonton Eskimos of the Western International League (who brought organized ball back to Edmonton, Alberta, after a 31-year absence). This was among Bob's most successful years as a manager; he led a team that had no official MLB affiliation other than an informal relationship with the New York Yankees, and a roster that had just two players who had previously played together, to a very competitive third-place finish. Bob also had success at the plate, batting .244 with 45 runs scored and 57 RBIs in 118 games. In '54 he returned for a second season at the helm in Edmonton, logging 97 games as the club's second baseman, batting .269 with 32 RBIs as the Eskimos, a .500 team, finished fifth in the 10-team league.
Seeking to catch on with a major-league organization, Sturgeon signed on as player-manager of the Phillies' Class C affiliate in Salt Lake City of the Pioneer League for 1955. He did not last the season as the defending league champion Bees staggered to a fourth-place first-half record, resulting in Bob's release in early July. Later that month he caught on with the Fargo-Moorhead Twins of the Class C Northern League as an infielder, and his 15 games with the Twins were his last in professional baseball. Even at the mature age of 36, Bob continued to have success at the plate that final summer of a 16 season professional career, batting over .300 in 144 at bats at his two stops.
That offseason Sturgeon worked to secure another managerial opportunity, but with nothing forthcoming that suited him and his family, he took a corporate job in Long Beach with the recreation department of the Douglas plant — an operation that became the major assembly plant for DC-8 jets in the years to follow. He eventually became the sports director for the resulting McDonnell Douglas operation in Long Beach, organizing all the company's sporting events. Bob also logged significant time on the area golf links, and was an enthusiastic supporter of the Angels' teams over the years until his death at the age of 87 in San Dimas, California, on March 10, 2007.
Note
This biography originally appeared in the book Spahn, Sain, and Teddy Ballgame: Boston's (almost) Perfect Baseball Summer of 1948, edited by Bill Nowlin and published by Rounder Books in 2008.
Notes
1. baseballlibrary.com
2. Long Beach Press-Telegram, August 3, 1952.
Sources
Newspaper Articles:
Long Beach Press-Telegram, 1935-1956, 1984
Albuquerque Journal, 1937-1938
Oakland Tribune, 1938
Chicago Daily Tribune, 1939-1948.
Boston Globe, 1948.
Boston Post, 1948.
Walla Walla (Wash.) Union, 1953.
Letter dated May 5, 1989, from Sturgeon to Bob Lemon.
Interview in Baseball Digest, June 2000 by Clay Woody.
Obituary from the Press-Telegram, March 2007.
Born
August 6, 1919 at Clinton, IN (USA)
Died
March 10, 2007 at San Dimas, CA (USA)
If you can help us improve this player's biography, contact us.
http://bioproj.sabr.org/bp_ftp/images3/SturgeonBobby.jpg
600
800
admin
/wp-content/uploads/2020/02/sabr_logo.png
admin
2012-01-04 20:40:53
2012-01-04 20:40:53
Bobby Sturgeon