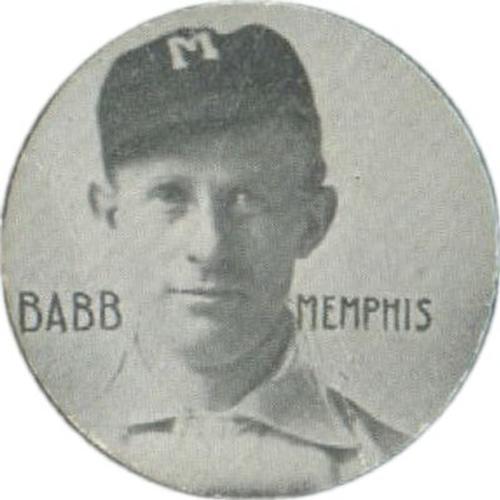 ---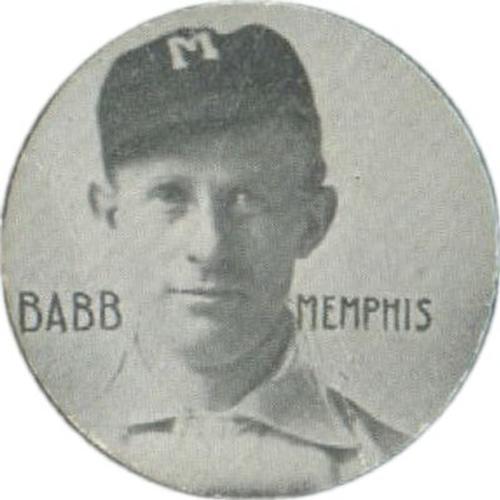 First on the field, then as trade fodder, Charlie Babb played a useful part in the events that catapulted the turn-of-the-century New York Giants from worst to first in National League standings. In remaking the roster of the 1902 cellar dwellers, recently-installed Giants manager John McGraw envisioned the shortstop position being manned by George Davis, the future Hall of Famer whom McGraw had induced to jump his contract with the Chicago White Sox. But when league-office directives and a federal court injunction sidelined Davis for virtually the entire 1903 season, Babb, an unheralded rookie, proved a surprisingly competent replacement, helping the Giants soar to a second-place finish. Then in the offseason, the trade of Babb (and second-tier Giants pitcher Jack Cronin, plus cash) yielded McGraw the next best thing to Davis: Brooklyn's Bill Dahlen, the best defensive shortstop in baseball. With Dahlen anchoring the Giants infield, New York went on to capture the NL pennant in 1904, and a World Series title the following year.
Unhappily for Charlie Babb, World Series celebrations in the Giants locker room roughly coincided with his departure from major-league baseball, his three-season tour of duty completed. Released by Brooklyn late in the 1905 campaign, he thereafter signed with Memphis of the Southern Association and spent the remainder of his career as a player-manager at various minor-league outposts. Babb left the game at the end of 1913, and spent the rest of his life living and working out of the limelight. He died quietly in his sleep at age 81.
Charles Amos Babb was born on February 20, 1873, in Milwaukie, Oregon, a sparsely populated hamlet on the outskirts of Portland. He was the older of the two children born to a timber sawyer turned express wagon driver, Amos Babb (1842-1915), and his wife, Ellen (nee McKee, 1844-1892).1 By the early 1880s the Babb family had resettled in Portland, where Charlie (called Chip by family and childhood friends) attended school through the eighth grade. He then entered the local work force, finding employment initially as a common laborer and later as an apprentice plumber.2
Like countless other youngsters, Babb spent his leisure time playing baseball on local sandlots. In time he graduated to athletic-club nines and other amateur teams playing in and around Portland. The first-discovered press notice of Babb appeared on May 15, 1893, when the (Portland) Oregonian mentioned that the 20-year-old had signed to play second base for the Oregon City club in the independent Oregon Baseball League. Two weeks later, Babb was in the lineup for the OBL season opener, a 19-18 Oregon City victory over Portland.3 He spent the following season playing mostly third base for various area clubs, including the Portland Amateur Athletic Club nine.4 Babb repeated that regimen in 1895, performing well but having fulfillment of his aspirations for a professional career hampered by the absence of a recognized West Coast league.5 That October, however, Babb's play in an exhibition-game series against the St. Paul Apostles of the Class A Western League aroused the interest of St. Paul manager Charles Comiskey. Sometime thereafter, Comiskey offered Babb a contract to play the 1896 season for St. Paul. But in a risky move, Babb decided to remain close to home and cast his lot with the just-formed four-club New Pacific [or Pacific Northwest] League. In fact, Babb was reportedly the very first player signed by the fledgling circuit.6
Babb made his professional debut as the third baseman of the Portland Gladiators, the club piloted by ex-major leaguer and circuit organizer Bob Glenalvin. Even before a game had been played, a Sporting Life correspondent was predicting success for Babb. "It will not be more than one season before Charles Babb, our young third baseman, is found in the major ranks," predicted the writer, who went by the pseudonym Consolidation, "for if ever there was a ballplayer destined to become a league man, it is this young fellow Babb. Quick on his feet, a perfect fielder, and a way above average hitter, everything points to his rapid advance in the baseball profession. We are all proud of Charley and see in him the making of the greatest third base player of the age."7 Once the season started, Babb's play seemed to vindicate the testimonial. In 29 games, he batted .321, with 13 extra-base hits and 12 stolen bases while playing excellent defense for the first-place Gladiators. The New Pacific League as a whole, however, did not fare well. With its other three clubs playing sub-.500 ball, the league disbanded on June 15, leaving Babb and his teammates at loose ends.
By now topped out at 5-feet-10½, 165 pounds, the righty-throwing/lefty-batting8 Babb soon headed east to find new employment. In early July he began a multi-club odyssey by signing with the Wheeling (West Virginia) Nailers of the Class C Interstate League.9 But three errors at second base in his first game hastened his departure from Wheeling.10 Released after making only a handful of additional appearances, Babb quickly signed with a league rival, the Toledo Swamp Angels. But his time there was even shorter, Babb being one of the players swept out in the housecleaning that attended Toledo club owner Charles Strobel's dismissal of manager Frank Torreyson.11 Stranded far from home, Babb briefly joined a semipro team in Sistersville, West Virginia,12 before catching on with his third ISL club, the Fort Wayne (Indiana) Farmers.13 In all, Babb got into 17 Interstate League games in 1896, batting .253 (17-for-67) with eight runs scored, while posting a .907 fielding average on 75 chances as a second baseman.14
Although his numbers were modest, Babb had shown enough to merit a look in faster competition. Signed by the Columbus Senators of the Western League, Babb immediately found himself in competition for the third-base job with future major leaguers Sam Mertes and Jiggs Parrott.15 Against the odds, Babb got the Opening Day nod and performed well, making two diving stabs of line drives in the field while singling and scoring the ninth-inning run that enabled Columbus to escape with a 3-3 tie against Cleveland. But soon thereafter Babb was supplanted in the lineup by his more experienced rivals, and subsequently remanded to Fort Wayne.16 Once there, Babb thrived on less-accomplished Interstate League pitching, posting a robust .322 batting average in 110 games for Fort Wayne.17
Babb encored for Fort Wayne in 1898, batting .317 with 36 extra-base hits and 20 stolen bases in 151 games played. His reward: another chance in the Western League, being a postseason draft choice of the Indianapolis Hoosiers.18 But a far more significant event in the life of Charlie Babb occurred that year off the diamond. On October 20, 1898, he married 18-year-old Kansas native Agnes McCormack. Their 55-year-union would be a happy one but marred, sadly, by the loss of their only child, a belatedly-arrived infant daughter named Anna in 1911.
The Babb acquisition was approved by Sporting Life's Indianapolis correspondent who described him as "the most promising third baseman in the Interstate League. … He is a fast man on his feet and a splendid thrower. He … no doubt will prove the third baseman that we have been looking for."19 But as the season approached, a cautionary note was added: "Babb has a peculiar fielding style … and should not be judged on watching one game. It takes time to appreciate how hard it is to hit a ball past Babb. He is a hard and honest worker and will do well for Indianapolis, if given a chance."20 Unhappily for Babb, he did not receive much of a chance with the Hoosiers. First optioned to Wheeling in May21 and later released to Fort Wayne, Babb spent most of the 1899 season back in the now-Class B Interstate League, batting .292 in 124 games combined between the two ISL clubs.22
For the next two seasons, Babb remained stuck in Fort Wayne,23 playing capably (with .285 and .308 batting averages in 1900-1901), but his prospects for advancement to the major leagues were growing ever dimmer. Back in Indianapolis for the 1902 campaign, Babb took matters into his own hands at midseason. With Indianapolis now a member of the newly created American Association, an independent (or outlaw) minor league unprotected by the National Agreement, Babb jumped to the Memphis Egyptians of the Class B Southern Association.24 The Babb signing was one of several controversial personnel moves by Memphis that soon roiled the circuit in internal discord, and on several occasions Babb was barred from entering the playing grounds of a league rival.25 When he was able to play, Babb performed ably, batting .284 in 66 games for the Egyptians.
For once, fortune now smiled on Charlie Babb. In New York, the new regime of club owner John T. Brush and manager John McGraw was intent on restocking the roster of the last-place Giants and on the lookout for fresh talent. In December Brush announced a real coup: the signing of future Hall of Famer Ed Delahanty, lately of the American League Washington Senators and one of the game's biggest stars. Mostly lost in the excitement of the Delahanty news was Brush's revelation that the Giants had also acquired minor leaguer Charlie Babb, purchasing his rights from Indianapolis for $750.26
Delahanty never made it into a Giants uniform. A barrage of press censure and threatened litigation returned him meekly to the Washington fold. By then, however, manager McGraw had obtained a perhaps even more valuable addition to the New York roster: George Davis, a onetime Giants standout and for the past six seasons probably the best all-around shortstop in baseball. Although under contract to the American League Chicago White Sox for the 1903 season, Davis jumped to New York and was working out with the Giants at the Polo Grounds as the start of the campaign neared. National League President Harry Pulliam thereupon decreed that, pursuant to the terms of the recently reached interleague peace settlement, Davis was the property of the White Sox and ineligible to play anywhere else.27
The timing of the Pulliam edict left McGraw few options beyond using untested Charlie Babb as his Opening Day shortstop. On April 17, 1903, the 30-year-old rookie made his major-league debut against Brooklyn before some 20,000 Polo Grounds spectators. With staff ace Christy Mathewson turning in an uncharacteristically poor outing, the Giants lost, 9-7. But despite making one of New York's six fielding errors, Babb had a pretty good day. In five plate appearances against Superbas right-hander Henry Schmidt, he singled twice, successfully sacrificed, and scored a run. With the tying runs on base in the ninth, however, Babb struck out. Still, McGraw was satisfied with what he saw, and Babb remained the Giants everyday shortstop into early July.
While Babb was manning his position, the strong-willed Davis refused to report to Chicago, spending most of his afternoons in a Polo Grounds box seat or at local race tracks. Thus, Davis was in town and available to play when events involving New York Highlanders shortstop Kid Elberfeld prompted NL President Pulliam to grant New York club owner Brush's petition to reinstate Davis to the Giants roster. McGraw immediately reinserted Davis into the lineup, but the three months of idleness had left the veteran in no condition to perform to previous standards. Davis played poorly in four road games, but a federal court injunction secured by White Sox owner Comiskey relieved McGraw of the duty of sending Davis to the bench. With Davis now legally enjoined from playing anywhere other than Chicago, Babb resumed playing shortstop for the Giants.
Babb finished the 1903 season with decent numbers in 121 games played. At bat, he posted a Deadball Era-respectable .248 batting average. He hit with little power (only 23 extra-base hits), but being hit-by-pitch a league-leading 22 times boosted his on-base percentage to an above-average .350. On the minus side, Babb also led the NL in strikeouts (64). In the field, he was less than graceful but managed to post middle-of-the-pack defensive stats for a National League shortstop. All things considered, Babb had had a successful maiden season, establishing himself as a bona-fide major-league ballplayer in the process.
That was an important point for McGraw, as it allowed him to use Babb as legitimate trade bait in the offseason. After he re-signed with New York for 1904, Babb, pitcher Jack Cronin (6-4), and $6,000 were sent to Brooklyn in exchange for Bill Dahlen, the NL's premier fielding shortstop. Most observers considered the deal lopsided in New York's favor,28 and McGraw later stated that he considered the transaction "the most successful deal that I ever made. It gave me just what I wanted – a great defensive shortstop. There were mighty few better than Bill Dahlen."29 But opinion was not unanimous, with some, such as Brooklyn sportswriter John B. Foster, citing the perceived age difference between Babb and Dahlen as working to Brooklyn's advantage in the long run.30
Both men fulfilled expectations during the 1904 season. Dahlen had an outstanding year, leading the National League in RBIs (80) while playing a sterling game at shortstop for the pennant-winning (106-47) New York Giants. But Babb played well, too. In 151 games at short for a sixth-place (56-97) Brooklyn club, he led the NL in putouts (370) and posted a solid-for-the-era .927 fielding average. On offense, he raised his batting average to .265 and stole 34 bases. Based on that performance, an extended stay in the majors seemed assured.
Regrettably, it was not to be. Babb got off to a poor start in 1905 and was never able to recover. At the plate, it looked as if he had forgotten how to hit, given to "swing[ing] feebly at the curves which come inside the plate."31 He finished the season batting a meager .187 in 235 at-bats. Babb had also been displaced defensively, giving way at shortstop to 21-year-old Phil Lewis, and was limited mostly to fill-in work at first and third base. On September 2 Charlie Babb played third and went 0-for-2 in a 1-0 loss to Boston. It was his last major-league game. Several days later, Babb was released by Brooklyn,32 bring his three-year stay in the bigs to a close. In 347 games played, he batted .243, with 54 extra-base hits (but no homers), and 66 stolen bases. He scored 144 runs and knocked in 116. Babb had been at shortstop for 300 of his games, posting a decent .921 fielding average at the position. Through it all, he had been a congenial teammate and was well-liked by fans and the sporting press.
Before the year was out, Babb returned to Memphis, where he became player-manager of the local club in the now-Class A Southern Association. As was the responsibility of all minor-league skippers, it was Babb's job to recruit the playing talent for the Egyptians' roster, and at first he did well. In his first two seasons at the helm, he found and signed the players needed to guide Memphis to second-place finishes. Babb, moreover, led his charges by example, playing third base full-time and posting solid .294 and .270 batting averages in 1906 and 1907.33 During the latter year, Memphis had led most of the way, only to lose a late-season series to the Atlanta Crackers, and the SA crown with it. The following spring, Babb sought to retool his club. One of his personnel moves involved the sale of grizzled pitcher Otis Stocksdale to a league rival, the Mobile (Alabama) Sea Gulls. Stocksdale, a major leaguer a decade earlier,34 had been with Memphis since 1904, and wanted to remain there as he had recently bought a home in Memphis. Stocksdale informed Mobile management that he would not report, "and if he was not given a berth on the Memphis team he would ask for his release, as he did not care to play in any other city."35 Thus were planted the seeds of the only scandal ever to envelop Charlie Babb during his baseball career.
In early June Stocksdale informed Atlanta Journal sports editor Walter Taylor that "Charley Babb, manager of the Memphis club, threw the pennant in the race last season to the Atlanta club, and did so deliberately for business reasons."36 Promising to back up his allegations with sworn affidavits, Stocksdale declared, "Charley Babb has no right to be a manager in this league, and if my work can put him out, he will go. As soon as I get my affidavits, I am going to start the ball rolling."37 The Stocksdale charge touched off a firestorm in the Southern Association that included an unequivocal denial of the charge by Babb. "Of all the cooked-up fabrications that ever came out of the mouth of man these charges made by Otis Stockdale about me are the limit," said Babb.38 Seizing the initiative, Babb then demanded an immediate and thorough investigation of the matter by Southern Association officials, with the culpable party to be banished from baseball. As Babb saw it, "It simply amounts to one or the other of us going away. [Stocksdale] must prove his charges or suffer the consequences. I am not fit to play in this or any other league if what he says is true, and if he is not telling the truth, then it looks to me as if he should be sent away for life."39
In the run-up to league proceedings on the matter, sentiment lined up solidly behind Babb, well-respected and with a heretofore unblemished reputation. Stocksdale, meanwhile, began backtracking, complaining that his comments had been misconstrued by the Atlanta newsman and inaccurately published.40 The hearing before the league's board of directors turned ugly for the accuser. Stocksdale was unable to support his allegations against Babb with evidence of any kind, claiming that he had not accused Babb of game-dumping. Rather, he had merely complained of mistreatment and overuse by Babb late in the 1907 stretch drive, heatedly "accusing in strong language the Atlanta newspaper of misrepresenting him and his views."41 Affidavits received from editor Taylor and other parties from Atlanta basically called Stocksdale's denials a lie, while Babb's integrity was attested to by affidavits from Memphis and Atlanta players, game umpires, and club owners, none of whom detected any trace of suspicious conduct by the Memphis skipper.42 The proceedings concluded with Babb's exoneration by the board and Stocksdale's indefinite suspension from the Southern Association.43
Babb continued as Memphis player-manager through the 1910 season, but both his own performance and that of his club went downhill. He finished his five-season stint as Memphis field leader with a 339-338 (.501) record. The following year he dropped down to the Class C Virginia League, managing the Norfolk Tars (67-54) to a close second-place finish. But a brief late-season stint with the St. Joseph (Missouri) Drummers of the Western League44 left him unavailable to prosecute an ineligible-player charge he had leveled at the pennant-winning Petersburg club, and probably occasioned his discharge from Virginia League ranks.45 A 1912 job offer from the Syracuse Stars of the Class B New York State League was rescinded when the sale of the club fell through, prompting Babb to file a grievance seeking damages and unpaid salary with the National Association of Professional Base Ball Leagues, the overseer of minor league ball. A small award in Babb's favor was granted by the NAPBBL, and upheld on appeal by the National Commission when Babb appealed seeking more money.46 Babb then spent the season as player-manager of the Altoona Rams/Reading Pretzels of the Pennsylvania-based Class B Tri-State League, guiding the club to a sixth-place (62-59) finish while batting .283 in 75 games. Babb's final season in Organized Baseball was spent back in the Western League with brief, unsuccessful stints in charge of the Wichita Jobbers and Omaha Rourkes. In early September he was released by Omaha "for the purpose of reducing club expenses as [club boss Pa] Rourke found no fault in his work."47 The dismissal brought to a close a productive and honorable 18-season career in the professional baseball.
In February 1914 Charlie Babb officially retired from the game to become the proprietor of a Memphis grocery store.48 By September 1918 he was working as a presser for a Memphis clothes-cleaning establishment.49 Babb and his wife, Agnes, remained Memphis residents for the next two decades, with Charlie reconnecting with his old hometown via a harrowing tale about a chicken defending her brood from a predatory rat written for the animal stories section of the (Portland) Oregonian.50 In September 1941 the Babbs returned to Portland51 where they lived quietly the rest of their lives. On the morning of March 19, 1954, Charles Amos Babb was discovered dead in his bed, the victim of an overnight heart attack.52 He was 81. Following services at a local mortuary, his remains were cremated. Later, the family buried his ashes in the Babb family plot in Lone Fir Cemetery, Portland.53 The lone immediate survivor was his wife of 55 years, Agnes McCormack Babb.
Sources
Sources for the biographical detail provided herein include the circa 1962 player questionnaire completed for Charlie Babb by his widow; US Census, Portland City Directory, and Babb family post data accessed via Ancestry.com; and certain of the newspaper articles cited below. Unless otherwise noted, stats have been taken from Baseball-Reference.
Notes
Born
February 20, 1873 at Milwaukie, OR (USA)
Died
March 19, 1954 at Portland, OR (USA)
If you can help us improve this player's biography, contact us.
http://sabr.org/sites/default/files/BabbCharlie.jpg
600
800
admin
/wp-content/uploads/2020/02/sabr_logo.png
admin
2017-02-21 13:44:41
2017-02-21 13:44:41
Charlie Babb