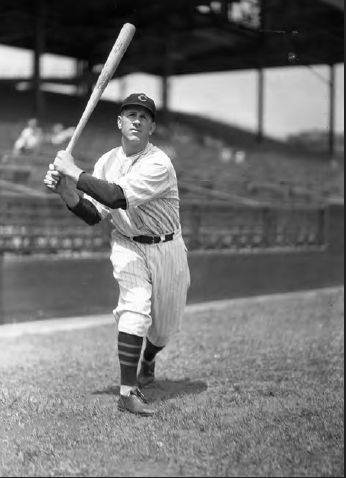 ---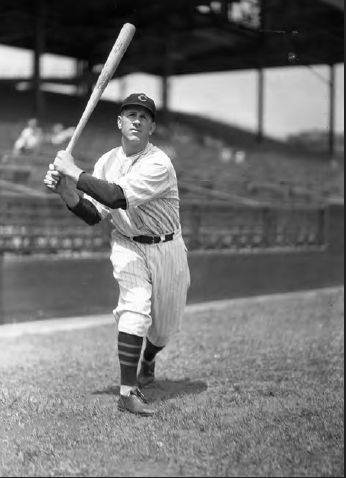 Charlie Grimm was a man of many talents. Called "perhaps the best ever" defensive first baseman by Bill James,1 he led the National League in fielding percentage at the position seven times and finished in second place three times between 1920 and 1933 with the Pittsburgh Pirates and Chicago Cubs. He was a .290 hitter over his 20-year career, with nearly 2,300 hits and more than 1,000 RBIs. He managed the Cubs to three pennants, and as of 2014 no one except Cap Anson had won more games as the team's skipper. Grimm's career winning percentage of .547 was as of 2014 the 17th highest among managers with at least 1,000 wins.
Grimm was one of baseball's premier entertainers, and not just for his acrobatic play. He would serenade fans before games with his singing and banjo playing. "In the on-deck circle he might brandish two bats in imitation of a butcher sharpening his knives. He and [Cubs catcher Gabby] Hartnett liked to play 'burnout' in front of the fans, advancing up the line and firing the ball toward each other at closer and closer quarters. To the roars of the crowd, he might mimic an umpire's walk behind his back — an act that at least once earned him an ejection as a manager."2
"I had fun playing baseball," wrote Grimm in his 1968 autobiography. "I tried to make it fun for my players after I became manager. I was 'Jolly Cholly' and I always thought a pat on the back, an encouraging word, or a wisecrack paid off a lot more than a brilliantly executed work of strategy."3
Charles John Grimm was born on August 28, 1898, in St. Louis. Of his childhood, Grimm said, "We were a happy family. Pop played the bass fiddle, Mom the harmonica. My older brother, Bill, could do a job on almost any instrument. My other brother, Albert, played the old honky-tonk style of piano. My sister, Margaret — we called her Mutz — was the only one of us who ever took a music lesson. She played piano. I was a banjo man from the start."4
Grimm dropped out of school after the sixth grade. That "wasn't unusual in those days," he said. "That's how far my father had gone too."5 Grimm's German-born father wanted him to join the family painting business, but young Charlie had other ideas. "On the weekends I worked as a peanut vendor in old Robison (Field), the Cardinals' park on Natural Bridge Road," he said. "That's where I really got started, shagging flies for the ballplayers before the games. I came to know the great stars — Ed Konetchy, Hal Chase, Bobby Wallace, Roger Bresnahan, Slim Sallee, Bill Doak, and all the others. Chase took a liking to me and tried to teach me the footwork of a first baseman, but I never did learn to shift properly. It was easier for me to catch a wide throw, in the air or in the dirt, with my bare left hand than backhanding it with the glove."6
The 17-year-old Grimm signed with the Philadelphia Athletics on July 28, 1916. He appeared in his first major-league game on July 30, starting in left field; one teammate taking the field that day was second baseman and future Hall of Famer Nap Lajoie, who retired less than a month later. On September 1 Grimm had a memorable encounter: "Connie Mack sent me up to hit against Walter Johnson in Washington, but I wasn't at the plate long. I didn't even swing on one of the three strikes, and I still have the bat I carried to the plate that day. It's just like new. All I can tell you about Johnson is that I saw him raise his arm."7 Grimm batted .091 with two hits in 22 at-bats during 12 games with the 1916 Athletics, whose record of 36-117 (.235) was one of the worst ever.
Grimm was sold by the Athletics to the Durham Bulls of the Class D North Carolina State League. He played in 29 games with the Bulls in 1917. He returned to his hometown in 1918 and appeared in 50 games with the Cardinals; he had a .220 batting average. Among his teammates were 22-year-old shortstop Rogers Hornsby and 44-year-old infielder Bobby Wallace. Grimm also played in 56 games that year with the Little Rock Travelers of the Class A Southern Association.
In 1919 Grimm appeared in 131 games with Little Rock, batting .285 and compiling a .993 fielding average at first base. He was acquired by the Pittsburgh Pirates and played in 14 September games, with a .318 batting average. On September 11 against the Philadelphia Phillies, Grimm went 4-for-4 (all singles), scored two runs, drove in two runs, and stole a base.
During spring training in 1920, "George Whitted, a third baseman-outfielder, asked me if I could sing bass," Grimm said. "I accepted his invitation for an audition and easily made the Pirates' quartet, which included Cotton Tierney and some other substitutes until Rabbit Maranville came along a year later."8 According to Grimm, "Before each game we'd gather behind the batting cage at home plate and serenade the fans. We weren't inflicting our harmony on them, they demanded it. Deep in my memory of those days are the fans who arrived from the coal mines with lamps still attached to their caps. Then, after the ballgame, we'd get together almost every evening to knock off a few tunes after dinner."9
Grimm played five full seasons with Pittsburgh. In 1920 he led National League first basemen in fielding percentage (.995) while batting .227. In 1921 he raised his batting average to .274 and had a 20-game hitting streak. He tied for third in the NL in triples, with 17, and led the Pirates in RBIs, with 71. His fielding percentage of .994 at first base was second highest in the NL. In 1922 he batted .292 and drove in 76 runs despite hitting no home runs. His rate of 39.5 at-bats per strikeout was fifth best in the NL. For the second year in a row, his fielding percentage of .994 was second best among NL first basemen.
Grimm had his best year offensively in 1923, with a .345 batting average and 99 RBIs. After a five-game hitting streak to end the 1922 season, Grimm had a base hit in the first 25 games of 1923. He led the NL in fielding percentage as a first baseman (.995).
In 1924 Grimm had a standout year defensively. He led the majors in putouts (1,596) and led all first basemen in double plays turned (139) and fielding percentage (.995) while batting .288. Pittsburgh was only 1½ games behind the first-place New York Giants on September 21, then lost three straight to the Giants at the Polo Grounds before finishing in third place. Pirates owner Barney Dreyfuss believed the fun-loving ways of Grimm and second baseman Maranville (a heavy drinker) were a distraction to the team, and on October 27 he traded the pair, along with pitcher Wilbur Cooper, to the Chicago Cubs for pitcher Vic Aldridge, infielder George Grantham, and first-base prospect Al Niehaus.
At spring training in 1925 on Catalina Island in California, it didn't take long for Grimm for find kindred spirits: "Even before I had unloaded my stuff in the locker I had become a member of the Cubs' string band. Hack Miller, the muscular outfielder, played a guitar that was held together with bicycle tape. Barney Friberg, the third baseman, played the mandolin. Cliff Heathcote's instrument was the ukulele. I quickly brought my left-handed banjo out of hiding. We had a group."10
That year he batted .306 and had a four-hit game in five consecutive months (April through August). He led the Cubs in RBIs (76) and on-base percentage (.354) and tied for 13th in the NL MVP voting (the only member of the last-place Cubs to receive votes). He was also named team captain by Rabbit Maranville, who served as a player-manager for less than two months. (Grimm remained the captain, or "Der Kaptink," until 1932.)
In 1926 Grimm batted .277 and had 82 RBIs. In 1927, he had a .311 batting average. And in 1928, he led the league in fielding percentage as a first baseman (.993) and turned 147 double plays in 147 games. He batted .294, with a five-hit game on June 18 and four-hit games on July 26 (14 innings) and August 4.
In 1929, when the Cubs won the pennant, Grimm had a .298 batting average and drove in 91 runs even though he missed 35 games in August and September with a broken hand. In Game Four of the World Series against the Philadelphia Athletics, Grimm hit a two-run homer off 46-year-old Jack Quinn. During the Series, which the Cubs lost to the Athletics in five games, Grimm batted .389 and drove in four runs.
In his autobiography, Grimm wrote, "The best team I ever played on was [Joe] McCarthy's twenty-niners. It was strictly power all the way. No tricky baseball. Kiki Cuyler was the only one who could take an extra base, but who needs finesse with sluggers such as [Hack] Wilson, Hornsby, [Riggs] Stephenson, and Cuyler? And to think that Hartnett was on the bench [with an arm injury] most of the season!"11
In 1930 Grimm led NL first basemen in fielding percentage for a fifth time (.995) while batting .289. He had one of his better years offensively in 1931, with a batting average of .331 and an on-base percentage of .393. On June 21 against the Brooklyn Robins, he went 5-for-5. He again topped in the league in fielding percentage as a first baseman (.993). Grimm was eighth in the NL MVP voting.
On August 2, 1932, with the Cubs trailing the Pirates by five games, Hornsby was let go as manager, and Grimm accepted the position. The next morning he called the team together: "[H]e told the men that he had served under good managers who had taught him what he had to do to help the club. His success, and theirs, he said, would come down to one thing: 'Hustle. We're facing a fight and we have a fine chance to win this pennant. I'm depending on every fellow on the club to give his best. And I know he will.' He also announced that English would replace him as captain."12 August 16 was Charlie Grimm Day at Wrigley Field, and the player-manager was presented with five-foot-high baskets of roses, bouquets, and a platinum watch.
The Cubs, who had chafed under the dictatorial style of Hornsby, responded well to the affable Grimm. The team went 37-18 (.673) under his leadership in 1932, with 14 consecutive wins from August 20 to September 3, and took the pennant by four games over the Pirates. Grimm batted .307 for the season and had 80 RBIs. He tied for fifth in the NL in doubles (42). He led NL first basemen in double plays turned, with 127. The Cubs were swept in the World Series by the New York Yankees; Grimm batted .333. His former manager on the Cubs, Joe McCarthy, won the first of seven World Series titles with the Yankees.
In 1933 Grimm's first full season as a manager, he played in 107 games and batted .247. He also led the majors in fielding percentage as a first baseman (.996). The Cubs had an 86-68 record and finished third. The following year, Grimm batted .296 in 75 games as the Cubs went 86-65 and again finished in third place.
Grimm won his second pennant as a manager in 1935. (He played in only the first two games of the season.) The Cubs had 100 wins — the most by the team since 1910 — and 54 losses. Chicago won 21 straight games from September 4 to 27, allowing more than three runs in a game only once during the streak. The Cubs had the lowest ERA in the majors (3.26) and led the NL in batting average (.288) and runs scored (847). Standouts included NL MVP Gabby Hartnett (.344, 91 RBIs), Billy Herman (.341, 227 hits, 57 doubles), Augie Galan (203 hits, 133 runs), and pitchers Bill Lee (20-6), Lon Warneke (20-13), and Larry French (17-10).
In his autobiography, Grimm wrote, "The best team I managed was the 1935 group. It had balance with slick pitching, fielding, batting, and some speed. A team has to be great to win twenty-one in a row. It also has to be a trifle lucky. And I don't believe any club ever won a pennant unless five or six of its key players had a top season."13 But the team's luck faltered in the World Series, as the Cubs lost to the Detroit Tigers in six games.
In 1936 Grimm's last season as a player-manager, he played in 39 games, batted .250, and played his final major-league game on September 23; he was 38 years old. Over his career, he played in 2,166 games, got 2,299 hits, hit 79 home runs, and drove in 1,077 runs. His fielding percentage at first base was.993. When he retired as a player, only Jake Beckley and Cap Anson had played more games at the position. As of 2014, Grimm was among the top ten first basemen in games, putouts, and double plays turned.
Grimm guided the Cubs to an 87-67 record in 1936 (tied for second place) and a 93-61 record in 1937 (second place). On July 20, 1938, with the Cubs at 45-36 and trailing the first-place Pirates by 5½ games, Grimm was replaced by Gabby Hartnett. He moved to the broadcast booth, and the Cubs won the pennant that year. Grimm rejoined the Cubs as a coach in 1941, then left after he and Bill Veeck, Jr. (son of the former president of the Cubs) bought the Milwaukee Brewers of the American Association. Grimm went on to manage the team, which had a working agreement with the Cubs.
According to Grimm, "One of Veeck's first projects was organizing a little musical group that played concerts before each game. Bill's instrument was a big whistle with holes in it and a plunger to control the air. Rudie [Schaffer] played a home-made bass fiddle, consisting of a five-gallon paint can and a broomstick with a cord on it, which produced a thumping noise. George Blaeholder, a veteran pitcher who has been credited with introducing the now popular slider, played the accordion, and I chimed in with my banjo."14 Grimm managed the Brewers through 1943, winning a pennant and the Little World Series that year.
The Cubs got off to a miserable start in 1944 and wanted Grimm back at the helm. He called on an old friend to replace him as manager in Milwaukee: Casey Stengel, who at the time had an undistinguished record of 581-742 piloting the Brooklyn Dodgers and Boston Braves. With the Cubs having lost ten straight after an Opening Day win, Grimm took over as manager on May 5. The Cubs lost the next three games. Then on May 11, before Chicago starter Ed Hanyzewski took the mound against Philadelphia, Grimm gave him a four-leaf clover, which the pitcher wore under his cap; the Cubs won 5-3. The team went 74-69 under Grimm in 1944, winning 11 consecutive games from July 25 through August 5. He wrote in his autobiography, "I like to think that the sharp turnabout of these 1944 Cubs might have been due, at least in part, to my philosophy that a manager should keep his players relaxed and save the whip for a lion tamer."15
Grimm won his third pennant as a manager in 1945, with a record of 98-56. The Cubs topped the NL in batting average (.277), ERA (2.98), and fielding percentage (.980). First baseman Phil Cavarretta led the league in batting (.355) and on-base percentage (.449), drove in 97 runs, and won the NL MVP Award. Pitcher Hank Borowy, purchased from the Yankees on July 27, went 11-2 with the Cubs and had the lowest ERA (2.13) in the senior circuit; he won the Sporting News NL Pitcher of the Year Award.
Grimm relied heavily on his new ace during the World Series against the Tigers, a strategy that proved costly. Borowy threw a shutout in Game One and pitched into the sixth inning in Game Five (giving up five runs). The next day he threw four scoreless innings in relief as the Cubs won, 8-7 in 12 innings. Two days after that, Grimm sent Borowy to the mound again to start Game Seven. The hurler did not retire a batter, giving up singles to the first three batters (all of whom would score). Leading 5-0 before the Cubs came to bat, the Tigers won, 9-3.
The Cubs slumped under Grimm over the next three seasons, going 82-71 in 1946 (third place), 69-85 in 1947 (sixth place), and 64-90 in 1948 (eighth and last place). In mid-June of 1949, with the Cubs at 19-31, Grimm was fired and replaced by Frankie Frisch. He became vice president in charge of player operations. He resigned in early 1950 to manage the Dallas Eagles of the Double-A Texas League. In 1951 Grimm returned to Milwaukee to manage the Brewers in the Triple-A American Association. He led the team, a Boston Braves affiliate, to another pennant and Little World Series title. Grimm won The Sporting News Minor League Manager of the Year Award.
On May 30, 1952, Grimm was named manager of the Boston Braves, replacing Tommy Holmes. The Braves, who had a 13-22 record when Grimm took over, went 51-67 the rest of the season. He remained the manager when the team moved to Milwaukee the next year. Under his leadership, the Milwaukee Braves were 92-62 in 1953 (second place), 89-65 in 1954 (third place), and 85-69 in 1955 (second place). With a 24-22 record in 1956 Grimm was fired and replaced by Fred Haney. Grimm later wrote of his disappointment at being let go before being able to bring a pennant to Milwaukee. (The Braves won the 1957 pennant and the World Series over the New York Yankees.)
Grimm returned to the Cubs, serving as vice president from 1957 through 1959 and managing the first 17 games of the 1960 season, with a 6-11 record. In an unusual swap, Grimm replaced Lou Boudreau in the WGN radio broadcast booth, and Boudreau became manager of the Cubs. In Grimm's three stints as manager in Chicago, he had a record of 946-782. His career record during 19 seasons as manager was 1,287-1,067. He is one of the few men in the major leagues to both play in 2,000 games and manage 2,000 games.
Grimm served on the Cubs' coaching staff from 1961 to 1963, then rejoined the front office, where he remained until 1981. He was inducted into the Wisconsin Athletic Hall of Fame in 1978. Just north of Madison, Wisconsin, is the town of Windsor, where one can drive on Charlie Grimm Road.
Grimm died of cancer on November 15, 1983, in Scottsdale, Arizona; he was 85 years old. Adhering to his wishes, Grimm's wife, Marion, scattered his ashes over Wrigley Field. In 2009 he was one of ten finalists for the Veterans Committee managers/umpires ballot for the Baseball Hall of Fame.
Sources
Ehrgott, Roberts, Mr. Wrigley's Ball Club: Chicago and the Cubs During the Jazz Age (Lincoln, Nebraska: University of Nebraska Press, 2013).
Finoli, David, and Bill Ranier, The Pittsburgh Pirates Encyclopedia (New York: Sports Publishing, 2003).
Grimm, Charlie, with Ed Prell, Jolly Cholly's Story: Baseball, I Love You! (Chicago: Henry Regnery Company, 1968).
James, Bill, The New Bill James Historical Baseball Abstract (New York: Free Press, 2003).
Porter, David L., ed., Biographical Dictionary of American Sports: Baseball (volume 2) (Westport, Connecticut: Greenwood Press, 2000).
Skipper, John C., The Cubs Win the Pennant! Charlie Grimm, the Billy Goat Curse, and the 1945 World Series Run (Jefferson, North Carolina: McFarland and Company, 2004).
Snyder, John, Cubs Journal: Year by Year and Day by Day With the Chicago Cubs Since 1876 (Cincinnati: Emmis Books, 2005).
Spatz, Lyle, ed., The SABR Baseball List & Record Book (New York: Scribner, 2007).
Stout, Glenn, The Cubs: The Complete Story of Chicago Cubs Baseball (New York: Houghton Mifflin, 2007).
Sugar, Bert Randolph, ed., The Baseball Maniac's Almanac, third edition (New York: Sports Publishing, 2012).
 "Charlie Grimm Is Dead at 85; Baseball Player and Manager," New York Times, November 17, 1983.
"Ex-Braves skipper Charlie Grimm dies," Milwaukee Sentinel, November 16, 1983.
Baseball-Reference.com
Retrosheet.org
Notes
1 Bill James, The New Bill James Historical Baseball Abstract, 471.
2 Roberts Ehrgott, Mr. Wrigley's Ball Club: Chicago and the Cubs during the Jazz Age, 83.
3 Charlie Grimm with Ed Prell, Jolly Cholly's Story: Baseball, I Love You!, 4.
4 Grimm, 8.
5 Grimm, 9.
6 Grimm, 9-10.
7 Grimm, 11.
8 Grimm, 15.
9 Grimm, 17.
10 Grimm, 25.
11 Grimm, 236.
12 Ehrgott, 305.
13 Grimm, 236.
14 Grimm, 149-150.
15 Grimm, 160.
Born
August 28, 1898 at St. Louis, MO (USA)
Died
November 15, 1983 at Scottsdale, AZ (USA)
If you can help us improve this player's biography, contact us.
http://sabr.org/sites/default/files/CharlieGrimm.JPG
600
800
admin
/wp-content/uploads/2020/02/sabr_logo.png
admin
2012-01-04 20:40:45
2021-09-26 15:15:47
Charlie Grimm