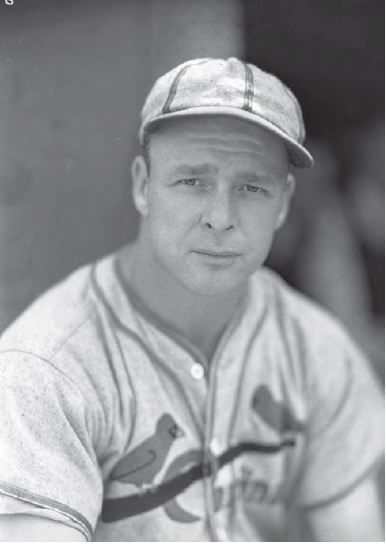 ---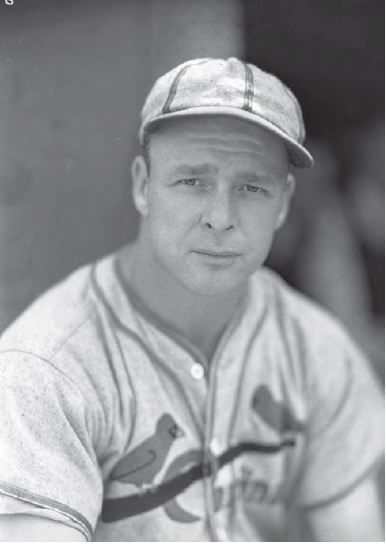 There may have been no one more surprised to find Chick Fullis playing for the St. Louis Cardinals in Game Seven of the 1934 World Series than Fullis himself.
In his only start in the World Series (in Game Five), Fullis had misplayed two balls in center field that directly led to two runs in the Cardinals' 3-1 loss to the Detroit Tigers and gave the Tigers a three-games-to-two lead. Writing in the Brooklyn Eagle the next day, sportswriter Tommy Holmes opined, "Fullis made an admirable bid for the long curved horns of the goat of this World Series."1
Fullis, who had been brought to the Cardinals in mid-June in a trade with the Philadelphia Phillies, had primarily played as a platoon right-handed hitter and defensive replacement with the Cardinals. But after the two miscues in Game Five, Cardinals manager Frankie Frisch clearly lost any confidence he had in Fullis. It seemed doubtful that Fullis would see any playing time in the remaining two games.
However, the Cardinals roared back with a win in Game Six. In Game Seven St. Louis took a 9-0 lead going into the bottom of the sixth when Tigers fans, incensed by a hard slide into third base by the Cardinals' Ducky Medwick in the top of the sixth, pelted Medwick with anything they could throw when he took his position in left field in the bottom of the inning. Baseball Commissioner Kenesaw Mountain Landis ordered Medwick off the field for his safety.
To replace Medwick, Fullis entered the game, undoubtedly surprised and relieved. He acquitted himself well, playing errorless ball and singling in his only at-bat as the Cardinals beat the Tigers, 11-0, to win the World Series. And while he didn't exactly become the hero of the Series, thanks to his Gas House Gang teammates he definitely was able to shed the goat horns.
Charles Philip "Chick" Fullis was born on February 27, 1901, in Girardville, Pennsylvania, in the coal-mining region northwest of Reading. He was the youngest of five children of Barbara (Schaefer) and Charles W. Fullis.  His father, a miner, was the son of German immigrants and his mother was born in Germany.
Chick followed his father into the mines, working nine years in total even in the offseason when he was in the minors. He attended Girardville High School, where he got his start in baseball, playing shortstop. After high school, when he wasn't in the mines he played on town teams around Girardville.2
In 1923 Fullis hooked up with the semipro Shenandoah Braves of the Pennsylvania Anthracite League, where he batted close to .400. Years later, Fullis credited coal mining with helping him with baseball. "Mining is hard work," he told F.C. Lane, "but it is toughening. Playing baseball is easy in comparison."3
Fullis stood only 5-feet-9 but was powerfully built with broad shoulders. He was listed at 170 pounds. He was a speedster on the basepaths. It's no wonder he caught the eye of the Frederick (Maryland) Hustlers of the Class D Blue Ridge League, who signed him for the 1924 season.
Fullis took the league by storm, "a sensation all over the circuit," batting .450 into late June and trailing only one other player in stolen bases. But in the middle of July Fullis left the team unexpectedly. Sometime before coming to Frederick, he had married a hometown resident, Mary Boxer. Now his young bride was calling him home. It would become a yearly ritual for the next few years: Fullis would leave his team sometime during the season to head home for one reason or another. But the teams he played for couldn't afford to lose his bat from the lineup for too long and put up with it.4
Also, sometime during this period, Fullis changed the year of his birth from 1901 to 1904, so instead of being a 23-year-old professional baseball rookie, he was listed as 20 years old. He claimed the 1904 birth year for the rest of his career.
Fullis came back to the team on July 22 but by the middle of August was back home again, this time with the team's permission, as he tried to heal from some nagging injuries that had him in a bad batting slump. Still, he ended the season batting .353 in 60 games.5
After the season Fullis was sold to Portsmouth of the Class B Virginia League. He refused to report, demanding more money. Portsmouth may have also been too far from home for Fullis. Finally, in April 1925, Portsmouth gave up on Fullis and returned him to Frederick.
Fullis again had a great season for the Hustlers. In early August he was leading the Blue Ridge League in batting with a .386 average and led the league in triples as well. He again slumped late in the season but still finished the season with a .338 batting in 95 games. Of course, he unexpectedly left the team in June, this time for a "sickness in the family." After the season, the Frederick Post noted that Fullis was one of the first to leave town when the season ended. His first child, a daughter named May, was born in 1925 so that may have hastened his departure.6
Frederick again sold Fullis after the season, this time to Columbus of the Double-A American Association for $4,000. And again Fullis refused to report, again saying the contract amount was too small. Clearly, Fullis impeded his own route to the major leagues by refusing assignments, especially with Columbus, which was just one rung below the majors.
Columbus returned Fullis rather than try to force him to play and in March Frederick sold him to Macon of the South Atlantic League for $1,000. This time, Macon made it worth his while so Fullis reported to camp.7
Fullis, however, played poorly with Macon, batting only .263 in 23 games, and was returned to Frederick on May 18. Again he tore up the Blue Ridge League, having his best season ever. Playing in 88 games, he batted .364. He also moved his wife and child to Frederick for the season, precluding any need for him to head home.8
Immediately after the 1926 season, Fullis joined the Blue Ridge League champion Hagerstown (Maryland) Hubs in the Five States Series against the Eastern Shore League champion, the Crisfield Crabbers. (Hagerstown was allowed to draft two non-Hagerstown players from its league for the series.) Fullis acquitted himself well, batting .333 in the series and helping lead Hagerstown to the championship.9
Fullis was sent to Macon for the 1927 season. This time he stuck. He hit Sally League pitching to the tune of .336 in 148 games. He also showed his versatility by moving from the outfield to shortstop for part of the season. But it was in the outfield where Fullis really shined. The Sporting News wrote that he was "pronounced by everyone as the best judge of a fly ball they have seen in the Sally League in years." And it was while playing center field for Macon that Fullis got his big break.10
In July New York Giants manager John McGraw traveled to Charlotte to scout Charlotte pitcher Jake Levy in a game against Macon. While there McGraw noticed Fullis's work in the outfield and wound up signing both Levy and Fullis to contracts. McGraw paid Macon $15,000 for Fullis, the highest price paid for a prospect to that point.11
Fullis reported to the Giants on September 15 after Macon's season was over. He didn't get into any games,12 but didn't waste any time impressing at Giants spring training in 1928. He was dubbed the Macon Flash and was described as a "young, promising player with lots of ability." The Giants were beset by injuries so Fullis got plenty of playing time. He made the squad and traveled north with the Giants. But during the regular season, McGraw hardly used the rookie. He played in 11 games, nine as a pinch-runner and twice as a pinch-hitter. Mostly he sat on the bench. The New York Sun wrote that Fullis "never go much of a chance to show after the season opened" and that he "visibly pined on the bench at this inaction."13
Finally, on July 6, McGraw released Fullis to Toledo of the American Association. In his place, McGraw signed left-handed pitcher Garland Buckeye.14
After Fullis finished out the season with Toledo, the Giants recalled him. Again he had a very good spring in 1929 and made a name for himself despite a crowded Giants outfield that included Mel Ott, Fred Leach, Ed Roush, and Jim Welch. As the Giants barnstormed from the South back to New York, Fullis was moved to a starting job.15
But when the season started, Fullis was back on the bench. McGraw did play him more though he started only one game in April. But in May, Fullis started four straight games. In the first of those games, on May 6, he got his first major-league hit, a home run off Clarence Mitchell of the Cardinals.16
But on May 10, after his fourth straight start, Fullis left the Giants to go home to be with his dying father. Charles died on May 19, after Chick returned to the team. He left for the funeral, then when he finally returned for good, Fullis caught fire. By the end of June he was hitting .327. McGraw couldn't keep his hot bat out of the lineup. Roush got hurt, making it easier for McGraw to find time for Fullis.  Fullis maintained his torrid batting until a late-season slump dropped his final batting average to .288 in 88 games. During this time, on July 27, Chick and Mary's second child, Charles W., named after his father, was born.17
Fullis experienced what could be deemed a lost season in 1930. Beset by injuries and illness starting in spring training, he played in only 13 games the entire season, none as a starter. He failed to get even one hit.18
It was no surprise that McGraw looked to trade Fullis in the offseason but he wasn't able to move the outfielder. At the beginning of the 1931 season, Fullis saw time for the Giants at second base, playing for the ailing Hughie Critz. He also was catcher Shanty Hogan's designated runner in late-inning situations. Playing every day in Critz's spot, Fullis was hitting .400 on the Fourth of July. When McGraw traded for second baseman Bill Hunnefield, he moved Fullis into a starting outfield position. The Sporting News wrote, "The development of Chick Fullis into a first-class outfielder and hitter has convinced McGraw that it would be a mistake to take him off the [starting] team."19
Fullis continued his torrid hitting for the rest of the season, finishing the year with a .328 batting average in 89 games. After the season Fullis barnstormed with teammate Johnny Vergez and many other Giants players.20
In December McGraw was quoted as saying that Fullis would be a fixture in the Giants outfield in 1932. But at the end of the month, McGraw purchased outfielder Len Koenecke from Indianapolis for $75,000. Fullis was again in a battle for a starting spot.21
The situation eased when halfway through spring training the Giants sold outfielder Fred Leach to the Boston Braves. Still, Fullis was the odd man out. By season's end, he had started in only 55 games and found that new manager Bill Terry preferred Jo-Jo Moore and Freddie Lindstrom to round out the outfield with Mel Ott. But Fullis had another good season at the bat, hitting .298 in 96 games.22
After the season Fullis barnstormed with a team called the Major League All-Stars which played a seven-game series against the Negro League Pittsburgh Crawfords. Included on Fullis's team were Brooklyn Dodgers Hack Wilson and Danny Taylor, the Pirates' Tom Padden, the Braves' Fred Frankhouse, and the retired Philadelphia Athletic Howard Ehmke. The Crawfords beat the All-Stars in the series, five games to two.23
After the tour, on December 13, Fullis was traded to the Philadelphia Phillies in a three-team deal. Along with Fullis, the Phillies received outfielder Gus Dugas and cash. The Giants got pitcher Glenn Spencer and outfielder George "Kiddo" Davis. The third team, the Pittsburgh Pirates, received outfielder Freddie Lindstrom.24
In 1933, for the first time in his career, Fullis was given a starting job in the outfield out of spring training. He responded with a great season. He led the National League in plate appearances (698), at-bats (647), and singles (162); was second in hits (200), tied for second in stolen bases (18) and was sixth in the league in runs scored (91). On June 24 he went 5-for-5 in a game against St. Louis. By late July he was in third place in the NL in batting average behind teammates Chuck Klein and Spud Davis. He slumped toward the end of the season and finished the season batting .309. Fullis had a fine defensive year as well in center field. He led all center fielders in putouts (410) and assists (15). He missed only three games all season, leaving the team to attend his sister's funeral. The promise of the talent Fullis had shown in previous seasons finally came to fruition.25
As a member of the Phillies, especially if you played well, it was not unusual for trade rumors to be swirling. During the 1933 season it had been reported that the Brooklyn Dodgers were interested in Fullis. In the offseason the Chicago Cubs had expressed interest. But the Phillies, for a change, held onto a good player and kept Fullis for the 1934 season.26
Unfortunately, Fullis started the season in a bad slump. He was 2 for his first 26 at-bats and was benched with an .077 average after just seven games. It didn't help that the Phillies lost all seven games. Fullis was returned to the starting lineup about a week later and promptly started hitting. He raised his batting average to .263 by May  18 before an injury forced him out of the lineup for nearly three weeks. When he got back, he again slumped. This time the Phillies had enough. On June 16, in a swap of outfielders, Fullis was traded to the Cardinals for Kiddo Davis, the second time the two were involved in a trade together.
While the trade meant that Fullis was back on the bench, going from the seventh-place Phillies to the second-place Cardinals put him squarely in the middle of a pennant race. Late in the season he often platooned with left-handed center fielder Ernie Orsatti. He also was used as a defensive substitute for Ducky Medwick.27
Eventually, the Cardinals outbattled the Giants and Cubs for the pennant.  Fullis saw action in Game One of the World Series as an eighth-inning defensive replacement for Orsatti. He got an at-bat, singling in the top of the ninth in the Cardinals' 8-3 win.
Fullis didn't play again until he was inserted into the starting lineup for the ailing Orsatti in the fateful Game Five. In the second inning, he misplayed a Pete Fox single into a double, allowing Hank Greenberg to score from first, putting the Tigers up 1-0. He wasn't charged with an error on the play, however. Then in the sixth, a groundball single went through his legs for a two-base error, allowing Billy Rogell to get to third base. Rogell scored on a sacrifice fly by Greenberg, putting the Tigers up 3-0. The Tigers won the game, 3-1, their third victory of the Series.
Without Fullis in the lineup the Cardinals won Game Six, 4-3, and then helped Fullis shed the goat horns by winning Game Seven, 11-0. Fullis played in that game only because Landis had ordered Medwick off the field for his own safety. For the Series, Fullis was 2-for-5 in three games.
In the offseason, the Cardinals purchased youngster Terry Moore, making Fullis expendable. On January 1, 1935, St. Louis sold him to Columbus of the American Association. Fullis spent the entire 1935 season in Columbus, batting .301 in 125 games.28
Fullis started the 1936 season with Columbus but after 19 games, batting.333, he was purchased by St. Louis on May 10. Fullis managed to stay with the Cardinals for the rest of the season though he saw little playing time. He started 15 games, mostly in center field, and ended the season batting .281 in 47 games. His last major-league game came on September 26, when he got into a game as a pinch-hitter. Years later, Fullis claimed that eye trouble hastened the end of his career, but he was 35 years old (though the press continued to say that he was three years younger).29
On December 7, 1936, the Cardinals sent Fullis, pitcher Ed Heusser, outfielder Lynn King, and cash to Columbus for catcher Mickey Owen. Fullis played only 44 games for Columbus in 1937, batting .268. In the offseason Columbus sold him to Memphis. But Fullis was through with baseball. Earlier in his career, he had bought a bar in Girardville. He planned to work full-time at the bar with his career over. Fullis never even bothered to inform Memphis of his decision to retire. In April 1938 Memphis finally returned Fullis's rights to the Columbus club, which released him.30
Fullis wasn't finished playing baseball, however. In 1939 he played center field and managed the Tremont  (Pennsylvania) Miners of the semipro Lebanon Valley League. The team also had future major leaguer Joe Buzas playing for it. The team was so good that in 1940, it arranged games against the semipro powerhouse Bushwicks and another fine semipro team in the New York area, the Bay Parkways.31
When Fullis wasn't playing baseball, you could find him at his bar, where you could "eat soft-shelled crabs, clams, oysters, crab cakes, drink all the beer you wanted, and listen to Chick tell of the big leagues." He also purchased a hotel in Girardville.32
But Fullis's retirement from baseball was short-lived. In 1946, just nine years after his last game in Organized Baseball, he died of uremia, an illness accompanying kidney failure, in a hospital in Ashland, Pennsylvania, at the age of 45. He was survived by his wife, Mary, and his children, May and Charles. He was buried in the Odd Fellows Cemetery in Tamaqua, Pennsylvania. In 1976 Fullis was inducted into the Pennsylvania Sports Hall of Fame.33
Notes
1 Brooklyn Eagle, October 8, 1934.
2 The 1940 US Census lists Fullis as going to school only until the eighth grade. He may have played for the high-school team yet not attended school. The Sporting News, April 4, 1946; Lane, "He Lost Out With the Champions," Baseball Magzine, August 1934, 300; Frederick (Maryland) Daily News, June 27, 1924.
3 Lebanon (Pennsylvania) Daily News, March 29, 1946; Lane, "He Lost Out," 300.
4 Frederick Daily News, June 27 and July 17, 1924;
5 Frederick Daily News, July 22 and August 25, 1924
6 Frederick Daily News, September 16, 1924; Frederick (Maryland) Post, March 26,  April 29, June 2, August 4, and September 9, 1925.
7 Frederick Post, October 11, 1925, and April 1, 1926; Hagerstown (Maryland) Daily Mail, February 26, 1926.
8 Frederick Post, May 19, 1926.
9 Frederick Daily News, September 13, 1926; Frederick Post, September 21, 1926.
10 Frederick Post, June 3, 1927; The Sporting News, August 11, 1927.
11 The Sporting News, April 4, 1946; Rockford (Illinois) Republic, August 2, 1927; Augusta (Georgia) Chronicle, June 1, 1929; Doug Feldman, Dizzy and the Gas House Gang (Jefferson, North Carolina: McFarland, 2000), 54. Unlike Fullis, Jake Levy never played in the major leagues.
12 Frederick Daily News, August 6, 1927.
13 Augusta Chronicle, March 6, 1928; Berkeley (California) Daily Gazette, March 15, 1928; Winnipeg (Manitoba) Free Press, March 16, 1928; New York Sun, January 10, 1929.
14 Greensboro (North Carolina) Daily Record, July 7, 1928. Buckeye pitched one game for the Giants and was shelled. It was the last game of his major-league career.
15 Seattle Daily Times, December 19, 1928, and January 10, 1929; Aberdeen (South Dakota) Evening News, April 1, 1919.
16 Bob McConnell and David Vincent, SABR Presents the Home Run Encyclopedia (New York: Macmillan, 1996), 536; New York Times, May 7, 1929.
17 Brooklyn Standard Union, May 10, 1929; Richmond (Virginia) Times-Dispatch, June 30, 1929; Cleveland Plain Dealer, August 11, 1929; The Sporting News, August 22, 1929.
18 Oregonian (Portland, Oregon), March 2, 1931.
19 San Diego Tribune, December 10, 1930; Boston Herald, July 7, 1931; Yonkers (New York) Statesman, July 22, 1931; The Sporting News, July 2, 1931.
20 Thomas Bathell, Baseball Barnstorming and Exhibition Games, 1901-1962 (Jefferson, North Carolina: McFarland, 2007), 219
21 Seattle Times, December 3, 1931; Rockford (Illinois) Register-Republic, December 19, 1931.
22 Aberdeen (South Dakota) American-News, March 20, 1932
23 William McNeil, Black Baseball Out of Season (Jefferson, North Carolina: McFarland, 2007), 100; Barthel, Baseball Barnstorming, 134, 219.
24 Cleveland Plain Dealer, December 13, 1932.
25 F.C. Lane, "He Lost Out."
26 New York Sun, June 14, 1933; Oregonian, March 17, 1934.
27 Feldman, Dizzy and the Gas House Gang, 53-54.
28 Boston Herald, March 20, 1935; Baton Rouge State Times, January 1, 1935.
29 Omaha World-Herald, May 11, 1936; Lebanon Daily News, March 29, 1946.
30 Greenville (Mississippi) Delta Star, February 1, 1938; The Sporting News, February 3, 1938; Rockford Register-Republic, April 14, 1938; Greensboro Daily News, April 17, 1938.
31 Lebanon Daily News, June 9, 1939; Jamaica (New York) Daily Press, July 1940; Brooklyn Daily Eagle, August 17, 1940.
32 Harry Humes, "The Girard Theater," Now and Then, Winter 1997, 19; Lebanon Daily News, March 29, 1946.
33 Pennsylvania Death Certificate for Charles P. Fullis; Lebanon Daily News, March 29, 1946.
Born
February 27, 1901 at Girardville, PA (USA)
Died
March 28, 1946 at Ashland, PA (USA)
If you can help us improve this player's biography, contact us.
http://sabr.org/sites/default/files/Chick%20Fullis.png
600
800
admin
/wp-content/uploads/2020/02/sabr_logo.png
admin
2012-01-04 20:08:40
2020-10-16 07:32:43
Chick Fullis