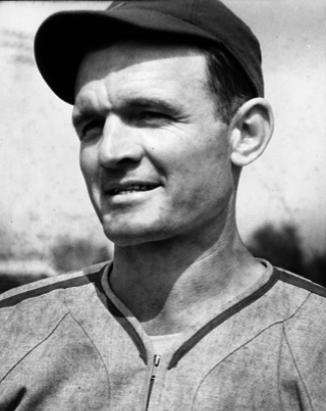 ---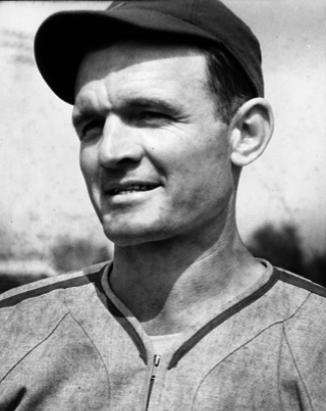 On baseball's biggest stage, Chicago Cubs right-hander Claude Passeau tossed the game of his life: a one-hit shutout against the Detroit Tigers in Game Three of the 1945 World Series. Though often overlooked in discussions about the best pitchers of his era, Passeau was a durable workhorse and five-time All-Star who averaged 15 wins and 252 innings over a ten-year stretch (1936-1945) for the perennially underachieving Philadelphia Phillies and Chicago Cubs.
Claude William Passeau was born on April 9, 1909, in Waynesboro, Mississippi, the only child of Claude and Juanita (Pope) Passeau. The elder Passeau, a sawyer and miller by trade, moved the family from one small town to the next in the southeastern part of the state in search of work. By 1920 the family had settled about five miles off the Gulf Coast in the small, picturesque town of Moss Point, where Passeau's grandmother ran a boarding house. Claude dabbled in sports at Moss Point High School, and graduated in 1928. "I'd rather fish and hunt than I would play baseball, at least at that time," said Passeau, claiming that he was the 12th man on a 12-man team.1
Passeau had scholarship offers to attend Louisiana State University and Millsaps College, and chose the latter, located in Jackson on the southern edge of the Mississippi Delta. Passeau gradually filled out his big, 6-foot-3 frame and became an excellent athlete. He earned three letters each in baseball, basketball, football, and track before graduating with a degree in agricultural science in 1932; however, he was initially reluctant to play baseball because of a gruesome hunting accident he suffered as a 16-year-old. He had accidentally discharged a shotgun and the blast tore through his left hand and part of his wrist. After surgery, his third and fourth fingers were permanently flexed toward the palm of his hand. The baseball coach invited him to throw batting practice one day. "I didn't even know how to stand on the mound. I just threw hard and of course the batters didn't like it," he recalled.2
In 1929 Passeau played semipro baseball in Inverness, Mississippi, under the alias Newburn to keep his college eligibility. "Late that season, Eddie Goosetree, scout for the Tigers, came upon us and signed me to an Evansville [Hubs] contract," Passeau told Dick Farrington of The Sporting News. "I didn't report … and explained that I wanted to go back to college."3
Passeau agreed to report to the Fort Smith (Arkansas) Twins of the Class C Western Association in 1930, but quit after just nine days because of homesickness. He returned to the semipro circuit and "worked under more pseudonyms than a carnival wrestler."4 "I'd play somewhere about 30 to 45 days and then I'd move on to another league, another town, and just disappear after two or three paydays," said Passeau. He recalled that he used about six different aliases.5
After graduating from college in 1932 and no longer concerned about his eligibility, Passeau spent three frustrating years battling control problems in the Detroit Tigers farm system. He bounced around with seven different teams in lower-level leagues, posting a combined 30-30 record, and struggled in his 18 games in A-ball. Passeau was given his unconditional release during spring training with the Milwaukee Brewers of the American Association in 1935.6
Undeterred by the "no prospect" label given to him by Tigers scout Billy Doyle, the 26-year-old Passeau signed with the Des Moines Demons in the Class A Western League for the 1935 season.7 Unexpectedly, Passeau harnessed his speed and developed into the circuit's best pitcher. He struck 68 batters over a five-game span en route to the league high in strikeouts (239) and wins (20). Passeau got another chance when Pittsburgh Pirates scout Bill Hinchman signed him to a contract in late July.
Passeau was a September call-up with the Pirates in 1935 and made his big-league debut in the last regular-season game, a start against the Cincinnati Reds at Crosley Field on September 29. The big Mississippian got tagged with the loss by surrendering seven hits and four runs in just three innings. "My arm was shot," said Passeau, after pitching 244 innings in a short Class A season before moving to the big leagues.8 Passeau was a throw-in when the Pirates traded catcher Earl Grace to the Philadelphia Phillies for their catcher, Al Todd, in the offseason. Coincidentally, the Phillies had the chance to sign Passeau after his release from the Tigers organization, but scout Patsy O'Rourke considered him a "wild man" with poor control.9
Passeau arrived with high expectations at Phillies spring training in Winter Haven, Florida. Manager Jimmie Wilson and Philadelphia sportswriters labeled him the "rookie most likely to succeed."10 With only one winning season since their unceremonious trade of the legendary Grover Cleveland Alexander after the 1917 season, the Phillies were in dire need of pitching. Passeau picked up his first two big-league wins toiling out of the bullpen, which was his role through June. In the second game of a doubleheader on July 4, Passeau hurled a seven-hit shutout against the Dodgers in his first start as a Phillie. He won four more times that month, splitting his time between starts and relief outings. "Passeau looks like he is going to be a big winner," wrote Philadelphia sportswriter James C. Isaminger.11 The stout right-hander was one of the lone bright spots on the league's worst staff. He appeared in 49 games (third-most in the league), tied for the team high in wins (11) and logged in excess of 200 innings for the first of ten consecutive seasons. "[Passeau] is looked upon by all National League managers as a brilliant pitching prospect," wrote Tom Swope of the Cincinnati Enquirer.12
"The Phils young pitching staff should be better," declared an Associated Press report during spring training in 1937.13 Manager Wilson boasted three prized, strong young arms, Passeau and Bucky Walters, both 28 years old, and 23-year-old Hugh Mulcahy. Phillies hurlers suffered from playing in the Baker Bowl, which was described by New York Times sportswriter Roscoe McGowen as a "hat box ball park."14 It was a pitcher's nightmare with its short 280-foot right-field fence, which artificially inflated ERAs. Passeau proved to be one of the most durable pitchers in the league, pacing the senior circuit in innings (292⅓) and starts (34), and appearing in a career-high 50 games. Though he yielded a league-high 348 hits, he still managed a 14-18 record for the seventh-place Quakers, as they were colloquially called. Trade rumors swirled constantly around the Phillies' "Big Three" pitching core, but financially strapped team owner Gerald Nugent, long renowned for selling his most talented players, rejected all offers — until he needed the money.
Passeau's stock in trade was a high, sailing heater, a curveball, and a change-of pace. According to The Sporting News, he was able to make his fastball sail by placing his index and middle fingers against the seams and folding back the knuckle of his ring finger to grip the ball. The movement of the ball was described as "strangely mystifying" and resembling a spitter.15 "I have a great habit of blowing in my hands when I get ready to deliver the ball," said Passeau. "And because the ball does sail, the batters think I am doing something illegal."16 Opposing managers routinely requested that the home-plate umpire examine balls thrown by Passeau, as well as his cap and glove. Passeau was also accused of throwing a "sweat spitter."17 "Lots of times I would get in a jam and I might have a scuffed ball. I'd throw it out and get a new one because a smooth one would sail better," said Passeau. "That's a reason why umpires used to check me so often. They thought I cheated because the ball would kind of knuckle up there."18 Passeau forged a psychological edge with his dastardly pitch. He was fidgety on the mound, and consciously tugged at his cap and pants, and altered his glove to give the impression that he was doing something illegal. Even though no incriminating evidence was ever found on Passeau during a game, the charges of throwing a spitball continued until his retirement.
Passeau endured a nightmarish season in 1938 as the Phillies won only 45 times. On a woefully inept staff that lost Walters to the Cincinnati Reds at the trading deadline, the overworked Passeau suffered from the strains of starting and relieving. (From 1936 through 1938 he appeared in 143 games, more than any other pitcher in the NL.) Passeau finished with an unsightly 11-18 record, but three of the wins occurred during a dominating ten-day stretch in July. Passeau made a " 'declaration of independence' at being released from the telephone-booth proportions of the Baker Bowl," wrote the AP's Sid Feder cleverly with a nod to American history about the big right-hander's five-hit victory over the Boston Bees on July 1.19 [The Phillies had ended their tenure at Baker Bowl on June 30 and started playing their home games at Shibe Park, the Athletics' ballpark.] Following a second complete-game victory over the Bees, on July 4 in the City of Brotherly Love, Passeau tossed a career-long 16-inning complete game to defeat the Brooklyn Robins 4-3 in front of just 1,277 spectators at Shibe Park.
In defiance of the oddsmakers, Passeau opened the season in a Phillies uniform in 1939. He was "faster than light" in his first start, striking out a career-high 11 in a no-decision against the Dodgers. As the Phillies got off to another horrible start, the only question about Passeau's imminent trade was to whom — the Cardinals, Cubs, or Giants? On May 29 the Phillies finally sent Passeau to the Cubs in exchange for pitchers Ray Harrell and Kirby Higbe, center fielder Joe Marty, and a cash sum reported to be between $25,000 and $50,000.20
A .500 team at the time of the trade, the reigning NL pennant winners were hard pressed for quality pitchers with only Bill Lee and Larry French as reliable starters. Edward Burns of the Chicago Daily Tribune championed the acquisition of Passeau, whom he described as "one of the league's better right hand pitchers" despite a 38-56 career record.21 In his first start with the North Siders, Passeau limited the Dodgers to just four hits and struck out seven in seven innings in a 3-2, 14-inning loss. He gave the Cubs a much needed shot in the (pitching) arm and proved to be the team's most durable and effective hurler, capable of starting and relieving. The Cubs moved to within 6½ games of the league lead behind Passeau's complete-game victory over the Cincinnati Reds on September 2, but finished the season in fourth place. At the age of 30, Passeau enjoyed his first winning season (15-13) and led the National League in strikeouts (137).
Passeau had a reputation as one of the fiercest competitors in baseball with a temper to match. In his return to Shibe Park, on July 13, 1939, he got into a fight with his former roommate, Hugh Mulcahy, who had dusted him off with two inside pitches. The two pitchers tangled when Passeau bunted and was tagged out by Mulcahy. In the ensuing brawl, benches cleared, and Passeau was cold-cocked. In his next start Passeau was ejected in the fifth inning when he argued with the first-base umpire after being called out on a close play. "Claude Passeau's southern blood didn't boil over today" wrote Edward Burns. "For the first time in three starts, Claude avoided the heave-ho," and tossed a complete-game victory over the Dodgers to push the Cubs briefly into second place.22
Once described as the "picture of an athlete," Passeau had the physique of a boxer.23 At 6-feet-3 and 200 pounds, he was strong, lithe, and extremely quick. Dark-complexioned with dark hair, Passeau had a wide face, a squared jaw, and blue-gray eyes with which he stared down batters and runners on first base. "The guy's murderous mien would scare us," wrote Edward Burns. "We think it's those iron jaws and merciless eyes that scare opposing batsmen more than Claude's pitching."24
In Passeau's first five full seasons with the Cubs (1940-1944), the team posted a losing record each year and finished in fifth and sixth place twice each and in fourth place once. "I thought we had a pretty good ballclub," said Passeau, "but we always found a way to lose."25
The rubber-armed Passeau was manager Gabby Hartnett's jack-of-all-trades in 1940. He appeared in 46 games (third-most in the league), completed 20 of 31 starts, and won 20 games for the first and only time in his career. In a 12-day stretch in August he won five consecutive games, including two shutouts. Notwithstanding his success, Cubs beat reporter Irving Vaughan opined that Passeau "can rightly claim that he and lady luck are almost total strangers."26 Passeau suffered from the league's second worst defense (in terms of fielding percentage) and a notably inconsistent offense (they scored three runs or fewer in ten of his 13 losses).
As the Cubs fell on hard times after 14 consecutive winning seasons (1926-1939), Passeau became one of the team's enforcers. He had a penchant for throwing inside, regularly dusting off batters, and worked quickly (complete-game victories under two hours were de rigueur). The Sporting News asserted that Passeau's "temper make[s] many of the game's best hitters duck in terror of his high hard one."27 Although he paced the circuit in hit batsmen just once (1938), Passeau was one of the instigators in the team's beanball wars with the Dodgers in the early 1940s. In a highly publicized event on July 19, 1940, at Wrigley Field, Passeau flung his bat at pitcher Hugh Casey of the Dodgers after being dusted off twice and then hit in the back by a pitch in the eighth inning. That precipitated a bench-clearing brawl. Rumors later surfaced that Dodgers manager Leo Durocher had ordered Casey to plunk Passeau.
"Passeau is undoubtedly the most underrated flinger in the loop" wrote Dan Daniel of the New York World-Telegram in 1941.28 He was the Cubs' only reliable starter. Passeau's record dropped to 14-14, but he led the staff in practically every meaningful pitching category. One of the best hitting pitchers of his generation (a .192 average with 15 home runs and 80 RBIs for his career) Passeau clouted his only grand slam — off his nemesis Casey — and a career-best five runs batted in on May 19 in a complete-game drubbing of the Dodgers, 14-1,
Passeau was named to the first of five All-Star squads in 1941 and was involved in one of the midsummer classic's greatest moments. Just two days before the All-Star Game, he tossed a complete game on two days' rest and arrived in Detroit feeling the effects of overwork. Passeau entered the game in the seventh inning. With two outs and two men on in the ninth, Ted Williams victimized Passeau by launching a dramatic walk-off home run at Briggs Stadium to give the AL an exciting 7-5 victory.
While in 1942 the Cubs sank to depths not experienced in 17 years Passeau was recognized as one of the National League's best pitchers. "It's a pity Claude Passeau is working for a club so lowly as the Cubs," wrote Joe King of the New York World-Telegram. "For service to his team Passeau isn't surpassed by anyone — he holds the pitching staff together."29 At the age of 33, Passeau seemed more durable than ever although he was no longer expected to relieve ten to 15 times per year. In the first half of the season, he won a career eight straight starts (all complete games) en route to a 19-14 record accompanied by 24 complete games (in 34 starts). He redeemed himself in the All-Star Game, surrendering just one hit in two scoreless innings in the NL's 3-1 loss.
Slugging outfielder Bill Nicholson, second-year pitcher Hi Bithorn, and Passeau were among the few highlights on an underachieving Cubs squad in 1943 that had been widely expected to compete for the pennant largely because of an expected potent offense that never materialized. Passeau won 15 games, highlighted by two early-season extra-inning affairs. On May 5 he held the St. Louis Cardinals to just one run in a 14-inning complete game at Wrigley Field to earn his first victory of the season; in his last start of the month, he hurled a 13-inning complete game and drove home Lou Novikoff with two outs in the ninth to defeat the Boston Braves, 4-3.
During his playing days, Passeau was a successful farmer and business man in Lucedale, Mississippi, and was often counted among the few baseball players who did not need to play for the money. He owned a 600-acre farm on which he cultivated tung oil trees, and a John Deere farm-equipment dealership. In November 1938 he married Agnes Bernyce Spafford, with whom he had two children, Claude Jr. and Patricia. Passeau was classified 4-F because of his deformed hand, and was not required to serve in the military in World War II.
The Cubs were accustomed to Passeau's annual late arrival at spring training in order to finish planting on the farm; however, they were surprised by his unexpected announcement that he would not return to the team in 1944. But the tug of pitching and the intervention of the Cubs' otherwise aloof owner, Philip K. Wrigley, was too much for him to ignore. "Needless to say," wrote Irving Vaughan of the Chicago Daily Tribune, "[Passeau] was welcomed like a long lost uncle with a bank roll."30 Having missed all of spring training and the first week of the season, Passeau struggled in his return, and didn't win his first game until June 2. The 35-year-old gradually rounded into shape to win his final seven decisions in the last four weeks of the campaign en route to a 15-9 record.
The atmosphere at the Cubs' 1945 spring-training facility in French Lick, Indiana (where they met because of wartime travel restrictions), was positive despite the club coming off its fifth consecutive losing season. Former Cubs first baseman Charlie Grimm had taken over the team in 1944 after 11 games, and the players responded to his laid-back style of leadership. The mood soured that spring, though, when Passeau reported elbow pain for the first time in his career. Doctors discovered bone chips and ordered x-ray treatment instead of potential season- and career-ending surgery. Passeau felt well enough to toss a shutout in his first start and later won a career-best nine consecutive decisions to push his record to 10-2 and keep the Cubs in an unexpected pennant race. To alleviate the pain in his shoulder and bicep muscles caused by the bone growths, Passeau submitted to hourlong massages before each start. His courage and desire to win were not lost on beat reporter Edward Burns, who noted "Passeau has been a vital factor in the Cubs' success this season."31
As the Cubs clung to a precarious lead in September and eventually secured the pennant by three games over the St. Louis Cardinals, Passeau won three consecutive decisions, highlighted by back-to-back four-hit shutouts. Aptly nicknamed "Mr. Chips" (because of his bone chips) by "Jolly Cholly" Grimm, Passeau won 17 games, posted the second-best ERA in the NL (2.46), and led the league with five shutouts. He had an uncanny ability of avoiding the gopher ball despite pitching his home games in a home-run-friendly park, yielding just four in 227 innings.
The 1945 World Series matched the Cubs and the Detroit Tigers with the first three games scheduled at Briggs Stadium in accordance with wartime travel restrictions still in effect though the war had just ended. With the Series tied at one game apiece, Passeau pitched the game of his life in front of 55,500 spectators on October 5. "I felt so good," he said, "I began to tease the Detroit hitters, I am naturally fidgety. I noticed it annoyed them so I put it on more than ever."32 On baseball's biggest stage, Passeau tossed his only career one-hitter, surrendering a single to his former roommate from the Tigers farm system, Rudy York, in the second inning. Passeau also knocked in the third and final run on a deep fly ball to center field allowing catcher Mickey Livingston to score. "[Passeau displayed] good speed, sharp breaking curve ball, perfect control, and an unruffled demeanor, plus a slider," wrote syndicated columnist Grantland Rice.33 Passeau struggled with his control in Game Six, issuing six walks and three earned runs in 6⅔ innings before yielding to reliever Hank Wyse, yet was in line for the victory until the Cubs bullpen squandered the lead in the eighth inning of an eventual 8-7 victory in 12 innings. In the Cubs' demoralizing 9-3 Game Seven defeat at Wrigley Field, Passeau tossed one inning of relief, yielding the final two Tigers runs.
Passeau shrugged off the pangs of defeat to win seven of his first nine decisions in 1946 and was selected to the All-Star squad for the final time. "I didn't have any business pitching," said Passeau, who had lost a tough two-hit complete game to the Cardinals, 1-0, four days before the All-Star Game. "Nobody wanted to start the game, so I said 'Give me the ball'."34 He took the mound for the first three innings, surrendered a two-run home run to Charlie Keller, and was charged with the loss in a 12-0 thrashing. In August Passeau strained his back fielding a grounder against the Cardinals. He was eventually diagnosed with two ruptured discs which required surgery in the offseason.
Notwithstanding his injury, Passeau happened to be one of the best fielding pitchers of his era. He led pitchers in fielding percentage (1.000) five times and established a major-league record by fielding 273 consecutive chances without committing an error (September 21, 1941, to May 28 1946). His pickoff move to first base was acknowledged as one of the best in baseball.35
The offseason back operation in February effectively ended Passeau's big-league career. He struggled in his return to the team in late June 1947 and made just six starts among his 19 appearances. At a press conference on the eve of the Cubs' final home series of the season, general manager James T. Gallagher signaled a decisive youth movement and an unceremonious end to an era in Cubs baseball by announcing the unconditional release of veterans Passeau, Stan Hack, Bill Lee, and Billy Jurges, each at least 37 years old.36 Passeau posted a 162-150 record accompanied by 3.32 ERA in 2,719⅔ innings in his 13-year big-league career.
Passeau served as a roving pitching instructor in the Cubs farm system in 1948 and 1949 and also managed two lower-level minor-league teams on an interim basis. He retired from baseball in 1949 and returned to Mississippi. He continued to operate his successful farm and John Deere dealership until his death. He was elected county sheriff and served two four-year terms (1968-1976). In 1964 Passeau was selected in the inaugural class to the Mississippi Sports Hall of Fame. He never lost his passion for baseball, and occasionally participated in old-timer's and reunion games. "I didn't enjoy my baseball career like I should have," said Passeau in a serious moment in 1974. "I was so intent about it, so sincere. I worked as hard as I could because I never felt it was a cinch."37
Passeau died on August 30, 2003, in Lucedale at the age of 94. He was preceded in death by Bernyce, his wife of 64 years. They are both buried at Magnolia Cemetery in their hometown.
Sources
Websites
Ancestry.com
BaseballAlmanac.com
BaseballCube.com
BaseballLibrary.com
Baseball-Reference.com
SABR.org
Newspapers
Chicago Daily Tribune
New York Times
The Sporting News
Other
Claude Passeau player file, National Baseball Hall of Fame, Cooperstown, New York.
Notes
1 Rick Hines, "Claude Passeau. Ex-Cub ace recalls major league career," Sports Collectors Digest, March 8, 1991, 200.
2 Hines, 200.
3 The Sporting News, January 1, 1939.
4 Ibid.
5 Hines, 200.
6 The Sporting News, October 10, 1945, 4.
7 Associated Press, "Today by Knight," Charleston (West Virginia) Gazette, July 28, 1935, 1.
8 John C. Skipper, Take Me Out to the Cubs Game (Jefferson, North Carolina: McFarland, 2000), 16.
9 United Press, "Passeau Rated 'Wild Man' by Scout Patsy O'Rourke," Pittsburgh Press, August 12, 1945, 31.
10 Associated Press, "Phillies," New York Times, March 5, 1936, 29.
11 The Sporting News, December 31, 1936, 1.
12 The Sporting News, January 14, 1937, 4.
13 Associated Press, "Wilson Counting Heavily on Pair of Former Grays," Gazette and Bulletin (Williamsport, Pennsylvania), March 16, 1937, 8.
14 Roscoe McGowen, "Passeau Pitches Phillies to Victory Over Dodgers With Aid of Two Homers," New York Times, July 4, 1937, C5.
15 "Passeau Delivery Stirs Inquiry," 1939 (unknown source, in Passeau's Hall of Fame file).
16 The Sporting News, January 19, 1939, 3.
17 "Say Passeau Uses A 'Sweat Spitter,' " 1940 (unknown source, in Passeau's Hall of Fame file).
18 Hines, 201.
19 Sid Feder, Associated Press, "Jimmy Foxx Threatens Runs-Batted-In Record," The Day (New London, Connecticut), July 2, 1938, 8.
20 The Old Scout, "Phillies' Deal Stirs Surmises," 1939 (Unknown source, in Passeau's Hall of Fame file).
21 Edward Burns, "Cubs Get Passeau; Trade Three to Phillies," Chicago Daily Tribune, May 30, 1939, 21.
22 Edward Burns, "Cubs Climb Into 2d Place; Best Dodgers, 4-2," Chicago Daily Tribune, July 19, 1939, 21.
23 The Sporting News, January 19, 1939, 3.
24 The Sporting News, September 20, 1945, 7.
25 Hines, 201.
26 Irving Vaughan, "Passeau Runs Into More Hard Luck — And Reds — So Cubs Lose," Chicago Daily Tribune, June 30, 1940, A1.
27 The Sporting News, May 21, 1942, 1.
28 Dan Daniel, "Dan's Dope," New York World Telegram, June 1941.
29 Joe King, "Ott Candidate For Best Player Award," New York World-Telegram, August 17, 1942 (unknown source, in Passeau's Hall of Fame file).
30 Irving Vaughan, "Cubs Perk Up; Passeau in Fold," Chicago Daily Tribune, April 29, 1944, 17.
31 The Sporting News, September 20, 1945.
32 The Sporting News, October 11, 1945, 1.
33 Grantland Rice, "Tigers Trek From Bench To Plate and Vice Versa In Futile Bid," Ottawa Citizen, October 6, 1945, 10.
34 Hines, 201.
35 Bill James and Rob Neyer, The Neyer/James Guide to Pitchers (New York: Fireside, 2004), 337.
36 James Segreti, "Cubs Release Passeau, Hack," Chicago Daily Tribune, September 27, 1947, 19.
37 United Press International, "Claude Passeau Now Sheriff," Daily News (Springfield, Massachusetts), June 19, 1974, 40.
Born
April 9, 1909 at Waynesboro, MS (USA)
Died
August 30, 2003 at Lucedale, MS (USA)
If you can help us improve this player's biography, contact us.
http://sabr.org/sites/default/files/PasseauClaude.png
600
800
admin
/wp-content/uploads/2020/02/sabr_logo.png
admin
2012-01-04 20:18:52
2020-10-21 14:16:02
Claude Passeau