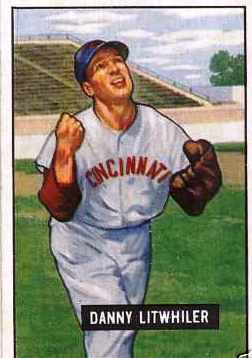 ---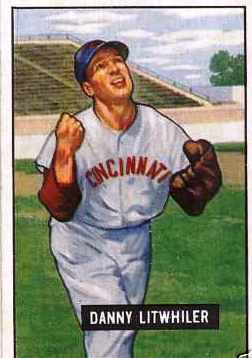 "Starving for run making power, the Phillies' Labor Day attendance found in their lap a brand new outfielder.
He hit a homer with the bases full. Also a triple, double, and two singles. He batted in six runs in the first game; 2 more in the nightcap….
Dangerous Dan Litwhiler is the name. A slugging schoolmaster from upstate Pennsylvania."
— Unattributed 1940 clipping in Litwhiler folder, Giamatti Library, Cooperstown, NY.
Dan Litwhiler's major league career began with the Philadelphia Phillies in 1940 and saw him ply his trade as an outfielder with the St. Louis Cardinals, the Boston Braves, and the Cincinnati Reds in addition to the Phillies over the ensuing dozen years. But his playing days, while distinguished, offer only a glimpse of what this man has contributed to the game he so loves.
The evidence, if one cares to look, is out there.
One of his gloves, perhaps the first to ever have its fingers tied together, is on display in the Hall of Records in the Baseball Hall of Fame and Museum in Cooperstown, NY. That same museum owns, as another gift from Litwhiler, the prototype of the JUGGS Speed Gun, the first radar gun developed for use as a baseball-teaching tool by Litwhiler and a friend.
The nine years Dan spent coaching Florida State University and the 19 he spent in the same role at Michigan State earned him election to the American Association of College Baseball Coaches Hall of Fame.
He served five years as the international president of the United States Baseball Federation, during which time he worked hard to make the sport an international game.
Later he returned to the Reds as a hitting instructor and consultant, which resulted in his working individually with every player who appeared in the starting lineup for Cincinnati's 1990 World Series opener.
Perhaps most uniquely, throughout all of his years in the game, he invented more than 100 items, some of which all major leaguers today take for granted, in his efforts to improve the teaching and playing of baseball. And at 91 years old, he was still going strong more than 70 seasons after his first summer in the game.
Born August 31, 1916, in Ringtown, Pennsylvania, Dan was the son of Stephen Luther and Mary (Yeager) Litwhiler. His parents ran a hotel that catered to mining and railroad workers in their tiny town (population 150). In a March 2005 interview he revealed that he was the seventh son of a seventh son, and joked that that might be where he got his penchant for inventions. He also more soberly mentioned that two of his older brothers had died prematurely.
The Litwhilers still had a house full of children as Dan was raised with four older brothers and one older sister, and that doesn't even include the two additional older brothers that his parents adopted when they first believed they wouldn't be able to have children together. "That's the old wives' tale with the Pennsylvania Dutch, which we were," he said. "If you adopt a child you can have your own. They adopted two and soon there was Archie." And then Ida Katherine, and the twins Truman and Sterling, and Woodie, and finally Dan.
Archie, Truman, Sterling, and Woodie all loved baseball and shared that love with Danny. He started out, as all little brothers must, just following his older brothers around and playing batboy, but joined in the games as soon as they would let him.
Ringtown was so small that "we didn't have Little League or anything like that. Our second baseman in high school was a girl; had to have them because there wasn't enough boys. She was good too, Mildred Breisch. Good hitter and a good fielder."
If a Litwhiler said someone could play, you could believe him. Archie, Truman, Woodie, and eventually Danny all went on to star at Bloomsburg State Teachers College, and Woodie even preceded Dan into professional baseball as a pitcher before hurting his arm. Archie, however, was "the family's role model. He was a real gentleman, he was a schoolteacher, everybody liked him. He dressed well, so we had to do the same thing."
Dan would eventually follow both of his brother Archie's professional examples — teaching and playing ball — and achieved a high standard in both fields.
After starring for four years as an outfielder on the college team and graduating from Bloomsburg with his teaching certificate, Dan got his first professional break.
In an age when every town had a number of loosely organized town teams, and when many fairly small towns hosted minor league clubs, the mayor of Charleroi, Pennsylvania — who also happened to be the owner of the Charleroi entry in the Class-D Pennsylvania State Association — came to Bloomsburg to watch some sandlot games in hopes of recruiting talent. Dan had tonsillitis and didn't get a chance to play for the mayor, but Ed Schuyler, a newspaperman in Bloomsburg, recommended the youngest Litwhiler with enough conviction that the mayor agreed to extend an offer. Dan became part of the defending World Champion Detroit Tigers organization.
At Charleroi in 1936, Dan batted .313 in 66 games, demonstrating moderate power and an unlikeliness to either walk or strike out. He earned $75 a month. Good money if you could get it, in a Depression-saddled land, especially for doing something that you surely loved.
The next year, he was sent to Charleston, West Virginia, in the Class-C Middle Atlantic League. When he arrived, manager Iggy Walters wasn't expecting him.
"Where do you play?" Walters asked.
"Outfield."
"You ever play right field?"
"No, I always play left or center."
"Well, you go out to right field."
Five minutes later, Dan came in on a line drive, tried to hold up when he saw he couldn't make the catch, and broke his ankle.
By the time he was able to return to Charleston, his timing was off and he had trouble pulling the ball, but he managed to hit .287 in 48 games, increasing his walks while his power numbers dropped.
In another example of how times have changed, Dan showed up in Charleston for a second season in 1938, only to be told the team had all the players it needed. He was sent to another team that told him it was taking only rookies. Finally a call was put through to Detroit and he was told to report to Alexandria, Louisiana, in the Class-D Evangeline League. Even there, manager Art Phelan was reluctant to accept Litwhiler until he saw him hit in batting practice. "I just hit ball after ball out of the ballpark," Litwhiler remembered. "I just had an 'on' day."
In his first at-bat before the home fans in Alexandria, Dan hit a home run. It was a harbinger of things to come. In 76 games that season he batted .369 with a .436 on-base percentage and a .556 slugging average, driving in 71 runs and scoring 62. That summer he was chosen to play center field in the Evangeline League All-Star game. He became enough of a fan favorite that a local policeman helped him get a job teaching in an Alexandria high school in the offseason, which eventually interfered with his next step up the ladder.
When the 1939 season assignments for the Tigers organization were being handed out, Dan was already a bit busy as the JV basketball coach, the assistant football coach, and a science and biology teacher at Bolton High School in Alexandria. Detroit assigned him to Toledo, one of the top organizations in its minor league chain. Dan was excited and ready to go, but the school told him that he had to wait until it found a replacement for him in the classroom. So the dutiful educator waited and delayed his reporting time, not wanting to leave either the students or the school in the lurch.
When he finally reported to the Toledo team, he had not had an opportunity to get himself in condition at all, but he was excited about having an opportunity to make a strong impression at this higher level. As Litwhiler later recounted, when he introduced himself to Myles Thomas, Toledo's manager, Myles looked at him and said, "Who are you?"
"I'm Dan Litwhiler."
"Litwhiler? Then who the hell is that out there in right field?"
Litwhiler looked. "It looks like Milt Lehnhardt; he was our centerfielder in Alexandria."
Thomas looked at him, "I thought that was you all along."
"No," Dan said, "I'm just getting here. I was teaching school and I had some trouble getting away."
Thomas nodded, "Go on out to right field."
Later Dan confronted Lehnhardt, "Say, Milt, how come you took my name?"
Milt shrugged, "Hell, you had a great year last year, I had a lousy one. He called me Litwhiler and I said, 'okay.'"
"He made the team that year too," Litwhiler recalled. "He said he didn't think he would have made it if he'd been Lehnhardt."
Soon after, there was another looping line drive that Litwhiler was coming in on, thinking he could make the catch. Suddenly deciding that he couldn't make it, he pulled up and tore the cartilage in his knee. Soon after that the Tigers released him without payment.
That could have been the end of Dan's professional career, but before the year was out his brother Woodie had arranged a tryout for Dan in front of general manager John Ogden of the Baltimore Orioles of the International League. The Orioles at this time were an independent International League team, and Woodie Litwhiler had met Ogden during his own professional career.
Woodie escorted his brother to Baltimore for the tryout and even pitched batting practice for him. Soon John Ogden exclaimed, "That's enough, you're losing all the balls!" And later, "We'd like to sign you. Go back to your hotel and wait until I call you."
After three days without a call, the brothers, their finances waning rapidly, made their way back to Ringtown. When they got home there was a message for Dan to call a Philadelphia number. Dan dialed the number and was told he'd reached the Philadelphia Phillies. He identified himself and John Ogden got on the phone.
Not one to beat around the bush, Dan asked John why he hadn't called him. Ogden told him, "Because I was working for Baltimore then. If I called you, you'd be under contract to Baltimore now, which wouldn't do me a lot of good if it turns out that you become the player I think you're going to be. You see, I'm the general manager of the Phillies now."
Then he put Philadelphia owner Gerry Nugent on the line. "John says you're going to be a good ballplayer," Nugent said, and then offered Dan a decent contract and full coverage for the knee operation he would need.
"I may have been one of the first ones who played after a knee operation," Litwhiler later recalled. "Maybe I'm wrong, but I don't remember anybody playing after one."
The 1940 National League Green Book touts "'Slug' Litwhiler, upstate Pennsylvania Dutchman," though it does not indicate whether he got his nickname from his hitting ability or in reference to his speed on the base paths. Slug never stole more than two bases in a season, and totaled 11 for his career, although as a strong defensive outfielder he was presumably not slow afoot.
The Phillies held their spring training in Miami, Florida, in 1940 and Dan remembers playing "every inning of every game," leading the team in "everything" and getting great press.
"There was no doubt in my mind that I was going to play on Opening Day," he would later say. "Everybody, the fans, the writers, everybody was positive that I was going to play." The clippings seem to back him up; "Phils Expect Big Things of Dan Litwhiler" read one Associated Press headline from that winter. "'He's Our Dark Horse,' Says Johnny Ogden."
The Phillies were scheduled to open in New York against the Giants. Dan got to the train station in Philly in plenty of time but managed to get lost in coffee and conversation with the friends who had come to see him off and so missed the train. A station employee explained that if he took the next train, an express, he would actually beat the Phillies' train to New York. He did so and hid out in the New York hotel lobby until his teammates arrived. Then he tried mingling nonchalantly with his mates.
Jimmy Hagan, the team's traveling secretary, approached and asked where he'd been.
"What do you mean?" Dan asked, "I'm right here."
"You weren't on the train," Hagan observed.
"Yes, I was."
"I still have your ticket."
Dan quickly improvised a story about another car, a friend, the conductor asking for his ticket and Dan telling him that Jimmy Hagan had it, but it didn't fly.
"He knew I was lying," Dan later admitted.
"Doc Prothro (the Phillies manager) never said a word to me, never said one word. So the lineup gets put up and Litwhiler's not in the lineup. I said, 'Uh-oh, something's wrong here.' I didn't say anything to him about it.
"The ballplayers come up and say, 'What happened? What did you do wrong?' I said, 'I have no idea.' They thought I was on the train. They saw me at the station, they saw me at the hotel."
He finally got a chance to play in the season's fourth game back in Philly, pinch-hitting on April 25 with two outs in the seventh and the team down 3-1. He took a major league cut at a hanging curve from Brooklyn's Hugh Casey and hit a major league popup. "Before that ball came down," he'd lament, "I think I was headed for Baltimore."
After some time in Wilkes-Barre (where he hit well) and Baltimore (where he didn't), he made it back to Philadelphia and compiled a 21-game hitting streak. "By that time Prothro's in love with me," Dan stated, and he finished the 1940 season with a .345 average, five home runs, and 17 RBIs in 36 major league games. He had finally made it. To cap his season, he married Dorothy Lynch on October 10. In 1941, his first full year in the majors, he hit .305/18/66 with 72 runs scored in 151 games. Not only was that a personal best for home runs, but he also managed to hit at least one in every National League park that season. Unfortunately he made 15 errors in the outfield that year as well.
In 1942, Hans Lobert took over as manager of the lowly Phillies, who were coming off a 43-111 season and four straight seasons in last place. He told Dan that he'd noticed that all of his errors the previous year were on groundballs, not on flies or throws. "I'll tell you what you're going to do this year," Lobert told him, "You're going to take second infield practice every day this year. If you don't, it's going to cost you $50."
The results speak for themselves. In 1942, Dan became the first player in major league history to play every game for an entire season without making an error, which is why his glove is on display to this day in Cooperstown. Indeed, Dan stretched his errorless streak to 187 games before finally making an error. The miscue that broke his streak on May 20, 1943, was the only one he would make that season as he led the league outfielders in fielding percentage for the second consecutive year.
Part of his record could be attributable to his first invention. "I may be wrong," he said in 2005, "but I think that my glove was the first one that had the fingers tied together by rawhide."
It was simply an inspiration he had. "I thought if I tied them together, if I catch a ball, maybe it would stay. Sure enough, during the time of the record, I fielded the ball two times right on the end of the fingers. No way in the world I would have caught [them] if it weren't tied together."
Even so, his errorless streak, like every streak, had a moment of doubt included. In this case, as George Robinson and Charles Salzberg recounted in their fine book On a Clear Day They Could See Seventh Place: Baseball's Worst Teams, it happened in the Polo Grounds (though the authors fail to supply a specific date). "The outfield was a quagmire," they report, "when Johnny Mize hit a sinking line drive to left that Litwhiler gloved on a dead run. When he tried to set himself to throw the ball back in, his feet went out from under him and he dropped the ball. Litwhiler assumed the streak was over and it would be 10 years before he knew why the official scorer, who had originally ruled it an error, changed his mind. Mize, who had been hitting .299 coming into the game, desperately wanted to reach the .300 mark, so much so that he ran up to the press box in full uniform to argue with the scorer after the game, convincing him to make the change."
Late in 1942, Dan showed another side of his character that made him a valued commodity in the world of baseball. On September 13, in the ninth inning tight game against the Cardinals — who were battling Brooklyn for first place — Dan singled to center, and then stretched it into a double despite the sterling reputation of Terry Moore's throwing arm. A subsequent batter also singled to Moore in center. Litwhiler, not to be dissuaded, rounded third and headed for home. He arrived at his destination just as catcher Walker Cooper caught the throw from Moore and moved to apply the tag.
Litwhiler was knocked unconscious as his head hit Cooper's shin guard; Cooper's shoulder was dislocated in the collision. Litwhiler had tied a game the last-place Phils won two batters later at the expense of the Cards, who were still fighting for the National League pennant. Billy Southworth, the Cardinals manager, was paying attention.
"If he plays this hard for a last place team," thought Southworth, "how hard will he play for a contender?"
The following year Southworth engineered a trade for Litwhiler.
Despite the fact that his first three years in the big leagues were spent with what may have been the most moribund team of all time (the Phils lost 534 games in five seasons from 1938 through 1942, had only one winning season to boast of since 1917, and had lost 100 or more games half of the previous 22 years), Dan claims that they never lost heart.
"I don't think we felt like we were going to lose," he said. "Like when Hugh Mulcahy pitched, he didn't win a lot of games but I swear he was a great pitcher and you'd just play your heart out for him.… I never felt like we were going to lose this game." (For the record, Mulcahy went 40-76 as Philadelphia's "ace" right-hander from 1937-40, making an All-Star team in '40 while going 13-22.)
During the 1943 season, Southworth was able to put together the trade he wanted, to get Litwhiler for his own squad. On June 1, St. Louis gave up Elvin "Buster" Adams, Coaker Triplett, and Dain Clay to get Litwhiler and Earl Naylor from the Phils. It was a turnaround of the highest order for Dan, who in one day went from one of the league's worst clubs to its best.
In 80 games for the 105-49 Cards, Dan hit .279 that year and got to play in his first World Series. Against the Yankees he hit .267 with a double and two RBIs as St. Louis lost the series in five contests.
In 1944, he appeared in 140 games, hitting .264 with 15 home runs and 82 RBIs, the latter representing a personal high for him. The Cardinals went 105-49 again; that year in the World Series, Litwhiler batted only .200, but his four hits included a double and a home run, the latter coming in Mort Cooper's 2-0 shutout of the St. Louis Browns in Game Five. This time Dan and his teammates got their World Series ring as they prevailed in the six-game classic.
Having previously been turned down by Selective Service because of his bad knee, Dan was accepted for "limited service" in the Army in March of 1945. After completing his basic training at Fort Lewis in Washington, he was asked to start a recreation program there. He first organized softball games, which were so popular that he was named recreation director for the 10,000 troops stationed at the base.
In May 1946, Litwhiler was mustered out of the service. He retuned to a Cardinals team that was now being managed by Eddie Dyer and enroute to yet another pennant-winning season. He got into six games, all as a pinch hitter, before the Cardinals sold his contract to the Boston Braves on June 9, reuniting him with his favorite manager, Billy Southworth.
Dan liked Southworth's approach, and it was one he would adopt himself when he started coaching. Southworth taught "exactly how to bunt, exactly how to slide," Dan said. After the trade, Litwhiler hit a solid .291.
He was with Boston on Opening Day in 1947 when the Braves played the Brooklyn Dodgers in a game at Ebbets Field that has been as celebrated as any opener in the history of the sport. Litwhiler went 0-for-3 and scored a run, exactly the same line of box score numbers that were achieved by the game's true star. The other fellow was Brooklyn first baseman Jackie Robinson, and it was his debut in the major leagues. The Braves lost the game by a score of 5-3 as Robinson broke the nearly half-century-old color line in the big leagues.
In a 1997 interview with Ira Kaufman of the Tampa Tribune, Litwhiler said, "It wasn't that big a deal back when it happened. I remember Jackie got a great hand from the hometown crowd and you could easily see he had a lot of athletic ability. Nothing ugly happened during the game."
A year later, their paths would cross a little more intimately.
On May 11, 1948, the Braves traded Dan — hitting .273 in the early going after a lackluster .261 mark in '47 — to Cincinnati for Marv Rickert. Soon after, Warren Giles, the Reds' general manager, unexpectedly summoned Litwhiler to his office.
"I was thinking I was on the move again," Litwhiler told Kaufman, but when he arrived at Giles' office he found the mayor of Cincinnati and a representative of B'nai B'rith, a Jewish service organization that promotes racial harmony.
"They said there was talk that we could have trouble with Jackie coming to town. They asked me if I would take a picture with Jackie to run in the paper the next day. I asked them, 'Why me?' And they said it was because I was a college graduate and I understood all the implications."
The next day the photo was taken, with Litwhiler and Robinson gazing at a poster that depicts some boys preparing for a game of ball. The poster reads, "What's his race or religion got to do with it — HE CAN PITCH!" and was sponsored by the mayor's friendly relations committee.
Nineteen years later, their paths would cross yet again when Dan was coaching at Michigan State and Jackie came to the campus to speak. Litwhiler approached him with a copy of the 1948 photo and Jackie signed it: "Been a lot of water under the bridge since this picture. Good to see you again. Jackie Robinson 1947-1967."
"I'm glad I was there for his debut," Litwhiler told Kaufman, "and I'm proud that I took that picture with Jackie. It makes me feel like I'm part of the history."
The end of the 1948 season must have meant mixed feelings for Dan for a number of reasons. First his former teammates in Boston put together a pennant-winning campaign without him, then went on to lose the World Series. Meanwhile Bob Lemon and Jim Hegan, both former minor league teammates of Dan's, managed to star in Cleveland's World Series victory over the Braves. Lemon started and won two games, while Hegan caught the entire series for the Indians.
Litwhiler stayed with Cincinnati through the 1951 season, although he got into just 12 games that last year, and ended his major league career with a .281 lifetime batting average, 107 home runs, and 451 RBIs over 1057 contests.
In 1952, he played briefly in the Pacific Coast League before taking a job as player-manager of Fargo-Moorhead in the Class-C Northern League. In 1953, he continued wearing two hats, this time for Wilkes-Barre in the Class-A Eastern League. The '54 campaign found him at Jamestown in the Class-D PONY League and Duluth in the Northern League, still playing as well as managing at the age of 38.
That same year, a representative from Florida State University asked Baseball Commissioner Ford Frick to recommend someone to head its baseball program at the university. Frick recommended Litwhiler. It was a marriage made in heaven.
"I didn't like managing pro ball," Dan told Lynn Henning for a 1974 article in the Michigan State University Alumni Magazine, "because they don't believe in teaching, they believe in winning.… My theory of baseball is 'Teach baseball and then win.'"
His theory was very effective. Over nine seasons FSU's record under Litwhiler was 189-91, as he took his teams to three College World Series. In 1963, he moved to Michigan State, where he would coach for the next 19 years, long enough to become MSU's all-time winningest coach with a record of 488-362 and two Big Ten championships.
It was during his years at Michigan State that Dan Litwhiler suffered a great loss and an important and rejuvenating gain. After an extended illness, Dottie, his wife of many years, passed away. Friends came through in appropriate and timely fashion, however, eventually introducing him to an "attractive redhead" named Pat who, like Dan, had five grown children. Before long they were wed.
Along the way Dan came up with more than 100 inventions to improve the way he taught the game. From the radar gun to Diamond Grit (an absorbent material we've all seen grounds crews spreading on wet infields after a rain delay), from the bunting bat that has only a bottom half (when held horizontally) to encourage proper technique in bunting practice to the unbreakable mirror that allows a pitcher to observe his own motion as he throws. Dan always felt that if he opened the new season with a new invention, his players would begin to feel that they had an advantage over their opponents.
Of course talent also had something to do with it; several of his student-athletes went on to the big leagues, from Woody Woodward and Dick Howser in the 1950s and '60s to Steve Garvey and Kirk Gibson in the '70s and '80s, No matter what their skills, however, all his players gained an advantage from his teach-to-win approach.
In 1958, the U.S. State Department asked Dan to go to Europe as part of an educational exchange. He complied and set up a baseball training program for Holland, Spain, and Italy. Then he sent one of his Florida State players, Ron Fraser, to the Netherlands to coach and develop a team there.
As the international president of the United States Baseball Federation (1977 through 1982), Dan was even instrumental in bringing baseball into the Olympics. He left this role to return to the Cincinnati Reds as a roving hitting instructor and consultant, holding that position through 1988. During this second tenure with the Reds he had another chance to combine the two skills that he was most adept at, teaching and baseball.
In 1999, Dan was in the hospital for six weeks for heart bypass surgery when he received a note from Kirk Gibson.
"Just wanted you to remember that talk you had with me when I was considering 'giving up' baseball," Gibson wrote, referring to an incident when the Michigan State star was weighing a possible career as a pro football receiver. "It's the same in every aspect of life. Keep your chin up and push on!"
Litwhiler has been named to the Pennsylvania Sports Hall of Fame, the Citizens Savings Hall of Fame, and the American Association of College Baseball Coaches Hall of Fame, and has been the recipient of the Lefty Gomez Award for outstanding contributions and distinguished service to college baseball.
If that isn't enough, Bloomsburg State College named their stadium for him: Daniel Webster Litwhiler Stadium. Has a ring to it, doesn't it?
Dan's autobiography, Living the Baseball Dream, written with Jim Sargent, was published by Temple University Press in September of 2006. It is a wonderful read.
Postscript: Litwhiler died on September 23, 2011 in Clearwater, Florida at age 95.
Note
This biography originally appeared in the book Spahn, Sain, and Teddy Ballgame: Boston's (almost) Perfect Baseball Summer of 1948, edited by Bill Nowlin and published by Rounder Books in 2008.
Sources
My primary source for the material in this essay was a lengthy telephone interview that I conducted with Litwhiler on March 19, 2005. All quotes, unless otherwise attributed, should be assumed to have come from that interview.
My interest in the Phillies of Litwhiler's era was first piqued by the chapter on them in George Robinson and Charles Salzberg's On a Clear Day They Could See Seventh Place: Baseball's Worst Teams, Dell, 1991.
Patric Doyle of Old Time Data sent along a detailed profile of Litwhiler's major and minor league playing and managing statistics, for which I am grateful.
The Dan Litwhiler file at the Giamatti Library at the Baseball Hall of Fame in Cooperstown, New York, was rich with hard-to-find newspaper clippings, magazine articles, and correspondence. From that file came such useful articles as:
"Danny Litwhiler: Teacher with class," Lynn Henning, MSU Alumni Magazine, May 1974.
"Danny at the Bat," Lillian Arganian, Spartacade, volume 1 number 8.
"Baseball's Ultimate Inventor" Lou Pavlovich Jr., Collegiate Baseball, October 6, 1995
"Player Recalls Courage," Ira Kaufman, Tampa Tribune, April 6, 1997
"Diamond Dust and Diamond Grit," Pierce Lehmbeck, The Mentor, September 1957
A ProQuest search for "Litwhiler" from 8/31/1916 to 12/20/2004 turned up 1,861 documents on the latter date. Since then ProQuest has expanded and such a broad search would be mind-numbing. Many of the references, of course, are generated by the name appearing in a box score or in some inconsequential manner in the body of an article, but several of these were vivid and useful references.
A more general web search turned up many interesting things, including Jim Sargent's fine piece "A First Class Big Leaguer Remembers the 1940's," from Oldtyme Baseball News (Vol. 8) 1996. Later a fellow SABRite supplied me with Mr. Sargent's e-mail address and Jim helped to put me in touch with Litwhiler. This was a sequence of events I was very grateful for.
Of course, it wouldn't really be a valid baseball essay without the author having referred to the Macmillan Encyclopedia of Baseball.
Photo Credit
The Topps Company
Born
August 31, 1916 at Ringtown, PA (USA)
Died
September 23, 2011 at Clearwater, FL (USA)
If you can help us improve this player's biography, contact us.
http://bioproj.sabr.org/bp_ftp/images3/LitwhilerDanny.jpg
600
800
admin
/wp-content/uploads/2020/02/sabr_logo.png
admin
2012-01-04 20:39:40
2012-01-04 20:39:40
Danny Litwhiler