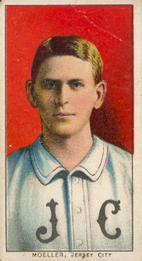 ---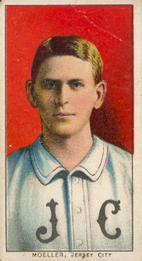 In the early days of the 20th century, Danny Moeller was one of the few major-league players to strike out 100 times in a season. But Moeller was much better known for other things. He was a prolific base-stealer, an effective leadoff man, and a deft defensive outfielder during a seven-year major-league career, most of which was spent with the Washington Senators.
Daniel Edward Moeller was born March 23, 1885, in DeWitt, Iowa, on the northern fringe of the area now known as the Quad-Cities. As a young man, Moeller seemed to excel in every sport he tried. He lettered in four sports at Millikin University, a small college in Decatur, Illinois, that was only four years old when Moeller enrolled there in 1905. He was the star left halfback on the football team for two years, the best player on the basketball team and an excellent hurdler who also competed in the broad jump, discus and shot put with the track team.
But from the very beginning, it was apparent that his brightest future was in baseball. In fact, Moeller paid for his college education by playing minor-league baseball during the summer months. That prompted him to quit the football team for a few weeks during the fall of 1906 because he was worried about suffering injuries that might jeopardize his baseball career.1
"The young athlete is one of the best baseball players in this part of the country,'' the Decatur Herald explained at the time. "It is entirely due to this ability that he is able to go to school, for he earns enough money playing baseball in the east in the summer months to keep himself in school the next year.'' 2
Moeller actually began playing minor-league baseball in his home state, batting .229 in 57 games with the Burlington Flint Hills of the Iowa State League in 1905.
After starring for Millikin as a catcher, pitcher and outfielder in the spring of 1906, he had a breakout season with the Troy Trojans of the Class B New York State League that summer, batting .340 in 28 games.
He went back to Troy in 1907 and maintained a similar pace, hitting .333 in 77 games and catching the attention of the Pittsburgh Pirates, who purchased his contract and brought him to the major leagues for the last few weeks of the season. He hit .286 in 11 games and seemed primed and ready for a lengthy major-league career.
He wasn't. Not yet. He began 1908 as the Pirates' starting right fielder and leadoff man but after going 4-for-20 in the first five games, he gave way to Beals Becker and eventually Roy Thomas in the starting lineup. He played in only 36 games and finished the season with a .193 average. He struck out in nearly a fourth of his at-bats. The following April, he was dispatched to Jersey City of the Eastern League.
With the Jersey City Skeeters, he began to further hone his offensive skills, batting .247 in 1909 and .269 while splitting 1910 between Jersey City and the Rochester Bronchos. He batted .289 and helped Rochester to the Eastern League championship in 1911 with his aggressive style of baserunning making him immensely popular with fans and earning him the nickname "the Rochester Rambler.''
Washington scout Mike Kahoe liked the way Moeller carried himself on the field even though he didn't do anything exceptional when Kahoe watched him play for Rochester. The Senators acquired Moeller to play in the American League in 1912.
"I noted that he stepped into the ball as if he meant to hit it,'' Kahoe said. "Confidence is a good thing for a young player to have. Moeller has plenty of it.'' 3
Montreal outfielder Ward Miller was regarded as the top prospect coming out of the Eastern League that year, but Kahoe said he thought Moeller was faster and a better fielder. 4 Buffalo manager George Stallings also was very high on Moeller, noting that "Moeller is as fast as (Ty) Cobb and he has his slide. I'll admit that I like him better than any young ball player I have seen in recent years, and may enthuse more about him than I ought to, but, take my word for it, he will make good in Washington and be a running mate for (Clyde) Milan.'' 5
The scouts were correct. Moeller took advantage of his second major-league opportunity and became the Senators' starting right-fielder and leadoff man in 1912, beginning a 4½-year run as a regular with the team. He batted .276 that season—the only time in five seasons with Washington that he hit above .250—although he did reach that dubious milestone by striking out 112 times.
Moeller, who was taught to switch-hit by his college coach, Jimmy Ashmore6, ended up batting only .243 in 704 games in the majors but he was very selective at the plate and twice ranked among the league leaders in walks. That also led to him taking numerous called third strikes.
The 5-foot-11, 165-pound outfielder also was an above-average defender with good range and a great throwing arm. He registered 52 outfield assists in his first two seasons with Washington.
He came to be best known, however, for his baserunning. He stole 30 bases in 1912 and quickly earned the nickname "Daredevil Dan" because of his the reckless abandon on the basepaths. He demonstrated that in a game against Detroit and his role model, Cobb, early in 1912. He tried to steal second and as the throw arrived, he kicked the ball out of the fielder's grasp and it trickled into shallow left field. Moeller jumped to his feet, raced to third and kept on going, rounding the base and beating the throw home for the winning run.7
His adventurous nature had its drawbacks, though. Moeller injured his left shoulder diving into first base in a game in New York in May 1912 and began wearing a brace that was invented by team physician Dr. Edward Larkin in hopes of preventing further injury to the shoulder.8 He continued to suffer occasional dislocations and it got so bad late in the season that president William Howard Taft, a big fan of the Senators, ordered Major Thomas Leidy Rhoades, his personal physician and a noted military surgeon, to examine Moeller's shoulder. Rhoades consulted with Larkin and recommended that Moeller undergo surgery.9
Moeller was scheduled to go to Kirksville, Missouri, following the season to undergo osteopathic treatments on the shoulder but according to one report, he never went, opting to stay at home and let the shoulder heal on its own.10 He was ready for the start of the 1913 season although he continued to have occasional shoulder problems for the remainder of his career. The injury gave birth to yet another nickname: "Collapsible Shoulder."
Moeller's average dropped to .236 in 1913 but his aggressiveness on the bases heightened as he recorded a career-high 62 stolen bases. He added 26 steals in 1914 (he also was caught 25 times) and 32 more steals in 1915. On July 19 of that year, he helped the Senators set a major-league record by stealing eight bases in the first inning. Moeller accounted for three of them. He got on base to open the game, then promptly stole second, third and home.11
His speed manifested itself in other ways, too. In each of his first four seasons with the Senators, he collected 10 triples and he averaged more than 81 runs scored in those four years.
Moeller contracted a series of illnesses following the 1915 season, suffering first from ptomaine poisoning and then a serious case of pneumonia.12
In 1916, at the age of 31, he batted .246 in 78 games with Washington before being traded to Cleveland along with pitcher Joe Boehling on August 18 in exchange for outfielder Elmer Smith and third baseman Joe Leonard. His performance really suffered in Cleveland as he batted only .067 (2 hits in 30 at-bats) in 25 games.
That was the end of his major-league career. He played in 30 games with the Des Moines Boosters of the Class A Western League in 1917, batting .287. He was out of baseball in 1918 and 1919, but returned to play two more seasons with Des Moines, enjoying some of the best hitting success of his career. He batted .291 in 1920 and .284 in 1921, collecting 30 doubles and 28 stolen bases at the age of 36 in his final season.
Moeller, who was described at various times as "quiet," "soft-speaking," "calm," "phlegmatic"13 , and "a gentleman off the field,"14 never forgot his connection to Millikin. He had been a member of the Kappa Delta Chi fraternity and frequently came back to campus to visit with his frat brothers. In 1911, he temporarily moved from his home in Reinbeck, Iowa, to coach Millikin's junior varsity football team.15
In August 1914, while he was with Washington, the Senators stopped in Decatur to play an exhibition game against the local minor-league team. Moeller was the featured attraction as he was honored before the game and cheered lustily by a crowd of 3,500.16
When Millikin initiated an athletic hall of fame in 1970, Moeller was honored posthumously as one of 36 charter members.17
Moeller moved around quite a bit during his post-baseball career. He and his wife, Lillian (Volberding), had a daughter, Louise, and a son, John, during the years he played in Des Moines and he later opened a lumberyard in his home area in Grundy County, Iowa. In the early 1930s, he moved to Memphis, where Lillian died at the age of 42 in 1932. Moeller was working as a clerk in an appliance store in Memphis in 194018 and he died in Florence, Alabama, on April 14, 1951, at the age of 66. He is buried in Forest Hill Cemetery in Memphis.
Acknowledgments
This biography was reviewed by Skylar Browning and fact-checked by Mark Sternman. It is an expanded version of a profile about Moeller in the author's book, Iowa Baseball Greats (Jefferson, North Carolina: McFarland & Company, 2015).
Notes
1 "Dan Wants To Plan,'' Decatur (Illinois) Herald, November 19, 1906, 5.
2 Ibid.
3 "Kahoe Tells Why He Picked Danny,'' Decatur (Illinois) Herald, September 3, 1911, 11.
4 Ibid.
5 J. Ed Grillo, "Winner of First Game Will Win All, Say the Wisemen,'' Washington Evening Star, October 14, 1991, 26.
6 "Ashmore Without Rival As An All-Around Coach,'' Decatur (Illinois) Herald, June 28, 1914, 8.
7 "Moeller and Foster Are Stars of Second Victory,'' Washington Times, May 23, 1912, 12.
8 William Peet, "In The Wake Of The Nationals,'' Washington Herald, June 9, 1912, 40.
9 "Taft Aids Solons' Pennant Chances,'' San Francisco Call, August 20, 1912, 15.
10 "Dan Moeller 27 Years Old Today,'' Washington Times, March 23, 1913, 14.
11 "Steal Eight Bases in One Inning,'' Washington Post, July 20, 1915, 8.
12 "Moeller Seriously Ill,'' Washington Post, December 29, 1915, 8.
13 "Nationals Have All Types of Players on the Team,'' Washington Times, July 15, 1912, 10.
14 "Joe Boehling and Danny Moeller Go To Cleveland Club,'' Washington Times, August 18, 1916, 10.
15 "Leaves Today For Capital To Report,'' Decatur (Illinois) Herald, March 7, 1912, 4.
16 "Washington Defeats Decatur 5 To 2,'' Decatur (Illinois) Daily Review, August 6, 1914, 12.
17 "First Members Elected to MU Athletic Hall of Fame,'' Decatur (Illinois) Daily Review, September 10, 1970, 14.
18 U.S. Census, Memphis, Shelby County, Tennessee.
Born
March 23, 1885 at DeWitt, IA (USA)
Died
April 14, 1951 at Florence, AL (USA)
If you can help us improve this player's biography, contact us.
https://sabr.org/sites/default/files/MoellerDanny.jpg
600
800
admin
/wp-content/uploads/2020/02/sabr_logo.png
admin
2018-08-15 23:46:45
2020-04-09 14:38:42
Danny Moeller