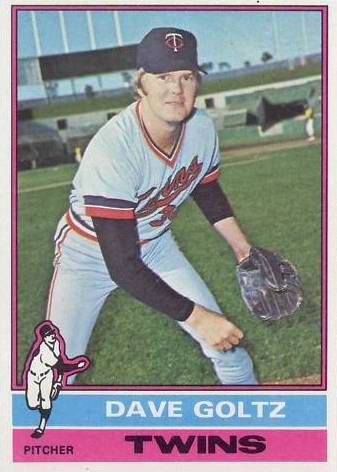 ---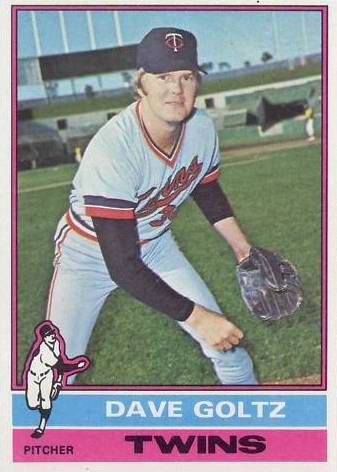 Rothsay, Minnesota, (population 497 in 2000) is not only the home of the world's largest prairie chicken (9,000 pounds) and an historic blacksmith shop, the J. A. Johnson blacksmith shop, built in 1903[i], but also is the hometown of one of the Minnesota Twins' best pitchers, Dave Goltz, a 20-game winner in 1977.
A huge prairie chicken greets visitors exiting off Interstate 94 at Rothsay, located in Wilkin County between Fergus Falls and Moorhead on the edge of the Red River Valley. In fact, Rothsay bills itself as the "Prairie Chicken Capital of the World."[ii]
Dave Goltz was born in nearby Pelican Rapids on June 23, 1949. His father owned a produce business in Rothsay, and his mother was the bookkeeper for the business. His dad would buy eggs and farm produce and then market the items. His dad was in his 50s when Goltz was born as the youngest child in the family. He had one brother (now deceased) and has one sister, who now lives in Pennsylvania. Both parents are now deceased.
In high school Goltz stood 6 feet, 4 inches tall and weighed more than 200 pounds and was quite an athlete. He lettered in four sports (all they had at Rothsay High School), football, basketball, track, and baseball. Goltz was a lineman on Rothsay's eight-man (five linemen, three backs) football team and also punted for a 39-yard average in his sophomore year.
He is a member of the 1,000 Point Club in basketball and played on a strong team. Rothsay had an outstanding record in the Little Valley Conference, matching up against Glyndon, Lake Park, Audubon, Hitterdal, Ulen, and Hillcrest Academy of Fergus Falls. In his senior year Rothsay won its sub-district and then played Moorhead for the District 23 championship at the Concordia Field House in Moorhead. Goltz says they stayed even with the Spuds until the last quarter, when Moorhead's depth changed the course. Tournament games like this are why the multi-tiered class system was implemented by the Minnesota State High School League. There is no sane reason why a school like Rothsay should have been playing Moorhead in a tournament game.
In the spring Goltz threw the shot and discus for the track team. He also was fast enough to run the third leg for the 880-yard relay team. Goltz also played a little baseball and says he was a pretty good hitter.
Kenny Reitan, Goltz's high-school coach in baseball and basketball, was his favorite coach, and Reitan remains a close friend. In fact, Goltz says that when it came close to signing time with the Twins, Reitan was able to get a couple thousand dollars more from the Twins by offering a few good words. Goltz also tells the story that Reitan caught Goltz skating on the local skating rink and then chased him off for fear that he would get hurt (or maybe hurt someone else).
Goltz played for three different teams during the summer baseball season, the local American Legion team, coached by Reitan, the VFW team in Fergus Falls, and the town team in Foxhome (between Fergus Falls and Breckinridge). When not playing baseball, he helped his dad by making wooden egg crates, mowing a few lawns around town, and helping clean school buses.
Goltz was scouted by several teams while in high school. He remembers a Mets scout visiting with him after a game at Battle Lake when he was still a junior in high school. There is a reference in the 1978 Twins yearbook that Goltz "was discovered by scout Angelo Giuliani in the backyard of his Rothsay, Minnesota, home in the summer of 1966."[iii] The sentence draws a chuckle because nobody "discovers" a 6-foot-4 two-sport all-state athlete. Anyone familiar with high school sports in Minnesota knew about Dave Goltz.
Goltz says that Concordia College in Moorhead, Minnesota, and its two legendary football coaches, Jake Christiansen and Jim Christopherson, tried to recruit him to play for the Cobbers, although he signed with the Twins out of high school for a $10,000 bonus (with help from coach Reitan) plus another $10,000 for a college fund. Goltz was able to use the college funds for studies at Moorhead State University during the offseasons.
He started his professional career in 1967 with the Minnesota entry in the Gulf Coast Rookie League with a promising 6-2 won-lost record and an earned-run average (ERA) of 2.00. Teammates making it to the majors from that club included Rick Dempsey, Steve Braun, and Ray Corbin. Goltz moved up to St. Cloud in the Class A Northern League in 1968, posting a 10-3 record with an even better ERA of 1.61 as he averaged nearly a strikeout per inning. Teammates for the Rox included future Twins Danny Thompson and Jim Nettles. He remembers the games at St. Cloud because they enabled his family and friends from Rothsay to drive down I-94 to attend.
Goltz spent 1969 away from baseball as he was called to active duty with his Army Reserve unit as a helicopter mechanic.
Upon completing his military obligation, Goltz joined Charlotte in the Class AA Southern League in 1970. In his haste to prepare for the season, Goltz hurt his arm and had to go down to Orlando in the Class A Florida State League to recuperate. He stayed with Orlando to start the 1971 season. After going 7-0, he was sent to Lynchburg in the Class A Carolina League, where he finished at 7-3 with a no-hitter.
The next year he moved up to Tacoma in the Triple-A Pacific Coast League. What he remembers about playing at Tacoma was that it was cold and wet. He said that the outfielders wore plastic bags over their socks to keep dry. However, there was one great benefit: three trips to Hawaii to play the Islanders. He beat the Islanders three times that summer, twice with shutouts.
In July of 1972, when Jim Kaat was placed on the disabled list with a broken bone in his left hand, the Twins called Goltz up to the major leagues.[iv] He made his debut at Yankee Stadium, where he pitched 3-2/3 scoreless innings of relief against New York, on July 18.[v] He became the eighth native Minnesotan to play for the Twins. His first major-league win came in his first start, against the Milwaukee Brewers in the second game of a doubleheader on July 22.[vi] From this point on, he was predominantly a starting pitcher, picking up his first complete game in the second game of a doubleheader against Oakland on August 6, defeating the A's 5-1, scattering six hits. He finished the season with a 3-3 record with an ERA of 2.67 in 91 innings pitched.
Although Goltz's ERA went up to 5.25 in 1973, he had a 6-4 won-lost record and followed that with three seasons in which he won as many as he lost, including identical 14-14 records in 1975 and 1976.
The 1977 season was a breakout year for Goltz as he became the first Twins pitcher to win 20 games since Bert Blyleven in 1973. Goltz went 20-11 and pitched 303 innings, the most he ever worked in his career. For this performance, he shared the cover of the 1978 Twins yearbook with Rod Carew, who posted a batting average of .388 in 1977 and was the American League Most Valuable Player.
Asked what it was like to play with Carew that season in 1977, Goltz said Rod's bat control was phenomenal and remembered a game at Tiger Stadium in which Carew was being razzed by the Detroit bench. Sir Rodney pointed his bat at the dugout and then rifled the next pitch right at the players in it. Not being satisfied, he hit the next pitch toward the same area. The foul balls ricocheted around, causing all kinds of disruption. Finally a white towel was tossed from the Tiger bench.
Goltz missed some time in 1978 with assorted injuries, including a burn on his pitching hand suffered while doing some backyard grilling. But he still managed to have a 15-10 record with an excellent 2.49 ERA.
After a 14-13 season in 1979, Goltz filed for free agency. The Twins were noted as being less than generous in their contract offerings. They had lost several of their top players, including Bill Campbell, Lyman Bostock, and Larry Hisle (as well as Rod Carew, whom they traded before he could become a free agent) because the players could make more playing elsewhere. Goltz says he got along fine with owner Calvin Griffith, but his contractual difficulties came from Howard Fox, the Twins' vice president.
As a 30-year-old starting right-handed pitcher, Goltz was selected by 13 teams in the 1980 re-entry draft, which was then used as a way of allowing teams the right to deal with free agents.[vii] Goltz signed a six-year, $3 million contract with the Los Angeles Dodgers.[viii] Al Campanis, the Dodgers' vice president for player personnel, had said they were looking for the best pitcher available, and they felt they got that pitcher in Goltz.[ix]
Goltz had also interviewed with the Milwaukee Brewers. However, Larry Hisle, his former Twins teammate who was by this time with Milwaukee, suggested to Goltz that the Brewers would not be a good "fit." They were going through a period when what is now called "substance abuse" was too common. Hisle knew that this situation would not be something that a Rothsay native son would be comfortable being around.
Goltz did not have any winning seasons with Los Angeles, but he did pitch 3-1/3 innings in the 1981 World Series as the Dodgers beat the New York Yankees. He has his World Series ring but he says it is so large that he does not wear it. His recollections about the Dodgers years were that Manager Tom Lasorda did not do much "managing." Coaches Monty Basgall and Danny Ozark really ran the team. The Dodgers still had the outstanding infield of Steve Garvey, Davey Lopes, Bill Russell, and Ron Cey. They were strong on offense, but Goltz says that Lopes and Cey had little range.
Goltz was released by the Dodgers during the 1982 season and signed with the California Angels. That fall he got to pitch in the American League playoffs against the Brewers, who beat the Angels in five games. Goltz tossed 3-2/3 innings in relief of losing pitcher Tommy John in the fourth game in Milwaukee, giving up three runs in the 9-5 defeat. Goltz was released by the Angels during the 1983 season after suffering a torn rotator cuff.
Goltz's favorite manager was Gene Mauch, whom he played for with the Twins from 1976 to 1979 and again with the Angels in 1982. Mauch has been quoted as saying that Dave Goltz was the best starting pitcher he ever managed. That is high praise because Mauch had managed a couple of good pitchers in Philadelphia, Chris Short and Jim Bunning, and some equally talented ones in California, such as Nolan Ryan and Frank Tanana.
Asked about the toughest hitters he had to face, Goltz provides some surprising names. He said that Cookie Rojas and Chris Chambliss were the toughest because they understood the game. When it was time for an extra-base hit, they could deliver; when they had to get on base, they found a way to get there. Then Goltz added that Paul Molitor and Thurman Munson were also hard to get out. Goltz said that he did not have too many problems with Reggie Jackson. In fact, Goltz had considerable success with left-handed hitters because his knuckle curve was tough on them. Goltz still cannot straighten out the fingers on his right hand after throwing the knuckle curve all those years. He doesn't know if anyone is throwing that pitch today. He knows that Burt Hooton, a Dodgers teammate, used it with success.
After retiring from baseball, Goltz returned to west-central Minnesota and went into business in Fergus Falls, first into real estate (lake properties) and later into insurance. He is now an agent with Midwest Insurance Agency in Fergus Falls. He also works out of an office in Rothsay a couple days a week. Goltz does most of his business with farm insurance, liability, and personal injury. The agency also handles other forms of insurance, life, health, and personal, but Goltz says the farm insurance alone keeps him busy.
Goltz married his high-school sweetheart, Sheri, who also attended Rothsay High School. They have three children, all graduates of Fergus Falls High School. The oldest, Darren, graduated from Concordia and lives in Brainerd and works as a pharmaceutical representative. Darren and his wife have one son, Dave and Sheri's only grandchild.
Daughter Alana is married and lives in St. Cloud. Alana has a degree from St. Cloud State and works as a personnel recruiter.
Sheri and Dave's younger son, Brandon, received his degree from North Dakota State. He pitched for the Bison and later for the Fargo-Moorhead RedHawks in the Northern League. Dave and Sheri are very proud of their family; all were very active in sports throughout their student years. Goltz said they figured out one time that they followed their children for 44 sports seasons.
Goltz used to do some umpiring at the high-school and small-college level. Like a lot of dads, he did his duty as a Little League coach, giving those kids the chance to say their Little League coach was a former 20-game winner. Goltz later coached the Fergus Falls Community College baseball team for two years. He now says he is retired from playing, umpiring, and coaching.
Goltz still returns for Twins Fest and other Twins autographing sessions. In 2007 he was in the Twin Cities for the groundbreaking ceremonies for the Twins' new ballpark. When asked his opinion of the site, he said the idea of building an open-air stadium is one of the dumbest ideas and certainly not a good plan. He remembers when he was scheduled to pitch an opening-day game at Metropolitan Stadium. The temperature was 29 degrees.
He does not miss the Twin Cities and the traffic. Just the drive down to the Cities in December brings back stressful memories of fighting through the heavy traffic and built-up areas, making the move to Otter Tail County, with its two-lane roads, farms, fields, trees, and lakes more of a sound decision.
Author's Note:
I had the opportunity to visit with Dave Goltz at a Caribou Coffee shop in Bloomington on a snowy morning in December of 2007. He had driven down to the Twin Cities with his younger son, Brandon, who had a job interview with a local industrial company, from their home in Fergus Falls.
When our Halsey Hall SABR Chapter asked for volunteers to select their topics for this biography project, I asked for Dave Goltz. I had grown in that same part of the state in a town with about the same population, although Parkers Prairie (Otter Tail County) is slightly larger than Rothsay.
Note
A version of this biography appeared in the book Minnesotans in Baseball, edited by Stew Thornley (Nodin, 2009).
Source
Interview with Dave Goltz, December 4, 2007.
Photo Credit
The Topps Company
---
Born
June 23, 1949 at Pelican Rapids, MN (USA)
If you can help us improve this player's biography, contact us.
http://bioproj.sabr.org/bp_ftp/images4/GoltzDave.jpg
600
800
admin
/wp-content/uploads/2020/02/sabr_logo.png
admin
2012-01-04 20:35:18
2012-01-04 20:35:18
Dave Goltz