---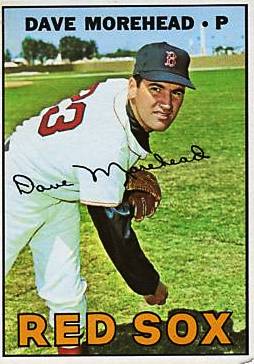 While Red Sox fans remember Dave Morehead mostly for the no-hitter he threw in 1965, Morehead played a role on the '67 dream team by contributing five wins in the August-September stretch drive. Although he had a career major league record of only 40-64 with a 4.15 ERA, he showed flashes of brilliance, particularly early in his career, but extended success was thwarted by arm trouble.
 
David Michael Morehead was born to Charles and Patricia Morehead on September 5, 1943 in San Diego, California. A self-described "gym rat," he always enjoyed sports as a youth and hung out at the local recreation center where he would play games and sports ranging from ping pong to pinochle. As a nine-year-old, he played in the first Little League program offered in the San Diego area. Morehead's two-year-younger brother played in Little League with him. Two former professional ballplayers, Lee Singleton and Jim Gleason, were instrumental in his early development as a baseball player. His parents actively supported and encouraged his sports development, attending all his games. Morehead recalls both going to watch the Pacific Coast League San Diego Padres and listening to them on the radio, always rooting for his favorite Padre, Max West. Morehead graduated from Herbert Hoover High School in San Diego, the same school that produced Ted Williams and ex-major leaguer and premier talent scout Ray Boone. Right after his 1961 graduation, he was signed by the Red Sox as an amateur free agent.
 
It was Boone who signed Morehead, the first player the former infielder secured as a Red Sox scout. Boone would later sign, among others, Curt Schilling. Morehead earned a bonus of $85,000, based on his 16-0 senior season credentials, an average of about 15 strikeouts a game, and all-league honors (he also made all-league in basketball.) "I saw the Red Sox weren't playing very well, and I saw it as an opportunity to advance fast," Morehead told Peter Golenbock, author of Red Sox Nation. Morehead considered attending USC but was encouraged to sign with the Red Sox by former Boston Brave Bob Elliott, who sang the praises of owner Tom Yawkey. Morehead recalls having first met Ted Williams as a high school senior when Williams looked him over for the Red Sox (Williams grew up three or four miles east of him in the University Heights section of San Diego.) The Cincinnati Reds, Kansas City Athletics, and Los Angeles Angels were among the teams competing with the Red Sox to sign him to a professional contract.
 
Morehead was originally slated to start out in Alpine, Texas, in the rookie league. First, though, he was summoned to Seattle to pitch in an exhibition game for the Red Sox against their Triple-A Seattle Rainiers club. Morehead was given five innings to show the Sox what he had, opposing fellow prospect Stew McDonald. Morehead impressed the parent club, tossing five shutout innings. Instead of Alpine, the Sox assigned him to Johnstown of the Single-A Eastern League where he went 4-8 with a 4.80 ERA
 
In 1962, the 18-year-old was promoted to the Rainiers, managed by Johnny Pesky. Now in at the doorstep of the major leagues, Morehead improved significantly on his first-year numbers, posting a 10-9, 3.72 ERA record with 159 strikeouts. His fast track to the majors was completed the next season as both he and his manager, Pesky (succeeding Mike "Pinky" Higgins as Boston manager), were promoted to the big leagues.
 
Morehead was originally set for a return to Triple A in 1963 but was called up to Boston when Gene Conley and Ike Delock experienced arm troubles. The 6-foot, 185-pound, right-handed Morehead began his major league career in phenom style on April 13, 1963, at D.C. Stadium against the Washington Senators, shutting out the Senators, 3-0, striking out 10 (the first of 10 double-digit strikeout games in his career), and allowing only five hits. His shutout was the first by a Red Sox pitcher making his debut since Dave "Boo" Ferriss in 1945. Morehead pitched 6 2/3 innings of one-run, four-hit ball in his next start, on April 20 against the Tigers, but recorded a no-decision in a 15-inning Red Sox victory. In his third start, on May 5 at Kansas City, Morehead allowed only four hits in 7 2/3 innings in a 3-2 Red Sox win.
Continuing his early mastery of major league hitters, Morehead pitched a one-hitter against the Senators on May 12, 1963 at Fenway Park, raising his record to 3-0 in the 4-1 win and lowering his ERA to 1.11. Alas, this was the major leagues, and his ERA ballooned to 4.19 in the process of losing his next five starts.
 
On July 2, Morehead threw a complete-game two-hitter against the Indians in Cleveland, a 6-1 Red Sox win in which he had a no-hitter that was broken up in the eighth inning by a grounder that bounced off something in the infield and went into right field. He followed this up with a three-hit 6-2 win over the White Sox on July 6 at home.
 
Morehead's final numbers in his rookie campaign were 10-13, 3.81, with 136 strikeouts and 99 walks and only 137 hits allowed in 174 2/3 innings. He threw six complete games and one shutout (his debut). It was an excellent start for a 19-year-old rookie on a poor team.
 
Morehead's numbers slipped in 1964. On a team that lost 90 games and had only one pitcher with a winning percentage over .500 (ace reliever Radatz, who had a remarkable 16-9 season), Morehead was 8-15 with a 4.97 E.R.A. In 30 starts, he struck out 139 and walked 112, and allowed 156 hits in 166 2/3 innings. On June 12, he struck out a career-high 12 Orioles in a 7-3 Red Sox win.
The 1965 Red Sox were worse than the year before, posting a 62-100 record, the team's first 100-plus losing season since the 1932 team lost a franchise-record 111. Earl Wilson led the staff with 13 victories. Morehead and Bill Monbouquette each posted 10-18 records. In 192 2/3 innings, Morehead struck out 163, a career high, and allowed only 157 hits, but walked 113 and posted a 4.06 ERA. He finished the season strong. On August 26, he threw a three-hit complete game win over the Senators, 4-2. Five days later, he gave up two hits in six innings in a 4-0 shutout of the Senators. On September 4, he threw a complete game, three-hit, 1-0 shutout at Yankee Stadium for his third straight win. On September 10, he was charged with the 8-5 loss to the Twins. Next came his gem.
 
On September 16, Morehead took to the Fenway Park mound against Luis Tiant and the Cleveland Indians before a paid crowd of 1,247 with another 1,123 present on passes, the smallest crowd of the year at Fenway. In the Indians' second, Rocky Colavito drew a leadoff walk on a 3-2 pitch. Colavito was the only batter to reach base for the Indians that day.
 
Meanwhile, Luis Tiant, Morehead's mound opponent, matched Morehead zero for zero until the sixth, retiring 17 batters in a row at one point. With two out in the sixth, Boston's Jim Gosger beat out his second hit of the day off Tiant and scored on a triple to the Boston bullpen in right-center by Dalton Jones. Lee Thomas added an insurance run in the seventh with his 20th homer of the year down the right field line.
 
With two outs in the top of the ninth, Vic Davalillo batted for shortstop Dick Howser. Morehead got two quick strikes on fastballs. After some angst — Indians manager Birdie Tebbetts was trying to disrupt his rhythm, Morehead told Golenbock — he threw a curve that Davalillo hit back to him. "I went to catch it, and I was going to run over to first the way Mel Parnell did in his no-hitter, either step on the bag myself or hand it to the first baseman so I wouldn't take the chance of throwing it away. In my haste, the ball hit the heel of my glove and I started to run without the ball. The ball lay on the mound. I went back to pick it up and threw it to first base real quick. The throw was low in the dirt, and Mad Dog Lee Thomas scooped it out. I had my no-no."
 
It was a brilliant effort – nine hitless innings with just a single walk and eight strikeouts. Ultimately, what made this event so remarkable is that no Red Sox pitcher would throw another no-hitter until Hideo Nomo threw one in 2001. For the next 35 years, Dave Morehead's name was remembered around Fenway Park as the last Red Sox pitcher to have thrown a hitless gem.
 
Morehead's pitching feat was overshadowed by a post-game press conference announcing the firing of Red Sox general manager Mike "Pinky" Higgins. This would prove a key move as executive vice president Dick O'Connell, who had until then handled the business end for the Sox, took over the all-around operation of the team and proceeded to put together the '67 Impossible Dream team.
 
Morehead was immediately rewarded for his pitching gem with a $1,000 bonus by owner Tom Yawkey. But the optimism engendered by his late-season success in 1965 turned to disappointment in 1966. In his first start of the season, he lasted only three innings and gave up three home runs in an 8-1 loss to the Orioles on April 13.
 
On April 19, he pitched five innings at Fenway against the Tigers, his longest outing of the year and one that may have had an effect on the remainder of his career. It was cold and drizzly and the footing on the field was poor. Morehead was cruising along, striking out six Tigers with a 7-0 lead through four innings. In the fifth, he threw a pitch and his left foot gave out as he stepped down on the mound. He felt something pop in his arm. He completed the inning, but was unable to lift his arm to take off his jacket and start the sixth. He would not win another game in 1966 and would not make another appearance until May 30.
 
According to Morehead, his whole shoulder turned black and blue within five to six weeks after the injury. He was treated with cortisone shots, and was instructed by trainer Buddy LeRoux to hold a 2½ pound steel ball shoulder-high. He pitched only 28 innings through July 23, his last appearance of 1966. He completed the season 1-2 with a 5.46 ERA. Morehead, who threw a low 90's fastball, a quarter curve (similar to a slider) and an overhand curve (his out pitch), believes the April, 1966 injury had an effect on the balance of his career. He altered his delivery to compensate for the pain he was experiencing.
 
Morehead began the 1967 season with Toronto of the International League, posting an 11-5 record with a 3.10 ERA with 109 strikeouts and 105 hits allowed in 122 innings including five complete games. He was recalled by the Red Sox in late July. He started his first game on August 1 against the Athletics at Fenway Park. He allowed four runs in the third, giving a bases-loaded triple to Bert Campaneris, was taken out with nobody out, and was charged with the 4-3 loss. Two days later on August 3, he picked up the win in his only relief appearance of the 1967 season in a 5-3 victory over the A's. In five innings of scoreless relief of starter Bill Landis, he gave up only four hits.
 
Morehead continued what would be a seesaw season for him on August 8 in Kansas City. In a 5-3 loss to the A's, he allowed five runs, four earned, with seven hits in 4.1 innings. But at home on August 15, he shut out the Tigers 4-0 for his first complete game since his no-hitter nearly two years earlier. Then on August 20, he lasted only 1 2/3 innings against California, allowing six runs. The Angels increased their lead to 8-0 before the Red Sox made a memorable comeback and won, 9-8.
 
On August 24 at home, Morehead ran his record to 3-2 with 6 1/3 innings of five-hit, two-run, seven-strikeout pitching in a 7-5 win over the Senators. On August 28 at Yankee Stadium, Morehead paired up with Sparky Lyle to shut out the Yankees, 3-0.
 
On September 4, Morehead lost to the Senators, 5-2, but on the 9th he again teamed up with Lyle to shut down the Yankees, 7-1, at Fenway. It was Morehead's fifth victory. His last regular season appearance of 1967 was on September 15 at home against the Orioles. He gave up three runs in a 6-2 loss to Baltimore. The last of his 10 appearances, the loss brought his regular season to a close with a record of 5-4 and a 4.34 ERA. In 47 2/3 innings, he struck out 40 and walked 22, allowing 48 hits. Morehead no longer recalls why he was not used the final few weeks of the season other than remembering that the starters went on a good run and his services were not necessary down the stretch.
 
Morehead made two appearances in the 1967 World Series against the Cardinals. In Game Four in St. Louis, he pitched an impressive three innings of hitless relief in the 6-0 loss. In the seventh game 7-2 loss on October 12, Morehead took to the hill to start the ninth inning. He struck out Bob Gibson but walked the bases loaded before giving way to Dan Osinski and Ken Brett who retired the Cardinals without a run
 
Morehead enjoyed the 1967 experience. He told Golenbock, "There was no pressure in '67. It was fun. You had the camaraderie [Morehead reports that he still keeps in touch with fellow dream-teamers, including Darrell Brandon, Mike Andrews, Gary Bell, and Lee Stange] and no bitching and moaning, 'cause you're pulling for one thing, to win, and that's what was really exciting. I tell you, it was fun to be wrapped up in a pennant race, probably the most exciting pennant race that has ever been." Morehead expressed respect for manager Dick Williams, having played alongside him in his early years and having commuted to the ball park with Williams and Lee Thomas. Despite Williams' "sarcastic" style of getting in a player's head, Morehead said he learned a lot from him and said you "always knew where you stood with Dick."
 
Morehead again began the season in Triple A in 1968, pitching for Louisville of the International League. In 18 games, he was 6-7 with a 3.18 ERA. He made the first of his 11 appearances for Boston in 1968 on July 27 in Washington. After two one-inning relief appearances, he made nine starts for the Red Sox, compiling a record of 1-4, with a 2.45 ERA. He threw three complete games. In 55 innings, he allowed 52 hits, walking 20 and striking out 28.
 
On October 15, 1968, Morehead was selected by the Kansas City Royals in the expansion draft. In 1969, he appeared in 21 games, making only two starts. In 33 innings, he compiled a 2-3 record with a 5.73 ERA. In 1970, Morehead appeared in 28 games for the Royals, starting 17 (including one complete game). He was 3-5 with a 3.62 ERA. On August 7, he made his last career start, pitching five innings and allowing one run on seven hits and earning his final career win in a 10-2 victory in Kansas City against the visiting Milwaukee Brewers. On September 29, he appeared in his final major league game, a 4:05 twelve-inning contest won by the Royals 14-13 over the Twins. Morehead allowed one run and three hits in 1 1/3 innings. He was called out on strikes against Jim Perry in the third in his final career at-bat. In the third, Morehead faced his final batter, shortstop Leo Cardenas, getting him to ground to second, forcing out Cesar Tovar. Morehead was released by the Royals on March 30, 1971, bringing his baseball career to a conclusion. Morehead briefly pondered his professional baseball options but ultimately decided to begin his post-baseball life; he'd been attending San Diego State in his off-seasons.
 
Morehead enrolled at S.D.S.U. in 1961 and persevered to earn his B.A. in marketing from that university in 1973. In 1972, he went into the retail business and worked for Gemco through his college management training program. In 1990, Morehead started a business in which he is still active: Pacific Crest Marketing. He is a manufacturer's representative engaged in the sale of primarily sporting goods to retail chains. He still enjoys professional baseball and follows the Red Sox from a distance. As a season-ticket holder for the local Angels, he attends approximately 15-18 games a year.
 
Morehead married the former Patricia Morse in 1963 and has resided in North Tustin, California, since 1975. His son, Michael, was born in June of the 1967 season and is an attorney in Northern California and a big Red Sox fan. His daughter, Crista, was born in September 1969 and is a director of marketing for Goldman Sachs investment firm in San Francisco. Morehead has two grandsons, Spencer and Rhys.
Note
This biography originally appeared in the book The 1967 Impossible Dream Red Sox: Pandemonium On The Field, edited by Bill Nowlin and Dan Desrochers, and published by Rounder Books in 2007.
Sources
BaseballLibrary.com.
 
Basebalray@aol.com.
 
Baseball-Reference.com.
 
Blume, Andrew, interviews with Dave Morehead May 30, 2006, July 24, 2006.
 
Center, Bill, "First of Boones in majors dies of heart attack at 81," San Diego Union-Tribune, October 18, 2004.
 
Chicago Tribune
 
Coleman, Ken and Dan Valenti, The Impossible Team Remembered. The Stephen Greene Press, Inc. 1987.
 
Crehan, Herbert with James W. Ryan, Lightning in a Bottle The Sox of '67. Branden Publishing, Inc., 1992.
 
Golenbock, Peter, Red Sox Nation. Triumph Books, 2005.
 
Nowlin, Bill, Mr. Red Sox: The Johnny Pesky Story. Rounder Books, 2004.
 
Petraglia, Mike, MLB.com, "Nomo tosses second career no-no," April 4, 2001.
 
Petraglia, Mike, redsox.com, "Morehead OK with Nomo no-no," April 6, 2001.
 
Retrosheet.org.
 
Reynolds, Bill, Lost Summer: The '67 Red Sox and the Impossible Dream. Warner Books, Inc., New York, NY., 1992.
 
Ryan, Bob, "It's impossible to overlook 1967 dreamers," Boston Globe, October 25, 2004
 
Stout, Glenn, and Richard Johnson, Red Sox Century. Houghton Mifflin Company, Boston, 2004.
 
Thorn, John et al., Total Baseball, Sixth edition, Total Sports 1999.
Born
September 5, 1942 at San Diego, CA (USA)
If you can help us improve this player's biography, contact us.
/wp-content/uploads/2020/04/no-bio.jpg
600
800
admin
/wp-content/uploads/2020/02/sabr_logo.png
admin
2012-01-04 20:09:12
2012-01-04 20:09:12
Dave Morehead