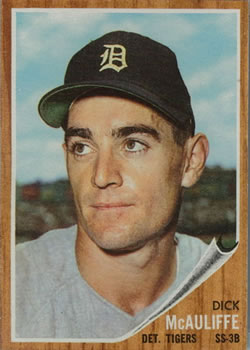 ---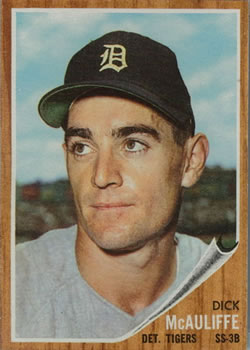 Richard John McAuliffe was born in Hartford, Connecticut, on November 29, 1939. He grew up in the tiny town of Unionville, a burg "not exactly a breeding spot for major league athletes," according to Los Angeles Times columnist Jim Murray, another Connecticut native. "Chickens are more along its line. … Unionville has about nine months of winter," Murray recalled. "And summer is apt to be three months of thunder showers."1 McAuliffe played baseball at Farmington High School under legendary coach Leo Pinsky, whose teams won 411 games and three state championships. "He was an excellent baseball coach," McAuliffe recalled. "A very tough individual. When you didn't show up for practice, when you didn't run hard, when you didn't hustle, he'd take you right out of the ballgame and sit you right down. I thought those were good rules he had, and I think that gave me a lot of desire and hustle."2 At 5-feet-10 and 140 pounds, Dick was also the fullback on Farmington's football team, and a star basketball player.
McAuliffe caught the attention of Boston Red Sox scout Joe Dugan during a tryout camp at Bristol's Muzzy Field during his junior year in high school. He was 16 years old. Dugan told him to come back the next year when he turned 17. Unfortunately for Dick, the McAuliffe family was a victim of a 1955 flood that damaged many houses in Collinsville and the Farmington River valley, and Dick spent the year helping restore housing instead of returning to Farmington High. He did finish school a year later, leading the Indians baseball team to the state tournament at Muzzy Field as a pitcher and third baseman. "I was pitching a game in the state championships… I always had a good arm in high school," Dick said. "My first 11 pitches I threw were all balls. And we had two guys on and a 3-and-0 count on the next hitter, so Leo Pinsky took me out. [H]e put me at third base … and I made a couple of good plays … and got a couple of hits. Detroit Tigers scout Lew Cassell was in the stands during that tournament and McAuliffe recalled their conversation after that game. "You're not a pitcher, by the way, are you?" Dick remembered Cassell asking. "I think he already knew that, but he was pulling my leg. Then he gave me an application to fill out … and about two weeks later he was in the area, and he called my parents on a Sunday afternoon and he asked if I wanted to sign professionally … and I said 'yes, I do.'" McAuliffe signed shortly after the Class of 1957 graduated, guaranteeing a $500 bonus and an opportunity to play professional ball immediately.
The June 22, 1957, New York Times reported the signing of the "infielder-outfielder from Hartford, Conn." He would report to the Erie Sailors of the Class D New York-Penn League. "I flew from Bradley Field in Hartford to Erie," McAuliffe remembered. "I go to the ballpark … and the team had just left to go on the road to Jamestown, which was a couple-hour bus ride, but they would return that evening." The cab driver took him downtown to the general manager's office. The GM told Dick to go across the street and check into the team hotel, and come back for dinner. "I had my only suit and tie on, thinking he's going to take me out to a fancy restaurant, I get there, and he takes me to the corner drugstore and buys me a 69-cent macaroni and cheese dinner! And then we drive over to Jamestown. … We watched the ballgame and the first thing that came to my mind after I watched … was yes, I can handle this." The 18-year-old played 60 games, mostly at shortstop, had 36 hits, 9 doubles, 16 RBIs, and a .206 batting average. "Don't they throw curves in Unionville, sonny?" he was asked. Charles Kress was the Erie manager, and the Sailors won the league championship, beating the Batavia Indians three games to one.
"My first year in pro ball, the velocity that the pitchers threw compared to high school was a lot more," lefty batter McAuliffe said. "I was hitting everything to left field. I wasn't getting around on pitches." Tigers hitting instructor Wayne Blackburn had a fix. "They were flooding me to the left side, and it was difficult, there weren't any holes out there to get hits. So [Wayne] got me to open up, get my hip out of the way, and pretty much develop the stance that I had, and I was pretty successful with it. I stayed with it that whole spring training and after six or seven weeks of spring training I got familiar with it, and I was hitting the ball to right field, left field, and up the middle. … by the time I left spring training I was very comfortable with it." Many compared the new McAuliffe "foot-in-the-bucket" stance to that of Mel Ott, the former New York Giants star. Bill James, who ranked McAuliffe 22nd all-time among second baseman in his Historical Baseball Abstract, described it this way:
"[H]e tucked his right wrist under his chin and held his bat over his head, so it looked as if he were dodging the sword of Damocles in mid-descent. He pointed his left knee at the catcher and his right knee at the pitcher and spread the two as far apart as humanly possible, his right foot balanced on the toes, so that to have lowered his heel two inches would have pulled his knee inward by a foot. He whipped the bat in a sort of violent pinwheel which produced line drives, strikeouts, and fly balls, few ground balls, and not a lot of pop outs."3
It was back to Class D and Valdosta in the Georgia-Florida League in 1958. The 5-foot-11 shortstop made the all-star team, hitting .286 with 17 doubles, 5 triples, 8 home runs, and 62 RBIs. "I just started progressing," McAuliffe said. "Started hitting for average, hitting with power. Making less mental mistakes and physical mistakes." His fielding left much to be desired; he tallied 45 errors in 93 games. Valdosta, under manager Stubby Overmire, won the league title over Albany in the playoffs. McAuliffe wasn't around for the postseason, however, having been sent up to the Augusta Tigers in the Class A South Atlantic League for the end of the 1958 season. The 19-year-old played 41 games with Augusta, hitting .241 with no home runs and 13 RBIs. The Tigers finished the season in first place, but lost in the first round of the Sally League playoffs to the eventual champion Macon Dodgers.
The 1959 season began for McAuliffe with the Durham Bulls of the Class B Carolina League. He was again an all-star shortstop, despite 35 errors in 94 games. (The all-star second baseman and league MVP from the pennant-winning Raleigh Capitals was Carl Yastrzemski, who would become McAuliffe's teammate 15 years later.) McAuliffe hit .267 for the Bulls, driving in 43 runs. He finished the season back in the Sally League with the Knoxville Smokies, managed by former Red Sox great Johnny Pesky. "I liked Johnny, his brand of baseball," McAuliffe said. "He was a tough man to play for. You know, a real red-ass." He played only 11 games for Pesky that year, getting four hits in 26 at-bats.
Back to Knoxville in 1960, this time under manager Frank Skaff. McAuliffe was again an all-star. His 109 runs scored led the league. He batted .301, hit 27 doubles, a career-best 21 triples, and 7 homers, and drove in 54 runs. McAuliffe earned a promotion to the big club in September.
The 1960 Detroit Tigers were on their way to a 71-83 record, good for a sixth-place finish in the American League, 26 games behind the pennant-winning Yankees. McAuliffe remembered his first major-league appearance, against the Chicago White Sox on September 17:
"[It] was in Detroit, in a game that I pinch-hit for the pitcher, and we were way behind. [The pitcher] walked me on four straight pitches, and there was one out at the time, and we were behind by a lot of runs, and [had] no chance of winning the ballgame. So I get on first base, and there's one out, and all I want to do is don't make any mistakes out on the basepaths. So Coot Veal got up, and hits a real soft line drive to shortstop, and I don't know what made me do it – I guess the excitement that I was in the big leagues and all the people there and everything combined – and I just broke for second base … and I got doubled off first base. So it wasn't a very good impression."
Three days later he got his first start, against the Indians in Cleveland. "Jim Perry was pitching for Cleveland, in Cleveland, and the first three times up I got a single, a triple, and a single. And then [Dick Stigman] came in, and [he] was just throwing balloons up there, and he threw one down the middle of the plate and I popped it up. And that was my first big-league out." (McAuliffe evened the score with Stigman in 1961, hitting his first major-league home run off the Indians hurler on June 23 at Cleveland Stadium.) McAuliffe's defense was still a work in progress in 1960 – in seven games at shortstop, he made five errors.
At the end of the season, manager Joe Gordon wanted his young shortstop to come to California. "[He] wanted to take me to Sacramento, where he lived. He wanted to tutor me while I was out there, and he would get me a job at one of the big factories. … They have great baseball, semipro baseball out there. He wanted me to hook up with one of the teams and play, get in shape … while I was out there. And at the end of the season they fired Joe Gordon, so I never did get to go." Bob Scheffing would be brought in for the 1961 season. "The best manager I played for was … Joe Gordon." McAuliffe said. "He was tough, he was fair. He treated the player … like a man."
McAuliffe starred 1961 in the rarefied air of Colorado, playing for manager Charlie Metro and the Triple-A Denver Bears. After 64 games with Denver, the 22-year-old shortstop was hitting .353. He made 24 errors, but his hitting earned him a call to the Motor City. Joining the team for a game against the Washington Senators on June 22, 1961, shortstop Dick McAuliffe was a Tiger to stay. In July there was some concern that President Kennedy would expand the military draft, leaving the 21-year-old McAuliffe vulnerable. But it didn't come to pass. (He finished a six-month stint in the Air Force before spring training in 1962.) The 1961 Tigers had an excellent campaign, posting a 101-61 record. But this was 1961, and the Yankees were a dominant 109-53. McAuliffe played 55 games at shortstop and 22 at third, spelling regulars Chico Fernandez and Steve Boros.
McAuliffe added a wife and second base to his repertoire in 1962. He married JoAnne Lee Cromack on March 3. That season he played 70 games at second base, 49 at third, and 16 at shortstop . He made 30 errors, but more than made up for them with his bat, batting .263 with 20 doubles, 12 home runs, and 63 RBIs. He had his first career four-hit game, against the Red Sox at Tiger Stadium on May 11. His first child, Mary Elizabeth, was born in the offseason.
The Tigers regular shortstop in the early 1960s was journeyman Chico Fernandez. The club had no other shortstops in their system capable of replacing him, and with his average hovering at .143 in early May of 1963, he was traded to the Milwaukee Braves for Lou Johnson (who would never play for Detroit) and cash. McAuliffe took over at shortstop, starting 133 games there. The team finished sixth in the American League, 25½ games behind the Yankees.
McAuliffe had his breakout season in 1964. He played shortstop in all of the team's 162 games. His career-high 32 errors were tied for third most in the majors. But his offensive output – for a 1960s shortstop – was remarkable. The 25-year-old led the Tigers and set a team record for shortstops with 24 home runs. His drew 77 walks. He drove in 66 runs batting mostly in the bottom third of the order. The team finished 85-77, good for fourth place, 14 games behind the pennant-winning Yankees.
In 1965 McAuliffe became an All-Star. Voted the American League starter at short, he led off the bottom of the first against Juan Marichal at Metropolitan Stadium in Minneapolis. He popped out to shortstop. Against Jim Maloney in the fourth, McAuliffe singled and later scored on a Rocky Colavito hit. In the fifth, McAuliffe faced Maloney again. "He threw me a high fastball, and in fact it was a funny thing, because Bill Freehan, our catcher was out in the bullpen," McAuliffe remembered. "And Bill was talking to one of the catchers in the NL, and he was saying, "How the hell does a guy like McAuliffe hit with that type of stance?' And no sooner was it out of his mouth than I hit the ball over his head [for a two-run homer]. … [A]nd Freehan just turned to him and said, 'Just like that!'"
McAuliffe's numbers fell off a bit in 1965, due in part to a broken hand that limited him to 113 games. Still, he hit .260, slugged 15 home runs, and drove in 54 runs. He began a transition into the leadoff spot that year, batting first in 48 games. "I was the type of guy who had a pretty good eye at the plate and got a fair amount of walks," McAuliffe said of his leadoff hitting. "My on-base percentage was always good, so therefore if I'm on base quite often it gives a chance for the number two, three, and four hitters to drive me in." He had a career .343 on-base percentage. He hit quite a few leadoff home runs in his time as well – 19 of them.
Dick and JoAnne's second child, John Michael, was born in February 1966. That season, illness and injury again affected McAuliffe. He was limited to 124 games, but was again voted the starting shortstop in the All-Star Game. He went hitless, and struck out against Juan Marichal. That season he connected for 23 home runs, drove in 56 runs, and brought his average up to a career-best .274.
In 1967 McAuliffe replaced the fading Jerry Lumpe at second base. That season the All-Star Game starters were chosen by the players, and Rod Carew was tapped to start at second. McAuliffe came in in the seventh. He flied to right in the eighth, again in the 11th, and once again in the 14th inning – his final career All-Star at-bat. (The AL lost, 2-1 on a Tony Perez home run in the top of the 14th.) McAuliffe had another fine offensive year in 1967, hitting in the top third of the order. Twenty-two home runs, a career-high 105 walks, and 65 RBIs helped the Tigers to a 91-71 record and an epic battle down to the final out of the season with the "Impossible Dream" Boston Red Sox. In fact, it was McAuliffe's 4-6-3 double-play grounder in Detroit against the California Angels in the season's finale that kicked off a pennant celebration in Boston. It was only the second GIDP for McAuliffe that season, both in the last five games. He set a major-league record the next season when he didn't ground into a double play all season. "I wasn't quick. … I wasn't fast," McAuliffe told interviewer Peter Zanardi in the early 1990s. "I could get down to first base, being left-handed and had a quick start at home plate. But one thing that helped me … was leading off so many times with nobody on base."
The 1968 Detroit Tigers ran away with the American League pennant, finishing 103-59, 12 games ahead of runner-up Cleveland. "[We were] absolutely phenomenal for that particular year," McAuliffe remembered. "I mean, when you think a guy like Denny McLain won 31 ballgames … but it was more than that. We averaged five plus runs for Denny throughout that year. Mickey Lolich was a great pitcher for our team, won [17] ballgames, but the key factor I think is that everybody contributed at the right time. I'd have to say that 1968 was the highlight of my life."
Al Kaline was in the outfield, "The best right fielder you'd ever want to see," McAuliffe said. "Never [made] a mistake in the outfield, never drop a ball, always throw to the right base. Quick release, not only a strong arm, but very accurate." Norm Cash, "the comic of our ballclub," slugged 25 home runs. Willie Horton led the team with 36, and outfielder Jim Northrup drove in 90 runs. Bill Freehan was "a good catcher, excellent with knowing how to pitch teams. … [A] good, solid man behind the plate. Knew how to call a ballgame, knew the pitchers that he had. …"
Of manager Mayo Smith, McAuliffe said, "I don't call him a great manager, but … I think the biggest plus that he asserted to the club was that … he would have everybody moving on the bases. No matter who was on base. If a guy was on first and second and the count was 3-and-1 or 3-and-2, you'd be running. We were so successful with it that it was unbelievable. We'd stay out of double plays, we'd put the bat on the ball, we got base hits, and it really created a spark."
Some sparks flew at Tiger Stadium with the Chicago White Sox in town on the night of August 22, 1968. "[Al Lopez] was managing the White Sox," McAuliffe said, "and they were not that far out of the race at the time. I was sort of the spark plug of the Tigers … scoring a lot of runs and playing good defense." Mickey Lolich was on the mound for theTigers, Tommy John started for the White Sox. McAuliffe played second, and led off the bottom of the first with a single. He scored on a Willie Horton single. "So [they must have] felt, if they were minus me, maybe John could hit me in the kneecap and I'd be out for two or three weeks, and they could catch up," Dick speculated.
The Tigers still led 1-0 when McAuliffe came up with one out in the bottom of the third. He remembered what happened next:
"[T]he first pitch at me was right at my head, and I mean right at my head. The catcher never laid any leather on it, and it hit the backstop. And I didn't think too much of it. … Tommy John has got some of the best control you'll ever see, and he's a lowball, sinker-slider type of pitcher with great control [and] not a great deal of velocity, but he was throwing the ball hard at me that day. So he threw … the next pitch, he spun me down, threw it behind me. And I turned around to the umpire, Al Salerno, and I said, 'Boy, if that thing hit me it would really put me away.' Al didn't say anything … and I've got a glare in my eye then but I didn't say anything. The count worked to 3-and-2, so I dug in, and there's no way that John is going to throw at me again. The next pitch … it hit the backstop again. And now I'm mad. But not mad enough to go out and charge him. So I take about two steps, and I'm glaring out at the mound at him … and he starts popping off at me [saying] 'What the hell are you looking at, you… ' or something like that. And all I saw were stars after that, and I just rushed out at him, and both benches emptied."
Tommy John remembered the incident differently. "I was 10 and 5 with a 1.98 ERA and pitching against the Tigers in August. A 3-and-2 pitch slipped out of my hand and sailed over Dick McAuliffe's head. I didn't throw at him, but McAuliffe was yelling at me as he went to first, and he charged the mound. McAuliffe drove his knee into my left shoulder and separated it."4 John was out for the year; McAuliffe was suspended for five games and fined $250 by league President Joe Cronin. "John hit us four times in Chicago in June," said manager Smith. "They hit eight of our guys in the series there and we didn't hit any of theirs." Tigers G.M. Jim Campbell said "Cronin used bad judgment."
There was only one HBP in that entire four-game series and it was when the Tigers' Pat Dobson hit Pete Ward. The John game was the last game of the series. So, it was not 8-0, but actually 0-1! John did hit four Tigers in a game on June 15, though he pitched against them again on June 30 and pitched a five-hit shutout with no HBPs.
That season McAuliffe reduced his errors from 28 in 1967 to nine. (He was shocked that he didn't win the Gold Glove that year – Bobby Knoop, who made 15 errors, did. McAuliffe hit 24 doubles, 10 triples, and 16 home runs, drove in 56 runs, and hit .249. His 95 runs scored led the American League. He played in his first World Series, against the St. Louis Cardinals. His offensive stats weren't impressive, but he didn't make an error in the Tigers' seven-game Series win. And he hit a home run in a losing effort in Game Three against the Cardinals' Ray Washburn.
A knee injury and subsequent surgery derailed his 1969 season, limiting the 29-year-old McAuliffe to 74 games. He still managed 11 homers and 33 RBIs. He matched 1968's error total with nine. He would play four more years with Detroit, never reaching the heights of the 1960s. By 1973, he was a platoon player, sharing time at second with Tony Taylor. On July 15, 1973, the Tigers hosted Nolan Ryan and the California Angels. "Ryan was tough," McAuliffe said. "You couldn't dig in against him back then as you could [later in his career.] That [day] was the best stuff I've seen from a pitcher in my whole career." So good that Ryan fanned Dick three times in three at-bats. Not that the rest of the Tigers fared better – Ryan threw his second no-hitter of the season that day.
McAuliffe made one more postseason appearance, back at shortstop for four games and second for one in the 1972 ALCS against Oakland. He hit only .200 for the series, but hit a big home run off Catfish Hunter in Detroit's Game Four win. The A's won the series in five games.
He had a decent season for the Tigers in 1973, playing in 106 games, hitting .274, and hitting 12 homers. But at age 34, he knew the end was near. "I wanted to move back East, I told them I wasn't coming back," McAuliffe said. "I wasn't pressuring [the Tigers] into trading me to Boston, but I knew my career was near the end, and I wanted to maybe make a connection and get into business of some sort, and Detroit obliged me."
On October 23, 1973, the Red Sox announced that they had acquired the veteran infielder for young outfielder Ben Oglivie. Manager Darrell Johnson expected McAuliffe to challenge Doug Griffin for the second-base job at best, and at worst, back up Rico Petrocelli at third. McAuliffe would wear number 3 for Boston, a number worn by another Connecticut-born Red Sox player, Walt Dropo, McAuliffe was excited about playing at Fenway Park. "[It's] a great stadium to play in because the fans are close to you. Just has that aroma in the air." As for the Boston fans, "[they] are very, very critical, very tough. But they know the game. They really do."
Things didn't work out exactly as manager Johnson had planned. McAuliffe played a utility role in 1974, playing 53 games at second base, 40 at third, three at shortstop, and three as the designated hitter. He batted only 272 times, and hit .210 with five home runs. It was clear that at age 34, the end had come. He retired at the end of the season, and accepted a Red Sox offer to manage in their minor-league system.
Muzzy Field in Bristol, Connecticut, was a 20-minute commute from McAuliffe's home in Simsbury, and home to the Bristol Red Sox of the Double-A Eastern League. Under manager McAuliffe in 1975, Bristol went 81-57, behind young hitting star Butch Hobson. They swept the Reading Phillies to capture the Eastern League championship. McAuliffe wasn't around to taste the champagne, however.
In August, Red Sox third baseman Rico Petrocelli was suffering from headaches, inner-ear trouble, and vertigo, possibly the result of a 1974 beaning. The 32-year-old Petrocelli left the Sox in Chicago on August 17, at the time hitting .241 with four home runs and 44 RBIs. Some wondered if his career, much less the 1975 season, was over. He was placed on the disabled list, Bob Heise was installed as the third baseman, and McAuliffe was pulled from his managerial job in Bristol. "I'm in good shape," he told Peter Gammons of The Sporting News. "I'm seven pounds lighter than I was. I've been throwing in batting practice every day so my arm's strong, my legs are in good condition, and I've been hitting off and on."5
When Petrocelli went down, the Sox inquired about the readiness of Butch Hobson. "Butch had a pretty good bat for me all year long," McAuliffe said. "But in the field he'd make an awful lot of mistakes. Especially throwing mistakes. And I didn't think he was ready right then. [A]nd they asked, 'would you be interested in coming up?'" There were about six weeks left in the season, and the Red Sox had a big lead in the AL East. "I really didn't think about it, and I said, 'Well, yeah, I would be.' Six weeks or so, you know, it's not long." But the veteran hadn't been completely honest with the parent club or the press. "[T]he only bad thing about it was I wasn't in shape," McAuliffe said some 15 years later. "I hadn't picked up a bat all year. I threw batting practice – that was the only thing that was in shape was my arm."
McAuliffe played in seven games, all at third base, making his first appearance as a defensive replacement on August 23. He batted 15 times, with only two singles (.133). His career ended on a sour note on September 1. The Red Sox were hosting the Yankees, and the 36-year-old McAuliffe started the game at third, batting eighth. With one out in the second, Yankees DH Walt Williams hit a popup between third and home. McAuliffe dropped the ball for an error. With one run in, shortstop Fred Stanley tapped a ball to third, and McAuliffe's throw pulled first baseman Carl Yastrzemski off the bag. It was scored a single, and another run came in. McAuliffe drove in a run, but the Red Sox lost the game, 4-2, and Dick McAuliffe's major-league career was over. "I never, ever remember being booed in the big leagues," he said. "But that one game everything stood out, and the fans in Boston were tough. And I really felt bad after that and that was the only time after making an error that I felt really bad about losing a ballgame. And I said, 'Well, I guess I am over the hill.'" The Red Sox obviously agreed – McAuliffe was left off the postseason roster. In the classic 1975 World Series, Rico Petrocelli was back at third base.
The Red Sox wanted McAuliffe to manage in their system in 1976, but he had had enough. "You know, the salary wasn't very … big. I enjoyed doing what I did, but it was tough being on the road once again after 20 years of playing [baseball.] Leaving your family … and I said that's enough."
Would he have changed anything in his career? "I think the only mistake I made was I should have stayed back in Detroit, where I felt more comfortable, and finished up there," McAuliffe said. [T]hey would have given me a job in the minor leagues either as a hitting instructor – or in the big leagues – or managing in the minor leagues, which would have been fine. And gave me a decent salary."
McAuliffe went into the private sector, running a couple of baseball schools and teaching kids how to play the game. "If you've got the desire, you don't need to have superstar skills," he told author Chris Stern in 1979. Shortly after retiring, he bought a business that repaired and installed coin-operated washers and driers. "I did quite well with it," said McAuliffe. "I was in the laundry business over 10 years … and then got tired of doing it."6 He sold the business after 10 years, and in retirement he liked to play golf, appearing occasionally at minor-league games, and at autograph tables at county fairs and card shows.
"The game was very important to me," McAuliffe said. "I took it to heart. I played as hard as I could. I always thought I gave 100 percent, and was proud of the feats I'd done. I thought overall … I should have done better. That's just my personal feeling. I think I've been successful."
McAuliffe died on May 13, 2016, in Farmington, Connecticut, after a battle with Alzheimer's disease.
This biography was originally published in "Sock It To 'Em Tigers: The Incredible Story of the 1968 Detroit Tigers" (Maple Street Press, 2008), edited by Mark Pattison and David Raglin. An updated version appeared in " '75: The Red Sox Team that Saved Baseball" (SABR, 2015), edited by Bill Nowlin and Cecilia Tan.
Acknowledgments
Dick McAuliffe declined to be interviewed for this project, and this biography would have been far less illuminating without the wonderful interview Connecticut sports journalist Peter Zanardi did with Mr. McAuliffe in the early 1990s. Thanks to the SABR Oral History Committee for making it available. All otherwise unattributed quotations from him are from this interview.
Thanks also to fellow SABR members David Paulson, Ed Washuta, David Vincent, and Bill Dunstone.
Sources
Newspapers & Magazines
Chass, Murray, "Yanks Use Munson at 3d and Win," New York Times, September 2, 1975, 39.
Doyle, Al, "Tommy John: The Game I'll Never Forget," Baseball Digest, May 2004.
Gammons, Peter, "McAuliffe Back as Bosox Lose Rico," The Sporting News, September 6, 1975.
Green, Jerry, "Time Hasn't Taken Fight Out of Tigers Franchise," Detroit News, August 20, 2001.
Hawkins, Jim, "Tigers Tabbing Oglivie as a Regular," The Sporting News, December 13, 1975, 50.
"Majors Fear Loss of Players From a Possible Military Draft," New York Times, July 23, 1961, S2.
Murray, Jim, "Sticks to Riches," Los Angeles Times, June 9, 1965, B1.
O'Gara, Roger, "Eastern's Openers Hit Fouls in Bad Weather," The Sporting News, May 3, 1975.
"Ryan Hurls His 2nd No-Hitter of Year," New York Times, July 16, 1973, 37.
Spoelstra, Watson, "Kaline Marks 27th Birthday," The Sporting News, January 3, 1962.
"Tigers Buy McAuliffe," New York Times, September 16, 1960, C2.
"Tigers Sign Two Schoolboys," New York Times, June 22, 1957.
Zanardi, Peter, "An Interview With Dick McAuliffe," Oldtyme Baseball News, Volume 5, Issue 2, 1993.
Books
Detroit Tigers 1969 Press Guide
Detroit Tigers 1972 Yearbook
James, Bill, The New Bill James Historical Abstract (New York: Free Press, 2001), 497-8.
Johnson, Lloyd, and Miles Wolff, eds., The Encyclopedia of Minor League Baseball, 2nd ed., (Durham, North Carolina: Baseball America, 1997).
McConnell, Bob, and David Vincent, eds., SABR Home Run Encyclopedia (New York: Macmillan, 1996).
Stern, Chris, Where Have They Gone? (New York: Tempo Books, 1979), 118.
Websites
Smith, Brad, "A History of Detroit Tigers Shortstops," people.virginia.edu/~pw7e/tigershistory/shortstops.html, January 27, 1999.
Other
Zanardi, Peter, Oral History Interview with Dick McAuliffe (cassette tape), Society for American Baseball Research archives, 1990 or 1991.
Notes
Born
November 29, 1939 at Hartford, CT (USA)
Died
May 13, 2016 at Farmington, CT (USA)
If you can help us improve this player's biography, contact us.
http://sabr.org/sites/default/files/McAuliffe-Dick-1962-Topps.jpg
600
800
admin
/wp-content/uploads/2020/02/sabr_logo.png
admin
2012-01-04 20:42:45
2012-01-04 20:42:45
Dick McAuliffe