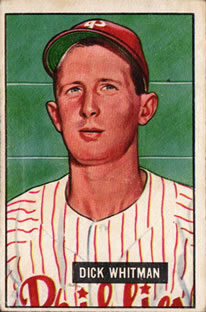 ---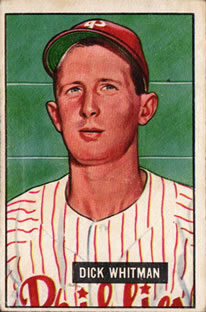 Dick Whitman's life was described by his brother-in-law Bob Read as "the kind of story that maybe America was built on."1 A member of "The Greatest Generation" that survived the Great Depression and fought totalitarianism in World War II, he forged a professional baseball career that began in 1942 and ended in 1957. While the war delayed Whitman's big-league debut, he eventually played as an outfielder for three pennant-winning teams in his six years as a major leaguer. His most notable contribution came as a member of the 1950 Philadelphia Phillies, for whom he served as a pinch-hitter and substitute outfielder during the team's pennant drive.
Dick Corwin Whitman was born on November 9, 1920, in Woodburn, Oregon, 30 miles south of Portland. His parents were Clyde Eli Whitman and the former Nancy Margaret Hicks. The couple also had a daughter, Virginia, born in 1928. Clyde was in the Oregon National Guard and saw action at the Mexican border in 1916 and served in France in World War l.
Dick's baseball abilities were apparent early. After starring for his local high-school team, he played alongside fellow future major leaguers Johnny Pesky and Joe Erautt in 1938 and 1939 for the Silverton Red Sox, a local semipro team. The Silverton team was highly successful, winning the Northwest regional tournament and competing in the National Baseball Congress semipro championship tournament in Wichita, Kansas, in both those years. The 1939 team went 34-2, finishing third nationally. Pesky, Erautt, and Whitman all made the 1939 national semipro All-Star team.
Upon graduation from high school in 1938, Whitman enrolled at the University of Oregon, where he was an active member of the Sigma Nu fraternity and played on fraternity teams in a number of intramural sports. On the baseball field, he was a standout center fielder for the Ducks' varsity team from 1940 through 1942, batting .397 for his college career, a school record that still stood as of 2014. The team won the Northern Division of the Pacific-8 conference in his junior and senior seasons (1941 and 1942). As a senior, Whitman was captain of the team, and led the way offensively with a .412 average, three home runs, and 16 runs batted in, all team highs.
Scout Tom Downey of the Brooklyn Dodgers signed Whitman after his graduation from Oregon in 1942. Dick played in the Dodgers' minor-league system that summer, first for Santa Barbara in the Class C California League, then for the Durham Bulls of the Class B Piedmont League. But the United States had entered the Second World War the previous winter, and like many able-bodied men of his generation, Whitman entered the military. He had enlisted in the Oregon National Guard in September 1940, with active duty deferred until after his graduation.
Called to active duty in November 1942, he served in the Army in Europe from December 1944 until January 1946 as a member of the 83rd Infantry Division, rising to the rank of master sergeant. He suffered shrapnel wounds and frostbite in the Battle of the Bulge and was awarded the Purple Heart and a Bronze Star for bravery in battle, along with three battle stars. He carried a scar on his right cheek as a result of the shrapnel.
Whitman resumed his baseball career after the war and immediately earned a spot on the Brooklyn Dodgers' 1946 roster, hitting .260 with two home runs while playing in a career-high 104 games. His 31 RBIs, 39 runs scored, and 69 base hits were also career highs. He made his major-league debut on April 16 in Boston, going 0-for-3 with a run batted in against Johnny Sain of the Braves. Whitman had his first major-league hit on April 18, in the Dodgers' home opener. With the bases filled, the 5-foot-11, 170-pound Whitman lined a two-strike pitch from the New York Giants' Harry Feldman to left-center field for a double, driving in two runs.
The 1946 Dodgers were a very good team that fought the Cardinals for first place all season. After action on June 29, the Dodgers opened a four-game lead thanks in part to Whitman's first major-league home run, a two-run blow off Boston's Ed Wright. Roscoe McGowen of the New York Times called it a "Ruthian wallop into Bedford Avenue."2 Whitman would hit only one more major-league home run. The Dodgers and Cardinals had identical records after the 154-game season. A best-of-three playoff series was scheduled to determine the winner of the pennant.
The Cardinals won both games to move on to the World Series. Whitman was a defensive replacement in the first playoff game; he started the second game, going 0-for-4. Later that fall Whitman married Joan Beck, whom he had grown up with in Woodburn and to whom he would remain married until his death.
The Dodgers had a crowded outfield situation in 1947, with Dixie Walker, Carl Furillo, and Pete Reiser as the established starters. While Whitman was considered a good prospect, the Dodgers had other prospects who looked even more promising. Whitman thus spent most of 1947 with the Dodgers' Triple-A team, the Montreal Royals. He did well at Montreal, batting .327, slugging 10 home runs, and at one point putting together a 23-game hitting streak, the longest in the International League that season.
Whitman appeared in four games for the Dodgers after getting a late-season call-up, but did not play in the 1947 World Series. He spent more time with the big-league club in 1948 and 1949, playing in 60 and 23 games respectively. He batted .291 in 165 at-bats in '48, getting most of his playing time as a pinch-hitter or spelling Gene Hermanski in right field. He made one appearance in the 1949 World Series against the Yankees, as a pinch-hitter in Game Four, striking out against Allie Reynolds to end the game.
After Whitman's disappointing 1949 campaign, in which he batted .184, the Dodgers sold him to the Philadelphia Phillies on November 14. This was part of a general clearing-out of the overstocked farm system by Branch Rickey, who sold 10 players to various clubs in a matter of days. It was a fortunate move for Whitman, though, since it was with the 1950 Phillies that he had his greatest impact as a major leaguer.
The starting outfield for the Phillies that season featured Del Ennis in right, Richie Ashburn in center, and Dick Sisler in left. That trio missed few games during the pennant-winning campaign, but Whitman was the primary outfield sub, playing 32 games in the field spread among all three positions. He was also the team's best pinch-hitter, going 12-for-39 (.308) in that role and appearing in 75 games overall. His 12 pinch hits led the National League.
Whitman appeared in three of the four games against the Yankees in the 1950 World Series, all as a pinch-hitter, going 0-for-2 with a walk. He started the 1951 season with Philadelphia, but got off to a slow start, appearing in only 19 games, mostly as a pinch-hitter, with only two hits. On June 8 the Phillies sold Whitman to the St. Paul Saints, Brooklyn's Triple-A affiliate in the American Association. They made the move to make room for Tommy Brown, who had been purchased from Brooklyn the previous day. Whitman never again appeared in a major-league game.
Whitman continued in the Dodgers' minor-league system through 1954. He was with St. Paul from 1951 through part of 1953. During the 1953 season, he was transferred to Montreal, where he played through 1954. In Montreal in 1954, he was a teammate of future Hall of Famer Roberto Clemente; Royals manager Max Macon sometimes gave playing time to the veteran Whitman over the young Clemente, which severely frustrated the future star. There has been speculation that the Dodgers were attempting to "hide" Clemente from other teams by limiting his playing time. Evidence suggests, however, that Macon's use of the left-handed hitting Whitman over the right-handed hitting Clemente in certain situations had more to do with his affinity for platooning than with a conscious attempt to cover up Clemente's talent.
For the 1955 season, Whitman returned to his native Oregon to play for the Portland Beavers of the Pacific Coast League. Dick had always maintained ties to his home state during his playing career, making his offseason home in Eugene, where he had gone to college. He performed ably for the Beavers, batting .304 and driving in 50 runs while playing regularly in the field.
In 1956 Whitman, by then a 35-year-old veteran of 11 seasons in professional baseball, was hired as a player-manager for the San Jose JoSox in the Class C California League. That year he led the league in batting with a .391 average, playing in 129 of the team's 140 games, mostly in center field. He was named the league's MVP, while leading his team to a third-place finish. Whitman returned for a second season as player-manager in 1957, with his team finishing fifth. It was his final season of professional baseball.
Dick Whitman's baseball career was probably typical of that of most professional ballplayers in that it was composed more of laboring in relative obscurity in the minors than in achieving stardom in the big leagues. Of his 13 seasons playing professionally, only six included stints in the major leagues. Only three of those seasons (1946, 1949, and 1950) did not include at least some time in the minors. He was never a regular starter in any major-league season, his main contributions coming as a pinch-hitter and in giving the regular outfield starters an occasional day off.
Whitman's career batting average as a pinch-hitter was .286 (26-for-91), 32 points higher than his batting average in other roles; all of his World Series appearances were as a pinch-hitter. Yet he always kept his love and passion for the game and enjoyed telling stories of his professional baseball career. Upon his death, his wife, Joan, said, "He loved baseball, loved playing the game. … It was his life and he made it a great life."3
After retiring from baseball, Whitman settled in San Jose, California. He worked for the local water company until his retirement in the mid-1980s. In 1991 he and Joan moved to Peoria, Arizona, where he enjoyed golfing and became an avid fan of the Arizona Diamondbacks. Whitman died of a heart attack on February 12, 2003, in Peoria. He was survived by Joan; a daughter, Alison Mettler; and sons Richard and Joseph, along with five grandchildren and two great-grandchildren. Whitman was inducted posthumously into the University of Oregon Athletic Hall of Fame in 2004.
This biography appears in "The Whiz Kids Take the Pennant: The 1950 Philadelphia Phillies" (SABR, 2018), edited by C. Paul Rogers III and Bill Nowlin.
Sources
Bedingfield, Gary, Baseball in World War II Europe (Charleston, South Carolina: Arcadia Publishing, 1999).
Johnson, Lloyd, and Myles Wolff, eds., The Encyclopedia of Minor League Baseball. 2nd Edition. (Durham, North Carolina: Baseball America, Inc. 1997).
Markusen, Bruce, Roberto Clemente, The Great One (Champaign, Illinois: Sports Publishing, 2000).
Nowlin, Bill, Mr. Red Sox: The Johnny Pesky Story (Cambridge, Massachusetts: Rounder Books, 2004).
Roberts, Robin, and C. Paul Rogers III, The Whiz Kids and the 1950 Pennant (Philadelphia: Temple University Press, 1996).
Votano, Paul, Stand and Deliver: a History of Pinch Hitting (Jefferson, North Carolina: McFarland, 2003).
Dexter, Charles. "When It's Time to Call the Other Fellow's Bet, Collins Is the – Ace in the Hole." Baseball Digest, July 1956: 71-75.
Thornley, Stew, "Clemente's Entry Into Organized Baseball: Hidden in Montreal?" The National Pastime: A Review of Baseball History, No. 20 (SABR, 2006).
University of Oregon, Oregana, Eugene, Oregon, 1942.
Bellamy, Ron, "Former UO Star Whitman Dies," Eugene (Oregon) Register-Guard, February 18, 2003.
Sexton, Connie Cone, "Major leaguer batted in 2 World Series," Arizona Republic, March 9, 2003.
Oregon Hall of Fame, University of Oregon.
Old-Time Data, Inc., The Professional Baseball Player Database. [CD-ROM] Version 6.0. 2008.
Notes
1 Ron Bellamy, "Former UO Star Whitman Dies," Eugene (Oregon) Register-Guard, February 18, 2003.
2 New York Times, June 30, 1946.
3 Associated Press, March 9, 2003.
Born
November 9, 1920 at Woodburn, OR (USA)
Died
February 12, 2003 at Peoria, AZ (USA)
If you can help us improve this player's biography, contact us.
https://sabr.org/sites/default/files/WhitmanDick.jpg
600
800
admin
/wp-content/uploads/2020/02/sabr_logo.png
admin
2012-01-04 20:03:41
2012-01-04 20:03:41
Dick Whitman