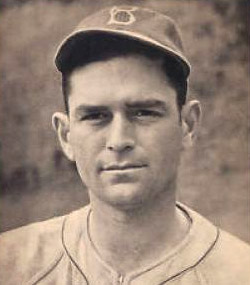 ---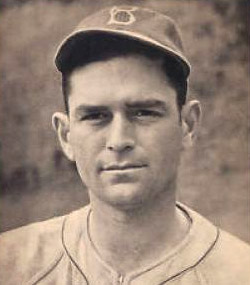 On a summer afternoon in 1935, 17-year-old Ed Head was on a bus to Mer Rouge, Louisiana. Head, a left-handed pitcher for the semipro Pioneer (Louisiana) team, was on his way to play a game against the Mer Rouge team. He and his girlfriend were seated on the left side of the bus (facing forward), Head in the aisle seat and the girl in the window seat. As teenage boys typically do, Head had his left arm draped over her shoulders.
Unfortunately, they were seated almost directly in the path of another bus that rammed theirs. Head was knocked unconscious. When he awoke, he saw that his girlfriend was dead and his left arm, wrenched loose from its socket, was "a mass of shattered bone and mangled flesh."1 He was taken to the Willys Clinic in Mer Rouge, where the local doctor told him he would have to amputate the arm.
Head was still conscious, and though weak and in shock, he argued against amputation. He pleaded to have his uncle, Dr. L.E. Larche, who had the only fluoroscope in the area, come look at the injury. "It was the only fluoroscope in Northern Louisiana," Head said several years later.2 A philanthropist had donated it to the clinic in the late 1920s. Dr. Larche determined that he could save the arm, which he did following many hours of surgery.
For several days Head's life was in danger and the thought of his ever pitching again was dismissed. His lifetime goal had always been to be a major-league pitcher, but with his left arm nearly useless, that would be impossible. Head realized there was only one way he could reach his goal, by throwing right-handed. The dedication and effort needed to make this happen would have discouraged most people, but Head worked and practiced until he succeeded.
"It was tough at first, but not as bad as it might have been for some kids," he remembered. "I had fooled around a lot throwing right-handed even though I was a natural left-hander. It took me about three years though, before I could throw with any real speed."3 Head eventually regained full use of his left arm and continued to write left-handed.
Edward Marvin Head was born on January 25, 1918, in Selma, Louisiana. His parents, Marvin Redwine Head (1890-1959), a timber cutter, and Ida Maude Rawls Head (1898-1990) were married on May 3, 1917. Two more sons followed Ed, Jack, and Roy Lee, who died at age 16 in 1944. The couple also had a stillborn daughter named Margaret Ann, who was born and died on July 30, 1940.
Head, who described his nationality as Scotch-Irish-French and Indian, attended Crosley High School through the eighth grade and graduated from Ouachita Parish High School. Both schools were in Monroe, Louisiana. He began his professional career in 1939 with the Abbeville (Louisiana) A's of the Class-D Evangeline League. He went 19-8 for the A's, a Philadelphia Athletics farm team.
After the season the Brooklyn Dodgers bought his contract, but there are two versions of how that purchase came about. Head's obituary in the New York Times said Brooklyn signed him on the advice of its top scout, Ted McGrew.4 But Larry MacPhail, then the Dodgers' president, told a different story.
According to MacPhail, "A guy named Goldberg, who owned the Abbeville club, came to me with two telegrams. One was from Branch Rickey [GM of the St. Louis Cardinals], the other was from Earl Mann, the Atlanta [Crackers] owner. Both dealt with Head. Rickey offered Goldberg $3,000 for Head and Mann offered $4,000. Goldberg asked me what he should do. Now, I had never heard of Head," he said. "None of our scouts had turned in any report on him, in fact."5
However MacPhail knew Rickey and Mann were two of the smartest operators in baseball. So although he knew nothing about Head, he decided that if the young pitcher was worth $3,000 to Rickey and $4,000 to Mann, he would offer $5,000. Goldberg accepted the offer, but only after MacPhail agreed to also purchase Head's batterymate for $1,500.
The percentage of players who make it from Class D to the major leagues is very low, but there were three pitchers in the Evangeline League in 1939 who not only reached the major leagues, but became stars: Virgil Trucks and Hal Newhouser for the Detroit Tigers and Howard Pollet for the St. Louis Cardinals.
The Dodgers sent the 6-foot-1, 175-pound Head to the Elmira (New York) Pioneers of the Class-A Eastern League for the 1940 season. Through late July, he had justified the jump of three levels in the minor-league chain with a 12-7 record, 116 strikeouts, and a 2.56 earned-run average. He also had taken a wife that month, having married Johnnie Mae Womack on July 2.
After years of mediocrity, the Dodgers were attempting to win their first pennant since 1920. Much to the dismay of the fans in Elmira, they called up Head and the Pioneers' sensational young outfielder Pete Reiser, who was batting .378 at the time of the recall. In the season's final two months, Reiser gave Brooklyn fans a glimpse of what was to come. He batted .293 in 58 games, mostly as a replacement for Cookie Lavagetto at third base.
Head had pitched in an exhibition game for Elmira against the Dodgers a few weeks earlier. He had impressed Dodgers coach Charlie Dressen, who was managing the team for that game, by allowing only one hit and striking out five in three innings.
"He has more stuff than any pitcher I've seen this year," said Brooklyn's veteran outfielder Dixie Walker. "His curve dropped like something rolling off a table and his fastball sailed. So far as I was concerned, the ball might just as well have disappeared."6
Catcher Gus Mancuso also was impressed with Head's pitching. "He not only has a fastball," said Mancuso, "but if he has good control over that hook I know he is going to be tough to hit."7
Dressen said that in addition to Head's outstanding fastball, he pitched with authority and never showed a trace of nervousness in facing the big leaguers.8 The Dodgers players all raved about the composure the youngster had shown.
Head made his major-league debut with a scoreless inning against St. Louis in the first game of a July 27 doubleheader at Ebbets Field. Three days later he made his first start, at home against Pittsburgh. Heavy rain and lightning almost made for a postponement, but the weather cleared just before game time — unfortunately for Head. The Pirates scored four first-inning runs on their way to an 8-2 victory. Dodgers manager Leo Durocher pulled Head after two innings, during which he allowed three hits and walked four.
After a day off, the Dodgers and Pirates played a doubleheader on August 1. After Brooklyn won the first game, Durocher started Head again in the nightcap in what might have been a ploy to get Pirates manager Frankie Frisch to start a left-handed-hitting lineup. After Head began the game by walking Lloyd Waner on four pitches, Durocher replaced him with left-hander Lee Grissom.
Dixie Walker continued to encourage Head after he joined the Dodgers. The youngster was trying to develop a slider similar to the one Brooklyn ace Whit Wyatt threw. He asked the Dodgers batters for their reaction, and Walker had given him the most positive advice. "Pretty good, but stay with it and you'll make it better," he told Head. "And that's all you need — a pitch with some quality of deception to go with your other stuff. You've got everything else."9
Head's first big-league win also came against the Pirates, a complete-game 8-2 victory on September 13. In two months with the Dodgers, Head got into 13 games, finishing with a 1-2 record. The club invited him to Havana for spring training in 1941, and his excellent work there appeared to have earned him a place on the club.
"I'm keeping that kid," Durocher said after Head pitched an outstanding game against Shreveport of the Texas League. "He has great stuff," Leo said. "They can't hit his fastball. Every hit they made off him in Havana and in yesterday's game was off his curve. It isn't a bad curve, but he hasn't got good enough control of it, and besides he throws it to the wrong spots."10
Brooklyn's oldest pitcher, Fred Fitzsimmons, had been working with Head to improve that curve. But if his curveball was a problem, there was much to praise about his fastball. New Dodgers catcher Mickey Owen, who caught Head in the game against Shreveport, said, "His fastball was as live as a basket of snakes."11
Yet the suspicion remained that Durocher might change his mind and let Head spend the year with Brooklyn's top farm team in Montreal, where Clyde Sukeforth, an excellent teacher of pitchers, was the manager. The writers who traveled with the team were almost evenly split as to whether the Dodgers should keep him or let him gain the benefit of one more year of seasoning. While Durocher agreed Head was ready for the big leagues, he wanted him to get more seasoning and sent him to Montreal.
The 23-year-old Head won his first seven games for the 1941 Royals, on his way to an 18-8 season. The Royals finished second to the Newark Bears and met the Buffalo Bisons in the first round of the 1941 Governor's Cup series.12 Head shut out Buffalo, 7-0, in Game Two to even the seven-game semifinal series at 1-1. With the Royals trailing three games to two, he came back to win the sixth game, 4-3, with ninth-inning relief help from Van Mungo. The Royals won Game Seven, and then defeated Newark, four games to three, in the championship series.
The Dodgers had edged out the St. Louis Cardinals in the National League pennant race, but Montreal was not able to duplicate that against the Cardinals' top farm team in the Junior World Series. The Burt Shotton-managed Columbus (Ohio) Red Birds of the American Association won the title in six games. Head made two appearances, both in relief, without a decision.
At spring training in 1942, the Dodgers were again working on Head's curveball while also attempting to improve his control. (He had walked 92 batters in 209 innings at Montreal.) He made the club, and his control improved once the season started. As he had the previous year, Head started strong. In his first five starts of the season, through May 16, he was 5-0, with an ERA of 2.74 and 28 strikeouts with only 17 walks.
"During spring training, I felt pretty miserable," he said after winning his fifth game. "I had a touch of grippe. And then there was the added worry of my wife's condition. When Eddie Jr. was born … everything took a turn for the better. The curveball I was developing for a change of pace began to nip the corners consistently and my fastball hopped as well as ever."13
Like many ballplayers, Head had an unusual superstition. He would not begin to warm up before a game until coach John Corriden handed him the ball. And if he was going, for his fourth victory, Corriden would have to slap the ball four times with his right palm, and say: "There it is for you."14 This means that Corriden was doing six ball snaps for quite a while. Head lost his next four decisions and did not win his sixth game until June 29.
Head had his strongest outing of the season on May 29 against the Giants. He retired the New Yorkers in order through six innings. Billy Werber ended any hopes of a perfect game when he walked to lead off the seventh and eventually came around to score an unearned run. Head was now trailing Tom Sunkel of the Giants, 1-0, but he still had a no-hitter working. That ended when Harry Danning singled to lead off the eighth. The Dodgers tied the score in the bottom of the ninth, but Hugh Casey, who replaced Head in the ninth, gave up two runs in the 10th to take the loss.
Overall, Head finished with a 10-6 record in 36 games: 15 starts and 21 relief appearances. It was a frustrating season for the Dodgers, who led the league by 10 games in early August and finished with 104 victories, but wound up second to St. Louis.
The 1942 baseball season had been a mostly normal one, but by 1943 the war's impact was being felt in players lost to the military and in travel restrictions. The Dodgers trained at Bear Mountain, New York, not far from the US Military Academy at West Point. After catching Head one afternoon, Mickey Owen said: "Ed's much faster than this time a year ago. A year ago they were comparing him with [Dodgers pitcher] Chet Kehn. I always thought Head was faster than Kehn — and I thought his curve was better, too, although some people said the opposite. Head should get off to a great start this spring. He's a much better pitcher."15
Brooklyn opened the 1943 season at Ebbets Field against the Giants. It was the Dodgers' first game under new president Branch Rickey, who had replaced Larry MacPhail, now in the military. Head's excellent spring had earned him the honor of pitching the opener, which he won, 5-2. He allowed just six hits, four of which were by the Giants' manager, future Hall of Famer Mel Ott.
The highlight of Head's 1943 season came in May when he pitched back-to-back shutouts against Chicago and Cincinnati. In his next start, he shut out Pittsburgh through six innings, and had compiled a streak of 26⅔ consecutive scoreless innings before Vince DiMaggio ended it with a home run.
Head's third consecutive win was also his third consecutive complete game. He tailed off after that, failing to pitch a complete game after May 29. He regained his old form in late August with consecutive complete-game wins against the Pirates (6-1) and the Phillies (8-0).
Both this season and last, he had pitched well in the beginning and at the end of the season, but had faltered in midseason. Head was a Southerner, so it could not be the heat that was affecting him, according to some convoluted reasoning by sportswriter Tim Cohane. "Head simply has not yet learned to use his equipment," said Cohane, making sense. "Essentially, he is a fastball pitcher. His fastball is live. It does things, hopping or dipping or swerving as it approaches the plate. But a live fastball is not enough to get by in the majors unless a fellow is a Walter Johnson."16
Head's problem was that he had never developed a major-league curveball, and his experiment with a slider this season had not succeeded, Cohane concluded. After the win over Pittsburgh, Durocher informed Rickey that Head had made use of a change of pace to complement his fastball. He used it again in the shutout of the Phillies. Head had been instructed to use a change of pace all season but had stubbornly resisted.
Durocher was using him more in relief this season. Head's 47 appearances, second most on the club, included only 18 starts. Yet both his 9-10 record and ratio of strikeouts (83) to walks (66) were disappointments.
Because he expected to be drafted before the 1944 season began, Head never reported to Bear Mountain for spring training. He finally joined the team four days before the season opener, and he did not make his first appearance until May 29. His first start was on June 2, when he held the Chicago Cubs to one run in six innings, but was not involved in the decision. On June 8 he pitched a complete game victory over the Philadelphia Phillies, 8-1, in the second game of a doubleheader. As in past seasons, he started off well and then faded. He pitched five straight complete games, winning four, before he slumped like the rest of the Dodgers. From June 28 through July 16, the Dodgers lost a franchise record 16 consecutive games. Three of those losses were charged to Head in games he started.
On July 13, during the All-Star break, Head received orders from his draft board in Monroe, Louisiana, to report for Army induction immediately. He took his basic training at Camp Hood, Texas, and then served with the Tank Destroyers Recruit Training Corps at Camp Hood North. His main role, however, was as the physical training instructor and athletic director.
There were 20,000 soldiers at Camp Hood North, most of whom had little athletic or physical training opportunities. Head, with the commanding general's approval, organized leagues for softball, basketball, and volleyball. He also managed and pitched for the post's baseball team and took care of all the athletic equipment.
"I took care of all athletics and inspected physical training," Head wrote. "I managed the post baseball team that finished third in the Texas semipro tournament. We finished the season with 22 victories and 11 defeats."17 For his efforts in this area, he received a letter of commendation from his commanding officer. In the first week of November 1945, at Fort Hood, Head, who had risen to the rank of Tech/5, received his official discharge from the Army.
The return of servicemen helped swell the record number of players at spring training camps in 1946, including that of the Dodgers in Daytona Beach, Florida. Head had been gone for two years and his arm was still a little sore from absorbing the recoil from a 57-millimeter antitank gun while at Fort Hood.
But he opened the season with Brooklyn and made his postwar debut on April 23, starting against the Boston Braves at Ebbets Field. The game, played on a Tuesday afternoon, drew a near-capacity crowd of 26,787. Fans had endured three full years of subpar baseball during the war and this was an early sign they would turn out in record numbers this season. For Head, it would be the game of his career, as he no-hit the Braves, 5-0, in the first no-hitter in Brooklyn since Cincinnati's Johnny Vander Meer's second consecutive no-hitter in 1938.
Using an assortment of fastballs, curveballs, sliders, and changeups, Head struck out only two, but he kept the opposing batters off stride all day. The Braves had four baserunners, three walks, and a fifth-inning error by shortstop Pee Wee Reese, while Brooklyn's defense turned two double plays.
This was a knowledgeable crowd, aware of what was happening. There were two close calls, one in the seventh inning and one in the eighth. Tommy Holmes led off the Boston seventh with a long drive to right-center field, but rookie center fielder Carl Furillo ran it down and made the catch in front of the exit gate. In the eighth Whitey Wietelmann slashed a line drive between Reese and third baseman Reiser that Reiser was able to grab with his glove hand.
The crowd was quiet when Chuck Workman, batting for Boston pitcher Mort Cooper, led off the ninth with a walk. But they rose in joy when, as Connie Ryan was striking out, catcher Ferrell Anderson threw to first baseman Ed Stevens to double up Workman. Johnny Hopp made the final out on a groundball to second baseman Billy Herman as the crowd erupted in cheers.
The day before the no-hitter, Ed's wife, Johnnie Mae, had given gave birth to a baby boy they named Rickey. "Boy, what a day, what a day," Head said in the Dodgers dressing room after the game. "First I celebrate the birth of my son and then I pitch a no-hitter. And would you believe it," he added, "I knew I was going to do it all the time. I felt great right from the start. I threw only one bad pitch all game — that one to Holmes — I meant to keep it on the outside. You can bet I was saying to myself, 'Come on Furillo.'"18
Head said he did not think he had anything extra, but just threw harder and harder as the game progressed. "All I used was my fastball, curve, slider, and change of pace. The slider is the only thing I didn't have before the war."19
But there was one other thing Head now had that he did not have before the war: a sore arm. A few weeks after the no-hitter he reinjured his arm, ending his major-league career. Head pitched in 13 games for Brooklyn in 1946, winning three and losing two. His last big-league appearance was a one-inning mop-up job in the second game of a doubleheader at St. Louis on August 25.20
He spent all of spring training with the Dodgers in 1947, but was unable to stick with the club. On Opening Day he was sent to the Fort Worth Cats of the Double-A Texas League. He split the season between Fort Worth, where he lost all three of his decisions, and the St. Paul Saints of the Triple-A American Association, where he won three and lost three.
Head spent his final three active seasons in baseball as the general manager and field manager of the Monroe (Louisiana) Sports.21 Monroe was a member of the Cotton States League in 1954 and 1955, winning the pennant in '55. In 1956 the Sports moved to the Evangeline League, where Head had started his career in 1939.22
After baseball, Head lived in Bastrop, Louisiana, and worked as a preventive maintenance coordinator for the International Paper Company. He was still in their employ when he died in Bastrop on January 31, 1980, six days past his 62nd birthday. Head was survived by his mother, his wife, three sons, and three grandchildren.
A version of this biography appears in SABR's No-Hitters book (2017), edited by Bill Nowlin.
Notes
Born
January 25, 1918 at Selma, LA (USA)
Died
January 31, 1980 at Bastrop, LA (USA)
If you can help us improve this player's biography, contact us.
http://sabr.org/sites/default/files/HeadEd.jpg
600
800
admin
/wp-content/uploads/2020/02/sabr_logo.png
admin
2017-02-09 14:19:21
2017-02-09 14:19:21
Ed Head