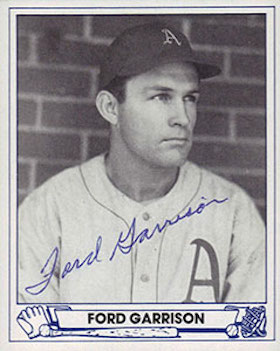 ---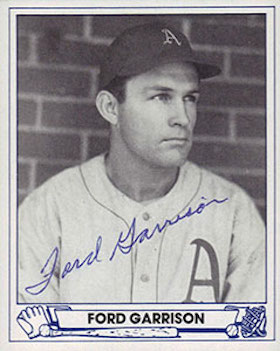 Ford Garrison "came into the big leagues on a postage stamp and rode to Philadelphia on a waiver list." He was "a Paul Revere of baseball."1 So wrote former major-league pitcher Stan Baumgartner, who later became a sportswriter for the Philadelphia Inquirer. The postage stamp was affixed to a letter which Scoops Latimer, sports editor of the Greenville (South Carolina) News, sent to the New York Yankees. Latimer had seen him playing for the American Spinning Company team in the King Cotton Textile League and urged the Yankees to give Garrison a tryout. They did, signed him in the fall of 1937, and he was on his way.2 In 1938 he was assigned to the Amsterdam (New York) Rugmakers in the Class-C Canadian-American League.
Robert Ford Garrison was born in Greenville on August 29, 1915. His father, Robert Cleveland Garrison, was an oil truck driver at the time of the 1920 census, and a carpenter in 1930. Rosalie (Robertson) Garrison had three children, and Ford was the oldest. Ford attended the Sans Souci Elementary School in Greenville and Parker High School, where he earned 12 letters, in baseball, basketball, football, and track.3
Garrison married Louise Harrison in 1934. He'd anticipated a career in railroading, but was active in semipro baseball in the area, and had batted over .400 in 1937. 4
He was a right-handed outfielder who was listed at 180 pounds and stood 5-feet-10.
At Amsterdam he had a very good first year, hitting .327 with 27 home runs in 123 games. His next two seasons were in Class B, for the South Atlantic League's Augusta Tigers. He picked up three points each season, batting .330 in 1939 and .333 in 1940, albeit with only four home runs over the two years. This likely reflected the larger ballparks in the Sally League.
He was sent to Binghamton for 1941, but the Binghamton team sold his contract to Fort Worth. This was Class A-1 ball and he struggled to hit as well, though acquitting himself adequately. He hit .255 and then .295 in successive Texas League seasons for Fort Worth, playing for manager Rogers Hornsby in 1942. Garrison credited Hornsby for significant help with his hitting.5 Garrison spent the offseasons keeping in shape through his work as a railroad switchman "walking about fifty miles a day."6
On August 6, 1942, the Boston Red Sox announced Garrison's acquisition for delivery after the season. He'd been recommended to the Red Sox by Billy Disch.7 Hornsby called Garrison "a fellow who will play just as well defensively as Dom DiMaggio…He's a nice feller. He won't make any trouble for the manager. In fact, he won't know he's around half the time, except when there's a ball hit in that there outfield. Then the only thing that will keep him from running it down will be the fact it's out of the park. He ain't the greatest batter that came out of the Texas League, but he'll hit you .280 and frequently go for that long ball."8 As it happens, Hornsby was right on the money for batting average – Garrison hit .279 for Boston in 1943, though without a home run. He was 3-A in the wartime draft, married and with two sons.
When he trained with the Red Sox in spring training 1943 (at Tufts College in the Boston area due to travel restrictions adopted as part of the war effort), he let it be known that he had never seen a major-league baseball game. He saw his first on April 22 at Shibe Park, when the Red Sox beat Philadelphia, 1-0. He played center field and was 0-for-3 at the plate. Garrison collected his first big-league base hit the next day, and a base on balls. On April 24 he drove in his first run.
All in all, though, he got off to a rough start with the Red Sox in 1943. That first RBI was his last one, through 19 games and June 4. He was batting .148. On the 10th, he was sent to Louisville on option. Manager Joe Cronin said that "he might find himself down in Louisville."9 There he rose to the occasion, hitting for a .324 average in 99 games. That earned him a call back to Boston in September. And starting in his first game back, September 14, he went on a nine-game hitting streak, with 18 hits in the nine games, doubling his average to .295. He had a three-RBI day on September 19 and a four-RBI day on September 23, with his only home run of the year. Ed Rumill of the Monitor, however, noted that when Garrison came up in a clutch situation, with the tying runs on base, he took a called third strike.10
Naturally, he couldn't stay that hot forever, but he finished the season with a respectable .279 batting average (and a .306 on-base percentage) and 11 RBIs in 136 plate appearances.
Garrison had been working on a government building project in St. Petersburg over the winter. Just on the eve of reporting to spring training in 1944, Garrison received notice on February 25 that he had been reclassified 1-A in the draft. He was asked to report for his pre-induction physical on March 6.11 As it happens, he was never called in 1944 and got in a full season of baseball.
In mid-April, just before the season began, the Red Sox sold first baseman Tony Lupien to the Philadelphia Phillies for a sum understood to be around $10,000. The plan was to move George Metkovich to first base, and have Garrison play right field.12 Cronin thought Garrison's speed and power would help the ball club.13 He doubled three times, but those were his only extra-base hits among the even dozen he hit for the Red Sox before his May 7 trade to the Athletics for catcher Hal Wagner, even though Wagner had just been classified 1-A as well. Garrison was batting .245 with a .306 slugging percentage and was without any stolen bases or sacrifice hits. He'd "shown himself as a hustling young ball player, but the Red Sox need catching," wrote Melville Webb of the Boston Globe. 14 For the Athletics, he got a lot of playing time, playing in 121 games. He hit four homers, drove in 37 runs, and batted .269 – and stole 10 bases. And he was indeed a good fielder, perhaps showing the Red Sox some of his stuff in the June 20 game when he "robbed ex-teammates of hits all the way from the centerfield fence to the back of the third baseman's pants legs," and earning himself a headline: "Garrison, Bobo Throttle Sox."15
He started the 1945 season with Philadelphia, too, but was taken into the U.S. Navy on April 26 at the Bainbridge Naval Training Center. He'd been in six games, homered once, hit .304, and drove in six runs. He did play some baseball for Bainbridge in the summer of 1945. With the war over for almost six months, Garrison was discharged on February 6, 1946.
He started the 1946 season with the Athletics and appeared in nine April games, batting .108 but with neither an extra-base hit nor a run batted in. His last game was on April 28. On May 4 his contract was sold to the New York Yankees' farm club at Newark.
His time playing in the majors was done, but he enjoyed a long career playing minor-league baseball through 1956. With Newark he distinguished himself with a league-leading 25-game hitting streak. He hit .289.
He returned to the big leagues for the 1953 season, as a coach for the Cincinnati Reds, brought on board by his 1942 skipper, manager Rogers Hornsby, for whom he had coached at Beaumont in 1950. Garrison said that Hornsby had been his biggest influence in the game. "Rog taught me to talk and think baseball," he said.
In his last two seasons, 1955 and 1956, he was player-manager for Harlingen and Beaumont in the Big State League. Based on incomplete statistics, his record shows Garrison with a career .298 minor-league batting average
Garrison was married again, to Avis Hall, in 1948, the year after his third son was born. In the offseasons, he worked as a carpenter in the area around Gulfport, Florida.
After baseball, he went into the building maintenance business, naming his Pinellas Park, Florida, company Ford Garrison's Building Maintenance.
Ford Garrison died in Largo, Florida, on June 6, 2001. He is buried in St. Petersburg at Memorial Park Cemetery.
Sources
In addition to the sources noted in this biography, the author also accessed Garrison's player file and player questionnaire from the National Baseball Hall of Fame, the Encyclopedia of Minor League Baseball, Retrosheet.org, Baseball-Reference.com, and the SABR Minor Leagues Database, accessed online at Baseball-Reference.com.
Notes
Born
August 29, 1915 at Greenville, SC (USA)
Died
June 6, 2001 at Largo, FL (USA)
If you can help us improve this player's biography, contact us.
http://sabr.org/sites/default/files/images/GarrisonFord.jpg
600
800
admin
/wp-content/uploads/2020/02/sabr_logo.png
admin
2016-01-13 20:00:45
2016-01-13 20:00:45
Ford Garrison