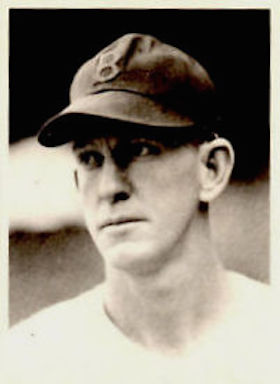 ---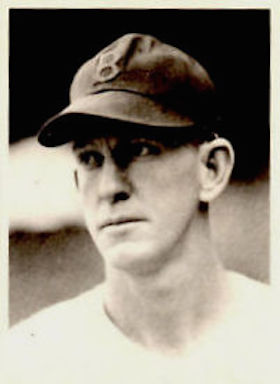 Had you stopped at the Phillips 66 gas station in Leesburg, Florida sometime in the 1960s or the 1970s, perhaps your gas would have been pumped by former major-league pitcher Frank Barrett. Maybe an oil change? Check your brakes? Maybe you wanted a bite to eat sometime in the middle to late 1950s to the later 1960s. You might have pulled your car in to Red Barrett's Drive-In Restaurant.
Francis Joseph "Red" Barrett was born in Fort Lauderdale on July 1, 1913. He had a long 18-year playing career in professional baseball, including two years during World War II working for the Boston Red Sox, the two years he posted a winning record. He appeared in 104 big-league games, with an overall 15-17 record and a career 3.51 earned run average. Barrett pitched in 661 minor-league games and was 141-117. He was a right-hander and is listed as 6-foot-2, weighing 173 pounds.
Barrett grew up on a truck farm at Fort Lauderdale, with an older sister Claressa. Their parents were Lorenzo Clark Barrett and Harriet Emily (DuChene) Barrett. Lorenzo was a New York native, while Emily (that seems to be the name she went by) was from Minnesota, the product of a mother from Kentucky and a father from France. The family was French/Irish/Scottish.
Young Francis went to public school at Fort Lauderdale, and then four years of high school at St. Leo's High School in the town of St. Leo (Pasco County), a "serious English-style prep school."1
Barrett did play high school baseball, American Legion baseball, and then some semipro ball. At St. Leo, he pitched for the baseball team, was an end for the football team, center on the basketball team, and the weight man on the track team.2 He had expected to become a farmer, he told Earl J. Hilligan of the American League Service Bureau.3
Quite how he was signed as a professional ballplayer remains unknown, but Barrett's pro career started in 1935, in the St. Louis Cardinals system. He is shown pitching for the Albany Travelers in the Class-D Georgia-Florida League to an 8-10 record with a poor 6.63 earned run average. He was on a Columbus (Georgia) Red Birds contract, and they gave him another shot in spring training 1936. It looked like he was going to make the Columbus club until he "fell and injured a shoulder and was not retained."4 He was assigned to pitch in Huntington, West Virginia for the local Red Birds (1-4, 7.31 in Class C) until optioned to the Union Springs Springers in Alabama (1-2, with an improbable listed 0.25 ERA). He's also listed as appearing in 12 games for Albany as a batter, but without either pitching or fielding.
In January 1937 his contract was sold to the Mobile Shippers, with whom St. Louis had a working agreement. This was the year he came into his own, working to an 18-11 (2.43) record, including the 3-1 four-hitter he threw against the Savannah Indians on September 28, to give Mobile bragging rights as "Class B champions of the South."5 The series pitted Mobile (winner of the Southeastern League playoffs) against Savannah (South Atlantic League playoff champions.)
Barrett was 0-4 in seven games for Rochester in 1938, but spent most of the season with Mobile again, putting up similar numbers to 1937: 12-15 (2.72). Pitching again in the Little Dixie series, he threw a three-hitter and a six-hitter in the second and fifth game of the seven-game set, but lost out in Game Seven despite an heroic 12-game battle against the Macon Peaches, which saw Bruno Shedis prevail over Barrett and the Shippers, 2-1.
In 1939, Barrett was 13-7 for the Texas League's Houston Buffaloes (3.10 ERA) and he pitched a 1-0 no-hitter (albeit a seven-inning one) against Beaumont on August 7. He got his first taste of major-league action on October 1 at Wrigley Field, Chicago. Max Lanier started and pitched seven full innings. A Johnny Mize solo home run in the top of the eighth tied the game, 1-1, and Barrett – who had been called up to the Cardinals in September – was asked to pitch. He got through the eighth and through two-thirds of the ninth, striking out three. But he also walked one and Cubs right-fielder Bill Nicholson drove in the winning run in the bottom of the ninth. Barrett was thus 0-1, with a 5.40 ERA in his one major-league game of the 1930s. It was almost five years before he had another shot at the big leagues.
There were at the time several Barretts in baseball – including two right-handed pitchers: Charles "Red" Barrett pitched from 1937-1949, and Dick Barrett (1933-1945), and Johnny Barrett, an outfielder, mostly for the Pirates, 1942-1946.
Frank Barrett did train with the Cardinals in the spring of 1940, but was optioned to Columbus (this time, the Columbus in Ohio in the Double-A American Association) and worked for the Columbus Red Birds from 1940 well into 1944. He was used primarily as a reliever, but counted 38 starts among his 195 appearances for Columbus. He was up and down with wins and losses, and ERA, but never had a losing record (he was 38-29 overall). On June 10, 1944 Barrett was traded to the Boston Red Sox for left-handed pitcher Stan Partenheimer and an unspecified amount of money.
Barrett was a married man by this time. He and cashier Helen Schneemilch (her father was an insurance salesman in Columbus) married on January 1, 1943. They later had one child, a daughter.
His Boston Red Sox debut gained him his first victory in the majors, in the first game of the June 14 doubleheader at Fenway Park against the visiting Philadelphia Athletics. Emmett O'Neill started the game but was removed after 1 1/3 innings and three earned runs. Barrett worked 7 2/3 innings of long relief, allowing but one run on seven hits and three bases on balls. He was 0-for-3 at the plate. Barrett hit .167 in the majors, driving in two runs. One came when he grounded into a force-out, bumping the Sox to a 10-5 lead over the Senators on September 16, 1944 at Griffith Stadium and the other one was in an August 31, 1945 loss in Philadelphia on a single scoring Skeeter Newsome.
The Red Sox were in contention for the pennant throughout much of 1944, only a game and a half out of first place as late as September 2, until the number of players they'd lost to military service reached a tipping point and they plunged to 12 games behind in the final weeks of the season. Barrett largely worked as a closer, with two starts but 26 finishes among 38 appearances. He was 8-7 with a 3.69 ERA, with eight saves.
He worked the full season in 1945, though ended up working about the same number of innings. He was a better pitcher as measured by earned run average, more than a run better at 2.62. His record was 4-3, exclusively in relief with again 26 closes.
In the offseason, Barrett worked for St. Leo as coach of the prep school's baseball team. He wasn't going to make the 1946 Red Sox. He'd been released to the Louisville Colonels, and on March 27, he signed to play with the Indianapolis Indians in the American Association, a Boston Braves affiliate. On June 27, the Boston Braves bought his contract and he pitched two scoreless innings of relief in his June 30 Braves debut. This may have confused Boston fans, and Braves fans in particular. Charles "Red" Barrett had been on the Braves until he was traded to the Cardinals for Mort Cooper the previous year.
Frank worked in 23 games, all in relief, closing 11, and posted a 2-4 record with a 5.09 ERA, while the Braves finished in fourth place and Barrett's prior team won the American League pennant and played in the World Series just a few blocks away from Braves Field.
On January 27, 1947 he was released back to Indianapolis. In 1947 and 1948, Barrett pitched for Indianapolis again, the team becoming a farm club of the Pittsburgh Pirates prior to the 1947 season. He pitched in 109 games over the two seasons, with a combined 13-8 record. In 1949 and 1950, Barrett worked for the Double-A New Orleans Pelicans; he was 11-8 and 11-7 in the two seasons. His last stint in the major leagues came in September 1950. On August 31, his contract had been purchased from New Orleans. He appeared in five games for Pittsburgh, all in September.
He was in the right place at the right time on September 4. The Cubs had just scored three times to take a 3-1 lead and there were two runners on base; Barrett was summoned, threw one pitch, induced a groundout to close the top of the seventh, and got the win. In the bottom of the seventh, the Pirates scored three times and re-took the lead. Barrett was the pitcher of record, but had been removed for a pinch-hitter. Junior Walsh pitched two scoreless innings and earned a save. But in both of his next two appearances, on September 7 in Cincinnati and September 10 in St. Louis, Barrett was brought into games that were tied and went into extra innings. He lost both games in the 10th inning, the first on Ted Kluszewski's two-run homer and the second on a single, a sacrifice bunt, a walk, and a pinch-hit Hal Rice single. He finished his final short stint in the majors 1-2 (4.15).
On paper, he was returned to New Orleans in October. In March 1951, he was named manager of the Burlington, North Carolina Bees (Class-B Carolina League), also a Pirates farm club. On June 30, Mike Kash took over as Bees manager and Barrett was transferred to manage the Butler (Pennsylvania) Tigers in the Class-C Middle Atlantic League, a team the Pirates had just acquired. Burlington finished in last place; Butler finished fifth in the six-team league. He worked on the mound for each team, 2-2 in Burlington and 4-3 in Butler.
In 1952, he managed the full year of the Kitty League Mayfield Clothiers, a Class-D Pirates team. Barrett pitched 120 1/3 innings in 39 games and was 3-2. They finished in last place. In 1953, he was asked to manage in Leesburg, taking over in midseason from another "Red" – Red Dulaney.
Barrett appears to have opened Red Barrett's Drive-in Restaurant in 1953 and operated it until 1966; the Phillips 66 service station was his from 1954 to 1978.6 Barrett died at the Leesburg Regional Medical Center on March 6, 1998. He was survived by his wife Helen. The certificate of death gave his usual occupation as Baseball Player, Professional. He is buried at Hillcrest Memorial Gardens, Leesburg.
Sources
In addition to the sources noted in this biography, the author also accessed Barrett's player file and player questionnaire from the National Baseball Hall of Fame, the Encyclopedia of Minor League Baseball, Retrosheet.org, Baseball-Reference.com, Rod Nelson of SABR's Scouts Committee, and the SABR Minor Leagues Database, accessed online at Baseball-Reference.com.
Notes
Born
July 1, 1913 at Fort Lauderdale, FL (USA)
Died
March 6, 1998 at Leesburg, FL (USA)
If you can help us improve this player's biography, contact us.
http://sabr.org/sites/default/files/BarrettFrank.jpg
600
800
admin
/wp-content/uploads/2020/02/sabr_logo.png
admin
2016-02-23 19:01:54
2016-02-23 19:01:54
Frank Barrett