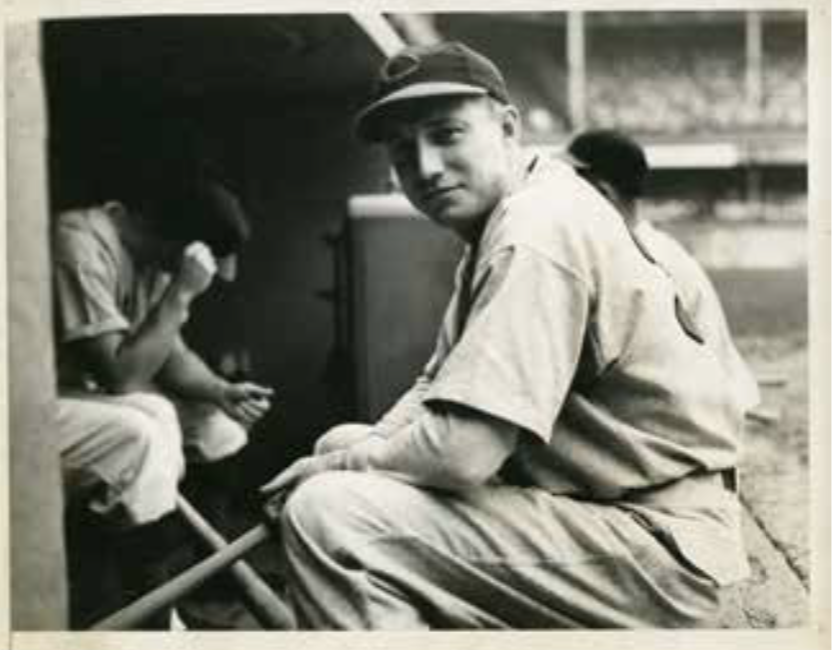 ---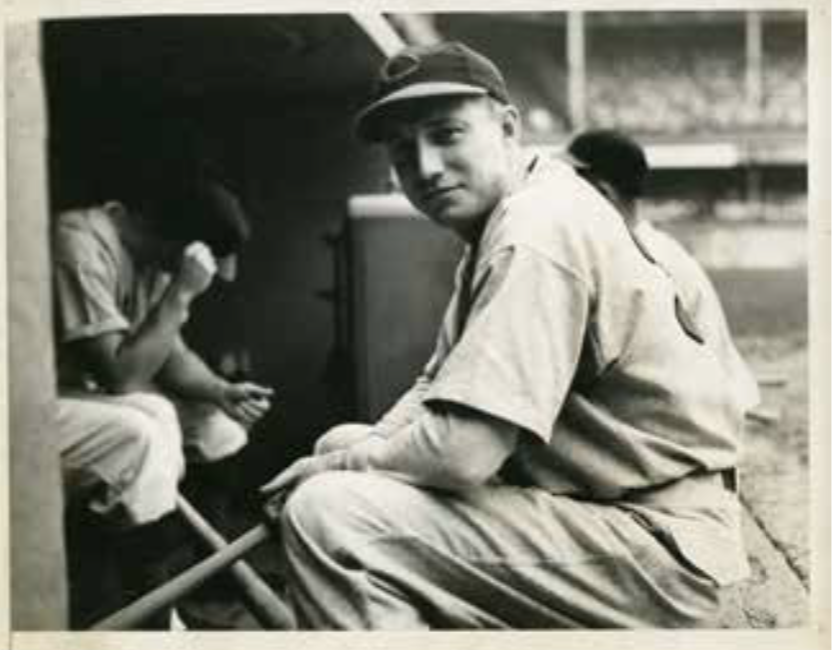 In three different seasons — 1939, 1941, and 1944 — Frank McCormick hit home runs more often than he struck out. In his entire 13-year career, encompassing 5,723 at-bats and more than 6,200 plate appearances, the slugging first baseman had just 189 strikeouts — 10 fewer whiffs than Ryan Howard achieved in only 529 at-bats during 2007 alone. Only nine players in 20th century major-league history struck out at a lower rate, but McCormick did far more than just make contact. He was also a .299 lifetime hitter, a terrific fielder, and a nine-time All-Star who played on three National League championship teams.
Frank Andrew McCormick — nicknamed "Buck" for Frank Buck, a big-game hunter and movie director — was born in New York City on June 9, 1911, to Andrew (a railroad worker) and Ann McCormick.1 He played the outfield in sandlot, church league, and high school baseball, and by the age of 17 had decided to become a professional ballplayer. After failing to impress at tryouts with the Philadelphia Athletics, Washington Senators, and New York Giants, McCormick borrowed $50 from his uncle and traveled to Beckley, West Virginia, for a tryout with the Cincinnati Reds in 1934. His sandlot manager suggested that there would be more competition for outfield positions than for first base, so McCormick became a first baseman. This time, he impressed veteran major-leaguer and Cincinnati scout Bobby Wallace and upon signing was sent to Beckley in the Class C Middle Atlantic League. He wasted no time in making an impression; he hit .347 in 120 games during his first professional season, and was brought up to the major-league Reds at the end of the '34 season.2 He was 23 years old.
McCormick's big-league debut came against knuckleballer Dutch Leonard on September 11, 1934, at Ebbets Field in Brooklyn. He reached first on an error by the second baseman, not a very exciting start. A few days later, however, he got two hits against Hall of Famer Carl Hubbell at the same Polo Grounds where he had failed in a tryout years before.3 Though he hit. 313 in his brief stay with the Reds, he was sent back to the minors in 1935 and it would be three years before he returned for good.
In 1935, McCormick covered some ground, playing for five different teams in five different leagues. He began with Toronto, hitting just .235 in 12 games before being sent to Fort Worth in the Texas League. After just five games playing for the Panthers (hitting just .100), Bill Terry of the Giants worked a deal that sent McCormick to Nashville, though the Reds still controlled his contract. He hit .311 for the Vols, but nonetheless saw duty in Dayton and Decatur before the year was done.
In 1936, McCormick struggled badly during his first few games with the Durham Bulls of the Class B Piedmont League until manager Johnny Gooch suggested a different grip on his bat; he hit for an average over .400 for 12 straight weeks, finishing the season with a league-best .381.
Frank opened the 1937 season with the Reds, but they couldn't find a regular position for him. He played some at second base and one game in the outfield, but when a clear need for a first baseman at their Double A club in Syracuse opened up in mid-May, he was sent there for the rest of the year, hitting .322. He rejoined the Reds on September 19, banging out seven hits his first day back. He finished the season with an average of .325 in 83 at-bats.
After coming up to the big leagues to stay in 1938, McCormick quickly showed that his strong early performances were no fluke. At 6 feet 4 inches and more than 200 pounds, he was much bigger than the average player of his day, and was a bigger hitter as well. He batted .327 to place third in the National League, led the league in hits with 209 — the first of three consecutive years in which he paced the senior circuit in this category — and drove in 106 runs. His production was all the more remarkable considering he had just five home runs.
As he later told baseball historian Donald Honig in an interview: "Six years [after his failed tryout with the Giants] I was a unanimous choice as the National League's All-Star first baseman, and Bill Terry — who'd turned me down at the Polo Grounds — was one of the men who picked me."4 In fact, this was the first of nine consecutive All-Star selections for McCormick — he was selected in every year in which he played more than 100 games. After the season, on October 8, he married Vera Preedy, who bore him two children, Judith and Nancy.5
In 1939, the Reds won the National League pennant, and McCormick had another big year. He batted .332 and led the league in hits (209), RBIs (128), and fielding percentage at first base (.995). Though the Reds were swept in the World Series by the powerhouse New York Yankees, McCormick hit .400 in the Series. That year also, as teammate Billy Werber describes in his autobiography, the eager McCormick was admitted to the Cincinnati infielders' "Jungle Club" and christened "Wildcat." (Second baseman Lonnie Frey was "Leopard," shortstop Billy Meyers was "Jaguar," and Werber styled himself "Tiger.")6
In 1940, the Reds won it all and McCormick, who drove in 127 runs and led the league in hits and fielding percentage again, as well as in doubles (44), was voted the league's Most Valuable Player. (Curiously, the American League MVP was also a tall, strapping Bronx native, Hank Greenberg.) Frank hit just .214 in the World Series this time, but strong performances from Werber and pitching aces Paul Derringer and Bucky Walters helped Cincinnati topple the Tigers in seven games. Unfortunately, the joy of the Reds' championship season was dampened by the suicide on August 2 of backup catcher Willard Hershberger, who had been despondent about calling for the wrong pitches in a loss the day before.7 (He was hitting .309 at the time.)
During the 1941 season, notes Werber, McCormick injured his back attempting a one-and-a-half gainer in a hotel pool, and had to wear a back brace for the remainder of the year.8 This may well have exempted him from military service. He continued to perform very well, but approached his 1939-40 level of performance again only in 1944, during World War II. The Reds' fortunes also declined. During McCormick's last five years with the club, they never finished closer than 12 games behind the league leader. By 1945, the Reds were reduced to seventh place, 37 games in back of the Chicago Cubs. Through these lean years, McCormick usually batted cleanup for the Reds and wore number 10.9
When the war ended, McCormick was sold by the rebuilding Reds to the Philadelphia Phillies for $30,000. That season he led the league in fielding percentage for the fourth time, going a then record-setting 138 straight errorless games at first base (beginning in September of 1945). Though he threw right-handed — a disadvantage for a first baseman — STATS, Inc. chose him as the "retrospective gold glove" first baseman of the decade of the 1940s,10 and historian Bill James called him "one of the best defensive first basemen ever to play the game."11
While McCormick's defense remained stellar, his offensive production slipped in Philadelphia. Early in the 1947 season, hitting just .225, he was released by the Phillies and signed with the Boston Braves. Platooning at first with Earl Torgeson and pinch-hitting, he hit .354 with the Braves. McCormick and Torgeson were as diverse a pairing as can be imagined. Torgeson was a left-handed hitting rookie with a modest batting average but a high on-base percentage, because he drew many walks. McCormick was a right-handed hitting veteran who compiled high batting averages but walked infrequently. Their excellent output — they combined to bat well over .300 with 121 RBIs — was perhaps the best example of manager Billy Southworth's widespread (and usually effective) use of platooning.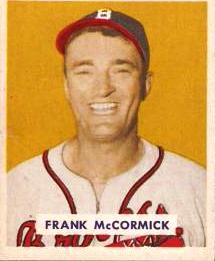 McCormick hit .250 for the Braves as a pinch-hitter and part-time sub for Torgeson during their pennant-winning year of 1948, and ended his major league career on a high note with his third appearance in a World Series. His last hit was one of only five against Cleveland's Gene Bearden, who shut out the Braves in Game Three. His last at-bat came three days later at Braves Field when he pinch-hit against Bob Lemon in the seventh inning of the sixth and final game. He grounded out to Ken Keltner at third, and the Braves lost the game and the Series, 4-3. A few weeks later, the Braves released the 37-year-old McCormick.
In 1,534 major league games, McCormick batted .299, with 1,711 hits, 128 home runs, 951 RBIs, and a .995 fielding percentage — the highest of any first baseman in history at that time, and still one of the top 10. Four more hits would have made him a career .300 hitter. During his eight full seasons with the Reds, he led the team in RBIs seven times, in batting average six times, in slugging average five times, in home runs four times, and in on-base percentage twice. His single-season totals for hits (in 1938 and 1939), doubles (in 1940), and RBIs (in 1939 and 1940) still rank among the top 10 in Reds history.
In each of his nine full major league seasons, McCormick's batting average, slugging average, fielding average, and range factor [putouts plus assists] at first base exceeded the league average.12 At one point, he played 682 consecutive games — at the time the longest streak since Lou Gehrig's. Bill James reports that because injuries in the minors delayed his ascent to the majors, "he was determined to shake the 'brittle' tag and wouldn't come out of the lineup even when he should have. One time he was beaned in the first inning of a doubleheader, and stumbled around almost in a daze for 18 innings, but refused to come out."13
McCormick stayed in the game after his playing days. In 1949 he managed the Quebec Braves in the Canadian-American League, and led them to a 90-win season — 34 more than the previous year — and to a playoff sweep and the league championship.14 Nevertheless, he found himself managing the Lima Phillies (Ohio-Indiana League) in 1950. That was his last stint as a manager, but he continued to be involved with baseball as a coach, scout, and television broadcaster for the Reds and as director of group and season ticket sales for the New York Yankees. [15] He died of cancer in Manhasset, New York, on November 21, 1982.
This biography originally appeared in SABR's "Spahn, Sain, and Teddy Ballgame: Boston's (almost) Perfect Baseball Summer of 1948" (Rounder Books, 2008), edited by Bill Nowlin.
Notes
1. Albert J. Figone, "McCormick, Frank Andrew 'Buck,'" in David L. Porter (ed.), Biographical Dictionary of American Sports: Baseball. (Westport, Conn.: Greenwood Press, 1987), pp. 348-349.
2. Honig, Donald, Baseball When the Grass Was Real. (New York: Coward, McCann and Geoghegan, 1975), Berkley Medallion Edition), pp. 221-226.
3. Honig, pp. 226-227.
4. Honig, p. 223.
5. Figone, p. 348.
6. Werber, Bill, and Paul Rogers III, Memories of a Ballplayer. (Cleveland: Society for American Baseball Research, 2001), pp. 165-168.
7. Werber, pp. 175-177.
8. Werber, p.217.
9. Richard Wittingham (ed.), The DiMaggio Albums. Vol. 1. (New York: Putnam, 1989), p. 251.
10. James, Bill, John Dewan, Neil Munro, and Don Zminda (eds.), STATS, Inc. All-Time Baseball Sourcebook. First Edition. (Skokie, Ill.:, STATS, Inc., 1998), p.2469.
11. James, Bill, The New Bill James Historical Baseball Abstract. (New York: The Free Press, 2001), p.452.
12. "Frank McCormick," Baseball Reference.com.
13. The New Bill James Historical Baseball Abstract, p.452.
14. Daniel Papillon, "The Quebec Braves: A Baseball Dynasty," in Jane Dorward Finan (ed.), Dominionball (Cleveland: Society for American Baseball Research, 2005), p. 114.
15. Figone, p.349.
Sources:
Baseball Reference.com.
Albert J. Figone, "McCormick, Frank Andrew 'Buck,' " in David L. Porter (ed.), Biographical Dictionary of American Sports: Baseball. (Westport, Conn.: Greenwood Press, 1987).
Honig, Donald, Baseball When the Grass Was Real. (New York: Coward, McCann and Geoghegan, 1975).
James, Bill, John Dewan, Neil Munro, and Don Zminda (eds.), Stats Inc. All-Time Baseball Sourcebook. (Skokie, Ill., Stats, Inc., l998).
_________, Stats Inc. All-Time Major League Handbook. (Skokie, Ill.: Stats, Inc., 1998).
_________, The New Bill James Historical Baseball Abstract. (New York: The Free Press, 2001).
Mulligan, Brian, The 1940 Cincinnati Reds. (Jefferson, N.C.: McFarland, 2005).
Daniel Papillon, "The Quebec Braves a Baseball Dynasty," in Jane Finnan Dorward (ed.), Dominionball. (Cleveland: Society for American Baseball Research, 2005), pp. 114-117.
Thorn, John, and Pete Palmer (eds.), Total Baseball. (New York: HarperCollins, 1989).
Werber, Bill, and Paul Rogers III, Memories of a Ballplayer. (Cleveland: Society for American Baseball Research, 2001).
Whittingham, Richard (ed.), The DiMaggio Albums, Vol. 1. (New York: Putnam, 1989).
Born
June 9, 1911 at New York, NY (USA)
Died
November 21, 1982 at Manhasset, NY (USA)
If you can help us improve this player's biography, contact us.
https://sabr.org/sites/default/files/Screen%20Shot%202019-10-01%20at%202.25.35%20PM.png
600
800
admin
/wp-content/uploads/2020/02/sabr_logo.png
admin
2012-01-04 20:50:26
2021-09-24 16:26:57
Frank McCormick