---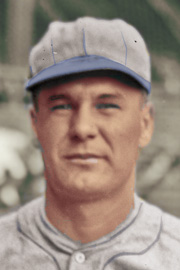 Fred Heimach's grandfather was a house painter from Pennsylvania. Edward and Margaret Heimach both came from the Quaker State, but had been living across the river in Camden, New Jersey, since the 1880s. Their son George was Fred's father, but he and his wife had separated early, and the young Frederick Amos Heimach was raised by his grandparents, living with them at the time of the 1910 census. Their daughter, Frances, and her husband, William Goos, lived with them as well. Fred's birthdate is given as January 27, 1901, though he gave the year as 1902 in the player questionnaire he completed for the Baseball Hall of Fame in 1967.
Fred played sandlot ball around Camden, but left school after eight years, so he never played high-school ball. He did play some semipro ball pitching for the town team in Morristown, New Jersey. The US was in the World War the year Fred turned 17, and he signed up for the Aviation Service of the Army Signal Corps, which in early 1918 became the Army Air Service. After training at Mitchel Field, New York, as a mechanic, he was shipped overseas to France – and reportedly helped organize a ball team at Romorantin for his squadron in the spring of 1918.[1] He was spotted in France by Tom Turner, the athletic officer for one of the service teams Heimach defeated, and then working in some capacity as a scout for the Philadelphia Athletics. Turner told him, "When this war is over and you still have two legs and two arms, see me without fail. You have a job with the Athletics waiting for you."[2] Turner returned to scouting after the war and later signed a number of players including Mickey Cochrane, Indian Bob Johnson, and Ferris Fain.
Soon after Heimach returned to the US, word was waiting for him – Fred was invited to sign a contract to pitch for Philadelphia. He had married, and he and his wife, Esther, had a daughter, Margaret.
First, he needed some seasoning, so he was sent from the Athletics' Lake Charles, Louisiana, spring training home to play in 1920 for the Raleigh Nats of the Class D Piedmont League, where he won 11 games while losing 18, though SABR's records reflect an ERA of just 1.83 and only 216 hits given up in 271 innings. After pitching in the postseason playoffs against Greensboro, he was called up at the very end of September, and got his first taste of the majors with a start at Shibe Park against visiting Washington on October 1, 1920. He struggled through five innings, facing 25 batters and giving up 13 hits and nine runs (all but one of them earned), before being pulled for a reliever. He was 0-for-1 at the plate.
His second year was a terrific one. The left-hander was sent to the Three-I League (Class B) and helped pitch Earle Mack's Moline Plowboys to a championship season. He was 24-8, leading the league in wins; his 2.38 ERA also led the league. Again he got a September call-up and again he saw action in only one game, a start on September 23, again at home, against the Chicago White Sox. It was a total contrast to his 1920 game. This time Heimach whitewashed the White Sox, throwing a complete-game seven hitter. He singled once in four at-bats, and drove in one of Philadelphia's four runs. He didn't return to the minor leagues until 1927.
In 1922 Heimach was with the Athletics all season, splitting his time between starts and relief jobs, starting 19 of his 37 games. He had a high 5.03 earned run average and a record of 7-11. But Eddie Rommel (27-13) was the only pitcher on the staff with a winning record, and the team ERA of 4.59 wasn't all that much better than Heimach's. His standout game was a 13-inning complete-game 3-1 win on May 17 over Chicago's Red Faber, a future Hall of Famer. On July 6 the Athletics hosted "Heimach Day" for his friends and fans from Camden and he was presented a gold watch and some other gifts. Unfortunately, he was knocked out of the game after six innings and six earned runs, and the Athletics lost to the White Sox, 9-5.
Fred was invited back for 1923 and was better at his pitching (as indicated by a 4.32 ERA), but bore a record of 6-12. For the third year in a row, the Athletics climbed one notch in the standings in 1924, up to fifth place. A good part of the reason was Heimach's 14-12 season, though his ERA had bumped back up to 4.73.
A serious injury at Fort Myers, Florida, in 1925 spring training was first thought to have knocked out Lefty (he was also sometimes – equally predictably – called Fritz) for the season. He tripped going for a grounder on March 20 and dislocated his left shoulder blade and tore several tendons. After he returned home to Camden, doctors in Philadelphia gave him some hope he'd be able to pitch after a month or so off. It was longer than that, his first appearance not coming until he threw three innings during an exhibition game against Villanova on June 7. His first regular-season game was on June 12. He got into only 10 scattered games, always in relief; the longest he pitched in a game was 4 1/3 innings.
There were offseason rumors that had Heimach going to Portland in the Pacific Coast League, where Tom Turner, the scout who had spotted him overseas, was manager. Bucky Harris of the Senators said he'd made the Athletics' Connie Mack an offer to bring him to Washington. Mack held onto his man, and in 1926 used him 13 times (only once a start) until mid-June. He put up good numbers, only 1-0 but with a 2.84 earned-run average in 31 2/3 innings. The Athletics were angling for a pennant, and wanted to get Howard Ehmke from the perennially last-place Red Sox. On June 15 the two teams executed a triangular trade with the help of the St. Louis Browns. Heimach, Slim Harriss, and the Browns' Baby Doll Jacobson all joined the Red Sox. Ehmke found what a difference switching to a better team can make. He'd been 3-10 with the Red Sox, but was 12-4 with Philadelphia. Heimach was 2-9 for Boston. The change of scenery affected ERAs, too. Ehmke had been 5.46 with the Red Sox but put up a 2.81 mark for the A's, while Heimach's 2.84 slid all the way to 5.65. Same pitcher in each place, but perhaps with a different sense of self-confidence. At least Fred did have a chance to become a starter again, in 13 of his 20 appearances.
The minor leagues beckoned in 1927, the Red Sox not making an effort to bring Heimach to spring training and sending him to the St. Paul Saints, who sent him a contract, but Fred initially returned it to them as inadequate and became a holdout. Something was worked out, and Heimach pitched all of 1927 and 1928 for the Saints – he was 16-12 in 1927 (3.63) and 18-10 in 1928 (2.76). The New York Yankees acquired him on August 6, 1928, for $20,000 and a player to be named later. The Yanks brought him to Boston in time to throw a four-hitter against the Red Sox on August 9. He lost his next three starts, though all were complete games and all fairly close contests. He won another game and finished 2-3 (3.31).
Though on the eligible list for the 1928 World Series, Heimach saw no action. Looking ahead at the Series to come, the New York Times explained why: "When Pipgras or Johnson or Zachary or Heimach goes into pitch it's a question whether the opposition will be held hitless or get a dozen runs. When they are good, they are very, very good, but when they are bad, it's just too bad."[3] Heimach did get a full World Series share. Not long after the World Series, he lost his driver's license for two years after a head-on crash (injuring no one); he was found to be driving under the influence.
Yankees manager Miller Huggins thought Heimach could become a star if he could develop a strong change of pace. Only Lefty Grove and Rube Walberg of the Athletics were faster lefties, the paper said.[4] He stuck with the Yankees all of 1929, winning 11 times against 6 losses, with a 4.01 ERA. He even won one of those games for himself with a 10th-inning walk-off double on April 30. And with a little help in the form of home runs by Babe Ruth and Lou Gehrig, Fred was the winner of a rain-shortened 3-0 game against the Red Sox on May 19 – the game in which two fans were killed during a stampede for the Yankee Stadium exits when a sudden downpour drenched the crowd of 50,000. The Athletics swamped the second-place Yankees in that year's standings, leaving them 18 games out of first place.
There was another notable game for Heimach in 1929, on July 3. Boston pitcher Red Ruffing had homered to help the Red Sox build a 5-1 lead against the Yankees, but Babe Ruth hit a grand slam in the bottom of the seventh to tie the game. Heimach came on in relief, pitched two scoreless innings, and hit a solo home run off Ruffing in the bottom of the eighth to give New York a 6-5 win. It was his second of three big-league homers. His previous one was on June 28, 1923, in a losing effort for the Athletics, also in Yankee Stadium. Heimach's major-league batting average was .236. He had 50 RBIs.
Near the end of March 1930, the Yankees sold Heimach's contract to the Toledo Mud Hens, saying they were going with younger pitchers for relief; Fred was only 29.[5] New Yankees manager Bob Shawkey preferred not to explain further, telling the New York World-Telegram, "There are some things that this club will not elaborate."[6] Lefty Gomez effectively took his place. Heimach was 11-7 (4.34) with Toledo, but then Brooklyn brought him back to the big leagues – for the fourth time – on July 19 in a deal for cash and a player. The Robins were trying to hold onto first place, but Heimach wasn't the answer; he was 0-2 in just 7 1/3 innings with a 4.91 ERA.
Brooklyn held onto Heimach, however, and he pitched three more years for them, 1931-1933. In Havana on March 22, 1931, he helped Adolfo Luque hold the second-string Dodgers down for a 2-1 exhibition win before a crowd of 15,000 Cuban fans, even hitting a double himself to put the Robins ahead. It wasn't always easy; on September 13 he was pounded by the Pirates – hit on the body four times by batted balls. "A mask, shin guards, and a chest protector, that's what I'm going to wear if I have to face the Pirates again this year. … I've got marks on my shins, a bruise on my right arm and my right hand is swollen," he said after picking up the 6-5 win when the Dodgers scored three times in the bottom of the ninth.[7] He was 9-7 with a 3.46 ERA in the regular season. The 1932 season was similar: 9-4, 3.97 in 167 innings. There were a few times when his occasional penchant for off-field action may have hurt him, such as unexplained cuts on his face and head in late September 1932, which he blamed on a "quarrel."[8]
In 1933 Heimach stuck with the team for most of the season, but he'd suffered a broken ankle and was hampered, seeing only very scattered work – 10 appearances, a record of 0-1, and a horrendous 10.01 earned-run average – until he was given his unconditional release on September 1. There was one nice thing he could look back on: He hadn't committed a single error in his last six years. The last time he'd made an error was in 1927 for St. Paul.
There was one more brief appearance in pro ball, back with St. Paul in 1934 – but for only nine innings and another loss.
A website posting says that by 1936, Heimach had moved to Florida where he operated a barbecue stand. In 1938 he divorced his wife, Esther, and was soon remarried, to Donnie C. Moore, who survived him when he died, at age 72, at Fort Myers on June 1, 1973.[9] He's said to have kept playing baseball, though not in Organized Ball, through 1939 and managed the Miami Beach baseball team in 1940. Soon afterward he joined the Miami Beach Police Department – one notable arrest made the newspapers, when he pinched a drunk for creating a disturbance. The man arrested turned out to be a baseball umpire.[10] Heimach retired from the department after 20 years of service. In 1990, some 17 years after his death, he was elected to the South Jersey Baseball Hall of Fame.
Sources
In addition to the sources noted in this biography, the author also accessed Heimach's player file from the National Baseball Hall of Fame, the online SABR Encyclopedia, the Encyclopedia of Minor League Baseball, Retrosheet.org, and Baseball-Reference.com.
---
Born
January 27, 1901 at Camden, NJ (USA)
Died
June 1, 1973 at Fort Myers, FL (USA)
If you can help us improve this player's biography, contact us.
https://sabr.org/wp-content/uploads/2020/03/research-collection4_350x300.jpg
300
350
admin
/wp-content/uploads/2020/02/sabr_logo.png
admin
2012-01-04 20:35:38
2012-01-04 20:35:38
Fred Heimach