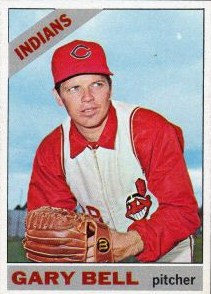 ---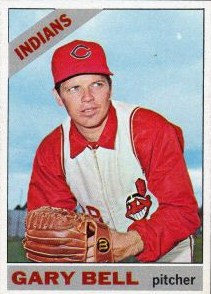 Gary Bell was a wisecracking righthander who came up as a phenom in the Cleveland system, was traded to the Red Sox in early 1967, eventually winding down his major league career with stints as a Seattle Pilot and a Chicago White Sox.
His parents, Doris and Bill Bell, settled in San Antonio, Texas, in the 1930s. "My mom was the strength in our family. She was a hard-working gal from Kansas," says Bell. "My dad was a hell-raiser, liked to run around drinking and stuff, while she took charge and ran the house. He was always in the car business. During the Depression years when everyone was struggling and in World War II he sold cars and had a salvage yard. They would buy old cars and sell the parts, and then in World War II that was a good business since there were no new parts to be had."
The Bells raised twin boys, Billy and Bobby, plus Gary, who was seven years their junior, coming along on November 17, 1936. Although Gary was subject to the roughhousing ways of his elder siblings, they taught him to play baseball. There was no Little League in their area so "they worked with me until I got older," Bell says of his brothers' influence. "They showed me how to pitch, how to do everything."
Bell moved on to YMCA baseball, but Burbank High School in San Antonio did not have a baseball team. "I played football, basketball, and golf in high school. It's funny they had golf, but they didn't have baseball. I was shooting in the 70s when I was 14-15 years old," Bell explains. His best sport was basketball and he made all-conference basketball in junior college.
But a future in baseball beckoned when Bell was playing in American Legion ball. After beating out a base hit in one game, he took his lead off the bag. The first base umpire was a fellow named Ed Tech. "The umpire, he was a sort of bird dog scout. 'Boy,' he said, 'how'd you like to go up to University of Texas and play professional baseball?' Of course I said yes." Tech had thought to hook Bell up with Bibb Falk, the coach at UT who had been a major league player. In the end, though, Bell ended up spending one year at San Antonio Junior College before the major league scouts moved in.
In 1955, Bell landed with the Indians, despite the interest of several other teams. (This was in the days before the amateur draft.) "I know the Red Sox and Yankees were [among four or five teams interested]," he said. "If I'd been smart, and thought about the Yankees winning the World Series every year, I should have signed with them. But the scout that really scouted me the most was a Red Sox scout and he was the nicest one, and if I had any brains I would have gone with them, because they paid better than anybody else. But I signed with Cleveland, because all their big time pitchers were getting older–Feller, Lemon, Garcia, Early Wynn–so I figured that would be a good place to go, because by the time I was ready they would be on the way out That's pretty much how it worked out."
The Indians shipped him to Sherbrooke, Quebec, in the Class C Provincial League in 1955. "I did not do too well [0-4, with a 3.43 ERA]," Bell recalled. "I got banged around, and I was wild, nervous, scared, and young. I was only 18 years old. After a few weeks there, they sent me down to [Class D] Vidalia and I finished up pretty good." That winter he married Barbara Ann Jahn, his high school sweetheart. "We got married when I came home that winter, and she was with me my whole baseball career — then we went our separate ways. We got married too young and it's hard on baseball wives. They have to do all the packing and everything while you're doing your thing. School and all that stuff. It wasn't a good life for the wives."
In 1956 he was assigned to Reading, Pennsylvania, in the Eastern League, where he was teammates with Jim "Mudcat" Grant. Bell finished 13-8, 2.84, and led the league with 192 strikeouts, a season that earned him induction into the Reading Baseball Hall of Fame. He was on the way to repeating the strikeout feat in Double-A Mobile, Alabama, in 1957 when he was bumped up to San Diego in the Triple-A Pacific Coast League. The PCL was the big time as minor leagues went, though the San Diego Padres were far from the cream of the crop then.
"We probably sucked a little bit," Bell admits. "That was some league. San Diego, L.A., Hollywood, San Francisco, Sacramento, Portland, Seattle, and Vancouver. (The Padres finished 89-79, good for fourth in the eight-team league.) I got banged around pretty good [1-5, 4.95] the end of that year. [In Triple A,] the guys I was facing either had been to the major league or were going there. They whacked me around pretty good." Nevertheless, in the spring of 1958, he found himself invited to spring training with the big club, and then opened the season with San Diego again. By the end of May he was 6-2 and leading the league with both a 1.56 ERA and 60 strikeouts in 75 innings and the two losses came courtesy of low run support, 1-0 and 2-0.
A Los Angeles Times story proclaimed "Padres' Bell No. 1 in PCL" on May 28. The next day, the Indians released the injured Mike Garcia and called Bell up to take his place.
Bell still remembers the phone call. "I was on a golf course in Seattle playing with our manager — George "Catfish" Metkovich — and a couple other players. We had finished nine holes, and he got a phone call. He comes out and he says 'I have some bad news. You're going to the show.' It was bad news for him because he was losing one of his best pitchers. I went right to the Seattle airport and joined the team on the road in Kansas City."
That heady time as a rookie is still vivid to Bell. "The day I joined the team we were leaving after the game, flew from there to Boston, and then Baltimore, and back home. What a thrill. I was supposed to room with Herb Score in Boston, but he had a sore arm and stayed back in Cleveland so I had the room to myself at the old Kenmore Hotel right there on Commonwealth Avenue. Boston University owns it now. We could walk to the ballpark." Bell had his debut in relief on June 1 in Kansas City, in which he pitched three innings, struck out six, but gave up one run. Four days later he made his first start, in Boston, lasting only 5 1/3 innings, giving up two home runs and leaving the game with the score tied 3-3. (Hoyt Wilhelm earned the loss after giving up two more runs in the eighth.) Bell did a bit better in his next start on June 10, and so did the Indians. Cleveland banged out 14 hits, including Minnie Minoso's eighth homer of the year, to sink Baltimore, 10-2. Bell worked six innings, allowing only three hits and two runs. He joined a rotation that included Ray Narleski, Mudcat Grant, and Cal McLish. Bob Lemon was on the downside of his career and with Garcia gone, Bell stepped in.
At that time he relied on his fastball and was considered a star phenom. He finished 12-10 his first season, good enough to place third in the 1958 Rookie of the Year voting, and the Indians finished fourth in the standings.
In 1959, the Indians had a better team and "that was the year we should have gone to the World Series," according to Bell. But the White Sox were better, and Cleveland slumped back into mediocrity after that season. Bell himself won 16 games, but with a 4.04 ERA. In 1960 Rocky Colavito was traded away, and the offense dwindled. During Bell's ten seasons in Cleveland he pitched under at least nine different managers. "We weren't that good, you know, so somebody is going to get fired and it ain't the players," Bell says to explain the revolving door. "Great managers have great teams, you know. When great managers have lousy teams, they aren't considered great."
"We always had good pitching. Most of the years I was there we had real good pitching but not great defense and didn't score enough runs," Bell says. He himself was shifted in and out of relief and starting roles, and meanwhile the front office would spend little to shore up the team's weaknesses.
With no shot at the postseason, Bell's biggest thrills in Cleveland came in the regular season.
"There was one game where Rocky Colavito hit four home runs in a game and I was the winning pitcher," Bell remembers. It was June 10, 1959, the anniversary of his first win, again facing Baltimore in Memorial Stadium. This time Bell needed the run support as the Indians won it 11-8. "Another time I got four hits myself and that was kind of a fun thing to remember. You know we pitchers like to talk about our hitting. My best year I hit .240 and got like 70 plate appearances [Actually 75 at bats –Ed.] –for a pitcher that's pretty good." His only career home run was hit on May 23, 1965 off Jim Lonborg.
But then came the fateful trade of June 1967, which sent Bell to Boston. "I was 1-5 before the trade and then I went 5-1 in the first few weeks after," he recalls. "I was not having a very good year in Cleveland and I wasn't too unhappy to be traded, but little did I know what was coming." He always felt he pitched well at Fenway, despite what other pitchers said. "Nobody really wanted to pitch there because the fence was so close, but it was just a beautiful old park."
Bell moved right into a brownstone in the Kenmore Square area and walked to the ballpark every day. "That was pretty exciting stuff. Every game was a drama, it seemed like, and new heroes all the time. Lonborg had a phenomenal year, Yaz too. Yawkey had traded his favorite boy for me, Tony Horton, but it turned out good." Bell ended up winning 12 games down the stretch. "We only won by half a game or what have you, so I guess those 12 wins helped a bit," he says.
After beating Minnesota on the final day of the season, the Red Sox went to the World Series against the St. Louis Cardinals. Bell was beaten 5-2 in Game Three, but nailed down the save in Game Six to insure the Sox would live for one more day.
In 1968, Bell pitched well, with a 3.12 ERA, but the magic of the "Impossible Dream" had dissipated. "Lonborg had gotten hurt chasing Jill St. John down the slopes," Bell remembers. "That was a big part of it." Despite his good ERA and nine complete games, his record stood at 11-11. The next winter came the expansion draft, and the Seattle Pilots snatched up Bell, who had been left unprotected by Boston.
"I pitched Opening Day in Seattle, the first major league game in that city," Bell recalls proudly. "I pitched a shutout against the White Sox." But it was all downhill from there. "My ability to pitch was not that good anymore. I had lost something over the winter. I don't know where it went but it was gone. It was the beginning of the end for me." The Pilots traded him, he ended up finishing the year with the White Sox, and then thought about hanging up his spikes. "There weren't any injuries or anything, but as you get older you lose speed, and that's not good. A lot of other guys could depend on their other pitches. My curve was just average so when my fastball went, that was the end of me."
"But that winter I got a call from the fellow who owned the Hawaii Islanders. I wasn't going to play anymore, but they offered me a pretty nice deal. Didn't last the year there, though, but it was a nice experience. When your fastball disappears, so do you. Know what I mean?"
Life after baseball took Bell into two careers that seem apropos for a Bud-pounding ex-pitcher, the beer business and sporting goods. "I went to work for a Miller beer distributor in Phoenix, for eight years or so, doing everything from driving trucks to delivery to heading a department, a little of everything. Never made any money, but it was good times." In 1978 he married a Phoenix native named Rhonda. Then a childhood friend who owned a sporting goods store contacted him about moving back to San Antonio. He went into sales there for about five years before Rhonda felt homesick, so Bell returned to the beer business in Arizona.
Four years later it was back to Texas and sporting goods, where an associate had a business in Fort Worth. "I wasn't there a year and the guy I went to work for died, that business went down the tubes, and I had to leave," Bell explained. "Then I was offered a job in San Antonio with the Double-A team here, owned by a friend of mine, Ethan Blackaby. I stayed with him a couple of years doing PR and that kind of stuff. But he ended up having to give up the club, so I went back to work for the original guy I was with in sporting goods again. Then HE ended up going out of business and I was starting to think it was me."
By then it was 1987 and Bell decided it was time to be his own boss. "I went out and borrowed $15,000 from the bank and started a sporting goods business of my own, calling on the same customers we used to. It's turned out good, I've been doing it for 19 years now. All I do is deal with coaches and schools and stuff like that."
Bell has five children, three from his first marriage, all daughters, Garriann, Cindy, and Lisa, and two children from his second marriage, daughter Casey and son Cody.
Note
This biography originally appeared in the book The 1967 Impossible Dream Red Sox: Pandemonium On The Field, edited by Bill Nowlin and Dan Desrochers, and published by Rounder Books in 2007.
Sources
Personal Interview conducted March 15, 2006
www.baseballlibrary.com
ww.baseball-reference.com
ProQuest newspapers
Photo Credit
The Topps Company
Born
November 17, 1936 at San Antonio, TX (USA)
If you can help us improve this player's biography, contact us.
http://bioproj.sabr.org/bp_ftp/images2/BellGary.jpg
600
800
admin
/wp-content/uploads/2020/02/sabr_logo.png
admin
2012-01-04 20:08:33
2012-01-04 20:08:33
Gary Bell