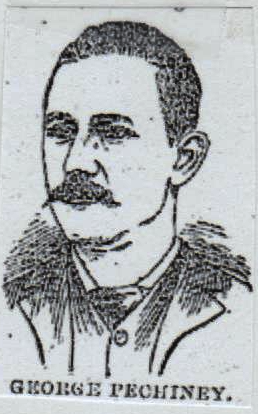 ---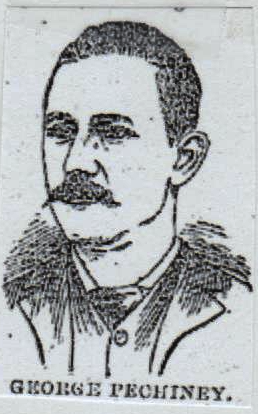 In various ways, the life of right-handed pitcher George Pechiney typified the existence of the late-nineteenth-century journeyman player. Pechiney's abilities were modest, and his major-league career was a relatively brief one, abbreviated by abuse of alcohol. Once his playing days were over, Pechiney returned to the arduous everyday working life from which he had sprung, his name rarely appearing in newsprint from then on. He seldom ventured far from home, married a local girl and raised a family, lived quietly, toiled into his senior years, and died within walking distance of the place where he had been born. In sum, the life of George Pechiney, like that of many of his contemporaries in uniform, was almost entirely unremarkable – but for the singular distinction of having been a major-league ballplayer.
George Adolphe Pechiney (pronounced PEESH-en-ney)1 was born on September 20, 1861, in Cumminsville, Ohio, a village located on the northern edge of Cincinnati that was incorporated into the city a dozen years later.2 He was one of seven children born to Peter F. Pechiney (1833-1880), an Ohio native and Union Army veteran of French-Catholic stock employed as a printer, and his wife, Mary Jane (née Gardner, 1835-1903), an emigrant from England.3 George attended school through the eighth grade and then entered the work force. The circumstances under which he matured were far from genteel. "Before it was annexed by the Queen City," a local history recites, "Cumminsville had a reputation for rowdyism. Dubbed 'Helltown' by Cincinnatians, it was known for its barrel houses and honky-tonks where brawls, feuds, rioting and drunken revelry defied the small village police force."4 Happily for our subject, Cumminsville was also a hotbed of early baseball, spawning major-league pitchers Dory Dean, Bob Gilks,Billy Crowell, and Wild Bill Widner, in addition to George Pechiney.
By the time of the 1880 US Census, George was employed in a Cincinnati carriage-making plant where strenuous daily labor produced the brawny 5-foot-9, 184-pound frame of his ballplaying prime.5 He and his brothers Charlie and Bill devoted their spare time to baseball, becoming mainstays for the Cumminsville Blues, Millercreek Bottoms, and other local amateur nines. A capable right-handed hitter and a versatile defender as well as being able to pitch, George played all over the diamond. In 1885 he entered the professional ranks, signing as a position player with the Columbus (Georgia) Stars of the Southern League. After batting .261 in 12 contests and losing his only pitching assignment, Pechiney was let go. A one-game tryout with a league rival, the Chattanooga Lookouts, was also unsuccessful, reportedly terminated after Pechiney dropped a fly ball.6 By summer, George was back home, playing for the semipro Cincinnati Clippers.
At some point, Pechiney made the acquaintance of the talented but temperamental Tony Mullane, arguably the major-league American Association's best pitcher. Mullane was under contract to the Cincinnati Reds but sitting out the 1885 season pursuant to a league suspension imposed for repeated contract-jumping.7 Whether through the intercession of Mullane or some other means, the pitching-strapped Reds decided to audition Pechiney. With family, friends, and, reportedly, his co-workers at the carriage-making plant in attendance,8 Pechiney made his major-league debut on August 4, 1885. The opposition: the Pittsburgh Alleghenies. To the delight, and likely astonishment, of the home crowd, Pechiney dominated Pittsburgh batsmen with a good curve and excellent control, yielding only four hits in a complete-game, 4-1 victory over future Hall of Famer Pud Galvin. "The Cumminsville amateur was the hero of the hour," reported a local newspaper, "and besides being presented with a floral tribute, he was picked up bodily by his friends and carried to the dressing room on their shoulders."9
Four days later, "the home experiment Pechiney again proved a hard man to hit,"10 setting down the Louisville Colonels on five hits, winning 10-2. With Mullane sidelined and veteran Will White in disfavor, Pechiney assumed a spot in the Cincinnati rotation, alternating starts with 20-game winner Larry McKeon. On September 15 Pechiney added to his growing reputation, hurling a 1-0 victory over Baltimore. On other occasions, however, a tendency toward wildness put Pechiney in the losing pitcher's column. But in all, the not-yet-24-year-old got off to a promising beginning, posting a 7-4 mark, with a fine 2.02 ERA in 98 innings pitched for the second-place (63-49) Reds. At season's end, he was promptly reserved by Cincinnati for the 1886 season,11 and was expected to join the returning Mullane and holdover McKeon as a key member of a formidable Reds pitching staff.
The club's embrace of Pechiney was thereafter manifested in several ways. Shortly after the season ended, third baseman Hick Carpenter invited Pechiney to join a cast of Reds veterans for a slate of 1886 Mardi Gras exhibition games in New Orleans.12 He was also among the select number of Reds players designated for "a thorough and continued course of [offseason] training" at a local gymnasium.13 The attention paid to Pechiney appeared to pay off, as he pitched excellent ball once the regular season commenced. By mid-July, his record stood at a team-best 13-8, prompting Sporting Life to exclaim, "Pechiney is becoming the star pitcher of the Cincinnatis. Good for the young carriage-maker."14 But then his fortunes underwent dramatic reversal. For the remainder of the season, Pechiney went 2-13, going five weeks (August 12 to September 20) without recording a victory. Modern observers attribute the abrupt decline in Pechiney's performance to overwork of his still-young arm.15 But the 330⅓ innings pitched by Pechiney was not exceptional by mid-1880 standards. Teammate Mullane, for example, logged 539⅔, while Pechiney's innings pitched did not even place him among the league's top ten. Rather, Pechiney appears to have fallen victim to another ballplayers' demon: alcohol. After he had departed Cincinnati, a local newspaper observed, "George Pechiney … made such a good record for himself with the Reds and threw himself away by excessive drinking. There never was a more promising boy in the ranks than George, but his friends proved his greatest enemies."16
Although placed on the Cincinnati reserve list for 1887,17 Pechiney no longer figured in club plans. At the annual winter meeting of American Association magnates in New York, he and batterymate Charlie Snyder were released by Cincinnati, a necessary prelude to their signing by a new AA franchise, the Cleveland Blues.18 Pechiney got off badly, taking a pasting from erstwhile Cincinnati mates in a 16-6 debacle that began the Blues' maiden campaign. The headline over the game account published in the Cleveland Plain Dealer neatly summarized events: "Hated Cincinnatis Slaughter Pitcher Pechiney."19 He fared no better in his next two outings, dropping lopsided decisions to Louisville and St. Louis, the latter contest featuring a tape-measure home run surrendered to the Browns' Bob Caruthers. Given another, perhaps final, chance in a May 10 home game against Brooklyn, Pechiney suddenly flashed old form. "To say Pechiney surprised the crowd is putting it mildly," declared the Plain Dealer. "He pitched a wonderfully good game and used plenty of speed and good headwork at critical points."20 The victorious 8-7 final score was deceptive, as but one Brooklyn run was earned and only three enemy batsmen touched Pechiney for base hits.21
Pechiney's first triumph in a Cleveland uniform was also his last. Indeed, it was his last as a major leaguer. In succeeding outings, he was regularly pounded. On June 24, a 17-7 drumming by St. Louis brought the big-league career of George Pechiney to its end. With his season record standing at a woeful 1-9, Pechiney was released by Cleveland.22 News of the event included a sad coda in the Plain Dealer: "The player recognizes that he is not doing the best of work and is out of condition. He wants to be released."23 Shortly after he returned home to Cincinnati, Pechiney staged an embarrassing demonstration of what the "out of condition" observation likely alluded to. In late July, an intoxicated Pechiney boarded a streetcar, refused to pay the fare, and then assaulted the conductor, resulting in the issuance of a warrant for his arrest.24 The incident, improbably, appears to have had a chastening effect on Pechiney. He immediately reformed his ways, and while no club in Organized Baseball was interested in his services, George was able to finish out the 1887 campaign playing for an independent club in Crawfordsville, Indiana.25
At age 26, George Pechiney's brief major-league career was now behind him. In parts of three seasons, he had posted a 23-34 (.404) record, with a high 4.23 ERA over 514⅓ innings pitched. As was the case with many marginal nineteenth-century pitchers, control had been a problem. The Pechiney walks/HBP/wild pitches total (272) far exceeded his strikeouts (183), and opposition batters hit a solid .284 against him. On the plus side, he had turned in a solid freshman half-year in the box, and had occasionally helped his own cause with the bat, posting a respectable-for-a-pitcher .205 career batting average, with 10 extra-base-hits and 24 RBIs in 62 games played. Pechiney had also served as a four-game outfield fill-in for the Reds during the 1886 season.
Pechiney got a chance to regenerate his playing career in 1888, signing with the Canton (Ohio) Nadjys of the newly formed minor Tri-State League.26 The plan was for Pechiney and George Bausewine to alternate between the pitcher's box and center field.27 It half-worked. In the field, Pechiney played capably in both the outfield and at second base, and he topped the Nadjys in hitting during the early going, leading Sporting Life to remark that Pechiney was "doing the work of Sam Thompson with the bat."28 But his pitching was found wanting. By early June he had posted a record in the neighborhood of 2-9,29 and was thereafter relegated to position play. Still, George had become a favorite of both Canton fans and the hometown newspaper. He was leading the club in batting average (.321) when unexpectedly released in mid-June. The move did not sit well with the locals, the Canton Repository declaring that fans "gave vent to expressions of dissatisfaction over (the release), for Pechiney had established himself as a favorite with a great many people by reason of his hard and earnest work whenever he played. He is a good and gentlemanly ball player, conscientious in his work, and one of the best hitters on the team."30
Within days, Pechiney was back in the Canton fold, re-signed by club management as a third baseman.31 He made a triumphant return on July 1, his first appearance at the plate greeted by "a splendid round of applause by the large crowd."32 But the glow of good feeling proved short-lived. Pechiney's bat went cold, and he was released again before the month was out.33 He thereupon returned to Cincinnati, and was soon back working alongside his brother Charlie at the carriage-making plant, his professional baseball playing days now permanently over.34
George Pechiney led a long but quiet post-baseball life. In May 1890 Cincinnati sportswriter Ren Mulford Jr. (a fellow Cumminsville native who kept tabs on the players from his boyhood haunts) reported that George, never exactly trim to begin with, had grown "as big as an alderman."35 By the late 1890s, Pechiney had landed a softer job as a plant timekeeper.36 Meanwhile, George had also effected a change in his domestic situation, marrying Cincinnatian Laura Belle Wright in April 1894. The birth of daughters Doris (1897) and Irma (1902) made the family complete.
After a new century had dawned, the Pechiney name was occasionally found in newsprint. In early 1905, it was reported that George had joined one of his brothers "in the iron fence manufacturing line."37 The venture apparently was not a success, for Cincinnati city directories from 1912 onward list George's occupation as "tool dresser," a physically demanding job requiring the manhandling of an air-compressor hose.38 In January 1916 younger brother Bill was elected president of a local Catholic fraternal order.39 Two years thereafter, George was again back in the news briefly, having won a Cincinnati war gardeners contest by submitting "six enormous Early Ohio potatoes, averaging a half-pound in weight."40 And in June 1925, Pechiney was one of the Reds old-timers gathered for the Golden Jubilee celebration of Redland Field.41
As he entered old age, George developed heart disease. His death, however, was caused by a stroke, suffered at his residence on July 14, 1943.42 He was 81. Following funeral services, his remains were interred at Spring Grove Cemetery in Cincinnati. Survivors included his widow, Laura, and daughters, Doris Pechiney Geldreich and Irma Pechiney Becker.
Sources
Sources for the biographical info contained herein include the George Pechiney file maintained at the Giamatti Research Center, National Baseball Hall of Fame and Museum, Cooperstown, New York; US Census reports, Cincinnati city directories, and Pechiney family posts accessed via Ancestry.com; and certain of the newspaper articles cited below. Also consulted was the George Pechiney entry in Major League Profiles: 1871-1900, Vol. 1, David Nemec, ed. (Lincoln: University Of Nebraska Press, 2011). Unless otherwise noted, stats have been taken from Baseball-Reference.
Notes
Born
September 20, 1861 at Cincinnati, OH (USA)
Died
July 14, 1943 at Cincinnati, OH (USA)
If you can help us improve this player's biography, contact us.
http://sabr.org/sites/default/files/PechineyGeorge.png
600
800
admin
/wp-content/uploads/2020/02/sabr_logo.png
admin
2016-10-27 14:26:22
2016-10-27 14:26:22
George Pechiney