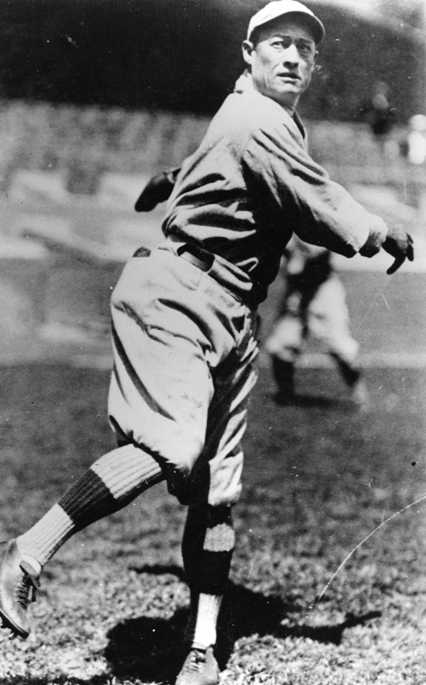 ---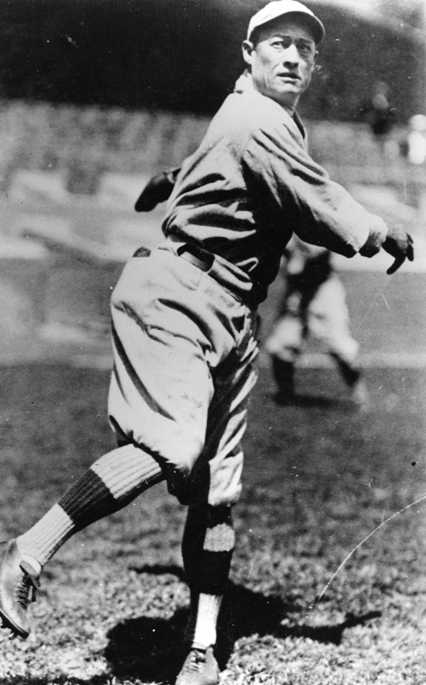 Who was George Whiteman? This is oversimplifying things, but in some ways he was a cross between Roy Hobbs and Crash Davis. Eleven years after having a cup of coffee with Boston and five years after having another one with the Yankees, he became an unlikely World Series hero for the 1918 Red Sox. Then he went back to the minors and played many more years, setting the minor league records for most hits and most games played.
Little is known of Whiteman's early life. He was born in Peoria, Illinois, on December 23, 1882. His father came to Illinois from New York State, while his mother was a German immigrant. He did not start playing professional baseball until he was 23 years old. Before that, he worked as a diving acrobat. He toured the country with a partner. One day, his partner was killed while trying to dive into the shallow tank. George quit and turned to baseball.
In 1905, Whiteman played his first of 25 years of professional baseball, with the Waco Tigers of the Class-C Texas League. The next spring, he was traded to the Cleburne Railroaders, a new team in a town southwest of Fort Worth. The Railroaders won the 1906 Texas League pennant in their only year of existence. Whiteman would wind up on many pennant-winning teams which earned him the nickname "Lucky." It was here also that Whiteman first teamed up with Tris Speaker, who was converted from a pitcher to an outfielder that year. Whiteman himself typically played outfield throughout his later career, but with Waco he played second base and third base. Dode Criss was another teammate and Criss batted .396. This would have qualified him for the batting title, had he had enough at-bats. He did not and Whiteman won the title with a surprisingly low .281 average.
Whiteman and Speaker played together again in 1907, this time with the Houston Buffaloes. Scout George Huff sought to sign Whiteman for the Boston Americans. Huff was the University of Illinois coach who helped manage a few games for Boston earlier in the year after manager Chick Stahl committed suicide. Houston would not sell Whiteman unless Boston also took Speaker. Doak Roberts, the Houston owner, was trying to dispose of all of his baseball property. Whiteman played in four games in September 1907 for Boston and hit two singles in 12 at-bats. He would not play in the majors again until 1913.
On February 29, 1908, the Hartford Courant reported that Whiteman had been sold to Indianapolis, but he wound up playing in Houston again that year. After four years in the Texas League, Whiteman moved to the Montgomery Climbers of the Southern Association in 1909 and 1910. He mainly played outfield as he had in the Texas League. But he played some third base in August after the regular third baseman was released. On November 23, 1910, the Atlanta Constitution reported that George was sold to the Mobile Gulls for "the measly sum of $400." Apparently, he wasn't getting along with some of his teammates.
In any case, he didn't play in Mobile in 1911. He played 23 games for Missoula of the Union Association and returned to Houston to play 117 games. Whiteman played for Houston the next two seasons as well, leading the Texas League in triples both years.
He had a second shot at the majors toward the end of 1913. This time, it was with the Yankees and he hit safely 11 times in 32 at-bats (.344). He was released by New York in October and signed with the Montreal Royals of the International League. Whiteman played for Montreal for two years, leading the International League with 14 home runs and 106 runs scored in 1915.
Whiteman jumped to the Brooklyn Tip-Tops of the Federal League toward the end of the 1915 season, but he never appeared in a game with them. John McGraw expressed interest in him for the New York Giants, but the Louisville Colonels of the American Association purchased Whiteman. He stayed with Louisville for 1916 and for three games in 1917 before returning to Canada and the International League with the Toronto Maple Leafs. He helped Toronto win the pennant.
By 1918, the United States was deeply involved in World War I and many ballplayers were in the armed forces. The Chicago White Sox were relatively unscathed and favored to repeat, but the Red Sox entered the season without leftfielder Duffy Lewis, among others. Whiteman had turned 35 the previous winter and was old enough to not be subject to the military draft. Burt Whitman of the Boston Herald and Journal reported that Boston manager Ed Barrow had signed Whiteman for the coming season. Toronto had sold his contract for $750. It is possible that owner Harry Frazee knew George Whiteman when they were growing up. Both were natives of Peoria and Frazee was only two years older than the outfielder.
Whiteman had suffered from grippe ever since the Red Sox broke training camp in Hot Springs, Arkansas, and he stayed home while Boston went on the road to New York in early May. When he was playing, he wasn't hitting, according to the June 1 Detroit News.
Because of World War I, the 1918 baseball season ended about a month early. Whiteman didn't have that great a year at the plate. He had a batting average of .266 (and an OPS of .681.) But he did go 3-for-4 and hit a home run in the last regular-season game, against the Yankees. It was the only home run of his major league career. Boston won the American League pennant by 2½ games and moved on to face the Chicago Cubs in the World Series.
That last day of the regular season, Whiteman took a boat ride on the Hudson with reporter Burt Whitman. "I'm lucky against these left-handed pitchers," Whiteman said, referring to Chicago's star hurlers Jim "Hippo" Vaughn and George "Lefty" Tyler. "No one is figuring that I'll do much in the Series and you know it's the unexpected fellow who usually does the heavy work."
Whiteman's father came north from Texas to Comiskey Park for Game One to see George in a big league game for the first time. Whiteman started Game One because Babe Ruth was pitching. Ruth had started to become more and more a position player in 1918, but manager Barrow wanted the Babe to pitch in the World Series and so the Sox needed a left fielder. Batting cleanup, Whiteman went 2-for-5, including a fourth-inning single over the glove of Cubs shortstop Charlie Hollocher. His hit moved Dave Shean into scoring position and Shean scored the game's only run on a Stuffy McInnis single. In the sixth inning, with a runner on third and two outs, Charlie Deal hit a long fly to left that Whiteman caught, saving one run if not more. Ruth pitched a complete game shutout and the Sox won, 1-0.
Whiteman also started Game Two, again hitting fourth, while Ruth sat. Tyler was the starter for the Cubs and lefty junkballers had been giving the Red Sox trouble that year. Whiteman went 1-for-3 in the game with a triple, but the Red Sox lost, 3-1, and the Series was even.
In Game Three, Whiteman drew first blood in the fourth inning when he was hit by a pitch and, two singles later, scored the first run. In the bottom of the fourth, with a man on second, he ranged back to the leftfield fence and robbed Dode Paskert (the only participant in the World Series older than Whiteman) of an extra-base hit. The Red Sox won, 2-1, and took a two-games-to-one lead in the Series before it moved to Boston.
Both the Red Sox and the Cubs took the same train to Boston. Whiteman chatted with Chicago left fielder Les Mann about signing up players for YMCA work in Texas. But there were other discussions going on between players on the train. In a nutshell, they were dissatisfied with the World Series shares they would receive. Due to the war, and possibly the Spanish influenza pandemic that hit Massachusetts hard that September, attendance was low for the Series – and this was at a time when a World Series share could be as much as a player's annual salary, if not more.
Whiteman walked and scored on a Ruth triple in Game Four, won by the Red Sox, 3-2. Meanwhile, the talks between players on the two teams had resulted in a demand for increased compensation and came close to a refusal to play. The matter was resolved, but only at the last minute, and it caused a one-hour delay before Game Five.
In the game, Boston's Sam Jones got into trouble in the top of the first, walking Max Flack and giving up a hit to Charlie Hollocher. Les Mann bunted them both into scoring position. Whiteman robbed Dode Paskert again, when he caught a sinking liner with a shoestring catch and threw on the run to second baseman Dave Shean, doubling off Hollocher. The Sox escaped that threat, but were shut out in the game, 3-0.
If Whiteman was already starring in the Series, Game Six was where he really shone. In the bottom of the third, with no score, the Cubs' George Tyler walked Carl Mays and Dave Shean. They moved into scoring position on an Amos Strunk grounder to second. The Cubs infielders conferred with Tyler and debated walking Whiteman to load the bases for Stuffy McInnis. Instead, they took their chances with the Texan and he hit a line drive to the opposite field. Cubs right fielder Max Flack was playing deep and got a bad read on the ball. He almost caught the ball, but he dropped it for an error. Both runners scored. Whiteman's liner gave the Sox a 2-0 lead. Later, in the eighth inning, Turner Barber pinch-hit for Chuck Deal and hit a sinking liner to short left. Whiteman made a shoestring catch and turned a somersault afterward. He hurt his neck on the play, and manager Ed Barrow put Ruth in as a defensive substitute. Whiteman received a thundering ovation. Mays allowed just one run and the Red Sox took the game and the World Series.
The press didn't vote for World Series MVPs back then, but it was widely felt that Whiteman was the hero, a word used over the years by writer Fred Lieb to describe his timely and crucial play. Even though he batted only .250 (5-for-20) and drove in just one run, he figured in eight of Boston's runs and made a number of key defensive plays. Hugh Fullerton called him "greater than Cobb and luckier than C. Webb Murphy (owner of the Cubs during their glory days)." George shared a black Cuban wood bat for most of the summer with another George, Babe Ruth. It was this bat that hit the Series winner. The Babe let Whiteman take it home to Houston. (Whiteman's family was also in possession of Ruth's first Red Sox uniform. It was they who sold it to notable collector Barry Halper.)
Because of the standoff between the players and the National Commission prior to Game Five, Red Sox players were never awarded the traditional World Series emblem. Whiteman wrote several letters to league presidents Ban Johnson and Garry Herrmann in the early 1920s asking for his emblem, but he eventually gave up. These were finally awarded 75 years later in a ceremony at Fenway Park on September 4, 1993. Some relatives of the players were on hand for the ceremony, including Whiteman's sister-in-law, who was in her nineties.
After the 1918 season ended, World War I continued for two more months. Whiteman went into "ground aviation work." According to columnist J.V. Fitzgerald, Harry Frazee declared that he would keep Whiteman in 1919. The Red Sox did keep him under contract until February, when Hooper and Ruth re-signed. On the 19th, Whiteman was one of five Red Sox waived. Toronto signed him for a second tour of duty in early March. Later that fall, George was asked to play prognosticator for that year's World Series and picked the Chicago White Sox. "I'll bet my money on the Sox…" he said, "They're what we ball players call a 'money team.' They have been through the mill and know what's expected of them. The experience will stand them in good stead when they meet Cincinnati."
Whiteman held out for a few weeks before signing a contract for the 1920 season. The 1920 Toronto Maple Leafs had an amazing season, finishing 108-46, but still finished 2½ games behind Jack Dunn's Baltimore Orioles for the International League title. Among his teammates was infielder Eusebio Gonzales, who also played for the 1918 Red Sox. But it was known even in July that Whiteman would go home to Houston and manage his hometown's Buffaloes. In 1919 Branch Rickey bought into the Buffaloes as a way to secure talent for his underfinanced St. Louis Cardinals.
Whiteman continued to play for another decade. His work took him to Houston, Oakland, Wichita Falls, Galveston, and other locales – more often that not as player-manager. He assumed the dual roles in the minors until 1929, when he was 46 years old. Even in his last season, working with Winston-Salem in the Piedmont League, he hit 10 homers and drove in 84 runs. When he finally hung up the spikes, he finished his minor league career with 3,388 hits (the record at the time.) Whiteman had 671 doubles and 196 triples; both good for third all-time in minor league history. He also holds the record for most minor league games played with 3,282.
Little is known about Whiteman's post-baseball life. He did work as a constable in his native Houston. George died of a heart attack at the age of 64 on February 10, 1947. He was buried in Hollywood Cemetery in Houston. His wife, Eva, lived to be 86 before passing away on April 15, 1973.
In the summer of 2005, George Whiteman was elected to the Texas League Hall of Fame.
While there is no evidence it ever happened, it would have been interesting if Whiteman dusted off his high diving act in 1918. The Red Sox had another outfielder by the name of Hack Miller who was the son of a circus strongman. Miller used a 47-ounce bat and could bend iron bars with his hands and pound spikes into wood with his fist. They would have made an entertaining duo.
Sources
Red Sox Century, Stout and Johnson
The Year the Red Sox Won the Series, Waterman and Springer
1918: Babe Ruth and the World Champion Red Sox, Wood
Atlanta Constitution
Decatur Review
Hartford Courant
Washington Post
Born
December 23, 1882 at Peoria, IL (USA)
Died
February 10, 1947 at Houston, TX (USA)
If you can help us improve this player's biography, contact us.
http://bioproj.sabr.org/bp_ftp/images3/WhitemanGeorge.jpg
600
800
admin
/wp-content/uploads/2020/02/sabr_logo.png
admin
2012-01-04 20:18:41
2012-01-04 20:18:41
George Whiteman