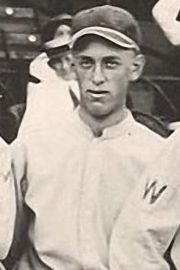 ---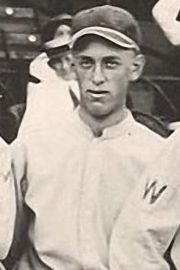 "Harry Harper Scored in Pitching, Politics" ran the New York World-Telegram headline announcing his death.1 Left-handed pitcher "Hackensack Harry" was a "gallery of legends, a great ruddy booming one-man mythology," read another story.2 He won 57 games in the majors, built a junk business starting with one truck, and became a millionaire, later serving for 16 years in statewide New Jersey posts, the last six as state labor commissioner.
Harper came from Hackensack, the city of his birth, and he came from modest circumstance. He was born on April 24, 1895, to Henry Clay Harper, a letter carrier in 1900, and Elizabeth (Van Saren) Harper. Both were Garden State natives, though Henry's father had come to America from England. By 1910 Henry had become assistant postmaster and he and Lizzie had three sons: Walter (already a clerk in a paper mill), Harry, and Roger.
According to Harper's widow, Harry attended school for eight years but apparently did not go to high school.3
Harper's professional baseball career began in 1913. He was a protégé of pitcher George Davis, who had gone with 18-year-old Harry to his home in order to secure his mother's consent for him to join the Washington Senators.4 His first appearance was in the big leagues, for the Senators, working the last three innings in the second game of a doubleheader on June 27, 1913, against the visiting Philadelphia Athletics. He gave up one run in the 11-5 loss. "Harper did so well yesterday," wrote the Washington Post, "that Griffith was thoroughly tickled."5 The paper observed that he "has much to learn about fielding his position" but was impressed that he had not been intimidated by "such a collection of vicious hitters as the Athletics." Washington finished second in the standings in 1913, 6½ games behind Philadelphia.
Harper was used sparingly, appearing in only four games for a total of 12? innings. He allowed 11 runs, though only five were earned (for a 3.55 ERA). Given that he himself committed two errors in seven chances, that statistic might be deceptive. He had a WHIP (walks plus hits per inning pitched) of 1.184, and a record of 0-0. After the season, manager Clark Griffith kept Harper and a few other players for a little more than a week, to work on baseball.
In January 1914 a story about Harper ran nationally. He returned his contract because it had omitted a clause on which his mother had insisted, excusing him from playing baseball on Sundays.6 Semipro ball on Sundays was apparently acceptable; Davis had first discovered Harper playing on a Sunday.7 The only other ballplayer with a clause excusing him from working on Sundays was Christy Mathewson.
Harper put on some weight and grew a little over the winter of 1913-14 and was reportedly working on an "underhanded upshot."8 He's listed at 6-feet-2 and 165 pounds.
Harper worked in 23 games for the 1914 Senators, starting three of them. His record was 2-1, and he worked 57 innings to an ERA of 3.47. His fielding remained a problem, with three errors in 14 chances. In fact, it was never that good; over the course of his 220 games in the majors, his fielding percentage was just .906. In 1914 Washington dropped to third place in the standings.
Even before the 1915 season began, Clark Griffith had let it be known that he rated him tops among left-handers and second in baseball only to Walter Johnson.9 Of course Griffith was also displaying more than a little bias in favor of his own prospect. Harper had three early appearances, but after May 7 he was sent to the minor leagues for the first time, in order to get more experience. He had just turned 20 a couple of weeks before. Harper pitched for the Minneapolis Millers in the Double-A American Association. His first day with the Millers, he struck out 16 Columbus batters but lost the game thanks in part to the nine walks and six hits he allowed, and an error.10 On May 19 Harper threw a no-hitter against the St. Paul Saints, winning 4-0 with 12 K's, but it was a far from perfect game, thanks to seven walks and a balk.11 He had a problem locating his pitches, and on July 5 he walked a record 20 batters – in an eight-inning game (which he lost to St. Paul, 13-5.) Eleven days later, Harper was recalled to Washington.
He had worked in 21 games for Minneapolis, accumulating 154 innings, and though he had a good 2.81 ERA (his record was 7-9), he had ongoing problems with control, walking 127 and with a WHIP of 1.468. Nonetheless, he was brought back to Washington and got in another 86? big-league innings, producing a 4-4 record, with a 1.77 ERA. One of the secrets to his success was suggested by umpire Billy Evans, who had officiated the first game in which Harper worked, in 1913: "Right off the reel, he proved that he had a world of stuff, but little or no idea as to the location of the plate. He was so wild that few of the batters took any chances on trying to hit the ball. They simply stood in a remote corner of the plate and waited for the umpire to call ball four."12
Harper went on a postseason trip of all-stars and impressed Johnny Evers, who agreed with Griffith that "he must be classed with the best left-handers in either league."13 He was given the nickname "South," reflecting his status as a southpaw.
In fact, Harper put together a very strong season in 1916 (14-10, with a 2.45 ERA), striking out 149 and walking 101 in 249? innings. For the rest of his career, however, his walks typically exceeded his strikeouts, and he even led the league with 13 wild pitches in the war-shortened 1918 season. Harper was pitching in the heart of the Deadball Era, but his earned-run average was a good one nonetheless – indeed, by the end of his career, it was a good 2.87.
Harper had some superb games and he had some clunkers. On August 3, 1917, against the Browns, he found the plate well enough but two wild throws to second base cost the Senators the game, his heaves giving St. Louis four of their runs in a 5-4 game.
Harper became engaged to Bessie Bartlett in October 1917 and sold off his waste-paper business; she had not approved of her husband running a junk business. Back in 1913, with his first paychecks from the Senators, Harper had purchased a truck, and then built it into a thriving enterprise. He did turn a profit on the sale.14 On February 26, 1918, Harry and Bessie were wed. From June into July, he had a stretch where he won seven consecutive decisions, allowing only 11 runs over the seven games. The stretch included the best game of his career – a one-hitter on June 28, the only hit a seventh-inning solo home run by Boston's Babe Ruth. By season's end, however, he had the same 11 wins he had had in 1917, though this time with a 2.18 ERA. His 18-year-old brother enlisted in the Navy and an older brother was already in the Army but Harper himself was able to continue to pitch baseball.
Washington Post sportswriter J.V. Fitz Gerald wrote in late March 1919 that Harper "has never looked better" and that he "appears to be a certainty to have the best year of his career."15 Instead, he had the worst, losing 21 games – more than any other pitcher in the league. Walter Johnson was 20-14, but Harper was 6-21, with an ERA of 3.72. He walked 97 batters and struck out only 87.
Three of Harper's six wins were against the Boston Red Sox, and he lost three times to the Red Sox by scores of 2-0, 4-3, and 2-1. With a little run support, he could well have won at least two of those games. In the 49 innings he worked against Boston, he had a 1.65 ERA. The Red Sox were impressed. Two days before the end of the year, they traded for him. The Red Sox sent Braggo Roth and Red Shannon to Washington for Eddie Foster, Mike Menosky, and Harper. Harper was the main target in the trade. The Boston Globe thought the Red Sox got the better part of the trade and that, in the 24-year-old Harper's case, "It would appear that he has the best part of his baseball career ahead of him."16 For his part, Harper was thinking of quitting, and attending to his growing business in Hackensack. He was a holdout – he wanted a higher salary and he still refused to play on Sundays.17
The 1920 Red Sox, now without Babe Ruth, finished fifth. Harper's 3.04 ERA was one of the best on the staff (the team ERA was 3.82), but his 5-14 record was similar to that of the year before. He won his first two starts, then lost 10 straight decisions – and in those 10 losses his teammates produced a total of 14 runs. It's hard to win games if there's little or no offense. One of those games was against the Senators and neither Harper nor Walter Johnson allowed a run through six innings. The Senators scored once in the top of the seventh, but Johnson no-hit the Red Sox for a 1-0 win. Only one man reached base, on an error that marred an otherwise perfect game.
After the season was over, there was another December trade, and this time Harper was sent to the New York Yankees. It was a big eight-player trade, with no cash involved: Harper, Waite Hoyt, Mike McNally, and Wally Schang all went to New York for Del Pratt, Muddy Ruel, Hank Thormahlen, and Sammy Vick. The Boston Herald thought it was a bit of a lopsided trade in favor of Boston, which "almost makes one think that [Boston's Harry] Frazee is getting a conscience payment from the Yankee owners on Babe Ruth."18
The Yankees didn't use Harper until May 13, when he started against the Tigers. He collected a win, working 5? innings, giving up just two runs, but had to leave the game at that point when Eddie Ainsmith's batted ball struck him in the pitching hand, fracturing his left thumb. Harper did throw Ainsmith out, but could not continue to pitch. Expected to be out for 10 days, he didn't pitch again until August 25. He got in six starts in September, finishing the season 4-3 (3.76). The Yankees had made do without a single left-hander in the rotation for most of the season, but they won the pennant, the first in team history, 4½ games ahead of second-place Cleveland. Another former Red Sox pitcher, Carl Mays, was 27-9 for the season. His work and Babe Ruth's 59 home runs and 168 runs batted may have made almost all the difference.
It was an all-New York best-of-nine World Series, with the Giants victorious over the Yankees, five games to three. Harper saw duty in just one game, given the start in Game Six. He held the Giants scoreless in the first and saw the Yanks score three runs, but then he gave up a walk, a home run, and another home run. (Both were "Polo Grounds homers" – just barely fair to the foul poles, each of which was well under 300 feet from the plate.) That evened things up and manager Miller Huggins brought in Bob Shawkey to try to shut the door. The Giants won in the end, 8-5, the loss on Shawkey's shoulders.
In February 1922 Harper asked the Yankees for an indefinite leave. He and his brother had the trucking business and had received some advantageous contracts to help construct what became named the Holland Tunnel, connecting New Jersey to Manhattan Island, and to haul pipe for a water main to be laid from the Catskills to New York City. At the end of March, Harper applied for reinstatement and his request was granted by Commissioner Kenesaw M. Landis. He was unable to pitch, though, due to an injury to his pitching hand, and the Yankees gave him his unconditional release on June 1. He did pitch some semipro ball in New Jersey, and in September he was signed for 1923 by the Brooklyn Dodgers.
Harper appeared in only one game for Brooklyn, and lost it. On May 8 he started against the visiting Pittsburgh Pirates and gave up eight hits and three walks for six runs in 3? innings. Harper bore the loss; it was his last game in the majors. He was released on May 12.
There was money to be made in independent baseball, some teams even outdrew major-league teams. For 1924, Harper signed with the Doherty Silk Sox of Paterson, New Jersey.19 And he was quite a star in independent league circles. After leaving Brooklyn in May 1923, he pitched the rest of that season and lost only two games all year, allowing an average of two hits a game and striking out between 15 and 22 batters in every game.20 The Silk Sox beat the Yankees, 6-5, in an exhibition game in Clifton on May 4 and it was Harper who held Babe Ruth hitless and ultimately won the game with a two-out, ninth-inning home run.
Harper decided to try a comeback in 1925, hoping to work for the Giants. It didn't work out. He continued to pitch semipro ball – typically on Sundays – for the Oritani club in Hackensack.
Harper focused on his considerable business enterprises. Though he would never come out and say that he had become a millionaire, he did reportedly tell one writer in 1941, "You can say that I wouldn't sell my business interest for $1,000,000."21 He had become the largest taxpayer in the city of Hackensack. In addition to the trucking company, he established a contracting firm, a supermarket, a fuel company, and a beverage company.22
Harper also went into politics, running as a Republican and becoming sheriff of Bergen County in 1927. A run for the state senate resulted in defeat, but he served as state civil service commissioner from 1934 to 1944 and New Jersey state labor commissioner from 1944 to 1950. A nomination to run for Congress in a special election in January 1950 resulted in a surprise defeat by William Widnall.
Harper died the day before he would have turned 68, on April 23, 1963, at St. Vincent's Hospital in New York City. The cause of death was a heart attack. He also suffered from cirrhosis. Harper left his widow, Bessie; their son, State Senator George B. Harper; and a daughter, Elizabeth Burchell.
Sources
In addition to the sources noted in this biography, the author also accessed Harper's player file and player questionnaire from the National Baseball Hall of Fame, the Encyclopedia of Minor League Baseball, Retrosheet.org, Baseball-Reference.com, and the SABR Minor Leagues Database, accessed online at Baseball-Reference.com. Thanks to Dixie Tourangeau for noting Harper's June 28, 1918 game. 
Notes
Born
April 24, 1895 at Hackensack, NJ (USA)
Died
April 23, 1963 at New York, NY (USA)
If you can help us improve this player's biography, contact us.
https://sabr.org/sites/default/files/HarperHarry-SABR.jpeg
600
800
admin
/wp-content/uploads/2020/02/sabr_logo.png
admin
2014-11-12 12:35:44
2022-05-09 08:50:22
Harry Harper