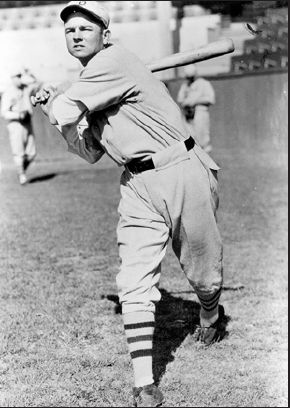 ---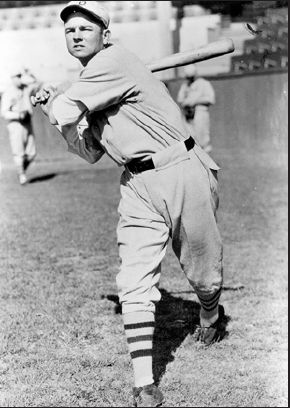 Hub Walker and his younger brother Gee debuted for the Detroit Tigers in 1931. While Gee became a standout hitter and one of the most popular Tigers in the 1930s, Hub, a scrappy, hard-nosed journeyman center fielder, played in just 297 big-league games in parts of five seasons with the Tigers and Cincinnati Reds. A midseason call-up during Detroit's championship season in 1935, Hub was on the roster for less than a month in June before he was released and consequently missed the first World Series title in Tigers history. But ten years later (and eight years since he had last been on a major-league roster), Hub finally reached the pinnacle of team success, and concluded his baseball career as a member of the Tigers' 1945 World Series championship squad.
Harvey Willos Walker was born on August 17, 1906, in Gulfport, Mississippi, but spent his formative years 70 miles north of the city, in Hattiesburg. In the first quarter of the 20th century, Hattiesburg was an important railroad and transportation center, affectionately known as Hub City. Harvey's father, Richard Henry Walker, worked as a locomotive boilermaker; his mother, Lorena (Holmes) Walker, was a homemaker. They married in 1902 and raised five boys — Richard, Harvey, Gerald, Hilman, and Leonidas — born between 1903 and 1914.
An athletic group, the Walker boys played sports year round, from football and basketball to baseball. Harvey seemed to be the most talented all-around athlete of the quintet. By the time he was 14, the Hattiesburg American, was regularly carrying stories about his athletic accomplishments. Harvey was known to all as Hubby (and less often Hub), and the nickname remained with him his entire life. He often stated that he didn't know where the moniker originated, but he embraced it.1 The name, like Hubby's personality, suggested an air of familiarity, good nature, and approachability. A natural athlete, fleet of foot, and graceful, Hubby was a star athlete at Hattiesburg High School. He led the baseball team as its shortstop, guided the football team to a state championship as its standout quarterback, and captained the basketball team as a guard.
Upon graduation in 1925, Hubby followed his older brother Richard's footsteps and attended the University of Mississippi. During his four years there, Hubby was hailed as "one of the greatest athletes that has ever attended the University of Mississippi."2 Walker's best sport might have been football and in a different era he might have pursued a career on the gridiron. The 5-foot-10, 175-pound "Hattiesburg Flash" was a leader and "field general."3 Rebels hall-of-fame coach Homer Hazel called him "one of the greatest quarterbacks I have ever seen."4 A three-sport star, Walker earned three letters each in football and baseball, and one more in basketball, but a broken ankle in his sophomore year ended his ambitions on the hard court.
Gee (Gerald) followed Hubby to Ole Miss (as did Hilman and Leo); together they starred on the diamond, where Hubby occupied center field. At the end of his senior year Hubby was awarded the prestigious Norris Trophy given to the best all-around athlete at Ole Miss. In an era when few top baseball prospects attended college, the slap-hitting Hubby began attracting baseball scouts by his junior year. But Gee, an inch or so taller and about ten pounds heavier, was an even more coveted slugger. In one report Tigers roving scout Eddie Goosetree was credited with "finding" both Hubby and Gee.5 Upon his graduation in 1929, Hubby signed with Tigers scout Billy Doyle, one year after Gee had signed with him.
Walker began his professional baseball career with the Fort Smith (Arkansas) Twins of the Class C Western Association. He was a relatively inexperienced recruit. His Ole Miss teams had played only about 15 games a season. He played semipro ball in the summers, but was limited by college eligibility requirements to participate in no more than three games per week. For the league champion Twins Walker batted a robust .341 and showcased his speed in the outfield. His success led to a promotion to the Beaumont Exporters of the Class A Texas League for 1930.6
Hubby was eventually assigned to the Evansville Hubs of the Class B Illinois-Indiana-Iowa (Three-I) League in 1930, where he joined his brother Gee. Success came quickly to both. "The Walker boys are fast becoming to baseball what the Smith boys are in the cough drop business," boasted their hometown paper.7 Gee's outstanding season (he batted .378 in 84 games) was cut short by injury. Hubby "pounded the potato" all season long, finishing with a league-leading 136 runs and 191 hits, good for a .355 average.8 Praise for both prospects poured in after they led the Hubs to the league championship. They were described as "natural hitters" who could be "assured of a wide-open opportunity" to play for the Tigers.9 Their destiny as future big leaguers seemed foretold.
Hubby's and Gee's baseball careers — indeed their lives — were inextricably intertwined. They were teammates through high school, college, and the minor leagues. It seemed natural that they were both invited to Tigers spring training in 1931. A day after Gee made his big-league debut in left field on Opening Day, Hubby made a splash in his own debut on April 15. Playing center field and batting leadoff, he banged out three singles in five at-bats and scored in a run in a loss to the St. Louis Browns at Sportsman's Park. He cranked out three more hits, including a double, and knocked in his first run in his second game. "[Hubby] is alert and fast on the bases, covers a wide range of territory in the field, and is a strong dependable hitter," exclaimed Detroit sportswriter Sam Greene.10
On April 23 the brothers fulfilled boyhood dreams when they started in center and left field and batted 1-2 in a 1-0 victory over the Browns. Hubby was considered the faster of the two, Gee the sturdier one. Their basestealing and fearless nature even evoked memories of Ty Cobb. Hubby stole ten bases in 11 attempts for the Tigers and was known for his head-first slide into second base (often compared to Frankie Frisch's style), but did so to protect his knee, which had been injured playing football.11
Manager Bucky Harris praised Hubby as a "first-class flychaser," but thought his hitting was suspect.12 Like many left-handed hitters before and since, Hubby could not solve a left-hander's delivery; consequently, he played mainly against right-handers. After Gee was optioned to the Toronto Maple Leafs, the older Walker responded to Harris's suggestion that he be more aggressive at the plate, and caught fire. Over a 16-game span (June 7-27), the streaky Hubby batted .439 (29-for-66), though he scored just six runs as the Tigers went 5-11 in those games. But soon thereafter, he suffered a spiked hand, wrenched his back, and hurt his shoulder in July. A slump followed (4-for-33 from July 4 to 27) as pitchers adjusted, and his playing time diminished. In the last two months of the season Hubby was used primarily as a late-inning defensive replacement or pinch-hitter and runner. Brother Gee was recalled in August and took over the center-field position on August 17 and kept it through the reminder of the year. Gee's success ironically signaled the end his brother's tenure with the Tigers. After batting .286 (72-for-252) with just 27 runs and 16 runs batted in, Hubby was optioned to Toronto of the International League in the offseason.
After parts of one season together with the Tigers in 1931, Hubby's and Gee's careers diverged radically. Hubby proved to be a marginal player, returning to the Tigers for a month in 1935, and spent two seasons with the Reds in 1936 and 1937 before making it back as a wartime replacement in 1945. Gee became a popular fan favorite with the Tigers and cranked out 1,991 hits in his 15-year big-league career.
After his rookie season in 1931, Hubby spent the next three seasons in the International League trying to solve his hitting woes. He hit just .261 with little power (.374 slugging percentage) for Toronto and the Montreal Royals in 1932. He earned an invitation to the Tigers' spring training in 1933 but struggled to hit major-league pitchers. After spring training he was optioned to Montreal (with a midseason assignment to the Jersey City Skeeters), improved his average to .280 in 1933, and got another brief shot with the Tigers at spring training in 1934. His batting average dipped to .256 with the Royals in 1934. During these three years he experimented with various batting stances and grips. Royals general manager Shag Shaughnessy (who also managed the team in 1934) took Hubby under his wing. "[Walker] agreed to a shorter swing and a shorter stride, but … the trouble was that he frequently fell back into old habits," Shaughnessy said.13 Walker also tried the "Waner system" (a reference to the Pirates' Lloyd Waner) of holding the bat near its handle, and also tried choking up on the bat with mixed results at best.14 Notwithstanding his hitting frustrations, Walker was a rough-and-tumble player, and led the IL with 33 stolen bases in 1934.15
Sold to Toledo of the American Association in the offseason, Walker got off to a hot start with the Mud Hens in 1935. Patrolling center field and batting over .300, Walker was unexpectedly recalled to the Tigers in early June. The reigning AL pennant winners had gotten off to a slow start in 1935, and were just two games above .500 on June 1 (20-18). Manager Mickey Cochrane wanted to inject some speed in the outfield with the addition of Hubby, not to mention increase competition. The outfield was packed with Goose Goslin typically in left field, Jo-Jo White in center, and Pete Fox in right; Gee Walker played all three positions. The Sporting News described Cochrane's five flychasers as a "quick change" outfield with many possible combinations.16 
With White and Goslin slumping, Cochrane played a hunch and inserted Hubby in center and Gee in left. (Fox remained in right.) Hubby saw action in nine games between June 7 and 23 (including six starts), but hit just .160 (4-for-25). The experiment with Hubby had failed. He was given a choice of his unconditional release or a demotion to Beaumont in the Texas League.17 Hubby chose free agency, and e eventually sold his services back to Toledo, joining the Mud Hens on July 4. Picking up where he had left off in early June, he finished with a career-best .335 batting average and a career-high14 triples in just 113 games.
Not yet 30 years old, Walker was considered one of the most eligible bachelors on his teams. Good-looking with steely-gray eyes, brown hair, and chiseled facial features, Hubby spent his winters back home with his parents in Hattiesburg. Throughout his 20s and 30s, he enjoyed playing basketball and golf to keep in shape, and often refereed basketball and football games in Hattiesburg. Conscious about his health, the muscular Walker did not eat red meat, a fact that was often mentioned in newspapers at the time as newsworthy.
In light of his success with Toledo, Walker "engineered his own deal to the Reds" in the offseason and spent the 1936 and 1937 seasons with Cincinnati.18 The Reds also signed his youngest brother, Leo, an outfielder at Ole Miss, but Leo never made it beyond the lower minor leagues.
Cincinnati had finished in the second division every year since 1927 and continued the streak through both of Walker's years with the club. Manager Charlie Dressen viewed Walker as an ideal utility outfielder who could replace 37-year-old veteran Kiki Cuyler in center and 33-year-old Babe Herman in right. Little-used through June (he went 6-for-20), Walker enjoyed the longest stretch of playing time in his big-league career in the second half of the season. He started 60 games (43 in center, 16 in left, and one in right) and played in 73 out of a possible 88 games. On July 26 he connected off the New York Giants' Frank Gabler for his first big-league home run in the Reds' 5-2 victory in the Polo Grounds. Batting leadoff in the majority of his starts, Walker had little power (he slugged .399 for the season), but was streaky. He concluded the season on one such streak by hitting .377 (26-for-69) over an 18-game stretch in September and exhibiting a surprising pop in his bat. He also hit three of his five career four-baggers and knocked in ten of his 60 career runs batted in during that unexpected power surge. For the season, he established career highs in runs (49), doubles (18), and runs batted in (23), while batting. 275.
Once again a utility outfielder in 1937, Walker started 35 games in center and 17 in left field. Had he not separated his right collarbone diving to make a catch against the Bees in Boston on June 9, he would have likely seen even more action. The injury sidelined him for about six weeks. The Reds finished in last place, 40 games behind the Giants. Among the many weaknesses on the team was the outfield. Chick Hafey's return to the club was a disappointment; at age 38 Cuyler was on his last legs; and Walker batted just .249 (55-for 221) with no power. When Bill McKechnie was named manager at the conclusion of the season, he vowed to address the question marks in the outfield.  
Walker was sold to the Nashville Volunteers in the offseason, but balked at the demotion to the Class A-1 Southern Association. New Vols manager Dressen coveted Walker from their days together in Cincinnati and figured that the left-handed Walker would take advantage of the inviting right-field dimensions of the team's ballpark, Sulphur Dell, which measured just 262 feet down the foul line. Walker, meanwhile, announced his retirement and began working for an automobile dealership in Lexington, Kentucky. He eventually changed his mind, petitioned Commissioner Kenesaw M. Landis for his reinstatement, and reported to Nashville just days before Opening Day. Arguably the club's best player, Walker batted .319 and slugged. 476.
Walker parlayed his success with the Vols into a promotion back to the American Association. The Minneapolis Millers' new skipper, Tom Sheehan, had coached under Charlie Dressen the previous season and persuaded Millers owner Mike Kelley to purchase Walker's contract. For the next four years (1939-1942), Hubby Walker roamed center field for Minneapolis. His first two seasons with the club were spectacular. The "Mississippi Meteor" was described as "just about the most valuable player in the American Association" in 1939.19 He led the league with 145 runs (in 148 games), stroked 24 home runs, and batted .304 while helping the Millers to a second-place finish. He was having an even better season in 1940 before his season ended prematurely with another collarbone injury. In just 103 games, Walker smashed a career-high 25 home runs (fifth best in the American Association). He had a .628 slugging average, batted .318, and earned a berth on the league's all-star team. Walker slowed down in his final two campaigns with the Millers, batting .254 and .276 respectively.
Though he could have returned to the Millers in 1943, Walker chose instead to enlist in the Navy. The decision did not come lightly as his life had changed over the last few years. He was no longer an eligible bachelor, having married Simone Laveque of Detroit. They lived in the Detroit suburb of Royal Oak, where Walker worked for an automobile dealership. Weighing heavy on Hubby's heart was the tragic fate of his brother Leo of the US Army Air Corps, who had died the previous November in a military plane crash in California. Hub was mustered into the Navy on November 24, 1942, and was subsequently stationed at the Great Lakes Naval Training Center in Chicago. He played on the legendary base team managed by his former skipper, Mickey Cochrane. Following a transfer to the Naval Air Station in Norfolk, where he also played for the base team, Walker served in the South Pacific as a chief specialist. In the line of duty, he injured his right knee, which required surgery. He recovered in a military hospital in California and received a medical discharge in February 1945.
Still the property of the Minneapolis Millers, Walker decided to stage a comeback. "I'd like another chance to play ball," the 38-year-old Walker told Jack Zeller, general manager of the Detroit Tigers.20 Zeller arranged to have Walker report to Evansville, Indiana, where the Tigers conducted spring training due to wartime travel restrictions.  Walker's return to the field in the city where he had experienced success 15 years earlier in the Three-I League stirred his emotions.  Despite wearing a brace on his right knee, Walker impressed Tigers manager Steve O'Neill enough to have Zeller purchase his contract. Back in the big leagues after an eight-year absence, Walker was used primarily as a pinch-hitter and late-inning replacement outfielder, though he did make two early-season starts. More importantly, he was thrust into the Tigers' tension-filled pennant race with the Washington Senators.
The final seven weeks of the 1945 baseball season were surely some of the most emotionally draining ones in Walker's life. Batting just .092 (2-for-22), he was optioned to the Buffalo Bisons in late August. It appeared as though Walker's big-league career was over; but even worse, the timing evoked memories of 1935 when he was demoted and lost a chance to play in a World Series. He batted .323 in limited action in Buffalo and was unexpectedly recalled during the last week of the season. On September 30 the Tigers clinched the pennant on the final day of the season, and Hub Walker contributed with a pinch-hit single.
The Tigers assumed that Walker was ineligible to play in the World Series against the Chicago Cubs because he had been recalled well after the September 1 postseason roster deadline. Furthermore the team reckoned that Walker (because he participated in spring training and was on their Opening Day roster) would not be covered by an exemption allowing returning servicemen to join their teams at any point in the season and still be eligible to play in the World Series. But just days before the Series began, Commissioner Happy Chandler surprisingly declared Walker eligible, noting, "(O)ne more or less [player] in the series would not matter."21 After an unsuccessful pinch-hit appearance in Game Three, Walker kick-started the Tigers' game-tying comeback in the eighth inning of Game Six when he pinch-hit for pitcher Al Benton.  With the Tigers down 7-3, Walker hit a screeching liner off Hank Wyse that went through the legs of first baseman Phil Cavaretta and rolled to the right-field wall for double. Walker later scored on Eddie Mayo's single, but the Tigers ultimately lost the game in the 12th inning. In Game Seven Hal Newhouser pitched a complete game and defeated the Cubs, giving the Tigers their second World Series championship.
Basking in the glory of a championship, Walker announced his retirement from baseball. He and his wife, Simone, continued living in suburban Detroit, where Hub sold automobiles. He remained close to the Tigers, participating in occasional old-timer's games and reunions, and maintained friendships with a number of Tigers players, including Newhouser and Dizzy Trout, who joined him on hunting trips. But by the early 1960s the Walkers had relocated to San Jose, California, where Hub continued working in sales.
Hub Walker died at the age of 76 on November 26, 1982, in O'Connor Hospital in San Jose. The cause of death was organic brain syndrome and pneumonia.  He was buried in the Santa Clara Mission Cemetery.
Sources
Newspapers
Hattiesburg (Mississippi) American
New York Times
The Sporting News
Online sources
Ancestry.com
BaseballLibrary.com
Baseball-Reference.com
Retrosheet.com
SABR.org
Other
Hub Walker player file, Baseball Hall of Fame, Cooperstown, New York.
Notes
1 "Hubby Walker On Most Thrilling Game," Hattiesburg American, December 19, 1935, 6.
2 Hattiesburg American, February 11, 1927, 3.
3 Hattiesburg American, November 12, 1926, 13.
4 Ibid.
5 "Finding 'Schoolboy' Rowe's Come Easy to Scout Goosetree." Winnipeg Free Press, August 31, 1934, 16.
6 Hattiesburg American, September 7, 1929, 3.
7 "Hubby Walker Leads Three-I Club Hitters," Hattiesburg American, May 6, 1930, 6.
8 "Hubby Walker Pounding Potatoes for Evansville in Three-I Loop," Hattiesburg American, June 10, 1930, 6.
9 Hattiesburg American, December 4, 1930, 7.
10 "Detroit Sportswriter Sings Praises of Hubby Walker, Who, He Says, Is Sure to Be Regular," Hattiesburg American, April 26, 1931, 6.
11 "Walker Boys Set Major Mark As First Brothers Going Up Together for the Same Club," Hattiesburg American, January 13, 1931, 7.
12 United Press, "Hub Walker and Marvin Owen Are Best Tigers Rookies," Evening Times (Manitowoc, Wisconsin), July 17, 1931, 1.
13 "Veteran of Diamond Lauds Hubby Walker for his Work," Hattiesburg American, February 23, 1932, 6.
14 "Hubby Walker, Flashing Old Form in Training, to Return to Majors Soon," Hattiesburg American, April 6, 1934, 2.
15 The Sporting News, October 18, 1934, 7.
16 The Sporting News, July 11, 1935, 1.
17 Ibid.
18 Associated Press, "Minor League Swapping Makes or Breaks 1936 Pennant Hopes," Daily Messenger (Canadaigua, New York), November 23, 1936, 6.
19 The Sporting News, August 3, 1939, 2.
20 Sam Greene, "Hub Walker, Released by Navy, Tries Hornpipe With Tigers," [unattributed and undated article], Walker's Hall of Fame file.
21 Unattributed article, Walker's Hall of Fame file.
Born
August 17, 1906 at Gulfport, MS (USA)
Died
November 26, 1982 at San Jose, CA (USA)
If you can help us improve this player's biography, contact us.
http://sabr.org/sites/default/files/HubWalker.JPG
600
800
admin
/wp-content/uploads/2020/02/sabr_logo.png
admin
2012-01-04 20:19:50
2020-10-09 08:14:56
Hub Walker