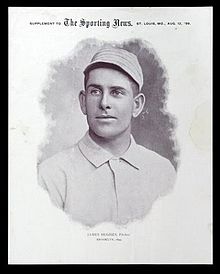 ---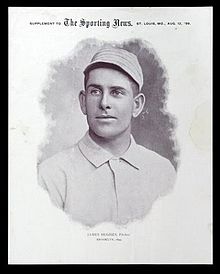 A tall right-hander, Jay Hughes was the best of the turn-of-the-century pitchers whose major-league careers were disjointed or abbreviated by a preference for playing in their native California. A lifelong Sacramento resident, Hughes was arguably the dominant hurler in the 1899 National League, leading the circuit in victories (28) and winning percentage (.824) while hurling for the league champion Brooklyn Superbas. The following year, Hughes chose to remain home and pitch in the California League. He returned to Brooklyn and posted good numbers in 1901-1902, only to abandon the majors once again and spend the remainder of his playing career on the West Coast. Looking back over time, his exceptional four-season major-league record (83-40, .675) suggests that perhaps only declination to cross the Continental Divide stood between Hughes and an eventual plaque in Cooperstown.
Known throughout his life as Jay, James H. Hughes was born in Sacramento on January 22, 1874.1 Family history is sketchy, but genealogical research recently done by baseball historian Bruce Allardice suggests that Jay was most likely the son of laborer-turned-plumber John Edward Joseph Hughes (born about 1847), and his wife, the former Margaret Ann Kehoe (1848-1887), both Irish immigrants. The only identifiable member of his family is older brother Buck (John Edward) Hughes (1869-1908), a prominent California independent club and minor-league ballplayer during the 1890s and a sometimes-teammate of Jay.2 Similarly, nothing is known about the extent of Jay's schooling. But his literacy suggests that he attained at least some elementary-school education.
As a youngster, Jay was something of a neighborhood thug. Several weeks after he reportedly stabbed a local youth named Dawson, Hughes and an accomplice were arrested and jailed for burglarizing the residence of tenants of his grandmother Julia Kehoe. He evidently straightened out and by the time he reached his late teens, Hughes made his living as a saddle maker, and spent his free time on the baseball diamond.3 Like countless others, he began playing in city sandlots and then graduated to local amateur clubs. Then a pitcher-outfielder, Hughes made his professional debut on July 9, 1893, with the Sacramento Senators of the four-team California League.4 As subsequently reported in Sporting Life, "Oakland gave Sacramento a severe drubbing. The home team's defeat was due to the wildness of Hughes, a young Sacramentan who has been playing in the amateur ranks and in whom his friends thought they had a phenomenon. He did not pan out well, and Oakland had a picnic with him."5 And how. In eight innings, Oakland reached the youngster for 16 base hits. Hughes also walked 10, threw two wild pitches, and hit a batter. On the plus side, Jay, always a capable hitter, went 3-for-4 at the plate himself. His name then receded from newsprint.
In 1896, Hughes re-emerged as a member of the Victoria (British Columbia) Clippers of the newly formed New Pacific League.6 Before the short-lived circuit ceased play on June 15, Hughes posted a 3-2 record in six games pitched for Victoria. With California again bereft of Organized Baseball, he returned to being an itinerant pitcher until he latched on with a crack independent club in his hometown, the Sacramento Gilt Edge. By now Hughes had matured physically into a muscular 6-footer,7 and once he got the chance to show his stuff, a proud Sacramento Union proclaimed that "Our Jay" was "undoubtedly the best pitcher in the state."8 When the "star work of Hughes completely mystified" the previously unbeaten Reliance club of Oakland in late August,9 the Gilt Edge was unofficially recognized as the champions of California.10
After capturing the post-1897 season Temple Cup, a Baltimore Orioles squad captained by future Hall of Famer Hughie Jennings and an All-American nine composed of selected major-league players began a fall exhibition game tour. By late November, the barnstormers had reached the West Coast, where they engaged in contests against local opposition. On November 27, the Orioles faced a Sacramento club that featured the Hughes brothers, pitcher Jay and infielder Buck (or Ed, as he was also called).11 Nine innings later, the major leaguers were impressed, having been held to a mere five hits and no earned runs in a 4-3 setback to the Sacramentans. Immediately after the game, Jennings wired Orioles manager Ned Hanlon a rave review of the young pitcher he had just faced. Acting upon Hanlon's instructions, Jennings subsequently signed Hughes to a Baltimore contract for the 1898 season.12 Once he saw his new hurler in the Orioles camp the following spring, Hanlon was likewise impressed, as Hughes, "a quiet young fellow … showed lots of speed, mixed with a slow ball and a good curve."13
Few pitchers have begun their major-league careers as spectacularly as Jay Hughes. In his debut, on April 18, 1898, he threw a two-hit shutout at the Washington Senators, breezing to a 9-0 victory. Four days later, Hughes managed the near-impossible feat of topping his maiden performance. He no-hit the Boston Beaneaters, the defending National League pennant-winners. 8-0.14 Two weeks later, Hughes nearly did it again, holding the Beaneaters to two hits in a 13-0 whitewash. Obviously, such a pace could not be sustained over an entire season, but Hughes's rookie numbers were nevertheless outstanding. In 38 games, he went 23-12 (.657), with a 3.20 ERA in 300⅔ innings pitched and finished with five shutouts. But with foul balls and tips not yet counted as strikes, he fanned only 81 while allowing 100 walks and hitting 18 enemy batsmen. Jay also played 15 games in the Orioles outfield and batted .226 (with 2 home runs and 20 RBIs), overall. He then returned to Sacramento to play some early winter ball, including a benefit game for his brother Buck, whose playing career had recently been ended by rheumatism.15
During the offseason, the owners of the Baltimore and Brooklyn clubs syndicated their franchises, with Orioles manager/co-owner Hanlon transferring to Brooklyn. The cream of the Baltimore roster, including Jay Hughes, soon followed.16 With the team renamed the Superbas in his honor, Hanlon led the Brooklyn club to an outstanding 101-47 (.682) record and a comfortable 1899 National League pennant.17 In only his second big-league season, Hughes was probably the best pitcher in baseball. His 28 victories tied Baltimore newcomer Joe McGinnity for the NL lead, while his .824 winning percentage was easily the league best. He also placed among league leaders in hits allowed per game (7.71, 2nd), ERA (2.68, 5th), and strikeouts (99, 9th), but registered top-ten in negative categories, as well (119 walks, 6th,, and nine wild pitches, 9th). Notwithstanding the need to improve his control, the soon to be 26-year-old Jay Hughes appeared perched on the cusp of pitching greatness. Sadly, he would not achieve it. Domestic, economic, and geographical priorities quickly supplanted major-league baseball in Hughes's life.
With no postseason championship-type play on tap for Brooklyn, Hughes set out for Sacramento, arriving home just in time to rescue the Hughes family residence from foreclosure. Jay burst in while a sheriff's sale was in progress and satisfied the $1,750 mortgage balance on the spot.18 As he later recounted, the train ride from the East Coast was agonizingly slow and "when I finally reached my home, the bidding was already going on. I pushed myself through the crowd and before another bid could be offered, I stopped the sale and paid off the mortgage," much to the applause of the assemblage.19
As he had during previous offseasons, Hughes spent the winter making saddles, harnesses, and other equine equipment.20 But his aspiration was to own and operate a tavern. This played nicely into the hands of the owners of the Sacramento Brewers (nee Gilt Edge), the defending champions of a newly reorganized California League. With civic-minded locals supplementing the club's salary proposal, Sacramento endeavored to match whatever Brooklyn manager Hanlon was offering Hughes. And they would provide the young Sacramentan with financial backing for his local business hopes, as well. Hanlon did not treat the threat lightly. When Baltimore Orioles field boss two seasons earlier, he had lost 24-game winner (and native San Franciscan) Joe Corbett to West Coast baseball. And Doc McJames, a 19-game winner for Brooklyn in 1899, had already informed Hanlon of his intent to abandon the club in order to start his medical practice. Hanlon was also without recourse to the National Commission, as the California League was not a party to the National Agreement and thus not obliged to recognize Brooklyn's reservation of Hughes for the 1900 season.21 Hanlon's only option was to raise the Brooklyn offer to Hughes until it had grown to a reported $2,600, plus $300 reimbursement for travel expenses.22
Enter Mary Waters, a 22-year-old Sacramento resident and, like Hughes, the offspring of Irish immigrants and Catholic. She was also likely carrying Jay's child. The two were quietly married in the rectory of an unidentified city parish on April 4, 1900, further reducing the Brooklyn chances of retaining its staff ace, as relocating 3,000-plus miles away held little appeal for Mary Hughes. Given attachment to his hometown, California weather, local business prospects, a pregnant wife, and, most of all, a competitive salary offer from the Sacramento ballclub, Hughes rejected Brooklyn and cast his lot with the Brewers.23
Hughes more than met hometown expectations. Despite a midseason sore arm, he went 23-9, with a circuit-leading .719 winning percentage, as the Sacramento Brewers (50-35) captured the 1900 California League pennant.24 But the Hughes tavern venture had not succeeded, and the arrival of twins in November25 necessitated finding a more reliable source of family income. Early in 1901, it was reported that Hughes was negotiating with former Orioles teammate John McGraw, now player-manager of the Baltimore club in the upstart major American League.26 But with all forgiven by Ned Hanlon, Hughes was eventually welcomed back to Brooklyn for the 1901 season.27
Only 27, Jay was still a fine pitcher, and early in the campaign Brooklyn sportswriter John B. Foster reported that he was "in top form and pitching with the same quizzical smile as before."28 But he suffered intermittent arm miseries and was no longer the dominator of two seasons earlier. In time, Hughes settled in as third man in the Superbas rotation behind staff leaders Bill Donovan (25-15) and Frank Kitson (19-11).29 In 31 appearances, Jay posted a 17-12 mark, with a 3.27 ERA in 250⅔ innings-pitched, for a third-place (79-57) finisher.
Late in the 1901 campaign, Hanlon and club co-owner Charles Ebbets had publicly denied a rumor that Hughes was about to be released,30 but the following spring it was reported, ominously, that "Hughes was not in good shape last year,"31 often sportswriter code language for a player having a drinking problem. Whatever the situation, Brooklyn re-signed Hughes for the 1902 season, squelching widespread report that the hurler was poised to jump to Baltimore.32 Much like the previous season, Hughes was nagged by injury (this time, a pulled muscle in his side) and still only the club's number three starter. But he turned in first-rate numbers: 15-10, with a 2.87 ERA in 245 innings pitched for the runner-up (75-63) 1902 Brooklyn Superbas.
With 15-game winner Doc Newton bolting the Brooklyn club for the new Pacific Coast League, it seems likely that Hanlon and Ebbets wanted Hughes back for the 1903 campaign. Jay, however, chose to sign with the Seattle entry in the fledgling West Coast circuit,33 bringing his four-season major-league career to a premature end. In 134 games, he had gone a sparkling 83-40 (.675), with a 3.00 ERA in 1,088 innings pitched. Largely without benefit of the foul ball-strike rule,34 his strikeouts total (368) did not quite top his walks (372), but a stingy .245 opponents' batting average attested to the quality of Hughes's stuff.
Any lingering questions about the condition of Hughes's pitching arm were dispelled in the new season. Pitching for a mediocre Seattle Siwashes team over the course of a grueling 210-game schedule, Hughes exhibited the dominance of old. He posted a 34-15 (.694) record, with a 2.35 ERA in a staggering 444⅔ innings pitched. Doubtless to Ned Hanlon's chagrin, fellow Brooklyn alumnus Doc Newton (Los Angeles) one-upped Hughes's 34-win total, while one-time Hanlon charge Joe Corbett (also with Los Angeles) led the PCL in strikeouts (196).35
With his club sliding into also-ran status, Hanlon tried to lure Hughes back to the Superbas. But as before, salary negotiations between the Brooklyn skipper and the tough-minded hurler proved arduous and ultimately bore no fruit.36 Hughes then returned to Seattle and turned in another standout season: 26-18, with a 2.66 ERA in 389 innings pitched for the middle-of-the pack (115-105) Siwashes. With seven campaigns under his belt, Hughes's professional record now stood at a gaudy 166-82 (.677). Only 31 and with his arm showing little sign of wearing down, Jay looked as if he could continue on indefinitely. But as it turned out, only one more victory would be added to his résumé.
The immediate cause of the stall-out in Hughes's career numbers was a clash of wills between the pitcher and Seattle club boss Walter McCredie. The two haggled over a 1905 salary cut proposed by McCredie until Jay staged one of his by-now-familiar spring holdouts. In time, agreement was reached on a $300 or $400/month stipend – accounts vary – but McCredie refused to compensate Hughes for early-season time spent on the sidelines, while Hughes refused to get into uniform until he did.37 While the impasse continued, Hughes pitched for a Lodi (California) semipro club on weekends38 and umpired an occasional local game with his brother Buck.39 The deadlock lasted the entire season, resulting in Hughes not making a single officially recognized game appearance in 1905. Worse yet, the stalemate continued into the following year, with Hughes bound to Seattle by the reserve clause and McCredie declining to let another club sign him without adequate compensation.40
In February 1906, a PCL rival, the San Francisco Seals, agreed to McCredie's price for Hughes and acquired his contract.41 Two months later, Hughes enjoyed the satisfaction of hurling a six-hit victory against Seattle, 4-2. It was his first outing in some 18 months and, unhappily for Hughes, his last that year. Immediately thereafter, he was disabled by a sore arm.42 Jay made no further appearances for San Francisco that season, and subsequently was dropped by the Seals. Unable to pitch but still wanting to play, Hughes thereafter manned center field for the Sacramento Cordovas of the independent California League until a vision problem compromised his ability to judge fly balls and obliged him to quit.43
San Francisco had retained a reserve clause hold on Hughes and brought him back for a 1907 tryout. But he was hit liberally in a late-May audition against Oakland, with one printed game account declaring that "the former star didn't show so much as a flash of the form that made him famous on Eastern diamonds."44 Soon thereafter, Hughes was unconditionally released by San Francisco.45 At age 33, his professional pitching days were over for good.
The end of Jay Hughes's baseball career seems to have coincided with a downward spiral in his personal fortunes. The death of Buck Hughes in August 1908 was a particularly bitter blow to Jay and deprived him of his longtime mentor.46 Jay also seemed stuck in menial jobs (wagon driver, gardener, state-house security guard, bartender) that did not adequately support a family that had grown by two more children.47 In time, his marriage also went bad, with Mary Hughes filing for divorce in 1915.48 In the early 1920s, newsprint was occasionally devoted to the budding pro career of slugging first baseman Jay Hughes Jr.,49 but our subject was estranged from his older son, as well. By then, Hughes was divorced and living as a boarder on a ranch outside Sacramento.50
On June 2, 1924, his landlord gave Jay a ride into town, ostensibly so that he could see a show. Hours later, a passing taxicab driver discovered his cold and lifeless body lying at the bottom of a steep railroad trestle. Jay Hughes was 50. An autopsy revealed that Hughes had suffered a life-ending fractured skull, most likely inflicted by a fall from the trestle. After a brief investigation, police officials pronounced the death accidental rather than the result of foul play or suicide.51 Because no toxicology examination was ordered, the role of alcohol, if any, in the deceased's fatal mishap could not be determined.52 A once-accomplished but ultimately sad life was closed by interment of the remains of James H. "Jay" Hughes at St. Joseph Cemetery, Sacramento. He was survived by his ex-wife and four children.
Sources
Sources for the biographical information recited herein include the Hughes player file maintained at the Giamatti Research Center, National Baseball Hall of Fame and Museum, Cooperstown, New York; the bio of Jay Hughes published in Major League Profiles, 1871-1900, Vol. I, David Nemec, ed. (Lincoln: University of Nebraska Press, 2011); US Census data, Sacramento city directory listings, and Hughes family posts accessed via Ancestry.com; and certain of the newspaper articles cited below. Unless otherwise noted, stats have been taken from Baseball-Reference.
Acknowledgments
This biography was reviewed by Len Levin and fact-checked by Alan Cohen.
Notes
Born
January 22, 1874 at Sacramento, CA (USA)
Died
June 2, 1924 at Sacramento, CA (USA)
If you can help us improve this player's biography, contact us.
https://sabr.org/sites/default/files/HughesJay.jpg
600
800
admin
/wp-content/uploads/2020/02/sabr_logo.png
admin
2017-05-08 00:25:39
2017-05-08 00:25:39
Jay Hughes