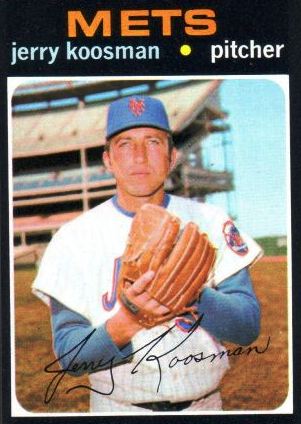 ---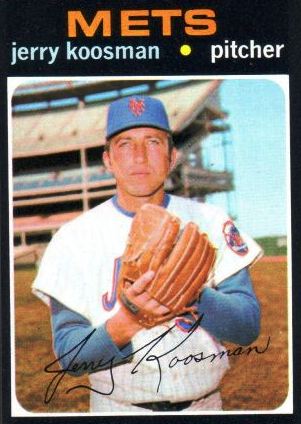 It has become almost legend, though in reality there are a few different versions of the story: In March of 1966, three New York Mets farmhands, all going by the name of Jerry, set out from Atlanta on their way to minor league training camp in Homestead, Florida. Jerry Johnson sat between the driver, Jerry Wild, and the car's owner, who was fast asleep in the passenger seat. While motoring through Athens, Georgia, they were blind-sided by a woman rushing back from her lunch break. The Jerrys' car was ruined. Suddenly stranded far from their destination, the three pitchers needed a ride. The owner of the car first called his father, who promised to wire him some money for a new one; then a call went out to Mets farm director Joe McDonald, requesting an additional $50. When the cash arrived, a used car was located and the players continued on toward their baseball careers.
Frankly, the player who had called McDonald wasn't performing all that well; a left-hander, he had combined for a 5-13 record at two different stops in 1965. "We didn't think he was much of a prospect," McDonald admitted later. "He threw hard, but he didn't have a breaking ball." However, just as the Mets were on the verge of releasing him, McDonald remembered the $50 loan. He decided he'd take the money out of the player's paycheck, then let the lefty go once the debt was paid. But thanks to a new pitch learned that winter, and markedly better results on the mound, the Mets decided they'd let him stay.
And on a crisp fall afternoon in October 1969, when a Davey Johnson fly ball landed softly in the glove of Cleon Jones, the lefty on the mound turned in delight and jumped into the arms of catcher Jerry Grote. The Mets' decision to keep him had paid off, and in return, Jerry Koosman had helped lead the New York Mets to one of the biggest upsets in World Series history.
Jerome Martin Koosman was born on December 23, 1942, in Appleton, Minnesota. Though some contemporary baseball records listed his birth year as '43, Koosman later admitted he had fudged his age the first time he lined up on the field after being signed by the Mets. "When the guy next to me said he was 22, they told him he was too old. So I said I was 21."
Koosman's father, Martin, was a farmer, raising livestock and growing crops. His mother, Lydia, raised four children. Along with Jerome were his two brothers, Elton and Orville, and a sister, Violet. There were farm duties: cleaning barns, repairing fences, and even driving the huge tractor, but Jerry and Orville found time to balance their chores and schoolwork with their other interests: ice fishing on the lake and playing baseball in the hayloft, where they alternated between pitching and catching.
Soon, the younger Koosman's talent became known around the area and by the time he was 13, Jerome began the local tour, pitching in beer leagues, for semipro teams, and in American Legion ball, sometimes facing batters twice his age. After high school, he attended the Morris branch of the University of Minnesota, but the school had no baseball team. He transferred to the State School of Science in Wahpeton, North Dakota, but he was ineligible to play there, as he was a transfer student. While debating whether to go to school for engineering, Jerome was drafted into the Army in 1962.
After basic training, Koosman was stationed at Pere Marquette State National Park in Grafton, Illinois, but with no baseball facilities to speak of there either, he became disillusioned. His dentist, however, happened to be a commanding major general of the Minnesota National Guard (and also the guy who first started calling him Jerry instead of Jerome), and Koosman asked for help in getting transferred to a place where he could play ball.
Figuring that transfer would never come through, Jerry took the officer's candidate test; he had always wanted to fly and hoped he could train in helicopters. He passed the test, but while he awaited his new orders, Jerry's transfer came through and he was ordered to Fort Bliss in El Paso, Texas, to play baseball. Upon his arrival, he was sent to see the commanding officer, who immediately chewed him out for not getting there through the proper chain of command.
He was then handed off to PFC Pete Peters, who grabbed a catcher's mitt and had Koosman throw to him. After just a dozen pitches, Peters had seen enough. "You're starting," he said. In later years, Koosman said that if not for his dentist, he might have become a helicopter pilot and could have found himself flying a chopper in Vietnam. "Most of those guys didn't come back. I was two weeks from having my destiny changed."
At 6-foot-2 and 210 pounds, Jerry was already throwing hard. While he was at Fort Bliss, his catcher was Queens native John Luchese, whose father was an usher at Shea Stadium, the brand-new facility of the New York Mets. Luchese wrote home about the left-hander and his father passed it on to Joe McDonald. Acting on the tip, McDonald sent Mets scout Red Murff to see Koosman in person. Murff waited three days for Jerry to start. When he finally pitched, the southpaw fanned a dozen and Murff offered him a $2,000 bonus. But a few ex-players who had seen Jerry pitch in camp told the young lefty that his arm was worth much more than that, so Koosman turned down the contract. Murff returned to watch him again, then offered him only $1,900. When it got down to $1,600, Koosman signed, on August 27, 1964. "I figured I'd better take it or I'd owe them money!" he joked later.
Koosman's 1965 season was far from memorable: Along with a 5-11 record at Greenville in the Western Carolinas League, he had a 4.71 ERA (though he did pile up 128 strikeouts), then lost both his starts after being promoted to Williamsport, Pennsylvania, of the Double-A Eastern League. It was at this point that the Mets considered releasing him — until McDonald remembered his $50, and it was here that fate intervened once more. Following in the wake of his dentist, a well-connected usher at Shea Stadium, and then Red Murff, Koosman crossed paths with ex-major leaguer Frank Lary, who'd become a pitching instructor in the Mets system. Lary cemented Koosman's future in baseball with a simple step: He taught the lefty the slider.
"I caught on to it right away," said Koosman, and Lary believed his protégé's command of the new pitch to be so proficient that he suggested the Mets give Koosman another chance. Clyde McCullough, manager at Class A Auburn of the New York-Penn League, took on Koosman, but once again the young lefty made a bad first impression. Oversleeping the night before he was to report, Koosman missed his plane and showed up late the first day. He was immediately in McCullough's doghouse, sitting on the bench and participating in strenuous workouts for almost a month before finally getting into a game. Once he stepped on the field, however, impressions changed. Koosman led the league in 1966 with a 1.38 ERA, collecting 174 strikeouts. The following spring, he joined the Mets.
Koosman's first appearance in a big league uniform was in Philadelphia on April 14, 1967. He relieved starter Jack Fisher and threw 2 2/3 innings, striking out two, walking two, and not allowing a hit. But after the season's first 30 days, the Mets had to cut three players, and Jerry was sent to Jacksonville, along with Greg Goossen and Larry Stahl.
Though his record was just 11-10 in Triple-A Jacksonville, Koosman led the International League with 183 strikeouts, allowing just 137 hits in 178 innings. He was called back to the Mets on September 1. In nine total appearances, including three starts, Koosman ended his first year in the majors at 0-2, with a 6.04 ERA over 22 1/3 innings.
Despite those numbers, Koosman made the starting rotation in New York the following spring under a new manager. Gil Hodges had been hired after Wes Westrum's departure in the final week and a half of the '67 season. Westrum had been "very kind to me," Koosman said of his previous manager, "so I was pretty downhearted when he got released." Anticipating a strong disciplinarian in Hodges, Koosman and many of his teammates were pleasantly surprised to find that the former Dodgers star was, at first, happy-go-lucky. "We had a lot of fun … but once he had his own club put together and knew the personalities, he became strict … [but] I doubt we would have won it with another manager. He was perfect for us."
Koosman was slated to make the first start of what became a brilliant rookie season in San Francisco, but Martin Luther King, Jr. had been assassinated the week before and the major leagues canceled the entire day's schedule. Koosman was pushed back to open a series in Los Angeles on April 11, and he responded by beating the Dodgers on four hits in a 4-0 shutout.
Six days later, he started the home opener against San Francisco and began by loading the bases with nobody out. He then struck out Willie Mays looking, got left fielder Jim Ray Hart to foul out, and fanned catcher Jack Hiatt, on his way to another shutout.
Right fielder Ron Swoboda remembered the bases loaded sequence vividly. "What a display. … I was thinking, 'Oh (expletive), we're in trouble.' Four, five, six were up … and Koosman retired all three of them, and in a hurry it became, 'Oh, (expletive), they're in trouble.'" The seven-hit, 3-0 masterpiece was the first home opening victory in the seven-year history of the New York Mets.
With back-to-back shutouts under his belt, Koosman cemented himself as the Mets' number two starter behind future Hall of Famer Tom Seaver. Swoboda said this arrangement made the lefty's job even harder. "Koosman got a lot of the tough matchups. … Why would you burn your number one guy against the other team's number one? Koosman was number two, and he got some of the tougher matchups." Swoboda also marveled at the lefty's dominance. "He could get that fastball in on right-handers. … Boy, you talk about eat them up! … His stuff was every bit as good as Seaver's."
Meanwhile, the Mets were learning about Koosman's makeup on the mound. Jerry Grote was a gritty catcher whose reputation had already been established. "If you didn't throw the ball where you were supposed to … Jerry had such a great arm that from a squatting position he could throw the ball back at you as hard as you threw it up there," Koosman recalled. "He could handcuff you right in front of your belt buckle. He used to do this to [Mets right-hander] Jim McAndrew a lot. McAndrew would never challenge the hitters … so Grote kept firing it back and handcuffing him in front of his belt buckle, and we would kind of laugh about it." During a game in New York, however, Grote fired one back at Koosman; utilizing the calm demeanor he had already learned from his manager Hodges, the big lefty called his catcher out to the mound.
"I told him, 'Grotes, if you throw the ball back at me one more time like that I'm going to break your [freakin'] neck.' … He never threw it back at me [hard] again. We always had respect for each other after that."
At midseason of '68, Koosman—along with Grote and Seaver—made the NL All-Star team. Koosman struck out Carl Yastrzemksi for the final out and the save in the 1-0 win. He was used to pitching with a razor-thin margin since he and the rest of the Mets pitching staff had to deal with their team's offense, or, to be more precise, their lack of it, on a daily basis. "Our feeling was this," Koosman said. "If you got four runs, it was a laugher. If you got three runs, you'd win. If you got two runs, you had to win half your games, and some of them you should win one to nothing. We just knew we'd have to win with one, two, or three runs."
By year's end, Koosman had met the challenge. Even in what was known as "The Year of the Pitcher" because of the dominance of pitching, Koosman's year could compare with that of almost anyone in the National League. He completed his first full major-league season at 19-12 with a dazzling 2.08 ERA and 178 K's; the wins, ERA, and his seven shutouts broke club records. Koosman defeated every team in the league at least once and came up just short of the NL Rookie of the Year Award, losing out to Reds catcher Johnny Bench by a single vote, the closest tally to that time.
The Mets had reasons for hope for the first time after seven seasons of existence. They had their staff of the future with Seaver, Koosman, and young fireballer Nolan Ryan. Highly touted Gary Gentry was ready to start the year in the rotation. Still, no one could have expected what was to come.
The Mets entered '69 amid a player boycott, offensive personnel who hadn't changed much, and a manager experiencing health problems. (Hodges had to give up smoking and drop 24 pounds before doctors would allow him to manage again following a mild heart attack suffered during a game near the end of the '68 season.) And even with the National League having split into divisions, the Mets were saddled with the two-time defending league champion Cardinals, a powerful Pirates team, and a Cubs squad with enough talent to run away with the division. "The Cubs had an excellent ballclub, just top-notch," said Koosman. "Leo Durocher was a manager who tried to intimidate umpires, and it became a great rivalry."
The Cub who annoyed the Mets the most was third baseman Ron Santo, who would jump and click his heels after every home victory. "The fans in Chicago loved that act but it wasn't professional," said Mets coach Joe Pignatano. "You don't show up the other team."
Games between the clubs became instant classics, including one at Shea on July 9, when Durocher started outfielder Jimmy Qualls, appearing in only his 18th major league contest. Qualls broke up Tom Seaver's perfect game with one out in the ninth inning, the closest any Met ever came of throwing a no-hitter until 2012, when Johan Santana did so at Citi Field.
By the time the Cubs returned to New York in early September, a Chicago lead over the Mets that had been as large as 10 games in August had dwindled to 2½, and Koosman found himself matched up against righty Bill Hands on a cold night at Shea. In the bottom of the first, Durocher called for a knockdown pitch of Mets leadoff hitter Tommie Agee; Hands complied, throwing his first delivery right at Agee's head. Koosman's teammates, however, knew their starter had their backs. "Hands was a sinker/slider pitcher," remembered Swoboda. "Jerry Koosman threw a 90-plus fastball, and when he hit you, you stayed hit…And Koosie would hit ya." When the Cubs came to bat in the second inning, Santo came up and Koosman drilled him. "No one moved," said Swoboda. "I think it scared the living (expletive) out of them."
Nobody had to tell Koosman what to do. "Hodges didn't say a word. It's just something you learn. It's how the game is played. … I was telling them, 'Here's what happens if you throw at my hitters." But when Jerry came up for his second at-bat, Hands threw at his head. Koosman cursed at him. "You don't throw the ball hard enough to hurt anybody," he shouted. "And he threw at me three more times!"
The Mets won the game and the series, which included a controversial Agee slide under Randy Hundley's tag at the plate, a handkerchief-waving throng at Shea chanting "Goodbye, Leo," and a black cat that cut in front of the Chicago dugout on its dash around the field.
By the time the Cubs left New York, they led the Mets by a mere half-game. But it was the pitch that hit Santo that most of the Mets remembered. "After that nobody would intimidate us," recalled Pignatano. "I don't think Santo clicked his heels after that."
And after a doubleheader sweep of the Montreal Expos on September 10, the Mets took control of first place, never to relinquish it. The startling accomplishments continued. On September 12, Koosman and righty Don Cardwell were the Mets starters in a doubleheader in Pittsburgh; both games ended 1-0 with each pitcher driving in the only run of his win. (It was Koosman's only RBI of the season.) Three nights later in St. Louis, Steve Carlton struck out 19 Mets, but Swoboda hit two two-run homers in a 4-3 win. And finally, at Shea Stadium on September 24, rookie Gary Gentry threw a four-hitter against Carlton and the Mets beat the Cardinals, 6-0, to clinch the first NL East Division championship in history.
The Mets finished the '69 season with a record of 100-62. The pitching staff threw a league-leading 28 team shutouts, including six by Koosman, who ended the season at 17-9 with a 2.28 ERA, 180 strikeouts, and a second All-Star appearance. He struck out 15 San Diego Padres in 10 innings on May 28 and piled up 23 consecutive scoreless innings in June. He won eight of his final nine decisions.
In the inaugural NLCS, however, Mets pitching wasn't nearly as effective. This time the hitting picked them up. Koosman had a 9-1 lead in the fifth inning of Game Two, but he gave up six runs on seven hits in 4 2/3 innings before Hodges removed him. "The worst beating I ever took," he declared in an interview in 2008. Nonetheless, the Mets won the game, 11-6, and went on to sweep the Atlanta Braves and advance to their first World Series. "We were so elated," said Koosman. "I just wish it had happened later in my career, so I'd remember it more."
As it turned out, the 1969 World Series provided a lifetime of memories. The Mets were heavy underdogs to the Baltimore Orioles, Seaver lost the opener in Baltimore, 4-1, and it was up to Koosman to even the Series against lefty Dave McNally. "My goal from when I was 16 years old was to pitch a perfect game in the World Series," remembered Koosman. He came close, entering the seventh inning up 1-0, having allowed but one baserunner. Paul Blair finally got the first Baltimore hit ("I shook off Grote and Blair hit a curveball"), stole second, and scored on a Brooks Robinson single to tie the game.
But light-hitting infielder Al Weis singled in the go-ahead run for the Mets in the ninth with Koosman waiting on deck. Kooz got the first two outs in the bottom of the inning, before walking Frank Robinson and Boog Powell. Hodges brought in righty reliever Ron Taylor to get the last out and the Mets had tied the Series.
Back at Shea, they won Games Three and Four behind Seaver and Gentry (along with Nolan Ryan in relief). There were remarkable plays from Agee and Swoboda, plus an errant throw that hit baserunner J.C. Martin's wrist to bring in the winning run in Game Four and set up the potential clincher. Jerry Koosman was set to start Game Five.
He paced the bullpen, afraid to overwork before the game started. When it did, he gave up a two-run home run to his opposite number, McNally, then a solo shot to Frank Robinson. Both came in the third inning, but Koosman wasn't fazed. "Let's score some runs, boys," he declared in the dugout. "They will not get another run off of me." They didn't. The Mets scored five of their own, with home runs from Weis and Donn Clendenon keying the offense, along with a little help from shoe polish on a ball that started an unlikely rally.
In the sixth inning, McNally ostensibly hit Cleon Jones in the foot with a pitch. When home-plate umpire Lou DiMuro called it a ball, Gil Hodges brought the baseball back out to the plate and showed a streak of shoe polish to DiMuro, who awarded Cleon first base.
But even that incredible "stroke of luck" can be credited to the Mets ace left-hander.
In a 2008 interview, Koosman went into detail: "(The ball) came to me. I wasn't sitting but a couple of yards from Gil and he says, 'Slide it on your shoe and throw it here,' and I did it. And he took it and he walked out to the umpire with it. And there was shoe polish on the ball. Whether it was mine or Cleon's is debatable. I didn't have time to look (to see if there was shoe polish on it already), it all happened so fast. Hodges was way ahead of me. He was a genius."
Tom Seaver, for one, doesn't sound as sure about it. Shortly before the closing of Shea Stadium—an event both Koosman and Seaver attended—Koosman's old friend and teammate simply said, "Koozy loves to tell stories." So, four decades later, this touchstone moment in Mets history remains a mystical event. What will never change is what happened next.
Donn Clendenon homered to left field on a McNally offspeed pitch to make it a 3-2 game and get the Mets offense rolling. An inning later, Al Weis hit his first-ever home run at Shea to tie the game. Ron Swoboda broke the tie with a double in the eighth and an insurance run scored on an error.
The Mets led 5-3 in the ninth. Koosman remembers it as the toughest inning he ever pitched, thanks to the noise at Shea and his own nervousness. "You couldn't hear yourself think," he said. "I couldn't control the ball anymore. … I was so nervous and excited. … I was just trying to throw it down the middle."
Relying exclusively on his fastball, Koosman walked Frank Robinson, but he got Boog Powell to ground into a force play. After Brooks Robinson flied out, second baseman Davey Johnson, who 17 years later would manage the Mets to their only other World Series title, lofted a fly to left. "You couldn't hear the crack of the bat," said Koosman. "I thought it was going to be a home run, but when I turned around and looked at Cleon, I knew right away. … I thought, 'Oh, my God, whatever you do, just don't drop this ball.'" Jones didn't. Koosman jumped into Grote's arms, then fought his way through jubilant Mets fans on his way to the dugout. "I remember stepping on the side of one guy's leg and just tore his leg up with my spikes."
Once the Mets were inside the clubhouse, emotions were different. Koosman and Grote sat in front of the catcher's locker with a few other teammates, just looking at each other. "We were so choked up with emotion we couldn't talk." Koosman had posted a 2-0 record in the World Series, with a 2.04 ERA and just seven hits allowed in 17 2/3 innings. It capped off a remarkable season.
Coach Joe Pignatano assessed the situation as others would not: "I think Koosman was a better big-game pitcher for us that year than Seaver."
But what no one talked about was how the star southpaw had pitched much of the season in pain. There was an accident with a pan of boiling butter while making popcorn during a team baby-sitting night at his apartment; he had burned the skin off the index and middle fingers of his pitching hand. And in April, while facing the Expos on a cold night in Montreal, Koosman felt his arm go numb in the fifth inning. "Grote came out to see what was wrong and I told him I had no feeling in my arm," recalled Koosman. Hodges took him out of the game, then sent him back to New York. X-rays were negative, but while being examined, the doctor put some pressure on Koosman's teres minor muscle, part of the rotator cuff, that sent him flying off the table. It turned out to be a major knot in the muscle, requiring long, painful massages to work it out. He missed almost a month. Additionally, Koosman had almost as much trouble with his feet as with his left arm—bone spurs in his heel forced him to wear shoe cushions and subsequently he began to favor one leg over the other.
"People didn't realize the physical problems the guy had," said Swoboda. "He was a wreck. His arm hurt all the time, and he pitched the entire season in pain. I would see all that and he never complained, and I just admired the hell out of him."
Entering the 1970 season, the historically cellar-dwelling Mets were now defending world champs. It became obvious, however, that they were no match for the Pittsburgh Lumber Company, or the Big Red Machine in Cincinnati. The Mets ended the season (along with the next two) with a third-place finish.
The 1970 season was another painful year for Koosman as well: While running in the outfield in Cincinnati during batting practice on June 7, and despite Ron Taylor's warning shouts, Koosman was hit in the mouth with a line drive off the bat of Gentry. The shot broke Koosman's upper left jaw and drove at least five teeth back into his mouth. Unconscious for few seconds, Koosman woke up on his hands and knees, "bleeding like a stuck hog." He had to push the teeth back into position. His jaw was wired shut for six weeks and he was ordered by Hodges to keep his weight up with caloric liquids for the duration. "Milkshakes," says Koosman, "and he made me drink a beer every game while I was on the bench. In six weeks, I only lost three pounds!"
Despite missing additional starts with tightness in his forearm, he ended his injury-plagued season at 12-7, his 3.14 ERA good for fifth in the NL. In 1971, his ERA dropped to 3.04, despite his being five games under .500. But it was another season of missed time for Koosman. Pitching in the cold, he felt a rhomboid muscle in his upper back tear during a 10-inning start in windy San Francisco. He spent time on the disabled list once again, but he observed that this particular injury made him a control pitcher, forcing him to pitch more carefully while waiting for the adhesions to tear.
Spring 1972 saw the untimely death of Gil Hodges. It was April 2 and Koosman was the only Met who had stayed behind at training camp while the rest of the team flew north, wondering if the start of the season would be lost to a player strike. Having no one to throw with, Koosman happened to meet Mick Tingelhoff at the hotel pool and the Minnesota Vikings center, a catcher in high school, offered to help. Afterward, while Koosman was showering, he heard sirens; when he rushed to the lobby, New York sportswriter Red Foley told him Hodges had been taken away in an ambulance and the two hurried to the hospital, where various Mets personnel were standing over the bed. "How's Gil?" he asked. "Gil's dead," pitching coach Rube Walker told him. Two days before his 48th birthday, Hodges had died from a massive heart attack after playing golf with his coaches.
"It was like a stone fell and hit your heart," said Koosman. "I don't even remember what happened after that. I don't remember too much about the funeral. We were all still in shock." Along with much of his team, Koosman worried that no one would be able to replace their beloved manager. "Oh, man, it was a huge void. Everybody went through the motions, trying to do what we thought Gil wanted us to do."
The Mets tried their best, naming coach and Yankees legend Yogi Berra to take over as manager. "Those shoes would have been impossible to fill," Koosman said.
Koosman had a rough start to the '72 season. "I literally forgot how to wind up," he remembered. "I used to use a cadence count when I pitched: it was 'one-two-three-four, then pitch,' but I had picked up a lot of bad habits." He had lost his rhythm. After three early season defeats, Berra sent him to the bullpen, both to work out his problems and to utilize the veteran's ability to get warm quickly. Being in the bullpen "was very beneficial," said Koosman. He made 10 relief appearances and picked up his first regular-season save. After returning to the rotation, he won four straight and ended the year at 11-12.
By the middle of the 1973 season, there were rumors that Yogi would be canned. Reliever Tug McGraw succinctly described some of the players' feelings about the differences between the old manager and his replacement. "By the third inning, Gil [Hodges] was thinking about what he was going to do in the sixth; in the sixth, Yogi was thinking about what he should have done in the third." Twice during the season, Berra put in a relief pitcher, then tried to remove him before facing a batter, which is, of course, against the rules. But despite the questions about leadership, the Mets stunned baseball again by coming from last place and 11½ games out on August 5 to capture the division with an 82-79 record, the lowest winning percentage to claim a league title since the founding of the National League in 1876. Koosman, who got the win that clinched at least a tie, remembers the celebration that occurred the next day at Wrigley Field when the Mets won the division. "We couldn't believe we had won it and that nobody else wanted to win it," he said.
Koosman had epitomized his team's up-and-down season, first being named NL Player of the Month for April with a 4-0 record and a 1.06 ERA, then losing 14 of his next 18 decisions including eight of nine; much of it due to a woeful offense. The Mets were shut out three times in those eight losses, and scored three runs or less in seven of them. The lefty's season turned again, however, on August 19, when he began a streak of 31 2/3 scoreless innings, not allowing a run through September 7, a Mets' record that still stood through the 2008 season. The streak included a 10-inning complete-game 1-0 victory over Juan Marichal. Koosman won six of his last seven decisions, ending the season at 14-15 with a 2.84 ERA and 12 complete games.
The Mets' opponents in the best-of-five National League Championship Series were the Cincinnati Reds, and Koosman faced Ross Grimsley with the series tied in what would become an infamous Game Three. "I started it," said Koosman of the fireworks to follow. After getting Pete Rose to pop up on a slow curve, Rose began to curse Koosman from the dugout for throwing off-speed pitches. "I could hear him holler out to me, 'Throw the ball, you big, dumb (freakin') donkey.'" In Rose's next at-bat, Koosman tried to hit him, but Rose singled. Though trailing in the fifth inning, 9-2, Rose barreled into shortstop Bud Harrelson while trying to break up a double play, starting one of the most famous brawls in postseason history.
"You're not going to let them intimidate you," said Koosman. "We were David going against Goliath … and maybe we didn't have the strength that Cincinnati had, but we weren't going to back down…" Koosman ended the day with a complete game and the Mets led the series, two games to one, en route to a five-game victory.
In the World Series, the Mets faced the defending world champion Oakland A's and they entered their second fall classic as heavy underdogs again. After the Mets lost the opener, Koosman started Game Two in Oakland, but he allowed three runs on six hits in just 2 1/3 innings; the Mets rallied, however, for a 12-inning victory. After the teams split Games Three and Four at Shea, Koosman pitched 6 1/3 scoreless innings in Game Five, allowing just three hits. The 2-0 victory put the Mets one win away from their second world championship in five seasons.
At this point, Berra's managing came into question again. Left-hander George Stone had had a great first season for the Mets, going 12-3, but Berra, perhaps reluctant to use his fourth starter on the road in Game Six, instead chose Seaver on three days' rest. The future Hall of Famer pitched well, but the Mets lost, 3-1. Berra then passed over Stone again for Game Seven, going with Jon Matlack, also on short rest.
Koosman was warming up during the final game and felt good. "I had a great fastball. I could hit the corner of a cigarette pack," he recalled. When Matlack got into trouble in the third inning, Koosman asked Rube Walker to tell Yogi he was ready. Berra didn't call. "I never got into that ballgame," said Koosman. "That's the game I remember most, being in the bullpen and just so ready to come in." Home runs by Bert Campaneris and Reggie Jackson spurred the A's to a 5-2 victory and their second of three consecutive world championships.
The Mets were miserable in 1974, posting their worst record in seven seasons, though Koosman went 15-11 with a 3.36 ERA and 188 strikeouts. The next year started slowly as well. The organization had lost many of the executives and coaches who had built two NL champs and Berra was feeling the heat. "Yogi was making moves that didn't sit well with the team," said Koosman. "Gil always said, 'We have one set of rules here.' … Those were Hodges's rules." But under Berra, "If somebody made a mental error …Yogi would say, 'Next time it's gonna cost ya.' And it became a saying, 'Next time it's gonna cost ya.' And you'd get away with it over and over." Berra didn't get away with losing much longer. He was fired in August, replaced first by ex-Met Roy McMillan, then at the start of '76 by career minor league manager Joe Frazier.
The Mets ended 1975 in third place, Koosman going 14-13 with a 3.42 ERA. The impressive ERA on a team barely over .500 was a precursor to his '76 season, an emotional one for Koosman, whose father died on March 30. "I felt the spirit of my dad was on my shoulder the whole year," Koosman said of his intense focus that season. "My cadence count was in perfect rhythm the entire year. I was never, ever able to reach that level of concentration again."
He also appreciated his new manager. "[Frazier] handed me the ball and said, 'Take care of it.' He put more responsibilities on the starters than Yogi did." Koosman rewarded that trust, finishing 1976 with a 21-10 record, a 2.69 ERA, and 200 K's. It was the most wins he accrued over 19 major league seasons, and he finished second to San Diego's Randy Jones in the Cy Young Award voting. "That was my greatest year," he said. The following season, however, was probably his worst.
The 1977 campaign was filled with turbulence, underscored by the infamous "Midnight Massacre" on June 15 when Mets management dealt Seaver to the Reds. "It was a tough thing to see happen," said Koosman of his comrade-in-arms. "We were in Atlanta, and there were a lot of tears shed." It was also the start of the biggest downturn in Mets history since Koosman's arrival. The team's penny-pinching had stripped it of most of its talent. Koosman felt that GM Joe McDonald, who also traded slugger Dave Kingman the same night as Seaver, was making senseless deals. "We were not getting better. We were getting worse. … Every general manager in the league was taking advantage of us. We were competing in the National League with Double-A and Triple-A ballplayers."
The Mets ended the year 34 games under .500, with Koosman a miserable 8-20. It was the most losses he ever endured in a season and made him the last pitcher in major league history to lose 20 after winning 20 the previous season. As was his habit, however, he finished with a decent 3.49 ERA, again highlighting the lack of support from his offense. The 1978 season saw more of the same: 3-15 with a 3.75 ERA, and a repeat performance on September 29, when Koosman once again found himself facing the same Davey Johnson who had made the final out of the 1969 World Series. Pitching in relief, Koosman got him to fly out again—this time, however, it was to right field—and it was Johnson's final at-bat in the major leagues.
But the Mets finished the season in last place. "We had no offense, and terrible defense," said Koosman. And though they were friends, he even had issues with his latest skipper, Joe Torre, whom he called a hitter's manager: "I can remember a few occasions when the score was 0-0 in the fifth, two outs and a runner on second, and I'm coming up to hit, and Torre pinch-hit for me. I said, 'Let me throw a shutout. Maybe we'll score one in the ninth.' He just would not allow me to stay in there long enough."
Koosman's disillusionment with the team's sorry state started him thinking seriously about life after baseball. Issuing an ultimatum to the man whose $50 loan had inadvertently started Koosman on the path to stardom, Kooz gave GM Joe McDonald a list of 10 teams, telling him that if he wasn't traded he'd retire. When nothing happened, he tightened the list to five, then to one: "Either trade me to the Twins or I'm out of here," said Koosman. And on December 8, 1978, the Mets traded Jerry Koosman to Minnesota for Greg Field and a player to be named later: left-hander Jesse Orosco, the reliever who went on to become a vital cog in future Mets successes. And who, in 1986, would join Koosman as the only Mets to ever be on the mound the moment the franchise won a World Series.
"I hated to leave," said Koosman, but he figured if he was going to play for a losing club, it might as well be closer to home. "The front office of the Mets did not want to win, and I just couldn't stomach that." Koosman, however, acknowledged in 2008 that he was just bluffing. "I told them I was going into the air freight business." When asked what he would have done the next season had the Mets not agreed to trade him, he laughs. "I would have been with the Mets!"
Nevertheless, Koosman left New York after 12 seasons, with a deceptive 140-137 record, a 3.09 ERA, 108 complete games, and 26 shutouts. Thanks to the miserable teams at the end of his Mets tenure, Koosman passed Seaver for most losses in franchise history. However, he also ended his Mets career second to the Hall of Famer in team annals in starts, complete games, shutouts, innings pitched, wins, and strikeouts (Dwight Gooden later passed him for second in W's and K's).
"It was sad," he said of leaving the team he had grown up with. "I had my heart and soul and blood in the Mets, and I wanted to do everything I could to make them succeed. But our top form was so short-lived. Only five years, from '69 through '73. … Where did it all go? How could it happen so fast?"
Jerry Koosman began the 1979 season for a team other than the New York Mets for the first time in his career. Koosman's first year with the Twins was by far his best post-Met campaign; he went 20-13 with a 3.38 ERA. Over the next season and a half, Koosman went 19-22, but the Twins had begun to use him in relief and he picked up seven saves. The White Sox, looking for a reliever for their playoff push, inquired about him and Koosman, though he had veto power, agreed to a trade with Chicago in August of 1981. The price was three minor leaguers and cash.
The White Sox employed Koosman as a spot starter/reliever and he rang up identical 11-7 records in 1982 and '83, making the playoffs with Chicago the latter season, but in the postseason, he pitched only a third of an inning and was touched for two earned runs on a hit and two walks.
The White Sox re-signed him as a free agent in December 1983, but they sent him to the Phillies two months later as the player to be named later in a trade for pitcher Ron Reed. While the deal wound up keeping him from reuniting with Seaver—who had been picked up by the White Sox after he briefly reunited with the Mets—greeting Kooz in Philadelphia was Tug McGraw, who'd been Kooz's teammate in both the minors and majors, and had been instrumental in both Mets pennants.
Koosman returned to the Shea Stadium mound for the first time in a visitor's uniform on April 29, 1984. The homecoming was not a happy one, as Koosman allowed four runs over 5 2/3 innings, losing to the Mets, 6-2. The save that day went to Jesse Orosco, the young lefty the Mets got back from the Twins in the 1979 deal for Koosman.
Also during the 1984 season, 11 years after the infamous brawl with the Reds, Koosman found himself facing Pete Rose, now with Montreal. "I had him 0-2 and threw him a fastball high and away," he remembered. The pitch broke Rose's bat, but the ball found its way to the outfield, where it landed on the foul line and rolled for a double. It was Rose's 4,000th career hit.
At the age of 41, Koosman was the workhorse on the staff of the defending NL champion Phillies. His 34 starts, 14 wins, and 15 losses were the most by anyone in Philadelphia's rotation. The Phillies brought him back in 1985, but an old injury flared up during the season, and Koosman's knee filled with fluid and bone chips. After having the knee drained, he tried to come back too quickly; while pitching the first inning in a game against the Dodgers on August 21, the knee filled up again and Jerry felt his leg buckle. Tossing a bloop toward the direction of the plate while falling to the ground, he regained his balance, got back up, and walked off the field for the last time.
Jerry Koosman retired after 19 games in 1985 with a career record of 222-209, 140 complete games, 33 shutouts, and more than 2,500 strikeouts. His career ERA for 19 seasons was 3.36.
Koosman settled in Chaska, Minnesota, where he got together other professional players and coaches, to promote America's Best, a program designed to showcase the finest young baseball talent in the country. After finding an interested sponsor, Major League Baseball would not provide the necessary financial support and the program floundered. A few years later, the Mets brought Koosman back as a minor-league pitching instructor, and he spent 1991 at Pittsfield, Massachusetts, and '92 in Columbia, South Carolina.
As of 2008, he resided in Osceola, Wisconsin, where he ran his own machine design business, Mesa Technology, Inc. Koosman was divorced from his wife, LaVonne, in 2003; they had three children: Danielle, Shawn, and Michael, the first "Met baby," born at rookie camp in St. Petersburg.
Koosman said the best compliment he ever got from another player came from the late Pirates star Roberto Clemente, who once said that Koosman's fastball was the only one he ever saw "that never moved the same way twice." Seaver said he believed that if his teammate "hadn't gotten hurt, he'd have been in the Hall of Fame." Koosman received scant support for Cooperstown, getting just four votes in 1991, his lone year on the ballot. He was elected to the Mets Hall of Fame in 1989 as the fourth player inducted after former teammates Bud Harrelson, Rusty Staub, and Seaver.
Said Koosman in a 2008 interview of his major league career: "I could have had more shutouts and more strikeouts. But I always believed in throwing the least amount of pitches possible and letting them hit it." This efficiency, along with endless determination, led Jerry Koosman to become one of the most popular New York Mets of all time and, some say, the most valuable Met of the miracle 1969 season. And though no one who watched the Mets could deny his obvious talent, few were aware of the pain and difficulties he so often had to pitch through.
And it also makes Mets fans shudder to think what might have been, had Jerry Koosman not had to borrow money so he could buy himself another car.
Last revised: July 1, 2009
Sources
Two interviews with Jerry Koosman: July 2008.
Allen, Maury. After The Miracle: The 1969 Mets Twenty Years Later. New York: Franklin Watts, 1989.
Barrow, Ed: "Just Terrific: Tom Seaver Gives Mets an Identity & a Title." New York Daily News Special Section entitled "Memories of Shea: An Amazin' History, 1964-2008," September 21, 2008.
Golenbock, Peter. Amazin': The Miraculous History of New York's Most Beloved Baseball Team. New York: St. Martin's Press, 2002.
New York Mets Yearbooks: 1965-73.
New York Mets Media Guides: 2005, 2008.
New York Mets Scorecard: 2003, Volume 42, Issue 5
Wikipedia listing for Jerry Koosman
Born
December 23, 1942 at Appleton, MN (USA)
If you can help us improve this player's biography, contact us.
http://bioproj.sabr.org/bp_ftp/images4/KoosmanJerry.jpg
600
800
admin
/wp-content/uploads/2020/02/sabr_logo.png
admin
2012-01-04 20:01:07
2021-09-24 08:47:34
Jerry Koosman