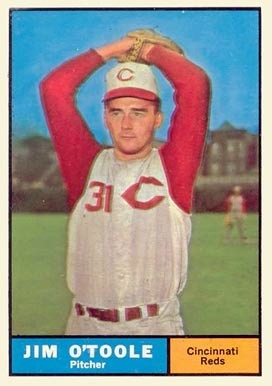 ---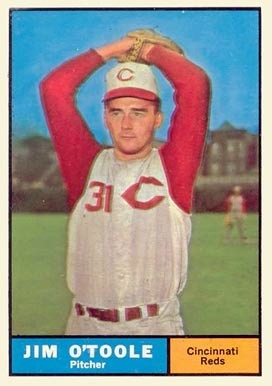 The son of a Chicago policeman, Golden Gloves boxer, and "bonus baby," Jim O'Toole would become a confident, competitive and highly consistent member of the Reds starting rotation throughout the early 1960s. The lefty made significant contributions to his team's success in two of the most dramatic seasons in Cincinnati's long major-league history: 1961 – the rise of the "Ragamuffin Reds" from sixth place to pennant winners – and 1964 – as the Phillies "phlopped" and the Reds came within a hair's breadth of winning the pennant for their dying manager Fred Hutchinson.
James Jerome O'Toole entered this world on January 10, 1937, on Chicago's South Side. His father, William J. "Happy" O'Toole, was known in his precinct for checking liquor and cigarette licenses. Jim was one of five children, three boys and two girls; his father claimed he had a "full house: three kings and two queens." Younger brother Denny, also a pitcher, would grow up to have a sparse major league career (15 games for the White Sox from 1969-73).
A self-confessed cocky kid, Jim earned the nickname Rocky. Happy O'Toole taught him the rudiments of boxing and he developed his pugilistic skills in the Golden Gloves program. O'Toole attended Leo High School, but developed his pitching skills on the city's sandlots because his school did not have a baseball team. At 17 he attended a White Sox tryout camp and struck out all nine batters he faced. The Sox told him, "We'll be in touch," the last he would hear from them.
After graduating from high school, Jim enrolled at the University of Wisconsin, thanks to scout George Moriarty of the Detroit Tigers. He pitched one season for the Badgers and went 0-3. He had considerably greater success, however, in the Basin League, a summer semi-pro league in South Dakota. He went 9-1 for the Mitchell Kernels in 1957 (that staff also featured Eddie Fisher and Don Schwall). Scouts Phil Seghi and Paul Florence of the Cincinnati Reds had scouted O'Toole that summer and were impressed enough to offer him a $50,000 bonus (spread over four years).
Jim's first experience with the big league organization came at a mini-camp before spring training in 1958. It was here that O'Toole learned important baseball lessons from manager Birdie Tebbetts, such as, "Don't throw anything on a 2-2 pitch that you wouldn't throw on 3-2." Tebbetts also passed on some words of advice on extracurricular matters as well: "When you go out to drink, buy your own drink and don't buy anyone else a drink, or you'll be obligated to let him buy you one." The rule requiring "bonus babies" to spend two years with the major league team was no longer in effect, and the Reds sent O'Toole to their Double A affiliate, Nashville. He recovered from walking nine in his first start to finish the season with a 20-7 record. Along the way he was chosen to start the league's All-Star game.
O'Toole was called up to the Reds when the rosters expanded in September. The one game he pitched was against the world champion Milwaukee Braves. Despite giving up just four hits in seven innings, he lost 2-1. After the game Parade magazine flew the inexperienced pitcher to New York for an appearance on The Ed Sullivan Show, where he advised the Yankees how to pitch to the Braves in the upcoming World Series. The call-up to the Reds was especially gratifying for O'Toole, who recounted years later that he had been told all his life that he would never make the big leagues and that he should find something else to do with his life.
O'Toole earned a spot on the 1959 Reds, but won only five while losing eight and finished with a 5.15 ERA . An important turning point in Jim's career occurred when Fred Hutchinson took over managerial duties from the easy-going Mayo Smith midway through the season. Speaking of Hutchinson, O'Toole said, "We were glad when he came because we had talent but needed discipline. Everybody respected him and was scared to death of him." Whereas Smith had used O'Toole only sporadically, under Hutchinson he would become a regular member of the starting rotation.
Almost everyone who profiled O'Toole (including himself) employed the adjective cocky. Describing himself during his first full season as a major leaguer, O'Toole told author Danny Peary, "I was cocky and didn't let anybody push me around … It's stupid to throw the catcher's pitch instead of your own." In his book Pennant Race, reliever/author Jim Brosnan described O'Toole as "a bit too cocky to be nervous … as brash as Brendan Behan himself." Fred Hutchinson told Sport magazine in 1962, "Cocky? Put it this way. I think O'Toole believes in himself. That's great … He likes a fight … When he's competing, he's aggressive. He works hard to beat you."
While the Reds finished in sixth place for the second straight year in 1960, O'Toole's personal statistics improved markedly. Pitching winter ball in Venezuela had helped sharpen his control. His won-lost record improved to 12-12; his ERA dropped from 5.15 to 3.80; and his strikeout total rose from 68 to 124. O'Toole credited pitching coach Cot Deal with much of the improvement by helping him to keep the ball down and get ahead of hitters, which was especially important in Cincinnati's Crosley Field, with its center field fence only 380 feet from home plate.
Another turning point occurred in O'Toole's life in 1960 when he got married. O'Toole had found the lifestyle of the bachelor ballplayer to be full of temptations and credited marriage with helping him to settle down on the mound as well as in his personal life. In 1962 he stated that his record was 12-15 as a bachelor, 24-15 as a husband, and 8-2 as a father. Jim and Betty Jane Wall, his high school sweetheart, were married on July 2 while the Reds were in his hometown of Chicago for a series against the Cubs. O'Toole expected Jay Hook to pitch on July 3, but instead found his name on the lineup card. Following his Irish Catholic post-wedding festivities, Jim was not in the best of shape to pitch on a hot, humid July day. He claimed that he tried to get thrown out of the game in the first inning by loudly disputing one of umpire Jocko Conlon's calls. Conlon was having none of it, "I know you got married last night and want to get thrown out. But if we all have to suffer in this heat, you do too. I'm not throwing you out, now get your ass back out there and pitch." The Cubs instead sent O'Toole to the showers early by knocking him out in the fifth, and he lost the game 5-2, his first career loss to the Cubs. When asked after the game why he pitched O'Toole the day after his wedding, Hutchinson deadpanned, "I didn't set his wedding date."
As the 1961 season began, not many people would pick the Reds to be in the first division, much less win the pennant. During the offseason, however, first-year general manager Bill DeWitt traded for Joey Jay (Braves) and Gene Freese (White Sox), who would prove to be excellent acquisitions. Led by MVP Frank Robinson, the "Ragamuffin Reds" would surprise almost everyone by capturing the 1961 National League flag. Chosen by Hutchinson to be his Opening Day starter, Jim O'Toole would prove to be a top-flight major league pitcher that year and contribute significantly to his team's success. Hutch's choice was a good one as O'Toole threw a complete-game, four-hit victory. In Pennant Race, Jim Brosnan reported that O'Toole "brushed aside the Chicago Cubs as if they were tee-totaling drama critics."
O'Toole went on to chalk up a 19-9 record with a 3.10 ERA for the season. His ERA was second in the league while his win total and winning percentage were third. Bill James included the 1961 Reds, along with the 1967 Red Sox and the 1969 Mets, among the three "miracle" teams of the 1960s. Crediting O'Toole with 22 win shares versus 10 in 1960, James viewed O'Toole's improvement from the previous season as one of the keys to the 1961 Reds' success.
Always an admirer of Fred Hutchinson, O'Toole cited the manager's ability to bring the team together and later told an interviewer, "Hutch was the main reason we won the pennant." For his own improvement, O'Toole gave credit to catcher Darrell Johnson, whose contract the Reds purchased from the Phillies in mid-season. Before Johnson's acquisition, O'Toole pitched primarily inside to right-handed batters; Johnson helped him to mix up his pitches and while right-handers would be looking for an inside pitch, he would put one on the outside corner.
In 1963, O'Toole described his repertoire. "My fast ball is not the fastest fast ball alive. But I can put it exactly where I want it to go on three-and-two counts. Next comes my hard slider, and then my low-breaking curve. I take something off these pitches now and then to keep batters from timing me. But I do not throw real change-ups or slow stuff. Why should I, when my arm is still strong?"
The Reds' closest competitor in 1961 was the Los Angeles Dodgers. O'Toole considered a sweep of a doubleheader from the Dodgers in mid-August to be a turning point in the pennant race. The Reds were one game behind going into the twin bill in the L.A. Coliseum. O'Toole and right-hander Bob Purkey both pitched complete-game shutouts (the first doubleheader shutout suffered by the Dodgers since 1935) while the Reds scored a total of 14 runs. Jim called his 8-0 victory "one of the best games I pitched in my life." August 1961 also saw the arrival of James Jerome Burke O'Toole, the first of 11 children in 13 years from the union of Jim and Betty O'Toole. "In 1967 and 1970 we did not have a child," Betty said in 2007. "Jim told people he had pneumonia those years."
After the Reds clinched the pennant on September 26, Jim O'Toole, fellow starter Joey Jay, and catcher Darrell Johnson ventured to New York to scout the Yankees, their likely opponents in the World Series. They were on hand to witness Roger Maris's historic 61st home run. The Reds did not fare well against the Yankees in the Series, losing 4 games to 1. By going 13-2 over the last three months and 5-0 with a 2.53 ERA in September, O'Toole earned the start in Game One. Jim faced his idol Whitey Ford, and while he pitched well enough to allow only two runs, Ford was excellent and shut out the Reds on his way to breaking Babe Ruth's record for consecutive scoreless World Series innings (1960-62). Jim also started the fourth game, again against Ford, and again the Reds were held scoreless, this time 7-0. For the series O'Toole compiled a 0-2 record, but his ERA was only 3.00. Despite the losses, Jim considered "… pitching against my idol and the Yankees … was the highlight of my career."
The Reds won more games in 1962 than they did in 1961, but finished the season in third place. In this first season of expansion in the National League, the Reds had difficulty beating the new teams. O'Toole finished the season with a 16-13 won-loss record and a 3.50 ERA. In his 1962 entry in Danny Peary's We Played the Game, he offered this self-description: the other Reds "would have described me as a fun-loving guy, a family man, a cocky guy who was usually able to back it up … I didn't feel pressure. I always liked the challenge … I had a temper, and I never wanted to relinquish the ball."
He also recounted an incident that illustrated both his reluctance to relinquish the ball and his respect for Fred Hutchinson. O'Toole was leading the Dodgers 3-2 in the ninth when he let a ball get through his legs. Hutch came to the mound and told O'Toole to hand over the ball. He refused and then proceeded to argue with Hutch for some time before he finally gave in. After blowing off steam in the locker room, Jim decided that he owed Hutch an apology. When he went to the manager's office after the game, Hutch's response was, "Get the hell out of here. I'd have done the same thing." In describing the event to Peary, O'Toole said this of Hutch, "So I really loved him. He'd let you say your piece and he liked guys who would fight a little bit."
The 1963 Reds fell to fifth place with 86 victories. O'Toole, however, improved his win total by one game to 17, but also lost 14. His ERA, however, dropped significantly to 2.88. He was picked to start for the National League in the All-Star game, and pitched the first two innings of a 5-3 National League victory. 1963 was also Pete Rose's rookie season. Although Rose would win Rookie of the Year honors, O'Toole missed Don Blasingame, whom Rose replaced at second base, because Rose "couldn't make the double play like Blasingame."
Nineteen sixty-four would prove to be a disappointing and heartbreaking year for O'Toole and his teammates because of events both on and off the diamond. In January, universally respected manager Fred Hutchinson was diagnosed with cancer. Although Hutch was optimistic and tried to avoid letting his illness interfere with his job, by mid-season he was too sick to continue, and coach Dick Sisler assumed managerial duties. Cincinnati did not start impressively, but 1964 was the year of the Philly "Phlop" and the Reds had won 12 of 13 entering their last homestand. The Phillies, who had lost 10 straight, came to town on October 2. The Reds started the day 92-68, the Phillies were 90-70, and the Cardinals were 92-67. O'Toole started for the Reds and had a 3-0 lead through seven innings. At this point the scoreboard flashed the news that the Mets had beaten the Cardinals, and the Reds were in position to take over first place.
In the bottom of the seventh, a pitch hit shortstop and number eight hitter, Leo Cardenas. Incredulously his teammates watched as Cardenas took his bat and headed toward the mound. Although the benches cleared, most of the Reds were simply trying to get Cardenas to calm down so they could finish the game. When the Reds took the field in the top of the eighth, Cardenas – evidently feeling his teammates hadn't supported him – did not participate when the other infielders tossed the ball around. With one out, Frank Thomas hit a soft fly to the edge of the grass behind short. Reports vary, but Cardenas made a half-hearted effort at best, and the ball fell in for a single. Fierce competitor that he was, O'Toole was furious; in all his accounts of the incident Jim claimed that Cardenas did not even attempt to field the ball. O'Toole walked the next batter and then gave up another hit before being relieved. The Phillies came back and won the game.
It was in the locker that things got really ugly. Angry words were exchanged between O'Toole and Cardenas; the pitcher grabbed the Cuban and threw him against the wall. Cardenas then came after O'Toole with an ice pick, but Joey Jay stopped him before any harm could be done.
The race was undecided until game 162. Jim Bunning shut out the Reds 10-0, and the Cardinals beat the Mets to take the pennant. The Reds had desperately wanted to win the pennant for Hutch, but the emotionally drained team had fallen just short of the mark. O'Toole would later claim, "Dick Sisler had no idea what to do that last week. If Hutch had been healthy we'd have won." For the season, O'Toole was 17-7 (his career-best winning percentage) with a career-low 2.66 ERA. As a five-year veteran he had become known as one of the most consistent members of the staff and one of the leaders of the team.
There was another side to Jim O'Toole besides his fierce competitiveness. In Doug Wilson's Fred Hutchinson and the 1964 Cincinnati Reds, catcher Johnny Edwards included him in "a bunch of guys who had a lot of fun together." Mike Holzinger, a 1964 bat boy, recounted that "O'Toole was really nice to us bat boys … he always took care of us … He had a great personality, liked to laugh. You always knew when he was around."
Although O'Toole was at the top of his game in 1964 and the Reds could have won the pennant, things began to unravel for the pitcher and his team the next year. Fred Hutchinson died in November 1964, and Sisler became the full-time manager. Sisler chose O'Toole to be his starter on Opening Day, always an honor in Cincinnati where the event is celebrated in high style, but he lost. Known as a slow starter, Jim struggled during the early weeks of the season and was soon 0-5. Compounding his problems was the presence of two young pitchers, Sammy Ellis and Billy McCool, who had made significant contributions from the bullpen in 1964, but who were chomping at the bit to become starters. In order to fit them into the rotation, Sisler went to a system where his starters pitched every five days instead of every four days.
O'Toole had difficulty adjusting to this change and it affected his control. He finished the season pitching almost 100 fewer innings than he did the season before and notched a 3-10 record with a 5.92 ERA. The Reds finished in fourth place and would start the 1966 season with a new manager, Don Heffner. Heffner's Reds went only 37-46, and Dave Bristol replaced him in mid-season. O'Toole finished the 1966 season with more strikeouts, more innings, and a significantly lower ERA (3.55) than he had in 1965, but saw action in only 25 games and won five while losing seven. Management had decided that O'Toole no longer fit into their plans for the future and traded him to the White Sox in the offseason.
White Sox manager Eddie Stanky used O'Toole sparingly during the early weeks of the season. He had pitched a total of only 5 1/3 innings when he surprised everyone on May 13 by hurling a 10-inning, two-hit gem. He beat the Angels 1-0 in front of his wife and six of the seven children they then had. This masterpiece would prove to be O'Toole's swan song, however. The White Sox were loaded with pitchers, and Stanky continued to use him sparingly and inconsistently until he injured his shoulder in mid-season. He was placed on the disabled list on July 24, and that was essentially the end of O'Toole's season and career. He spent 1968 with AAA Seattle and Columbus where overall, he compiled a won-lost record of 5-11 and an ERA of 5.51. He attempted a comeback in 1969 with the expansion Seattle Pilots, but when they asked him to start the season in AAA he decided it was time to quit.
Jim and Betty O'Toole continue to live in Cincinnati in the house they built with his 1961 World Series share – although it has needed expansion a time or two to accommodate their 11 children and 34 grandchildren. After leaving baseball, he sold homes for 10 years. The ever-competitive O'Toole became the number-one salesman for his company. He later went to work selling accounts for Jim Cosman's commercial trash service. Cosman had a brief major league career in the late 1960s, but O'Toole came to know him when he was batboy for the Nashville AA team the season O'Toole spent there. When the hotel in which the pitcher was living burned down, he moved in with the Cosman family and the two Jims became good friends.
Jim O'Toole was inducted into the Reds Hall of Fame in 1970, the first year he was eligible. He remains involved with the Reds organization, and in a recent interview was complimentary of the organization and their outreach to veteran players. He attends approximately 20 games per season, and says he still has a lot of love for the game.
May 22, 2011
Sources
O'Toole, Jim. Personal interview: April 28, 2011.
Daugherty, Paul. "A Reason for Hope." Kentucky Enquirer, April 2, 2007.
Dexter, Charles. "The Tools of O'Toole." Baseball Digest, July 1963: 11-16.
Fenlon, Dick. "O'Toole Searching For a Return-Trip Ticket to Big Time" The Sporting News 165, no. 22 (1968): 33.
Holtzman, Jerome. "Veteran O'Toole, Nursing Sore Shoulder, Bows Out" The Sporting News 164, No. 7 (1967): 33.
James, Bill. The New Bill James Historical Baseball Abstract. New York: Free Press, 2001.
McHugh, Roy. "Ask O'Toole, He'll Tell You" Sport 34, no. 2 (1962): 36-37, 66-67.
Merchant, Larry. "Now What Really Happened in the Reds' Dressing Room" Baseball Digest 23, no. 10 (1964): 81-82.
Peary, Danny (Ed.). We Played the Game: Memories of Baseball's Greatest Era. New York: Black Dog and Leventhal Publishers, 1994.
Schmetzer, Mark. Before the Machine: The Story of the 1961 Pennant-Winning Cincinnati Reds. Cincinnati: Clerisy Press, 2011.
Traughber, Bill. "Looking Back: Former Nashville Vol O'Toole Recalls 1958." www.minorleaguebaseball.com, August 23, 2010.
Wilson, Doug. Fred Hutchinson and the 1964 Cincinnati Reds. Jefferson, NC: McFarland and Co., 2010.
www.baseball-reference.com/players/o/o'tooji01.shtml
Photo Credit
The Topps Company
Acknowledgments
Thanks to Greg Rhodes, Chris Eckes, and Colin Ethier for their help with this project.
Born
January 10, 1937 at Chicago, IL (USA)
Died
December 26, 2015 at Cincinnati, OH (USA)
If you can help us improve this player's biography, contact us.
http://bioproj.sabr.org/bp_ftp/images5/OTooleJim.jpg
600
800
admin
/wp-content/uploads/2020/02/sabr_logo.png
admin
2012-01-04 20:33:53
2012-01-04 20:33:53
Jim O'Toole