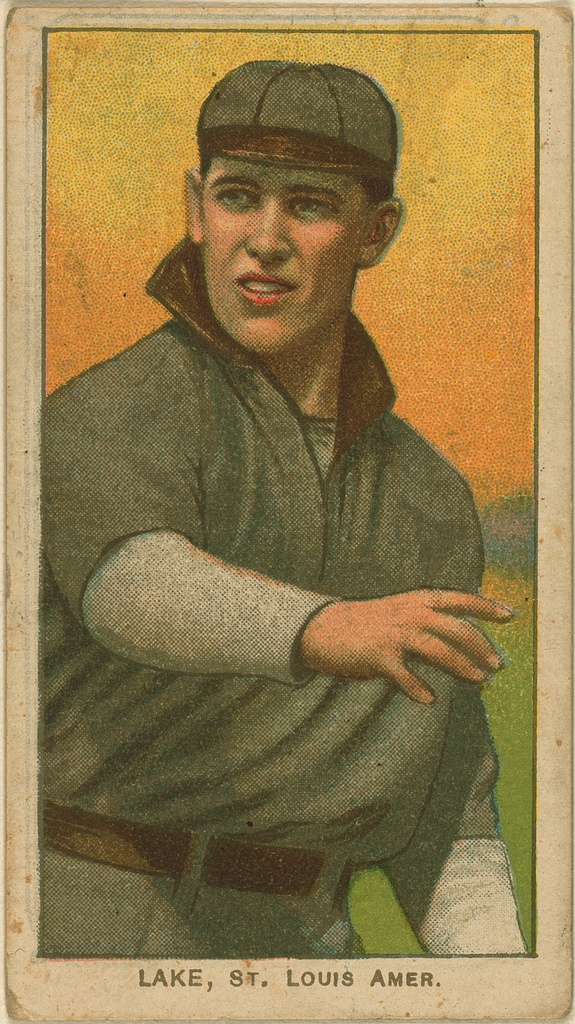 ---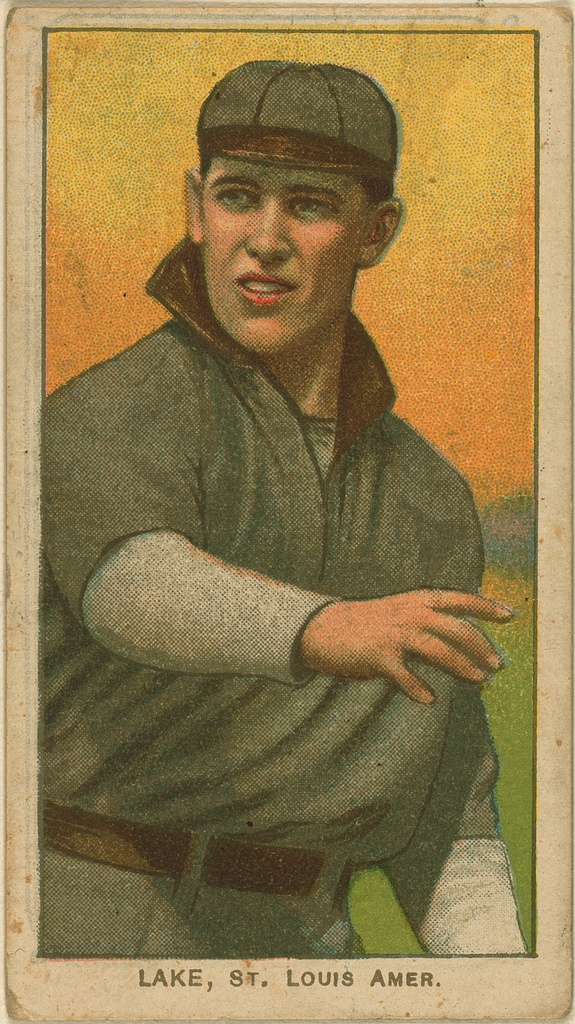 A competent but colorless right-hander, Joe Lake had the misfortune of pitching for some of the Deadball Era's worst American League teams. In six big-league seasons, he was never once a member of a winning team, and three of Lake's clubs finished more than 50 games behind the pennant winner. Through it all, Joe labored without complaint, turning in a stream of reliable performances that garnered him the respect of opponents and the sporting press alike. After his playing days were over, Lake returned to the Brooklyn docks whence he had come, living as quietly in the workaday world as he had in the majors until his death at age 69.
Joseph Henry Lake1 was born in Brooklyn on January 6, 1881. He was the third of eight children2 born to common laborer Joseph Henry Lake Sr. (1849-1926) and his wife, Katherine (née Burke, 1852-1927), both working-class Irish Catholic Brooklyn natives. Young Joe attended school through the eighth grade and then entered the local work force, eventually finding a job on the Brooklyn docks. No doubt fostered by the rigors of his employment, Lake developed into a strapping (6-feet, 185 pounds) young man.
The precise origins of Joe Lake's baseball career have been lost. But by the time he was in his early 20s, Joe was playing semipro ball for Brooklyn-area clubs and developing a reputation as a formidable righty batsman.3 He made a somewhat belated entry into the professional ranks in 1905, signing with the Peekskill club of the Class C Hudson River League.4 But only 18 games into the season. Peekskill disbanded. Happily for "pitcher Lake,"5 he was quickly engaged by another league nine, the Newburgh Taylor-mades, and completed the season with that club. No season stats for the league survive, but Lake's performance must have been satisfactory, for Newburgh reserved him for the 1906 season.6
Now 25, Lake blossomed in 1906. Although no year-end pitching statistics were discovered for the Hudson River League, Sporting Life regularly reported masterly pitching efforts by him.7 Joe also played the outfield part-time and chipped in a .321 batting average in 312 at-bats.8 Once again, Newburgh reserved Lake for the following season, but a promotion was now clearly in order. Given that the Newburgh club was owned by the New Jersey Exhibition Company, the corporate alter ego of Jersey City Skeeters owner Robert Davis, Lake was an almost automatic draft selection of Davis's Eastern League team.9 In the run-up to Opening Day 1907, the Jersey Journal advised hometown fans that newcomer "Lake … has great speed and curves, and besides that is a handy man with the bat, practically leading the Hudson River League in hitting last season."10 As the season progressed, however, note was taken of Lake's use of what would become his signature pitch: the spitball.11
Pitching for a Jersey City club that would finish the season barely above the .500 mark, Lake quickly ascended to the forefront of Eastern League hurlers. And soon owner Davis was entertaining offers for Lake from major-league clubs, with the Cincinnati Reds, Philadelphia Phillies, and both New York teams being the most ardent suitors. In late August Lake's contract was sold to the New York Highlanders, with delivery set for the end of the Eastern League season.12 The transfer prompted dismay in Cincinnati and particularly in Philadelphia, where manager Billy Murray, a minority shareholder in the New Jersey Exhibition Company, maintained that the Phillies had a prior claim on Lake's services. An appeal to undo the sale made to Highlanders club boss Frank Farrell, however, availed Murray nothing.13 Meanwhile back in Jersey City, Lake was amassing sparkling numbers. By season's end he was the Eastern League leader in wins (25) and strikeouts (187).14 He also played 13 games in the Skeeters outfield, and batted .273 in 154 at-bats, overall.
The mid-September close of the Jersey City campaign afforded the new Highlanders pitching acquisition a brief late-1907 season stay in New York. It also provided the occasion for invocation of a record-keeping technicality whereby Joe Lake pitched three innings of uncredited regular season American League baseball some six months before the date of his official major-league debut. To explain: On October 5, 1907, the Highlanders were scheduled to finish their season with a home doubleheader against the Boston Red Sox. The first game was tied 3-3 at the end of 10 innings when inclement weather brought the contest to a halt. Some 30 minutes later, the weather had cleared, but rather than resume play of the suspended game, umpire Silk O'Loughlin declared it a draw and ordered the second game to commence. On the mound for New York in Game 2 and making his ostensible major-league debut was Joe Lake. He went three innings, holding Boston scoreless. In the estimation of the New York Times, "Lake's work was satisfactory. He was touched up for four hits during his reign … but in pinches he was master of the situation, fanning Harry Lord and Heinie Wagner in succession and leaving Moose Grimshaw, who had doubled, on the base."15 With the game scoreless in the top of the fourth inning, gloom and the arrival of more bad weather made further play impossible. The second game was therefore called off, erasing it and Lake's maiden major-league appearance from the record book.
While he awaited the chance to make an officially recognized major-league appearance, Lake returned to Brooklyn to live with his parents and work on the docks. But before the Highlanders resumed play the next spring, Joe altered his domestic situation. On February 28, 1908, he married 25-year-old Josephine Eguiguren, also of Brooklyn. The following year, the birth of their only child, a daughter named Anita, would complete the family.
Great things were expected of Lake by New York manager Clark Griffith, and the Highlanders' new hurler showed well in spring camp.16 He used a crossfire delivery, mixing speeds off his fastball and pitching to contact [although his strikeout numbers were respectable for a Deadball Era pitcher]. The Lake out pitch was the spitball, further polished under the tutelage of teammate Jack Chesbro, the game's first exceptional spitball pitcher.17 Lake made his official major-league debut as a 27-year-old rookie on April 21, 1908. He won, but it was not pretty: a complete game 16-13 win over the Washington Senators that the New York Times labeled "a travesty on the national game. Stupid playing, poor fielding, and weak pitching were the components of the contest. … There was a continuity of misplays that would have disgraced an amateur nine."18
The game, although ending in a New York victory, was a harbinger of the season ahead. The club went 51-103 (.331) and finished last, 17 games behind the seventh-place Senators. Joe contributed amply to the futility, leading American League pitchers in losses. But the season also had some bright moments for him, including a pair of second-half 1-0 shutouts of Chicago that may well have cost the White Sox the AL pennant. By season's close, his 9-22 final record notwithstanding, Lake was deemed a comer in many quarters, with Sporting Life declaring that "his work for the Highlanders in 1908 was one of the redeeming features of a most disappointing season."19
Lake got off to an excellent start in 1909, shutting out Washington on six hits, 6-0, in his first outing. Eleven days later, he whitewashed Boston, 17-0. The Highlanders were significantly improved as well, posting a winning record through mid-June and ending the campaign a respectable (74-77, .490) sixth-place finisher. Joe was even better, going 14-11 (.560), with a stingy 1.88 ERA in 215⅓ innings pitched, and leading the New York staff in wins, ERA, and strikeouts (117). His postseason reward was a transfer to the god-awful St. Louis Browns.20
For the better part of the next three seasons, Lake was sentenced to pitch for Browns teams that would come no closer than 53 games behind the American League pennant-winner. As in the previous season, Joe got off to a good start personally. In late July, a 4-3 victory over New York raised his record to 9-6, leading one newspaper to describe Lake as "one of the American League's best pitchers."21 Thereafter, overuse and a hapless supporting cast put Lake's pitching log into a tailspin.22 Still, his 11-17 (.393) record was considerably better than the dreary 47-107 (.305) mark posted by St. Louis overall, and Joe paced the Browns staff in wins, winning percentage, innings-pitched (261⅓), ERA (2.20), and strikeouts (141).
Early the next season, a wire-service dispatch declared that "Joe Lake, the only really reliable pitcher on the staff of the St. Louis Browns, is going like an express train at this stage of the game. Lake … would be one of the most effective heavers in the business if he were with a team that would give him better support."23 But the 1911 Browns were as bad as the previous year's edition, and Lake's performance also mirrored 1910, again tailing off after midseason. St. Louis finished a dismal 45-107 (.296), some 56½ games behind the pennant-winning Philadelphia A's, while Joe, his workload somewhat reduced, paced Browns hurlers in wins (10), winning percentage (.400), shutouts (2), innings pitched (215⅓), and strikeouts (69). As always, Lake labored in silence, with nary an anecdote about his personal life published. But during the season, a pastime of this sober, colorless citizen was finally uncovered. As improbable as it may have seemed regarding a native of urban Brooklyn and an offseason dockworker, Joe Lake was an excellent golfer.24
With the Browns headed for a 53-101 final record in 1912 and with his personal log standing at 1-7, Lake was finally reprieved from St. Louis, being sold to the Detroit Tigers in late June.25 Pitching for a merely mediocre club rather than a terrible one, Lake turned in serviceable work for the sixth-place (69-84, .451) Tigers. His 9-11 (.450) second-half mark closely approximated the general Detroit pitching percentage norm, while his 3.10 ERA was markedly better than the 3.77 staff standard. Given that, the pitching-thin Tigers included the soon-to-be 32-year-old Lake in their 1913 plans.
Alternating between starting and relief work, Lake was pitching creditably when handed the ball for the second game of a late-August doubleheader against New York. He did not survive the second inning. Less than two days later, Lake (8-7, 3.28 ERA in 137 innings pitched) and rookie catcher Henri Rondeau were sold by (51-70) Detroit to the Minneapolis Millers of the Double-A American Association.26 Although he would continue playing for some time thereafter, the demotion ended the major-league career of Joe Lake. In six seasons he had gone an underwhelming 62-90 (.408). Yet with the exception of the 1912 season, his yearly performance had bettered the mark of the wretched teams he played for, and several times by a wide margin.27 Lake's 2.85 ERA in 1,318 innings pitched was Deadball Era-respectable, and his strikeouts (594) far exceeded his walks (332). In sum, Lake had been a capable major-league pitcher, notably better than the clubs he pitched for. He had also helped his teams on occasion with the bat (.206 career batting average), but his fielding (.919 FA) had been substandard.28
Lake finished the season going 5-3 in 10 games for Minneapolis. Over the winter, Sporting Life persistently reported that Joe was being courted by the upstart Federal League.29 But in the end he returned to the Millers in 1914, only to experience the déjà vu of pitching ably for a poor team. Lake's final record of 16-13 (.552) was far superior to the overall 75-93 (.446) mark posted by the seventh-place Millers. Yet to at least one observer, Joe was getting by now entirely on pitching smarts and guile. "He is using his slow ball, which he calls his fast one, and a still slower one, which is his slow ball, and sometimes when he feels right his old-time spitter. With these he is addling [batters'] brains and getting away with it," admired an unnamed correspondent of a Southern newspaper.30 But with his arm fading, Lake's .338 batting average (in 231 at-bats) and ability to play the field (51 games in the Minneapolis outfield) suggested a different avenue for continuation of his playing career.31
That career would not be extended in Minneapolis, which released Lake in February 1915.32 A spring camp audition with the Toronto Maple Leafs of the Double-A International League and subsequently a three-game outfield tryout with the league rival Jersey City Skeeters each led to Lake's quick discharge. He then caught on with the Norfolk Tars of the Class C Virginia League. But after batting a meager .177 in nine games, Norfolk released him as well, bringing Lake's pro career to an end.33 His time in Organized Baseball may now have been behind him, but Joe continued playing in and around the greater New York area. His last-discovered engagement was with the Harlan, Delaware, steel plant club in the semipro Bethlehem Steel Corporation League of 1918.34
Born in Brooklyn, Joe Lake lived his entire life there. When he completed his registration form for the World War I draft in September 1918, Lake listed his occupation as "marine electrician foreman" for a borough dry-dock company. He may also have retained his old side job as a golf pro at the Marine Park Golf Club in Brooklyn. Joe continued to work as an electrician on the docks until his retirement in 1947, living as quietly out of the limelight as he had when pitching for major-league ballclubs in New York, St. Louis, and Detroit. Late in life, Lake developed stomach cancer. He was admitted to Methodist Hospital in Brooklyn for surgery in June 1950, and died there from peritonitis and surgical complications on June 30.35 Joseph Henry Lake was 69, and "to his final day he was a very enthusiastic baseball fan and follower of all the records."36 After a funeral service in Brooklyn, his remains were interred in St. John Cemetery in Middle Village, Queens. Survivors included his wife, Josephine, daughter, Anita Lake Pederson, and brother, George Lake.
Sources
Sources for the biographical info recited herein include the Joe Lake file maintained at the Giamatti Research Center, National Baseball Hall of Fame and Museum, Cooperstown, New York; US and New York State Census data and Lake family posts accessed via Ancestry.com; and various of the newspaper articles cited below. Unless otherwise noted, stats have been taken from Baseball-Reference.
Notes
Born
January 6, 1881 at Brooklyn, NY (USA)
Died
June 30, 1950 at Brooklyn, NY (USA)
If you can help us improve this player's biography, contact us.
http://sabr.org/sites/default/files/LakeJoe.jpg
600
800
admin
/wp-content/uploads/2020/02/sabr_logo.png
admin
2017-01-31 15:24:03
2017-01-31 15:24:03
Joe Lake