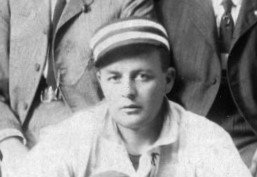 ---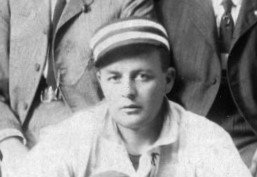 Known as "Smokey Joe," possibly after Boston's accomplished pitcher Smoky Joe Wood due to his fast ball, stocky right-hander Joe Lotz also gained the title of "Iron Man Pitcher." The latter moniker resulted from his fortitude and consistency on the field for some 30 years commencing at the age of 15. First recognized for his throwing skills while playing for his hometown team as a youngster, he steadily ascended from Omaha's Western League club of 1911 and 1912, to donning the uniform of a St. Louis Cardinal in 1916. Although his life as a major leaguer was short, he continued to play professional baseball with verve for years to come. Highly valued as a pitcher and manager for hire in his home state of Iowa, he earned as much as $100 a game. In 1932, Ripley's Believe It Or Not! cited his record for number of games pitched at 1,213. Yet, that did not end his run, as he was still pitching for several years after the piece appeared in 360 newspapers in 42 countries and 17 languages.
Born in Remsen, Iowa on January 2, 1891, Joseph Peter Lotz was the eldest of two children born to Peter Lotz and Susan (Arens) Lotz. The German-born son of Andreas Lotz and Elizabeth (Berthold) Lotz, who immigrated to America in the mid-nineteenth century, Peter Lotz operated a saloon with his brother John in the farm town of Remsen. In 1890, Peter married native Iowan Susan, whose parents, Johannes and Elizabeth Arens, came from Luxembourg. In 1895, when Joe and his little sister Lizzie were still small children, their father died of inflammation of the bowels. Three years later, their mother married Nicholas Kass, the owner of a large general store in Remsen. Joe and Lizzie grew up in that town as members of the Kass family. As baseball was, and still is, a significant element of the local culture, Joe cultivated his pitching skills long before enrolling at Creighton University in Omaha in 1908.
During the summer months of his college days, Lotz played for amateur and semipro clubs in Omaha, and even St. Louis. In 1910, he played for various Iowa towns. One news item might explain the origin of his "Iron Man" designation. The Alton News Democrat of July 9 of that year reported that "he recently pitched a 20-inning game at Palmer, Iowa striking out thirty eight men." It goes on to add that "at the close of the twentieth inning, the score was two to two."1 Unfortunately, the article does not reveal the game's final outcome. On the mound for Pocahontas, Iowa, later that month, he won 2-1 in a 15-inning contest against nearby Pomeroy. Two days later, pitching for Remsen, he shut out Paullina 2-0. Early in 1911, it was announced that Lotz signed to play for the Class A Western League Omaha Rourkes. In 1912, he was farmed out to the Class D Kearny Kapitalists. His fine winning performance with that Nebraska club, 26-9 in 1912 and 16-14 in 1913 respectively, prompted his contract sale to Class C Oshkosh for the 1914 season. There, he posted a 24-9 record. That same year, he married Nina Drews of that Wisconsin town.
Owing to his successful season in Oshkosh, Lotz's contract was sold to the St. Louis Cardinals. Starting the 1915 season with the Cards, he was quickly sent down to the Class B Seattle Giants of the Northwestern League where he won two, and lost nine, in 13 games. On May 8 that year, Nina gave birth to their son John (Jack) in Remsen. During the following season, he played regularly for Le Mars, a town about ten miles west of Remsen. Pitching for the Le Mars semipro club on June 25, 1916, he struck out 13 men, earning a no-hitter against Waterloo in a 14-0 finish. In early July, he was recalled to St. Louis. When he travelled to that city to report for service, Nina accompanied him with little Jack.
Lotz's first appearance with the Cardinals on July 15 was at Robison Field where he relieved starter Red Ames, striking out one and holding the visiting Giants to their five-run lead for the last three innings. By September 13, with a won-lost record of 0 -1, he started a game in Philadelphia, lasting six innings, and allowing four runs in the 5- 4 loss. Before a crowd of 10,000 in New York on September 25, he pitched his last game as a major leaguer. Going all nine innings in the second game of a doubleheader, he lost 6-2. His loss marked the Giants' 21st straight win of the season. It was Joe's 12th appearance with St. Louis, and he ended the season with a won-lost record of 0-3. Early in 1917, he was released to St. Paul's American Association team. Nonetheless, he spent that season with Class AA Rochester of the International League. Despite his losing record of 7-14 with that club, he ended the season with a telling 3.03 ERA.
Following his disappointing years with St. Louis and Rochester, Lotz returned to his home state to play for semipro clubs and to attend to family matters. In the spring of 1918, his wife Nina required surgery because of a life-threatening internal hemorrhage. Her hospitalization and recuperation no doubt curtailed Joe's baseball activities. Early in 1919, he managed the Kass family mercantile store in Alta, Iowa. But that summer, he was back pitching in his native Northwestern Iowa. In July, he won a 12-inning, 2-1 contest for Odebolt against Fort Dodge at Lake View. His continued throwing accomplishments did not go unnoticed by the major leagues. In 1920, the Le Mars Sentinel reported that "the Philadelphia baseball management, through a scout . . . offered Joe Lotz a berth on the pitching staff of the team . . . it is probable that he will consent for the 1921 season if a suitable agreement is reached."2 Apparently, an agreement was never reached, as Lotz instead went to Wagner, South Dakota, spending the rest of the season pitching for that town's club. Still the iron man, in late July he struck out 17, shutting out the Geddes, South Dakota, team 4-0.
In 1921, Joe signed with the Class A Sioux City Packers, pitching for that Western League club for two years. In 1922, he was given the opportunity to transfer to the Class B South Atlantic League Charleston Pals. But Sioux City was close to Remsen, and he was disinclined to go elsewhere. His record with the Packers for 1921 and 1922 was 7-9 and 3-1 respectively.
Then, for nearly a decade, Joe played for various Iowa teams, most frequently Merrill, a town between Sioux City and Le Mars. Referring to Lotz as "the veteran speed ball artist," a Le Mars Sentinel story covering a game at Merrill's fall festival late in 1924 reveals his win of 5-2 for Merrill against Remsen.3 The opposing pitcher that day was a young fellow from Joe's hometown, future major-league knuckleballer, Johnny Niggeling. On August 31 that same year, on the mound for Remsen in both ends of a doubleheader at Spencer, Iowa, "Smokey Joe" lost the first game in 14 innings, 3 -2, and then won the second, 9-1, in five innings. Cumulatively, that's 19 innings with only four runs scored against the aging athlete. In 1926, he faced the highly-lauded hurler John Donaldson of Negro League fame, in a game at Lismore, Minnesota, winning 5-1 for Merrill against the Lismore Gophers.
Beckoning back to his own achievement, Joe Lotz's proudest moment came in 1930: in July, his 15-year-old son Jack, with the Remsen American Legion junior baseball team, pitched a no-hit game against neighboring Marcus, winning 20-0. Life was good for Joe Lotz then. He not only earned money playing ball, he also sold insurance for New York Life during the offseason, a position he held for a good part of his adult life. But in 1931, he suffered a setback to his baseball career when he was injured in a serious automobile accident. Suffering from severe depression due to the wreck, he was out of baseball for two seasons. It was during this period that his name appeared in Ripley's, which may have aided in his recovery. Also, it was around this time that he moved to Sioux City with his wife and son. When in 1935, his son Jack signed a professional contract with Class D Brainerd (Minnesota) of the Northern League, Joe was back to pitching in towns around his home base. Before long, his experience netted him other positions in baseball.
Appointed scout for the Sioux City Cowboys Western League team in 1937, Joe also took on the job of managing the semipro Le Mars Orioles that same year. By 1940, he was managing the Storm Lake, Iowa, White Caps. Then his son Jack, who continued pitching for minor-league clubs, including Sioux City in 1936 and 1937, moved with his new wife to California in 1941. Joe and Nina followed shortly thereafter. In 1943, both Lotz families were living in Oakland when Jack started playing for the Class AA Pacific Coast League Oakland Oaks. The iron man's offspring remained with the team for two more years, earning his best won-lost record of 18-13 in 1944.
Living in California during his declining years, Joe Lotz took pleasure in the sports achievements of his grandchildren. Jack's sons, Dick and John, developed successful golfing careers, turning pro in 1963. With the PGA tour, Dick won the 1969 Alameda Open, the 1970 Kemper Open, and the 1970 Monsanto Open. Then, on January 1, 1971, following a lengthy illness, 80-year-old Joe Lotz died of a massive heart attack at his home in Hayward, California. He was survived by his wife Nina, his son Jack, three grandsons, and one granddaughter. The "Iron Man Pitcher" was buried in the Holy Sepulchre Cemetery in Hayward.
Sources
"Ball Games," Remsen Bell-Enterprise, July 28, 1910.
"Both Great Pitchers," Le Mars Semi-Weekly Sentinel, October 2, 1914.
"Cards Sell Players," Waterloo Evening Courier and Reporter," January 18, 1917.
Clark, Jerry E. Anson to Zuber: Iowa Boys in the Major Leagues, (Making History, 1992).
"Days of Long Ago," The Bell-Enterprise, July 17, 1941.
"Dodgers Conquer Cards with Bats," The New York Times, September 22, 1916.
Edward Meyer – VP Exhibits & Archives, Ripley Entertainment Inc. email December 12, 2016.
"First Baseball Team Brought Remsen Fame," Bell-Enterprise, August 24, 1939.
"Giants Shatter World Mark for Victories in Row," New York Times, September 26, 1916.
"Goes to Big League," Le Mars Semi-Weekly Sentinel, August 11, 1914.
"Jack Lotz Hurls for Oakland Club," Remsen Bell-Enterprise, May 4, 1944.
"Joe Lotz Gets Mention," Le Mars Globe-Post, August 29, 1932.
"Joe Lotz's Son Pitches No Hit No Run Game," Le Mars Globe-Post, July 17, 1930.
"Joseph P. Lotz dies in California," Remsen Bell-Enterprise, January 7, 1971.
"Local Girls in Auto Accident," Le Mars Globe-Post, February 16, 1931.
"Local," The Bell-Enterprise, February 25, 1932.
"Locals," The Bell-Enterprise, November 13, 1941.
"Locals," The Bell-Enterprise, February 18, 1943.
"Lotz to Seattle," Le Mars Semi-Weekly Sentinel, May 4, 1915.
"Lotz Youngster is up among California Golfers," Remsen Bell-Enterprise, May 7, 1959.
"Merrill Defeats Lismore," Le Mars Sentinel, July 30, 1926.
"Merrill Defeats Remsen in Saturday's Game." Le Mars Globe-Post, June 1, 1925.
Obituary "Joseph P. Lotz," Le Mars Daily Sentinel, Thursday, January 7, 1971.
"Pitched No Hit Game, Le Mars Semi-Weekly Sentinel, June 27, 1916.
"Pitching Great Ball," Le Mars Semi-Weekly Sentinel, June 30, 1914.
"Plymouth County News Notes," Le Mars Sentinel, March 26, 1918.
"Remsen Defeats Marcus," Le Mars Semi-Weekly Sentinel, July 27, 1920.
"Remsen – from the Bell Enterprise," Le Mars Sentinel, February 4, 1919.
"Remsen – from the Bell Enterprise," Le Mars Sentinel, May 9, 1898.
"Remsen – from the Bell-Enterprise," Le Mars Sentinel, April 9, 1918.
"Remsen Man Named Scout," Le Mars Semi-Weekly Sentinel, May 14, 1937.
"Remsen Man No Weakling," Le Mars Semi-Weekly Sentinel, August 30, 1932.
Ripley's Believe It or Not! August 28, 1932.
"'Smokey Joe' Lotz Named as Manager of Le Mars Orioles," Le Mars Semi-Weekly Sentinel, June 8, 1937.
"The Name of Lotz Another Reminder," Bell-Enterprise, August 24, 1939.
"Thirty Years Ago," Le Mars Sentinel, July 9, 1946.
"Will Play with Omaha," Le Mars Semi-Weekly Sentinel, March 10, 1911.
"Youthful Ballplayer Wedded," Le Mars Semi-Weekly Sentinel, February 6, 1940.
findagrave.com Find A Grave Memorial – Andreas Lotz, Elizabeth Lotz, Peter Lotz, Susan Kass.
nebaseballhistory.com/people/lotz
Notes
1 "Wayside Notes From All Sources," The Alton Democrat, July 9, 1910.
2 "Remsen (From the Bell-Enterprise)," Le Mars Sentinel, July 6, 1920.
3 Le Mars Sentinel, September 2, 1924.
Born
January 2, 1891 at Remsen, IA (USA)
Died
January 1, 1971 at Castro Valley, CA (USA)
If you can help us improve this player's biography, contact us.
http://sabr.org/sites/default/files/LotzJoe_0.jpg
600
800
admin
/wp-content/uploads/2020/02/sabr_logo.png
admin
2017-02-15 16:36:56
2017-02-15 16:36:56
Joe Lotz