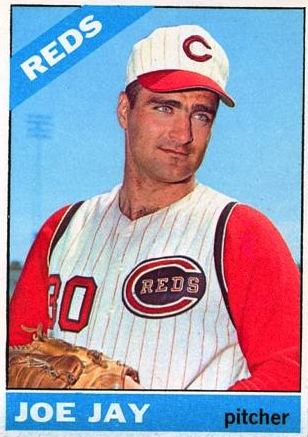 ---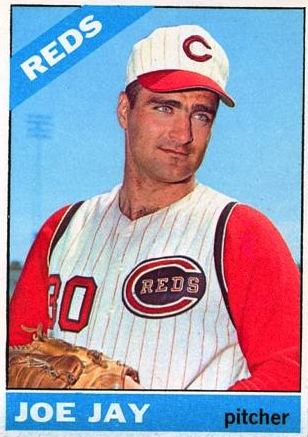 On Friday, June 13, 1958, the Milwaukee Braves, holding a 1½-game lead atop the National League standings, opened a weekend series in St. Louis. The Braves' starting pitcher was Joey Jay. Connecticut native Jay had not yet succeeded as a major-league pitcher, but he already held two distinctions: He was one of the original "bonus babies"; and he was the first alumnus of the Little League to make the majors. That was back in 1953, and under the bonus rule of the day, Jay had spent most of his time on the Braves' roster, except for one full season, 1956, at Double-A and Triple-A. But in 1958 he was back with the Braves, and on this particular June evening he was making his first start of the season after appearing in four games as a reliever.
In the bottom of the sixth inning, with the Braves holding a tenuous 2-0 lead, the Cardinals' Curt Flood was on second base with two outs. The dangerous Stan Musial stepped up to the plate seeking to tie the game, or at least get the Cardinals on the scoreboard. But Jay got Musial to fly out to right field, ending the inning. The game was then halted because of rain, and eventually the last three innings were rained out, giving Jay his first victory as a starter since his rookie year of 1953.
"I don't remember what the count was," Jay said later of his final pitch to Musial. "But Del Crandall signaled for a changeup. I almost dropped dead. I'd thrown the pitch some in the bullpen, but never in a game, and I would never have dared throw it to a hitter like Musial. But I figured if Del had nerve enough to call for it, I'd better have guts enough to throw it. I read where Stan said I looked pretty good because I could get the change over the plate. I've been doing it ever since."1 Crandall, Jay's batterymate, said, "You've got to find out fast what a young pitcher's got. After all, he was supposed to be a major-league pitcher. He hadn't been getting anybody out in relief with just his fastball, good as it was."2 It seemed as though the coming of the bonus baby was at hand for the Braves organization. For Jay, it was the real start of a major-league career that saw him win 20 games twice, albeit with a team other than the Braves.
Joseph Richard Jay was born on August 15, 1935, in Middletown, Connecticut, the only child of Mr. and Mrs. Joseph John Jay. His father had been a semipro baseball player and had a trial with the Boston Braves in 1937. But the need to support his family made the senior Jay give up his dream of playing in the major leagues and return to Middletown, where he worked as a laborer.
Joey was 12 years old when Little League Baseball came on the scene in Middletown. Larger than most boys his age and too old to pitch, Jay played first base. But after "graduating" from Little League he turned to pitching and dominated his opponents from American Legion ball right through to Woodrow Wilson High School. He pitched three no-hitters while in high school, drawing the attention of a half-dozen big-league teams. Milwaukee scout Jeff Jones got Jay's name on a contract with a bonus offer of $40,000. The 17-year-old Jay, who had just graduated from high school, was going right to the big leagues in Milwaukee.
Although Jay hit the financial jackpot, his growth as a professional pitcher was slowed considerably by the bonus rule imposed by the major leagues in 1953. The various bonus rules were designed to keep teams from spending large sums of money to sign young players. In various forms from 1946 to 1950, it mandated that if a team signed a player for more than $6,000, it could not option him to the minor leagues unless the player cleared waivers. Essentially, the team would be forced to keep the player on its big-league roster. That rule was abolished in 1950, but it resurfaced in 1953 in a slightly different form with the same intent. If a team signed an amateur player to a contract of more than $4,000, it could put him on its big-league roster, where he had to remain for at least two years. If the team started the player in the minor leagues, he was subject to unrestricted draft. This rule was in effect until the 1957 season.
There was plenty of resentment toward rookie Jay in the Braves clubhouse, and the veterans were not afraid to let their disdain show over the next two years. "It was pretty dreadful. I fitted in nowhere," Jay said. "No one was deliberately unkind to me. I was just ignored and felt like the batboy."3
But Braves' manager Charlie Grimm did call on Jay to make his first start on September 20, 1953, in Milwaukee. It was only his second appearance of the season, and Jay responded with a 3-0 shutout of Cincinnati in the second game of a doubleheader that was halted after 6½ innings by darkness. He gave up only three hits and struck out four batters. It was the last home game of the season for the Braves, who finished in second place, 13 games behind Brooklyn.
Manager Grimm liked what he was seeing of his prized prospect in spring training the following year. "The kid has looked very good and I am sure he can help us," Grimm said. "When a pitcher shows as much as he has, you have to find a spot for him."4 But as the team headed north to begin the 1954 campaign, Jay found himself part of the bullpen corps.During the season he appeared in just 15 games, all but one as a reliever. In 18 innings Jay walked 16 batters and struck out 13. He gave up 13 runs for an earned run average of 6.50, to go with a record of 1-0.
After the season, Jay married the former Lois Elizabeth Bruggen on October 19 at St. Sebastian's Catholic Church in Middletown. The couple honeymooned in Puerto Rico, where Jay had signed to play winter ball for Caguas. They also raised five children.
In 1955, with the bonus label now removed, Jay could be sent to the minor leagues to work on his pitching. The Braves had a lot of money invested in the 19-year-old and wanted to exhaust every attempt to get their fair share back on that investment. However, Jay stuck with Milwaukee for the first half of the season. He enjoyed little success, pitching in only 12 games, all out of the bullpen except for one start. He gave up 23 hits and 13 walks in 19 innings. Finally, in early July, the Braves sent Jay to their farm team at Toledo of the Triple-A American Association. He made 11 starts for the Mud Hens and went 3-3, walking 44 batters in 74 innings. Jay could fire the ball, but was having control problems.
The next season, 1956, Jay split his time between Double-A (Atlanta of the Southern Association) and Triple-A (Wichita, American Association). For the first time in his career, he was getting consistent starts and 13 relief appearances. With the Crackers, he was 3-0 with a 2.92 earned-run average, and hurled two shutouts.
Jay pitched a full season for Wichita in 1957, posting a 17-10 record with a 3.31 ERA, despite starting the season 2-6. He struck out 199 batters in 223 innings, and led the league with 18 complete games. In a late-season call-up, he pitched in one game for Milwaukee and was the winning pitcher in the extra-inning contest. He was now 21 years old. What caused the turnaround in his game? After his 2-6 start, he said, "Ben Geraghty (Wichita manager) helped a lot," Jay said. "Besides that I used a slider a lot more and now it's my best pitch. Bucky Walters taught it to me when he was a Braves coach but I didn't pitch enough then to try it."5
Jay was in the majors to stay as the 1958 season rolled around. His confidence was high, as was that of the Braves. Milwaukee had captured the 1957 World Series, besting the New York Yankees in seven games behind Lew Burdette's three victories. The Braves were looking for more of the same with a lineup including Del Crandall, Johnny Logan, Wes Covington, Eddie Mathews, and Hank Aaron. The ageless Warren Spahn, Bob Buhl, and Burdette anchored the pitching staff. It looked as if Jay was falling into an ideal situation for a young player.
Still, Jay didn't get his first start until that mid-June evening in St. Louis. After winning that one, Jay caught fire in July. He started seven games, completed five, and posted a 5-2 record. His ERA was a sparkling 1.39, and he struck out 46 batters in 58⅓ innings. He was named the NL Player of the Month. Bad luck: On July 29, he pulled a tendon in his right elbow, and had pain up to his shoulder when he threw a curve or changeup. In his next appearance, a start until August 14 against Cincinnati, he was wild, walking eight, but yielded only one hit, and with one inning of relief from Spahn, he defeated the Reds, 3-0. Jay lost his next start, 7-2 to the Los Angeles Dodgers, on the 19th, then didn't pitch again until September 17, in relief of Spahn against the Cardinals, and suffered more bad luck when a hard groundball off the bat of the Cardinals' Irv Noren smashed into Jay's glove hand. He threw Noren out but suffered a hairline fracture to the second knuckle of his ring finger. The Braves won the pennant again, but Jay was a mere spectator in the World Series. The Yankees exacted revenge on Milwaukee, this time winning in seven games. Jay ended the season with a 7-5 record and a 2.14 ERA. He had 74 strikeouts but walked 43 in 96⅔ innings. Despite the powerful Braves lineup, they could muster only six runs in his five losses. In the games Jay started, his run support was a paltry 2.58 per nine innings.
Braves pitching coach Whitlow Wyatt was pleased with Jay's work. "He's getting it too," said Wyatt. "He uses (the slider) pretty good off his curve now. But he's right – a pitcher has to pitch to improve. For a youngster who hasn't has much of a chance, Joe has been a hard worker."6
For all his success in 1958, Jay went in reverse in 1959. He got off to a bad start and was ineffective for the entire season. Veterans Bob Buhl and Bob Rush took up the slack in the rotation, and Joey was demoted to the bullpen. Manager Fred Haney offered another reason why Jay was not having a successful year. "Jay hasn't done a lot of running in the outfield and no pitcher is any stronger than his legs," said Haney. "I don't think he's in shape to pitch – and I don't think he has been all season. Until he shows me that he means business, he's in the bullpen."7 Jay finished the season at 6-11, with an ERA of 4.09. The Braves tied Los Angeles for first place, but were swept in two games during a best-of-three playoff. Jay pitched 2⅓ scoreless innings in the second game, a 6-5 loss in 12 innings.
Haney resigned on October 4, saying he wanted to spend more time with his family. He was replaced by Charlie Dressen, who had skippered clubs in Cincinnati, Brooklyn, and Washington. Although Haney may have been harsh at times with Jay, attacking his lazy approach and his unwillingness to get into shape, Dressen chose to start fresh with Joey. He ran Jay in spring training, but encouraged and supported him more than Haney had.Dressen hinted that Jay would become a relief pitcher full time in 1960. Jay made 11 starts during the season, and came out of the bullpen in 21 games. He did not record his first victory until June 20, pitching in relief of Buhl and shutting down the Dodgers over the final 6⅔ innings of a game the Braves won 4-1. On August 25, he was moved into the rotation and from then until the end of the season, he made seven starts, posting a 5-2 record and a 2.66 ERA in that span. For the year he was 9-8 with an ERA of 3.24.
In the offseason Jay and another young Braves pitcher Juan Pizarro, were traded to Cincinnati for shortstop Roy McMillan. Former Reds manager Birdie Tebbetts had moved to Milwaukee as executive vice president (he eventually stepped in as manager, replacing Dressen) and coveted McMillan, his former Reds shortstop. Jay was unfazed by his move to the Queen City. "I don't think changing clubs will be a handicap," he said. "You change friends and teammates, but you do that when you bounce around in the minors, too. I'll pitch to win no matter what club I'm with. I guess it will be odd the first time or two I face the Braves. But Milwaukee will be the club I'll want to beat most of all."8
As it turned out, Jay did not pitch oddly against the Braves at all in 1961. In five starts he was 4-0 with a 2.32 ERA against his former mates. "My years with the Braves are in the past," Joey remarked. "I don't believe in rubbing it in. The Reds are my team now, and I'm happy."9 And it wasn't just the Braves that Jay got the best of; it was almost every other opponent. Jay pitched his way to a 21-10 record with a 3.53 ERA and a league-leading four shutouts. He struck out 157 batters. His 247⅓ innings were more than 100 over his previous high, and all 34 of his appearances were starts. Jay had a rocky beginning, losing his first three outings. But he caught fire in May, winning all six starts, and was named the National League Player of the Month. He was selected to the All-Star team, but did not participate in either of the two contests played that season.
Jay's 20th victory was a 1-0, four-hit shutout of the Braves on September 13. He retired Mathews, Aaron, and Joe Adcock in order in the ninth inning. "It's the strongest game I pitched this season," Jay said after the game." I threw everything hard and tried to get it to the spots I wanted."10 He was the first Reds pitcher to win 20 games since Ewell Blackwell won 22 in 1947. Jay tied his former teammate Spahn in wins and shutouts. He was named the starting pitcher on The Sporting News NL All-Star Team.Teammate Jim O'Toole won 19 games and Bob Purkey tallied 16 victories. The strong pitching, combined with the power of the Reds' outfield triumvirate, Frank Robinson, Vada Pinson, and Wally Post, plus the hitting of third baseman Gene Freese, propelled the Reds to the pennant, four games ahead of the Los Angeles Dodgers. Milwaukee finished fourth, 10 games out of first.
"I'm pitching the same way I did when I was with the Braves," he says. "No one taught me any new pitches or anything like that. The difference is that I'm getting a chance to pitch with the Reds. It's hard to work much when you have guys like Spahn, Burdette and Buhl around. Last year I started 11 games and won six of them. This year I started 34 games and won 21. That's the only difference."11
The Reds' opponent in the World Series was the New York Yankees. Right fielder Roger Maris had a memorable year as well, his 61 home runs eclipsing Babe Ruth's single-season record by one. Teammate Mickey Mantle hit 54 homers, but his season was cut short by an infected abscess on his right hip.
The Yankees flexed their muscles, winning the Series in five games. Jay won the only game for the Reds, a complete-game 6-2 victory in Game Two at Yankee Stadium. He started the deciding Game Five but was pulled in the first inning with two outs, having given up three runs. The Yankees got two more runs in the inning as they won the game, 13-5, and the Series. Jay had Bobby Richardson picked off first base with two outs, but an error by first baseman Gordy Coleman kept the inning alive for the Yankees. Johnny Blanchard homered, Elston Howard doubled, and the floodgates opened up on Jay and the Reds.
When Jay signed with Milwaukee, he invested some of his bonus money in a poultry farm in Lutz, Florida, about 40 miles from St. Petersburg. Now, with almost a decade in the major leagues, he was preparing for life when his career was over. With a partner, Allen Beard, he formed the J&B Drilling Company in the West Virginia oil country, and the company had some success finding petroleum.
Like most players of his day, when multiyear deals were rare, Jay played on a succession of one-year contracts. Seeking a bigger deal for 1962, he offered to buy out his contract out for a reported $150,000. When owner-general manager Bill DeWitt refused, Jay raised the pot to $200,000. Again DeWitt refused his offer. Eventually Jay signed. "After a while, you just get tired of arguing with them," he said. "Every time you attempt to make a point, they throw a statistic at you."12
Jay repeated his 21-victory season in 1962, losing 14 games. He was the first Reds pitcher to have successive 20-win seasons since Bucky Walters in 1939 and '40. Jay set a personal high for innings pitched (273), struck out 155, and posted a 3.76 ERA. He was 3-1 against the Braves in four games, with an incredible 1.35 ERA. In winning his 14th game, against Pittsburgh on July 24, he hurt his pitching shoulder, but received cortisone shots and remained in the rotation. He credited his manager, Fred Hutchinson, for much of his success. "I have to give Hutch a lot of credit," Jay said after defeating the Braves on July 29. "I've gotten a lot of wins this year because he has stuck with me."13
But Jay had outings that could annoy a pitcher no end. On August 29 he pitched a career-high 12⅔ innings but lost to the Dodgers, 2-1, as the Reds left 13 men on base. (He also set a career high in that game with nine walks, none of which figured in the scoring.)
Jay helped himself in two of his victories by hitting his only two major-league home runs. On May 1 he connected for a three-run shot against the New York Mets in an 8-2 win at the Polo Grounds. On May 28 he clouted a two-run homer at Crosley Field against the Houston Colt .45s in a 9-6 win for the Reds.
Bob Purkey won 23 games for the Reds that season, and Jim O'Toole won 16 to go with Jay's 21 victories. But the team finished in third place, 3½ games behind pennant winner San Francisco and 2½ games in back of runner-up Los Angeles. Against the Giants and Dodgers, the Reds were 16-20. Cincinnati was 58-23 at home, but only 40-41 on the road.
Jay touched off a controversy that season over his pitching motion. He was trying out a new way to speed up his delivery, one that San Francisco manager Alvin Dark and Los Angeles skipper Walter Alston claimed was a balk. Dark complained to NL President Warren Giles that Jay pitched "from two different set positions with runners on base."14 Sometimes he would stand on the rubber, his hands clasped, get the sign from the catcher and pitch. Other times, he went into a quick stretch, came to the set position and pitched. "A guy does something different and right away everyone claims it's illegal," said Reds manager Hutchinson. "What is the difference whether Jay stands on the rubber with his hands clasped or they're hanging at his sides?"15 Giles allowed Jay's new pitching style, but said it would be subject to review by the league presidents. During the offseason, a rule was enacted prohibiting Jay from using his new method of pitching. In effect, the ruling ended Jay's no-windup delivery, as well as his no-windup move to first base.
Always a slow starter when the season began, Jay in 1963 lost his first six starts before finally winning on May 11 against the Mets. But he could not right the ship, and after dropping a 3-2 decision to St. Louis on August 1, his record stood at 4-15. "It looks as if I'm going to have my third straight 20-game season – 20 losses," he cracked. "I feel bad when I lose because I want to help the club. Personally, though, one more loss now doesn't mean much to me."16 He finished the season with a 7-18 record and a 4.29 ERA. Although Jay may not have pitched well, his run support was under three runs a game (2.91). He also pitched through a sore right shoulder, and this time a cortisone shot would not do the trick. After August 16 Jay made only one start while pitching six games in relief. Hutchinson may have taken him out of the rotation to keep him from losing 20 games.
Jay's relationship with his manager took a plunge the next season. Joey asked Hutchinson for permission to leave the Reds' 1964 spring training camp in Tampa, Florida, to return home and tend to personal business. Hutchinson denied his request, but Jay left anyway. Hutchinson, backed by Bill DeWitt, said Jay would be penalized financially when he returned to camp. "We can't tolerate any player walking out on us," the manager said. The feud was on and it carried over into the season. Jay wanted out of Cincinnati, and felt that he was on the trading block because of perceived chronic arm trouble. "I wouldn't blame a club for thinking that may be true,"17 he said.
Jay got little sympathy from The Sporting News, which said in an editorial, "A decade ago, Jay received a substantial bonus from the Braves. This club waited patiently for years for a return on the investment, never received it and finally dealt Jay to Cincinnati. There, in 1961 and 1962, Jay developed into an outstanding pitcher. Last year, however, he fell far off the pace of the two preceding years. Despite this, Jay is one of the higher-salaried hurlers in baseball. Jay has little, if any, reason to yelp. Baseball has been more than good to him for over ten years. With good pitching as scarce as it is, all he has to do to stay in the high salary bracket is to correct his attitude and bear down in behalf of the Reds."18
For all the off-field fireworks, on the diamond Jay again bounced back. He finished with an 11-11 mark and a 3.39 ERA. In 183 innings he struck out 134 batters and walked only 36. On August 11 he struck out 13, his career high for a game, in a 4-2 victory over Los Angeles. On September 4 he struck out 12 in a 2-0 loss to the Braves. He had some hard luck. On June 30 he fired a two-hitter at Wrigley Field against the Cubs. But Chicago's Larry Jackson was better, giving up only one hit, a single to Pete Rose, in a 1-0 victory over Jay. "What does a guy have to do to win a game?" Hutchinson said in July. "He pitches three complete games, gives up only five runs, and what does he have? Three losses."19
Hutchinson became ill and was hospitalized for cancer treatment in late July. Coach Dick Sisler was named interim manager. Sisler, the son of St. Louis Browns great George Sisler, piloted the team to a 32-21 record in the second half of the season. Hutchinson died on November 12 at the age of 45.
On September 13 the Reds were in third place, seven games behind Philadelphia. The Cardinals were also threatening the Phillies' lead. From the 13th to the 27th, the Reds won 13 of 15 games, including nine in a row. Three of those victories were over Philadelphia, and launched the Phillies' ignominious collapse under a ten-game losing streak. On the 27th Jay defeated the New York Mets, 3-1, in the second game of a doubleheader and the Reds moved into first place, one game ahead of the Phillies and a game and a half over St. Louis. But finishing at Crosley Field, the Reds lost four of their last five games and the Cardinals won four of six, winning the pennant by a game.
After Hutchinson's death in November, the Reds removed the "interim" label from Sisler's title. Jay, stricken with the flu, was unable to make his first spring-training start until March 28. But he was ready when the 1965 season began. After a three-inning relief appearance on April 17, Jay made his first start four days later and defeated Chicago, 9-2, at Wrigley Field. He and O'Toole also worked out of the bullpen to bolster the relief corps as Sisler searched for a winning rotation. Jay was sidelined with elbow pain from late June until July 18. He pitched through the discomfort and was 8-2 after a victory on July 23. By September he was pitching out of the bullpen, except for two starts, and did not have much success. After the great start, he produced only one more victory, winding up with a 9-8 record and a 4.22 ERA. The Reds finished fourth in the ten-team NL, eight games behind the pennant-winning Dodgers.
Don Heffner replaced Sisler as the Reds manager in 1966. Jay, who took a pay cut, was sanguine about his future in Cincinnati. "You get 30 and over and you go," he said. "Look at Frank Robinson, he just turned 30 and he left."20 (Robinson had been traded to Baltimore at the end of the 1965 season.)
As usual, Jay got off to a slow start in 1966. After losing his first two outings, he won his next five. Jay's last start for the Reds came on June 1. He had a no-decision in seven innings against the Pirates, allowing seven hits and striking out four. His record stood at 6 wins and 2 defeats. Two days later, just before the trading deadline, he was traded to the Atlanta Braves for pitcher Hank Fischer. "I was surprised more than anything else," Jay said. "Don Heffner and I were getting along just fine. I don't think he had anything to do with the deal."21 But Jay failed to win a game with the Braves in eight starts. He was released after the season. He was 30 years old.
Jay signed a minor-league deal with Philadelphia in 1967. When the Phillies ended spring training, Jay stayed behind in Clearwater, Florida, then was assigned to the Tidewater Tides of the Class A Carolina League. After making four starts and going 3-1 there, Jay was released. The Phillies were convinced that the speed he once had was now gone.
In retirement, as he was during his playing career, Jay was an active businessman. J&B Drilling grew to own 75 to 100 oil wells. He also owned or was a part owner of taxicab companies, a fleet of limousines, a carpet-cleaning business and two building maintenance firms. "I started to mingle with all kinds of wheeler-dealers, and before I knew it I owned several oil fields in West Virginia," he said.
Jay, a western Florida resident, adopted a life without baseball. He declined to attend card shows or fantasy camps, and embraced a very low profile contrasted to his former public life. "I don't live in the past, like most ballplayers," he said. "I don't wear my World Series rings, my mother has my scrapbooks, and if someone offered me a baseball job, I'd turn it down in a minute. When I made the break, it was clean and forever. It's infantile to keep thinking about the game. It gets you nowhere. Most ex-ballplayers keep on living in some destructive fantasy world. Not me. I'm happier than ever since I left. And do me a favor. Don't mention where I live."22
Last revised: July 1, 2014
This biography is included in the book "Thar's Joy in Braveland! The 1957 Milwaukee Braves" (SABR, 2014), edited by Gregory H. Wolf. To download the free e-book or purchase the paperback edition, click here.
Sources
The Sporting News
Baseball Digest
Sports Illustrated
National Baseball Hall of Fame Archives
1930 United States Census
minors.sabrwebs.com/cgi-bin/index.php
cincinnati.reds.mlb.com/index.jsp?c_id=cin
Notes
Born
August 15, 1935 at Middletown, CT (USA)
If you can help us improve this player's biography, contact us.
http://bioproj.sabr.org/bp_ftp/images5/JayJoey.jpg
600
800
admin
/wp-content/uploads/2020/02/sabr_logo.png
admin
2012-01-04 20:35:41
2012-01-04 20:35:41
Joey Jay