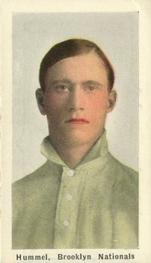 ---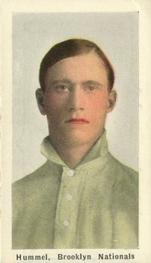 Considered a "Methuselah" because he played for the Brooklyn Superbas for an uninterrupted period of more than a decade, John Hummel was known as the "prince of utility players," appearing in 548 games at second base, 293 in the outfield, 160 at first base, and 74 at shortstop. Hummel batted .254 and stole 119 bases over the course of his dozen seasons in the majors, but his strength, according to J. C. Kofoed of Baseball Magazine, "is not measured by his hard hitting, nor yet his remarkable fielding or daredevil base stealing. 'Versatility' is the one word that sums up the tall Pennsylvanian's worth." Kofoed wrote that it hardly mattered to Hummel where he played, but that wasn't exactly true; the 5'11, 185 lb. utility man preferred first base, but his teammates thought he was best suited for the outfield. "Most of all, I would like to get settled in one spot," the reticent Hummel confided.
The son of Alfred Hummel, John Edwin Hummel was born on April 4, 1883, in Bloomsburg, a college town in central Pennsylvania. "I used to play ball in lots when I was seven years old," John recalled. "My father was a cabinet maker in Bloomsburg, and he taught me the trade. But I did not stay in the shop when I heard the other kids playing ball. When he'd start the big lathe going I'd sneak out." John got his first real baseball experience when he enrolled in the Bloomsburg State Normal School (now known as Bloomsburg University) and played second base on a standout college team that defeated Bucknell, Penn State, Franklin & Marshall, Gettysburg, Villanova, and Carlisle. Though he was still a year short of obtaining his degree, Hummel finished out the 1903 spring semester and left school for good, signing to play baseball with Wilmington, Delaware, of the outlaw Tri-State League.
"My first day on the field with Wilmington, I kicked on a decision and [teammate] Bill Everson, the old pitcher, called me 'Rowdy John,'" Hummel recalled. "The newspapers took it up and I made up my mind right then that I'd never kick again. When the papers and the players saw I was quiet, Everson called me 'Honest John' and then finally 'Silent John,' which has stuck to me ever since." The "Honest John" appellation, according to the Brooklyn Eagle, came because Hummel "was always striving to win, even when the lead of the opposing team was great enough to bury the hopes of the ordinary player." John had yet another nickname, "Colonel Pinch," which he thought came "maybe from the fact that I was lucky enough to come up with a hit in the pinches," but "Silent John" was by far the most popular of his various nicknames.
After playing the outfield in Wilmington for two years, batting .307 in his first season and .292 in his second, Hummel made his debut in Organized Baseball in 1905 with Holyoke, Massachusetts, of the Connecticut League. Alternating between second and third base, he fielded well and batted .330 with 32 stolen bases in 110 games. That fall the Brooklyn Superbas acquired him for third baseman Mike "Kid" McCormick and cash. Making his major league debut on September 12, 1905, Hummel replaced second baseman Charlie Malay for the rest of the season and batted .266 in 30 games. The following year he appeared in 50 games at the keystone sack, sharing the position with Whitey Alperman, but he also played in 21 games in the outfield and 15 at first base. Hummel batted just .199 but connected for the first of his 29 career home runs, an inside-the-park job at Pittsburgh's Exposition Park on July 10, 1906.
The apex of Hummel's career was from 1908 to 1912, when he averaged 142 games per season. In 1908 he played in all 154 games, ranking second in the National League with 594 at-bats. Hummel left his mark on that season's pennant race, not to mention Larry Doyle's leg, when he spiked the star second baseman of the archrival Giants on September 8, knocking him out of the starting lineup for the rest of the season. "There was no excuse for Hummel cutting Doyle down," wrote Sam Crane in the New York Evening Journal. "He was out so far on a force play that he hadn't a show to make the bag." The following year Silent John went back on his vow never to "kick" — he was ejected three times that season, twice when he didn't even open his mouth. On the third occasion, rookie umpire Stephen Cusack sent him to the bench even though all he did was say, "I thought I was safe." As always, Silent John remained reclusive off the field. "Hummel is a Trappist monk," wrote one reporter. "On the train after a game, this silent fellow will lean against a berth and noiselessly smoke, quickly subsiding into his strange apathy."
In 1910 Hummel finally got the chance to "settle in one spot," appearing in 153 games at second base. He made the most of the opportunity, leading all NL second basemen with a .965 fielding percentage. Though he batted only .244, he established career highs in runs (67), RBIs (74), doubles (21), triples (13), home runs (5), and stolen bases (21). On the negative side, the free-swinging right-handed hitter led the National League with 81 strikeouts. The following season Hummel again played regularly at second base, improving his league-best fielding percentage to .972. He reverted to his role as utility man in 1912, however, splitting his time almost evenly between second base and the outfield.
By 1912, though he'd not yet turned 30, Hummel had been with the Brooklyn team longer than any other player on the roster. "Practically every fan in the City of Churches believes Silent John to be a grandpa," wrote Kofoed. Despite his longevity with the Superbas, Hummel was not a fan favorite. That changed in 1914, however, when John filled in at the start of the season for the injured Jake Daubert. "Every Brooklynite realizes that few first basemen would appear to advantage as understudy for the big fellow, but the veteran's work during Daubert's enforced absence was more than satisfying — it was sensational," wrote Kofoed. Though he eventually tailed off to a more characteristic .264, Hummel batted .355 in his first 35 games, which is how he came to be featured in Baseball Magazine. "Hitherto he has not been a particular favorite of the bleacherites, for the 'sun gods' are worshippers of the blatant and spectacular," wrote Kofoed. "This season saw a decided change. Now Hummel is one of the biggest favorites on Robinson's squad, and his every appearance is greeted with vociferous cheers."
In 1915 the 32-year-old Hummel batted .230 in just 53 games, the fewest since his rookie year, and the Dodgers finally released him. He spent the off-season playing basketball in Springfield, Massachusetts, the hometown of his wife, Agnes. Reportedly turning down several lucrative offers from Federal League clubs, John played the next two seasons with Buffalo in the International League before returning to the majors in 1918 to play 22 games for the war-depleted New York Yankees. He later embarked on a career as a minor-league manager, piloting teams in Saskatoon, Binghamton, Harrisburg, Scranton, Wheeling, and his adopted hometown of Springfield before retiring from baseball in 1927.
At the height of his playing days Hummel stated that his goal after baseball was to open a café and cigar store in Bloomsburg, but he ended up settling in his wife's hometown and working 26 years as a foreman for the Diamond Match Company, also managing the company baseball team. In his later years he disdained the livelier ball. "In the good old days we played heart and soul for one run, whereas now they play for 10 or 12," he said. John Hummel was 76 when he died at Springfield's Mercy Hospital on May 18, 1958. Agnes survived him, as did the couple's two children and four grandchildren.
Note: An earlier version of this biography appeared in Tom Simon, ed., Deadball Stars of the National League (Washington, D.C.: Brassey's, Inc., 2004).
Sources
Most of the information for this biography came from J.C. Kofoed's article, "The Silent Infielder," from Baseball Magazine, October 1914. The author also consulted other material from Hummel's file at the National Baseball Hall of Fame Library in Cooperstown, New York.
Born
April 4, 1883 at Bloomsburg, PA (USA)
Died
May 18, 1959 at Springfield, MA (USA)
If you can help us improve this player's biography, contact us.
https://sabr.org/wp-content/uploads/2012/01/Hummel-John.jpg
263
151
admin
/wp-content/uploads/2020/02/sabr_logo.png
admin
2012-01-04 20:30:39
2022-10-22 15:26:56
John Hummel