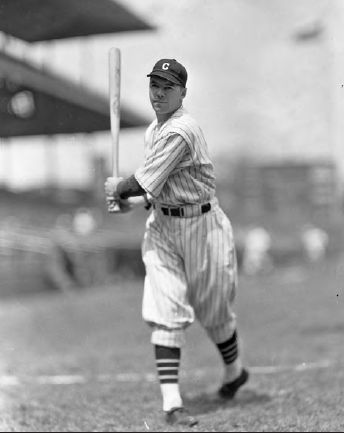 ---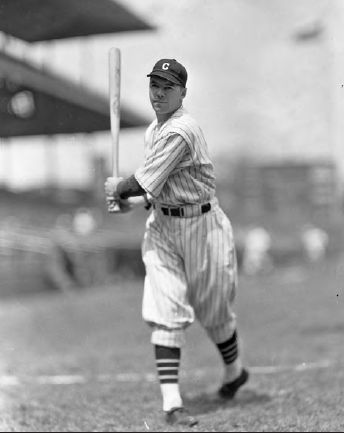 Johnny Moore's one glimpse of fame, if it can be called that, is that he was the Cubs center fielder over whose head sailed Babe Ruth's supposed called-shot home run in the 1932 World Series.  Otherwise, it is hard to imagine a more completely forgotten yet outstanding player from any era than Moore.  Even excellent recent histories of baseball in the 1930s, oral and otherwise, have completely omitted him.1
In ten big-league seasons spanning 1928 through 1937 and then again briefly in 1945, Moore batted an impressive .307 for the Chicago Cubs, Cincinnati Reds, and Philadelphia Phillies as a left-handed-hitting outfielder.  At 5-feet-10 and 175 pounds, he had surprising pop in his bat.  His lack of notoriety is certainly due in part to the fact that he spent most of his career with bottom-dwelling teams, as compared to his near namesake JoJo Moore, who patrolled the outfield for the high-profile New York Giants during the same time span.2
Moore apparently didn't gain much respect during his playing days either.  Although he was among the league leaders in hitting for five consecutive seasons with the Phillies, topping out at .330 in 1934, he was never named to the National League All-Star Team.  And, after hitting .319 in 96 games in 1937, he found himself without a major-league job.  He showed he still had a lot left in the tank, winning a Pacific Coast League batting title and finishing second another year in eight productive seasons with the Los Angeles Angels.3  Although Moore hit well above .300 in seven of those eight PCL years, he didn't appear in a major-league game again until the tail end of the war-depleted 1945 season when, as a 43-year-old he pinch hit in seven games.
John Francis Moore was born in the Waterville neighborhood of Waterbury, Connecticut, on March 23, 1902.  He was drawn to baseball at an early age, but at about the age of 14 entered a trade school to learn tool and die making. When he graduated, he went to work for the major tool and die company in Waterbury, which afforded him the opportunity to play on the company's baseball and basketball teams.  Moore "thought Santa Claus had come."4
Moore was an outstanding basketball player and played against the Original Celtics (a barnstorming team of the 1920s not related to the Boston Celtics of the NBA) and other top teams. But his first love was baseball and at the age of 21 he caught the attention of Neal Ball, a scout for the New Haven Profs of the Class A Eastern League, which was owned by George Weiss.5  Moore, who had married when he was 18, was unsure if he should give up a steady, good-paying job to try professional baseball. 
Moore and his wife, Rita, decided to have him give pro baseball a try.6 He showed immediate promise, batting .323 in 31 games and 124 at-bats during his initial year in the fast Class A Eastern League. That earned Moore a return invitation to New Haven for 1925. In his first full season he dipped to .267 in 116 games for the fourth-place Profs.  Moore had a day to remember that year, however, going 6-for-6 in a midseason game.7  He split 1926 between New Haven and his hometown Waterbury Brasscos, batting a robust .323 in 136 games and 523 at-bats. 
In 1927 Moore was back with New Haven and played in all 154 games, batting .285 for the fifth-place Profs.  That performance earned him, finally, a promotion to the Reading Keys in the Double-A International League, where he hit an impressive .328 in 1928 while driving in 117 runs in 146 games. The Chicago Cubs were impressed enough to purchase Moore's contract after the minor-league season concluded.  In four late-season games with the Cubs, he batted four times without a hit.
The Cubs invited Moore to spring training in 1929 and he showed enough to make the team.  Playing time was sparse, however, for Chicago had Kiki Cuyler, Riggs Stephenson, and Hack Wilson patrolling the outfield.  Although with the team the entire season, he got into only 37 games, hitting .286 in 69 plate appearances. Sixteen of those were as a pinch-hitter, as were four of his 18 hits for the year.  Manager Joe McCarthy did not, however, use Moore in the World Series, won by the Philadelphia Athletics in five games.
To gain Moore regular playing time, the Cubs sent him to the Los Angeles Angels of the Pacific Coast League for 1930.  He proceeded to bat .342 for the year and made the All-Star team in a league many considered a third major league.8  Still, the Cubs didn't call until midway through 1931.  Moore was batting .366 in 80 games when Chicago finally summoned him back to the big leagues.  For the balance of 1931 he managed only a .240 average for the fourth-place Cubs in 39 games, 16 as a pinch-hitter.
Hack Wilson wore out his welcome in Chicago in 1931 and was traded in December, finally opening a spot in the Cubs' outfield for Moore.  Normally hitting fourth or fifth in the lineup, he responded with a fine 1932 season in center field for the pennant-winning Cubs, batting .305 in 119 games.
In the World Series the Cubs were swept by the New York Yankees. Moore struggled at the plate, going 0-for-7 while starting Games One and Three.  It would be Moore's only World Series.  In fact, 1932 was the only full season he played on a team contending for the pennant.
When Babe Ruth allegedly called his shot in Game Three, the ball reached the stands just over Moore's outstretched glove in center field.  When asked, Johnny said he couldn't tell from his vantage point whether or not Ruth actually pointed to the stands. He just knew that he wasn't able to catch Ruth's blast.9
After the season the Cubs shipped Moore along with catcher Rollie Hemsley, outfielder Lance Richbourg, and pitcher Bob Smith to the Cincinnati Reds for outfielder-first baseman Babe Herman. The Reds had finished in the cellar in 1932 and repeated the feat in 1933, completing the season 33 games out of first place.  Moore was installed in center field in 1933 but slumped to .263 in 562 plate appearances.  It was his lowest full-season batting average by 42 points.  His home-run total also tailed off from 13 with the Cubs to only one with the Reds.
Moore got off to an even slower start with the Reds in 1934 and after 16 games was hitting only .190.  The Reds were again going nowhere and on May 16 they traded Moore and pitcher Syl Johnson to the equally inept Philadelphia Phillies for pitcher Ted Kleinhans and outfielders Art Ruble and Wes Schulmerich. It would turn out to be one of the few good trades the Phillies of that era ever made as Moore averaged over .325 for the next four years in the City of Brotherly Love.  He began by hitting a lusty .343 and driving in 93 runs in 116 games for the 1934 Phillies, who finished in seventh place, five games ahead of the last-place Reds.  Both marks led the team while his 11 home runs were second to the 12 hit by first baseman Dolph Camilli. Moore followed that superb season by appearing in all 153 Phillies games in 1935 and batting .323 to lead the team in hitting for the second year in a row.  His 93 runs batted in again led the team while his 19 home runs were second on the club to Camilli's 25.  The team was still mired in seventh place but finished 26 games ahead of the woeful Boston Braves, who lost a then-record 115 games.
Moore played right field for the Phillies in 1935 in front of the infamous short but high right-field fence in the old Baker Bowl.  Given the Phillies' weak pitching, he had plenty of practice and quickly became expert at playing the caroms off the poles and metal fence.10
In 1936 the Phillies reacquired Chuck Klein from the Cubs to play right field and it was thought that Moore would be relegated to the bench.  But by the end of May he was hitting .360 while patrolling the more spacious left field.  He ended up leading the team in hitting for the third straight season, batting .328 with 16 home runs, as the team slipped into the cellar, winning only 54 games.  Moore had a career day on July 22, hitting three consecutive home runs and driving in six runs in a 16-4 win over the Pittsburgh Pirates at Baker Bowl.  Moore later recalled that he almost had four in a row.  The first three were high fly balls that he pulled over the short right-field wall, but the fourth was a line smash that was caught at the base of the fence.11
On August 27 of that year Moore made a triumphant return to Waterbury, as the Phillies played an exhibition game against a team of local amateur all-stars.  He smashed three home runs as the major leaguers prevailed, 10-8, in a slugfest that was called after eight innings because the teams had run out of baseballs.12
The Phillies climbed to seventh place in 1937 and Moore was again one of their leading hitters with a .319 batting average.  Injuries limited him to 72 games in the outfield and 329 plate appearances.  In 20 pinch-hit appearances he came through with seven hits.  He had another memorable day on August 17 against the Dodgers in Ebbets Field, slugging two home runs with five RBIs to lead the Phillies to an 11-1 victory. Although it seemed a meaningless game to most, it was not so for the participants because it propelled the victors out of the cellar, changing places with Brooklyn.
Phillies owner Gerry Nugent was notorious for selling his ballplayers to make ends meet, and that is just what he did with Moore after the 1937 season, peddling him to the Los Angeles Angels of the Pacific Coast League.  Although the Dodgers were reputedly also interested in acquiring Moore, the Angels offered more money.13 Thus, at the age of 35 Moore was suddenly out of the big leagues, although some would argue that the better Coast League teams were superior to major-league tail-enders like the Phillies.
According to one source, Moore spent offseasons playing bridge and basketball, bowling,  and fishing.14 Beginning in 1933, the Moores lived in Sarasota, Florida, in the offseason.  Moore passed the Florida real-estate examination after the 1937 season and began working in the real-estate business in preparation for life after baseball.
Moore became a fixture with the Angels, however, and stayed with the team for eight years. He was a regular for the first five seasons, hitting over .300 each year.  In 1940, for example, Moore got off to a torrid start for the Angels, batting .448 after 25 games before finishing the year at .311.15 In 1941, at the age of 39, he led the league in hitting with a .331 average, slugging 18 home runs and driving in 100 runs in 134 games.  He struck out only 12 times in 518 plate appearances. At 40 the following year, he did even better, hitting .347 in 537 plate appearances.  He was also an outstanding flychaser with the Angels, making more than three errors in a season only once and ranking in the top five in fielding average every year but one.16
By 1943 Moore was a part-time player and frequent pinch-hitter, hitting .290 in 81 games. He followed in 1944 with a .325 average in 134 appearances, mostly as a pinch-hitter.  He exceeded that in 1945 at the age of 43. Used exclusively as a pinch-hitter for the Angels, he batted a robust .354 in 65 at-bats.  He drove in 26 runs with his 23 hits, and slugged four pinch-hit homers. In the ninth inning of an August game against the Portland Beavers, Moore blasted a pinch-hit grand slam to turn an 8-5 Angels deficit into a 9-8 walk-off win.
Angels manager Bill Sweeney called Moore the best pinch-hitter he had ever seen and "conservatively" estimated that Moore had won at least ten games for the Angels that year.17  
Moore's 1945 performance earned finally earned him a trip back to the big leagues when the Cubs, who were in the middle of a tight pennant race, purchased his contract in early September. Cubs manager Charlie Grimm used him sparingly down the stretch, however.  In seven pinch-hit appearances, Moore singled in two runs and drew a walk as the Cubs won the pennant by three games over the St. Louis Cardinals.  He missed being eligible for the World Series roster by only one day.18
Moore retired as an active player that winter, after a 22-year professional playing career. The Cubs offered him a minor-league managerial position, but he instead signed as a West Coast scout for the Boston Braves.19 He served the Braves organization for 22 years.  He quickly became one of the best judges of talent in the game, signing Eddie Mathews in 1949 and Del Crandall in 1950 as amateurs and finding Lew Burdette, who was languishing with the San Francisco Seals when they were the worst team in the Pacific Coast League.20
Moore first saw Mathews play when he was 14 years old and followed him through his high-school career.  Eventually 15 of the 16 major-league clubs contacted Eddie.  But Mathews was impressed by Moore's honesty and candor and signed with the Braves for considerably less money, because he knew he wouldn't be rushed to the big leagues before he was ready.21
Moore was so astute at finding prospects that at one point in the early 1960s he had signed five of the Braves' 25-man big-league roster, even though the Braves had 24 full-time scouts on the payroll.22 The Montreal Expos lured Moore away as their West Coast scout when they came into existence in 1968 before he retired in the winter of 1971 at the age of 68.  On that occasion both Montreal president John McHale and general manager Jim Fanning lauded Moore as one of the most respected and best scouts in the game.23 Overall, he had signed more than 200 players to professional contracts.
After retirement, Moore and his wife, Rita, settled in Bradenton, Florida.  He became a three-handicap golfer and a top player on the local seniors circuit, once beating his old rival Paul Derringer in a playoff for the Sarasota Seniors Championship.24
Johnny Moore died in Bradenton on April 4, 1991, at the age of 89.  He left behind his wife, Rita, two children, six grandchildren, and a great-grandchild. In 2009 Moore was elected to the Original Pacific Coast League Hall of Fame. Although he was largely under the radar, his was a fine baseball career as both a player and scout.
Sources
Beverage, Richard E., The Angels — Los Angeles in the Pacific Coast League, 1919-1957 (Placentia, California: Deacon Press, 1981).
Ehrgott, Roberts, Mr. Wrigley's Ball Club — Chicago & the Cubs During the Jazz Age (Lincoln: University of Nebraska Press, 2013).
Johnson, Harold (Speed), Who's Who in Major League Base Ball (Chicago: Buxton Publishing Co., 1933).
Johnson, Lloyd, and  Miles Wolff, eds., The Encyclopedia Minor League Baseball (Durham, North Carolina: Baseball America, Inc., 2nd ed., 1997).
Klima, John, Bushville Wins! The Wild Saga of the 1957 Milwaukee Braves (New York: Thomas Dunne Books, 2012).
Mathews, Eddie, and Bob Buege, Eddie Mathews and the National Pastime (Milwaukee: Douglas America Sports Publications, 1994).
Spalding, John E., Pacific Coast League Stars — Ninety Who Made It to the Majors (Manhattan, Kansas: Ag Press, 1997).
Wells, Donald R., The Race for the Governor's Cup — The Pacific Coast League Playoffs, 1936-1954 (Jefferson, North Carolina: McFarland & Co., Inc., 2000).
Westcott, Rich, Diamond Greats — Profiles and Interviews With 65 of Baseball's History Makers (Westport, Connecticut: Meckler Books, 1988).
Westcott, Rich, and Frank Bilovsky, The New Phillies Encyclopedia (Philadelphia: Temple Univ. Press, 1993).
Bloodgood, Clifford, "The Interesting Career of Johnny Moore, Baseball Magazine, August 1937.
Johnny Moore clippings file of the Baseball Hall of Fame Library.
Notes
1 For examples of excellent histories of the 1930s baseball without a trace of Johnny Moore, see Charles Alexander, Breaking the Slump — Baseball in the Depression Era; Donald Honig, Baseball When the Grass Was Real – Baseball from the 20's to the 40's Told by the Men Who Played It; Eugene Murdock, Baseball Between the Wars — Memories of the Game by the Men Who Played It; and Fay Vincent, The Only Game in Town — Baseball Stars of the 1930s and 1940s Talk About the Game They Loved.
2 Moores were rampant in the National League outfield during the 1930s.  In addition to Johnny and JoJo, Gene Moore roamed the outfield for the Cardinals and Randy Moore for the Braves.  Also, Austin "Cy" Moore pitched for the Dodgers and Phillies and Whitey Moore for the Reds.
3 Overall, Moore batted .326 in 10 Pacific Coast League seasons.  John E. Spalding, Pacific Coast League Stars — Ninety Who Made It to the Majors, 1903 to 1957, 110.
4 Rich Westcott, Diamond Greats – Profiles and Interviews With 65 of Baseball's History Makers, 109.
5 Neal Ball's primary claim to fame was that he made an unassisted triple play during his playing days with the Cleveland Indians.
6 The couple had three children: Johnny Jr., who played minor-league baseball for a couple of seasons during the early 1940s, Rita, and Irving.  Clippings dated May 7, 1942, and June 22, 1944, from the Johnny Moore clippings file of the Baseball Hall of Fame Library; Rich Westcott, 110.
7 Clifford Bloodgood, "The Interesting Career of Johnny Moore," Baseball Magazine, August, 1937, 398.
8 That season Moore played in one of the best PCL outfields of all-time.  In addition to his .342 average, Jigger Statz hit .360 and Wes Schulmerich .380.  Fourth outfielder G.W. Harper hit .308.
9 Westcott, 109.
10 Westcott, 108.
11 Westcott, 109-110.
12 Clipping dated August 27, 1936, from the Johnny Moore clippings file of the Baseball Hall of Fame Library.
13 Westcott, 108.
14 Harold (Speed) Johnson, Who's Who in Major League Baseball, 291.
15 Clipping dated May 23, 1940, from the Johnny Moore clippings file of the Baseball Hall of Fame Library.
16 Spalding, 110.
17 Unidentified article dated September 6, 1945, from the Johnny Moore clippings file of the Baseball Hall of Fame Library.
18 Unidentified articled dated July 7, 1963, from the Johnny Moore clippings file of the Baseball Hall of Fame Library.
19 Ibid.
20 Ibid; John Klima, Bushville Wins — the Wild Saga of the 1957 Braves, 32-33, 39, 41-42.
21 Eddie Mathews and Bob Buege, Eddie Mathews and the National Pastime, 5-6.
22 In addition to Eddie Mathews and Del Crandall, they were Denny Lemaster, Lee Maye, and Dan Schneider.  Unidentified article dated July 7, 1963, from the Johnny Moore clippings file of the Baseball Hall of Fame Library.
23 Montreal Expos Press Release, January 5, 1971, in the Johnny Moore clippings file of the Baseball Hall of Fame Library.
24 Westcott, 110.
Born
March 23, 1902 at Waterville, CT (USA)
Died
April 4, 1991 at Bradenton, FL (USA)
If you can help us improve this player's biography, contact us.
http://sabr.org/sites/default/files/JohnnyMoore.JPG
600
800
admin
/wp-content/uploads/2020/02/sabr_logo.png
admin
2012-01-04 20:39:45
2020-10-14 17:09:34
Johnny Moore