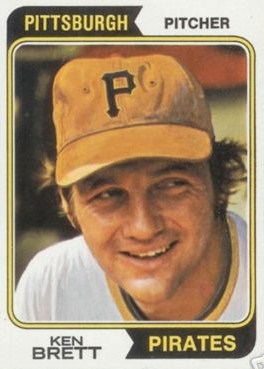 ---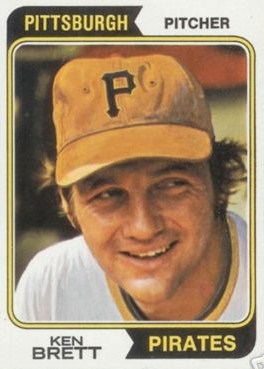 Longtime scout Joe Stephenson once called Ken Brett "a combination of George Brett [his brother], Fred Lynn, and Roger Maris. He was the best prospect that I ever saw."1 Ken Brett's numbers never quite lived up to the reputation. "The worst curse in life," Brett would later offer, "is unlimited potential."2 After becoming the youngest pitcher ever to appear in the World Series, he went on to hurl for a then-record 10 different teams, pitch in (and win) one All-Star game, carry a no-hitter into the ninth inning twice, and set the record for the most consecutive games (4) with a home run by a pitcher. After baseball, Brett went on to work with his brothers on a variety of sports-related ventures, including owning minor-league baseball and hockey teams.
Kenneth Alven Brett was born on September 18, 1948, in Brooklyn, New York. He was the second of Jack and Ethel Brett's four sons. All four brothers played professional baseball. Baby brother George is, of course, enshrined in the Hall of Fame. The eldest, John, and third son, Bobby, played in the minors until injuries derailed their careers.
John, Ken, and Bobby were born while the Bretts lived in Brooklyn. The family then lived for a little while in the town of Moundsville, West Virginia, hard against the Ohio River in the northern panhandle, where George was born. The family then completed their cross-country journey to Southern California, much like their old home team, the Brooklyn Dodgers – although Jack was a Yankees fan.
The Brett family finally settled down in El Segundo, California. Nestled among the Pacific Ocean, the Los Angeles airport, the 405 San Diego Freeway, and oil refineries, El Segundo is a bedroom community and home to many aerospace companies. Jack was an accountant, eventually becoming a finance director for Datsun. He had a no-nonsense attitude as a father. But as a youth, George once told Sports Illustrated, "He used to steal cars."3 The Bretts' paternal grandfather was a chief clerk on Wall Street, which was a pretty good job at the time. But Jack dropped out of high school and worked in a machine shop. Then in World War II he joined the Army. He was shot in the leg in France and went back home and got a business degree from Pace University.
Even when Ken was a little boy, his father was impressed with his physique. "He looked like the statue of David when he was growing up," Jack once said. "When he was just a little boy, his stomach was so strong that you could see the plates, the muscles." His father recalled the 10-year-old Ken hitting two home runs over a 220-foot fence.
Ken was a good student as well. He was student-body secretary at El Segundo Junior High School in 1961. And young Brett had the grades for Stanford, USC, and UCLA. Said Ken of his childhood, "Dad was stern and strict, a tough disciplinarian. He expected us to do well in school and he expected us to do our work around the house. He made me go to summer school once to improve what was a better-than-average grade to start with."
At 15, Ken helped the El Segundo All-Stars capture the 1964 Babe Ruth League national championship. In that tournament, the lanky left-hander no-hit a team from New Orleans. Although he walked seven, he struck out 10 and did not allow a ball to be hit out of the infield.
Kemer (pronounced "kemmer," a family nickname derived from his brother James's pronunciation of Kenneth) had a 33-3 record in high school, to go along with a .484 batting average. He played first base and shortstop (despite being a lefty) in Little League, but later switched to the outfield when he wasn't pitching. He was a Los Angeles Dodgers fan and admired Sandy Koufax, and not just because he was also a lefty from Brooklyn, but because he was a dominating type of pitcher. He had a friend whose elder brother would take the two boys to Dodger Stadium several times a year. Kemer would sit in the cheap seats and use binoculars to watch Koufax warm up.
Ken played football and basketball in high school until he broke a leg in his junior year, but his first love was always baseball. He was the California Interscholastic Federation Player of the Year in 1966, drawing the attention of many baseball people. Casey Stengel, Yogi Berra, Carl Hubbell, and Bobby Doerr were among the parade of those who went to see him play. Dad Jack dreamed of Ken's replacing Mickey Mantle in the Yankees' center field. But Ken was selected by the Red Sox with the fourth pick of the June 1966 amateur draft.
The other organizations interested in Brett would have selected him as an outfielder, but the Red Sox, still mired in the second division, needed live arms. Jack Brett negotiated for his son, in these days before agents. He talked to the father of Steve Chilcott, who was the number-one pick that year (by the Mets), to get an idea of what Ken's signing bonus should be. The Red Sox sent scout Joe Stephenson to the Brett house to make an offer. Jack refused, as Ken had an out – he could go to college. But Ken really wanted to play and he signed a contract after the scout's third visit. He received a $100,000 bonus, plus money for college.
Brett got lost on his way to Oneonta, New York, his first pro baseball destination. The team had to send out the police to look for the southpaw. He struggled that first season in the New York-Penn League, going 1-4 with a 5.81 ERA in 62 innings pitched. He went on to play winter ball in the Florida Instructional League.
In 1967 Brett pitched for Winston-Salem of the Carolina League and Pittsfield of the Eastern League, putting up some strong numbers – 189 innings pitched, a combined 14-11 record with 219 strikeouts and an ERA of 1.95 – before the left-handed fireballer was a late-September call-up to the Red Sox. Even though Brett had only turned 19, the big leaguers were already impressed with his fastball. Carl Yastrzemski told a reporter, "That's the new Sam McDowell. Russ Gibson says that kid throws harder than anyone he's ever caught."4 Elston Howard said, "This boy Brett is as fast as Bob Turley was in his prime. I also think that he's as fast as Koufax was."5 On September 27 he made his major-league debut, pitching two innings to finish up a game against the Cleveland Indians. He gave up one run on three hits, walking none and striking out two in his only appearance during the regular season.
The Red Sox were involved in what many consider the greatest pennant race of all time. They prevailed, and faced the St. Louis Cardinals in a rematch of their previous World Series appearance 21 years earlier. Because he was a September call-up, Brett wasn't expected to be on the postseason roster. But one bullpen lefty (Bill Landis) went into the service, while another (Sparky Lyle) developed late-season arm trouble. So the Red Sox got approval from both Commissioner William Eckert and the Cardinals to put Brett on the roster, using the same loophole used by the California Angels for Francisco Rodriguez (K-Rod) 35 years later.
Brett pitched twice in the World Series, becoming, at 19 years and one month, the youngest pitcher to ever appear in the fall classic. He pitched 1⅓ innings, with no runs, one strikeout, and one walk, but even that short stint was enough for the opposing manager to praise the phenom. "Where has he been?" said Cardinals skipper Red Schoendienst after his first appearance. "With the kind of stuff he showed us, you wonder why he isn't starting the Series. But don't let me give the Red Sox any ideas."
Brett was a teenager in the spotlight, dubbed "the next Lefty Grove," but this was the Vietnam era and not two weeks after the World Series, he started a six-month tour of duty with the Army. "That was a humbling experience," he later recalled. "Those guys in the Army didn't care about the World Series. They wanted me in the kitchen with a shovel in my hand."6 In his hilarious biography The Wrong Stuff, Bill Lee placed Brett in the same unit as himself, Dalton Jones, and Jim Lonborg.7 Lee was a clerk-typist while the other three served as medics.
After he finished his military duty, Brett returned too quickly and hurt his elbow, an injury that plagued him the rest of his career. He sought relief through a variety of methods, including drug therapy, acupuncture, chiropractic therapy, and finally surgery in 1974. He threw only 29 innings at Triple-A Louisville in 1968, striking out 20, and finishing with a 3.10 ERA. Despite the injury, the Red Sox protected him in that winter's expansion draft, hoping he would fulfill his potential.
The year 1969 saw Brett open the season with the Red Sox, but he was sent down to Louisville after three rocky starts, and was not called back up until the rosters expanded in September. The International League adopted the designated-hitter rule that year, so Brett didn't get to show his prowess with the bat. He did fall just a triple short of the cycle in a September 12 game against the New York Yankees, while garnering his first big-league victory. His pitching at Triple A was solid, with a 7-5 record, 81 strikeouts, and a 3.28 ERA in 129 innings pitched. His major-league statistics were decidedly more lackluster: 2-3 with 23 strikeouts, 22 walks, and a 5.26 ERA in 39⅓ innings. But on September 24 against the Yankees in Fenway Park, Brett carried a shutout into the 10th inning, in a game won by the Red Sox 1-0 in 14 innings. He went back to the Florida Instructional League that winter to work on his curve and changeup to complement his fastball.
In 1970 Brett spent the entire year on the Red Sox major-league roster, but spent more time in the Army Reserve. He started 14 games and also worked out of the bullpen, pitching 139⅓ innings in 41 games, compiling an 8-9 record with 2 saves, 155 strikeouts, 79 walks, and a 4.07 ERA. On September 8 Brett hit an eighth-inning home run to break a 3-3 tie with the Indians, giving the Red Sox the victory.
Brett again played winter ball, this time in Puerto Rico for the San Juan Senators, skippered by Roberto Clemente, and was named to the Puerto Rico All-Star team.
Brett's winter-ball success failed to carry over into the 1971 major-league season. He found himself in manager Eddie Kasko's doghouse, and appeared in only 29 games, starting two, going 0-3 with one save and a 5.34 ERA. He devoted another two weeks to Army Reserve duty.
The Red Sox finally gave up on Brett, trading him to the Brewers in October as part of a 10-player deal that saw 1967 Cy Young winner Jim Lonborg, first baseman George Scott, Billy Conigliaro, Joe Lahoud, and Don Pavletich go to the Milwaukee Brewers for speedster Tommy Harper two seasoned pitchers, Lew Krausse and Marty Pattin, and minor leaguer Pat Skrable.
Brett pitched one season for the Brewers, mostly as a starter, finishing with a 7-12 record, 133 innings pitched, 74 strikeouts, 49 walks, and an ERA of 4.53. On April 30 he carried a no-hitter into the seventh inning, and hit an RBI single and scored the deciding run in a 3-1 victory over the Oakland Athletics. He spent three weeks on the disabled list with a lower back pain in July and August. He also twirled a three-hit shutout against the Athletics on May 10. (His other complete game was in an October game against the Yankees.)
On October 31, 1972, Brett was traded to the Philadelphia Phillies, along with hurlers Lonborg, Ken Sanders, and Earl Stephenson, for Don Money, John Vukovich, and Bill Champion. The last-place Phillies were looking to rebuild their pitching staff. Brett and Lonborg joined Steve Carlton in the Phillies rotation. "We had to improve our pitching staff," general manager Paul Owens said, as Carlton's 27 victories were nearly 50 percent of the Phils' wins in 1972.
Brett's 1973 season with the Phillies was one of his best in the major leagues. He started the year in the bullpen, but soon replaced Lonborg in the rotation. He pitched a shutout on May 19 against the Cubs in his second start of the year. Brett ended up with a 13-9 record and a 3.44 ERA in 211⅔ innings pitched, striking out 111 while walking 74. That was the season he set the major-league record for a pitcher by hitting home runs in four consecutive games. He said it should have been five except for a blown call that turned a home run into a double (but in fact his next double was not until August 4). He missed a couple of weeks after hurting his shoulder in a collision with St. Louis catcher Tim McCarver while being used as a pinch-runner on June 26, a move manager Danny Ozark later said he was "kicking myself" over.8 Brett also led the league in fielding, handling 52 chances without an error.
Despite his solid season, the Phillies traded Brett to the Pittsburgh Pirates on October 18, 1973, getting slick-fielding second baseman Dave Cash in return. Said Pirates manager Danny Murtaugh, "Brett is a good [arm] who can step right into our starting rotation." Phillies pitcher Steve Carlton, though, said of the trade, "When you talk about Brett, you're talking about a pitcher going on 25 years old with a questionable arm. … If Kenny's arm never bothered him I wouldn't have liked the deal. A lot of times he went out there and his arm wasn't 100 percent. His elbow swells up like Woodie Fryman's does. Kenny has a lot of courage. He'll battle you. But a chronic elbow can be a factor as a pitcher gets a little older."9
The 1974 Pirates were picked by many preseason prognosticators to win the National League East, with newly acquired pitchers Brett and Jerry Reuss anchoring the staff. Kemer went on to have another excellent season, finishing 13-9 with 10 complete games and three shutouts while starting 27 games. He struck out 96, walked 52, and had an ERA of 3.30. He also contributed two home runs (in consecutive games) and led all major-league pitchers with 15 RBIs and a .310 batting average.
On May 27 Brett set down the first 24 San Diego Padres to face him until Fred Kendall, a former California high-school football and baseball opponent, lined a solid single to open the ninth inning. The Pirates ended up winning, 6-0. "I was thinking about a no-hitter after the fifth inning," Brett said. "You sit on the bench and think about what it means. You realize what you've got to do to get it." But after Kendall's single, Brett broke into a half-hearted smile and shrugged his shoulders. "I just told myself, 'Forget it, that's all you can do.' That's a shining achievement. But I didn't get it, and I can't do anything about it now."10 And in the nightcap of the doubleheader, he drove in the tying runs with a two-run pinch-hit triple in the bottom of the seventh, in a game the Pirates went on to win 8-7.
Brett was named to the All-Star team that year. He pitched two innings in front of the Pittsburgh crowd, giving up no runs and getting credited with the win. Though he called the game "one of the biggest thrills of my life," later in the season he blamed that appearance for his elbow woes, saying, "I got out of my normal routine because of the All-Star Game. Then when I got into the game I was all tensed up. Consequently, I think I overthrew the ball. I think that's what messed me up."11 He missed more than a month of action, from August 6 to September 10, as the Pirates clawed their way back into pennant contention.
Brett didn't pitch all that well upon returning the starting rotation, giving up 18 earned runs in 22⅔ innings. The Bucs did make it to the postseason, losing to the Los Angeles Dodgers, three games to one, in the NL Championship Series. Brett pitched in one game, giving up two earned runs in 2⅓ relief innings.
Brett's 1974-75 offseason was a busy one. He took courses at Boston University. He also had surgery to remove chips and a bone spur from his left elbow. He signed back on with the Pirates for the 1975 season. However, his elbow continued to be a problem, as he reinjured it during a spring-training game and began the season on the disabled list. He had a very successful season debut, though, hurling six shutout innings in a 5-0 Pirates victory on April 20. But he went on to appear in only 23 games, going 9-5 in 118 innings pitched, with 47 strikeouts and a 3.36 ERA, while the Pirates repeated as the NL East Division champions. The Bucs once again lost in the opening round of the postseason, falling to the Reds in three straight games. Brett pitched in two games, both in relief, giving up no runs while striking out one during his 2⅓ innings pitched.
Brett was involved in a controversy that year when a book, The Best Seat in Baseball But You Have to Stand, was published. Written by Lee Gutkind, this look at umpiring in the major leagues created troubles for umpire Harry Wendelstedt for his disparaging remarks about current players. He was quoted as calling Brett and teammate Richie Hebner "quarter-wits, two of which make a half-wit," which, of course, didn't go over too well in the Pittsburgh clubhouse. Legal action was considered by the players, but never pursued.
Brett was traded to the New York Yankees on December 11, 1975, along with starting pitcher Dock Ellis and rookie second baseman Willie Randolph, for pitcher Doc Medich. With the designated hitter in the AL, Brett's hitting prowess would go to waste. He did finally get to go up against his younger brother, future Hall of Famer George. In their first meeting, a spring-training game, George took older brother Kemer long and deep with a booming 425-foot home run. Ken began the season in the Yankee bullpen but was traded to the White Sox on May 18 after appearing in only two games. He immediately joined the White Sox' starting rotation.
All this moving around was getting to Brett. "I became a pitcher instead of a thrower. And I still got traded three times. I'm a little bitter about that," he said in an interview after the White Sox trade. When asked about becoming a full-time hitter, he said, "I think about it all the time. If something were to happen to my arm I wouldn't mind going to the minors for a year and trying to make it as a hitter. I'm single and have no ties, and I'd do it just for the fun of playing just to see if I could do it."12 The trade also upset brother George, who said before the Royals faced the Yankees in the 1976 playoffs, "I have a killer's instinct against that team. I want to beat them bad every time I play them, not only for the team but for my brother, too."13
Brett's 1976 season for the White Sox was solid if unspectacular. Appearing in 27 games (26 starts), he finished the season with a 10-12 record in 200⅔ innings, with a 3.32 ERA and 91 strikeouts. His year in Chicago also included 16 complete games (a career high), one shutout, and one save, as well as 12 at-bats, with only one hit, though. The 12 at-bats are the most by an American League pitcher in a single season since the DH began in 1973, even including interleague play.
The season highlight came on May 26, when Brett mowed down the first 23 Angels he faced and took a no-hitter two outs into the ninth inning before giving up a controversial single to Jerry Remy. Remy's half-swing, half-bunt bouncer to third was misplayed by charging third baseman Jorge Orta, who let the ball get by him. It was ruled a hit by the official scorer, bringing down the ire of Brett, who later said, "I think the call on me was brutal, I think it stunk, but I understand the guy who made it is short, so maybe he couldn't see out of the press box. But what the hell, we won."14 It did take 11 innings for the White Sox to win the game, 1-0, with Brett pitching 10 innings and getting credit for the victory, while giving up one more hit in the 10th. Even brother George got into the discussion the next day, threatening to send diminutive teammate Freddie Patek after the official scorer, who was roughly the same size.
Fellow White Sox hurler Steve Stone became one of Brett's closest friends. Bachelors who both enjoyed great reputations as ladies' men, they also shared an unusual (for baseball players) joy of reading. With a mutual fondness for authors like Kurt Vonnegut and Tom Robbins, Stone introduced Brett to the world of Robert Ludlum thrillers.
After beginning 1977 locked in a contract battle with the White Sox, the player representative Brett struggled on the mound, finishing with a 6-4 record but a 5.01 ERA. He started the first regular-season game played in Toronto and lasted less than four innings in the 32-degree, snowy weather at Exhibition Stadium, as the White Sox lost to the fledgling Blue Jays, 9-5. His left elbow continued to bother him, and he was forced to leave his third start of the year with elbow problems. "It's an ache, and it's more than slight," he said after the game, but he missed just one start.15
On June 15, 1977, the trading deadline, the still unsigned Brett was traded once again, this time to the California Angels, for three players – pitchers Don Kirkwood and John Verhoeven and minor-league utility infielder John Flannery – plus cash (rumored to be as much as $400,000) as maverick owner Bill Veeck continued to clean house in Chicago. "I have mixed emotions," said Brett after the trade. "I'm sort of in complete turmoil. My entire family is in LA and I have a ton of friends there. I wouldn't have been unhappy to stay in Chicago but I don't think they were going to sign me. If they could afford to lose anyone it was me (they would have lost him to free agency in the winter). I can understand why they did it and I'm surprised it didn't come sooner."16
Brett took a regular turn in the rotation for the struggling Angels, finishing the season with a combined 34 starts, a career high. His record for the California team was only 7-10, but included five complete games. His strikeouts were down once again, totaling only 80 for the year, while his ERA was a respectable 4.25 for the Angels. He was in the top 10 in all the wrong lists for the year, though: sixth in hits allowed, fourth in earned runs, seventh in home runs against, and seventh in walks per nine innings.
The 1978 season opened with Brett in the starting rotation as part of an optimistic California Angels club. His first start was a five-hit shutout of the Minnesota Twins, but as the fifth starter in a four-man rotation, he didn't get a regular turn. He alternated between starting and relieving for the entire season, appearing in 31 games while starting 10. In 100 innings pitched, he struck out 43 while walking 42, finishing with an ERA of 4.95.
Brett's position as a team leader was emphasized when he spoke for the Angels at the funeral for teammate Lyman Bostock, the gregarious outfielder who was killed by a shotgun blast during the season. "There's only one consolation: We're all better persons for having had him touch our lives," he concluded, struggling for his composure.17 He later participated in Bostock charity baseball games.
During the winter of 1978, Brett took instruction from the great Warren Spahn in throwing the screwball. He began the spring rumored to be either traded or released. His balky back, which limited his spring-training playing time, didn't help any, and the Angels waived him in April. Later that month, Brett signed with the Minnesota Twins. He appeared in only nine games with the Twins, all in relief, throwing 12⅔ innings, striking out only three and walking six, and was released on June 4.
Brett was back in the Los Angeles area later that month when he signed with the Dodgers on June 11, his ninth major-league team. "I'm happy to be here and I'm going to go out and pitch as well as I can. This is not the end of the world for me," Brett said of his precarious roster spot as a middle reliever. He pitched out of the bullpen for the Dodgers, going 4-3 in 30 games with a 3.45 ERA, throwing 47 innings with 13 strikeouts, 12 walks, and two saves. He once again went into the trivia books, as he was lifted for pinch-hitter Manny Mota, who went on to get his record 144th pinch-hit.
Brett remained active in the community during this twilight of his career. He continued to appear in charity baseball games, was a grand marshal at parades, and helped other charitable causes and baseball clinics.
He began 1980 as part of the Dodgers bullpen plan, but was released in March. Brett hurt his arm in his first spring outing and was released before pitching again. "I tried to throw too hard (in his first game). My elbow locked so badly I couldn't move it," Brett said later, describing his short spring. "I'm tired of all the traveling," he said. "I'm going home to California to rest. I'll have an operation on my arm and then go back to college to study business."18
Brett was out of major-league baseball for most of the summer, playing for the semipro Orange County A's, until he signed to play with his brother George in Kansas City on August 11. He began at Triple-A Omaha, but joined the Royals on August 29 and pitched in eight games to finish out the season with them. He didn't allow a run in 13⅓ innings pitched, striking out four, walking five, and saving one game.
The brothers Brett enjoyed their time together in Kansas City. George by now was a big star, as 1980 was his big push to batting .400 (he ended up at .390), but Ken wasn't above needling his younger brother, saying, "If it hadn't been for the DH rule, I'd have been the first in the family to hit .400." George was particularly candid in discussing how much an influence Ken had on his career, saying, "I decided to make baseball my goal when we went to see Ken pitch in the '67 World Series between Boston and St. Louis. I was 14 and Ken 19. It was a real thrill. He could really bring it then. And he'd always come home with … a new girl and a new roll of bills. I said to myself, 'That's for me.'"19
Ken helped George with the media pressure during his drive to .400, but he didn't want it overstated. "People think I'm here to have a mature influence on George," said Ken, unused to being a "good influence." "George doesn't need me. He's been grown up for a long time. If anything, I just hope I'm not a hindrance to him."20 One time, Ken even pretended to be George for a bit with one clueless writer. "I must have talked for eight or 10 minutes on how I was starting to really get nervous about the whole thing (batting .400). I didn't say anything that would have embarrassed George, but I was pretty good. I never heard it, but it had to be on the radio the next day. Wouldn't you do that for a brother you love?"21
The 1980 Royals went on to sweep the Yankees in the AL Championship Series, 3-0, but lost to the Phillies in the World Series, 4-2. Ken was on the roster for both the Championship Series and the World Series, but didn't appear in a game during the postseason.
Ken Brett finished his major-league career with the Royals in 1981, appearing in 22 games as a lefty specialist. He pitched 32⅓ innings, with a 4.18 ERA but an unimpressive 14-7 walks-to-strikeouts ratio. He won one game, lost one and had two saves. He was waived by the Royals in November 1981, ending his pitching career. He did try to hook back on with Pittsburgh the following spring, but the effort came to an end when he was released by the Pirates on March 22, 1982.
Ken went on to a varied career after baseball that included co-owning a minor-league baseball team (Spokane Indians) and a minor-league hockey team (Spokane Chiefs), being a TV baseball color commentator for the Seattle Mariners and the California Angels, as well as appearing in beer commercials. One took advantage of his much-traveled career. In it, he stood at a bar, confused as to what city he was currently in, finally guessing "Utica." Brett later visited Utica and was given the keys to the city, saying it was as close as he would ever get to Cooperstown. This appearance led to a year as the manager for the New York-Penn League Utica Blue Sox.
Brett married Teresa Smogyi, who worked in movie production, in 1985. He was also involved in restaurants with his brothers. He appeared in the 1994 movie The Scout as himself.
Ken Brett died on November 18, 2003, at the age of 55 of brain cancer, the same disease that took his father's life.
A version of this biography originally appeared in "The 1967 Impossible Dream Red Sox: Pandemonium on the Field" (Rounder Books, 2007), edited by Bill Nowlin and Dan Desrochers.
Notes
The author wishes to pass along his appreciation to Jon Daly for help received with the initial work on this biography; to Harvey Frommer for his 2003 interview of Ken Brett; and to J. Thomas Hetrick for the interview transcription.
Sources
In addition to sources cited in the Notes, the author also relied on Retrosheet, Baseball-Reference.com, baseballlibrary.com, contemporary newspapers, and SABR member Fred Worth's research on AL pitcher at-bats since the DH.
Notes
Born
September 18, 1948 at Brooklyn, NY (USA)
Died
November 18, 2003 at Spokane, WA (USA)
If you can help us improve this player's biography, contact us.
http://bioproj.sabr.org/bp_ftp/images2/BrettKen.jpg
600
800
admin
/wp-content/uploads/2020/02/sabr_logo.png
admin
2012-01-04 20:25:45
2012-01-04 20:25:45
Ken Brett