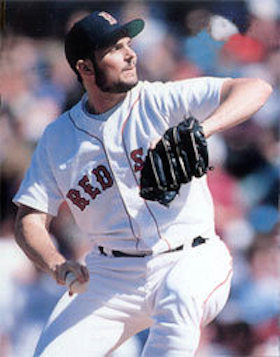 ---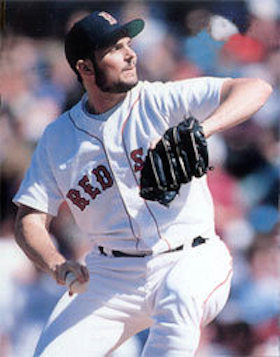 During his 15-year career in professional baseball with four organizations, Ken Ryan pitched in the majors with only two teams, the Boston Red Sox and the Philadelphia Phillies. His major-league career spanned the years 1992-1999, and, although his won-lost record was under .500 at 14-16, he had a very respectable 3.91 ERA and averaged seven strikeouts per nine innings. Ryan was a feared reliever during his major-league career, highlighted by his 1994 season performance when he earned 13 saves in 42 games. After retiring as a player he translated his love for the game into a successful business enterprise, KR Baseball Academy, designed to provide young athletes with an opportunity to develop their baseball skills as well as an appreciation for the game of baseball.
Kenneth Frederick Ryan was born in Pawtucket, Rhode Island, on October 24, 1968, the son of Ken Ryan, a Pawtucket police sergeant, and Gloria Ryan. His two older sisters, Brenda and Cheryl, both played in the Pawtucket Slaterettes girls' league. Ryan, when he was 8 years old, was playing Little League baseball in Pawtucket when the coach asked if anyone on the team wanted to pitch. Ryan said he was more than willing, although his pitching experience to that point was limited to casual games of catch with his father in the backyard. Even at that young age, Ryan felt good about being the one who was the focal point on the field. His parents moved to Seekonk, Massachusetts, just over the state line from Pawtucket, when he was 11, and young Ryan's strong arm continued to impress his coaches in Babe Ruth, American Legion, and high-school ball at Seekonk High School. Living close to McCoy Stadium, the home of the Boston Red Sox' Triple-A farm club, the Pawtucket Red Sox, Ryan was able to see many of the past and future Red Sox stars, and made trips to Fenway Park to see the big-league club. To play for the Red Sox became a goal, rather than just a dream, as a result of his early baseball successes.
The buzz about Ryan's potential as a pitcher began when he pitched for Seekonk High School. He also played on the football and basketball teams, but it quickly became apparent that his size and strong arm would lead him toward success in baseball. His baseball coach, Tom Ridolfi, asked about the 16-year-old Ryan's maturity on the mound as a high-school junior, commented, "Ken comes to pitch. If we gave him the ball every day he'd be willing to give it a shot. He is genuinely mild-mannered, and authentically reserved. When he is on the mound, however, it is all business. He gives the game 100 percent, and he leads this team with his example."1
In his senior year Ryan drew many pro scouts to his games, especially after striking out 21 batters in an 11-inning performance against Old Rochester High School (on the same day his Red Sox idol, Roger Clemens, struck out 20 batters in a game against the Seattle Mariners).2 Compared favorably with the fireballer Nolan Ryan at a similar age, Ken gave serious consideration to a scholarship offer from the University of Maine, a perennial powerhouse, to play baseball.3 In the 1986 amateur draft, many teams felt that he would accept the scholarship and did not want to waste a draft pick, so Ryan went undrafted. But shortly after the draft, the Red Sox signed Ryan as a nondrafted free agent. Ryan promised his family that he would continue his education if he signed, and he enrolled in classes at Rhode Island College.
The Red Sox sent Ryan to the Elmira Pioneers of the short-season New York-Penn League.4 The raw potential he had shown in high school was now going to be developed one step at a time, starting with his mechanics. Ryan's father, Ken, reflecting on the Red Sox' approach to his son, said, "What they are telling him is, 'Don't worry (about not pitching). You're young and will get plenty of opportunities to pitch in the future.' "5
After some early-season jitters, Ryan got his first win in professional baseball in relief on July 29, 1986, pitching two innings against Batavia, allowing no hits and striking out three.6 By season's end he had a 2-2 record and a 5.82 ERA in 13 games (21⅔ innings).
In 1987 Ryan was moved up to Greensboro of the Class A Sally League, where his career hit the proverbial "bump in the road." In 28 games (19 starts), he was hit hard, giving up 139 hits in 121⅓ innings and posting a dismal 3-12 record and 5.49 ERA. When a sportswriter asked about his rough adjustment, Ryan replied, "In high school I had a great fastball. But here, there are just some guys I can get it by. With most guys I got to knick-knack, which is not me because I'm not used to pitching that way."7
But Ryan, ever the optimist, felt that the best was yet to come, saying: "I know I can do better, and that's the way I look at it. Right now I'm not doing too well, but it'll come around. Everybody says I'm young. They say I have a lot of abilities, so I just have to go out there and do it."8
After an injury-filled 1988 season at Lynchburg of the Class A Carolina League, with a 2-7 record and a 6.18 ERA, Ryan hoped that the 1989 season would represent an upswing in his career. With Winter Haven of the Class A Florida State League, he started 22 games and posted an 8-8 record with an impressive 3.15 ERA. He returned to Lynchburg for the 1990 season, and it became apparent that the attempt to make him a starting pitcher had not been successful. In 28 starts, he had a 6-14 record with a 5.13 ERA in 161 innings, giving up 10 home runs, 182 hits, 82 walks, and 19 wild pitches. If Ryan was going to fulfill his dream of pitching at Fenway Park, it would have to be as a reliever.
After five less-than-impressive minor-league seasons, Ryan blossomed as a reliever in 1991, with the help of a fastball he threw at between 90 and 92 miles per hour. His performance at Winter Haven earned him promotions to New Britain of the Double-A Eastern League, then to Triple-A Pawtucket, the Red Sox' top farm club. Part of his motivation came from Lee Stange, a roving minor-league pitching instructor for the Red Sox.
"I told him, 'You're on your way home to Seekonk, to drive a truck or whatever you want to do,'" Stange said. "I laid it on the line. I think he was putting a little too much pressure on himself, especially being a hometown kid. I told him you either do it now, or else. You can't stay in A ball for years."9
Discussing his conversion from starter to reliever, Ryan said it required a change in his approach to pitching. "It wasn't that I took it easy as a starter, but I guess you could say I tried to pace myself," he said. "As a reliever, I felt I had to be more aggressive. I'd just come in and throw as hard as I could for two or three innings. … I was always a pitcher who seemed to recover quickly after I pitched. … There are some pitchers who need three or four days after they start to get their arm back. But with me I always felt fine a day or two after I pitched."10
Although he had added a slider to his fastball and curve, Ryan's strength still remained the heater. His ability to rear back and let it fly, sometimes as fast as 95 mph, became extremely valuable in his role as a reliever, allowing him to go at hitters rather than nibble at the corners. Knowing the fragile nature of a professional pitcher, Ryan was keenly aware of his good fortune to be pitching in Pawtucket: "I could have given up. I could have said, 'It's been five years, let's do something else.' But whenever the thought came into my mind, I put it right out. Now look at the way I'm pitching [in 1991]. I'd be kicking myself if I'd quit."11
After his successful go-round with Pawtucket, Ryan began the 1992 season in the closer's role back at Double-A New Britain, where in 44 games he had a 1.95 ERA with 51 strikeouts and 22 saves. Describing his success as a closer, Ryan pointed to his competitive nature. "I love the role," he told a journalist. "It's late in the game, the team is counting on you; I like being out there in that situation. … Sometimes I go out and don't have my good stuff, but I always bounce back. It's been good. I don't let bad outings affect me."12
After another stint in Pawtucket, Ryan's chances at becoming the Red Sox' closer improved dramatically when Boston traded its closer, Jeff Reardon, to the Atlanta Braves in August 1992. Ryan was called up in time for a Red Sox game in Seattle against the Mariners on August 31. After a cross-country trip to join the team, in a mop-up appearance in a 15-2 loss, Ryan pitched two-thirds of an inning with two hits and four runs and no strikeouts; he was tagged for a home run by Edgar Martinez. It was hardly the first appearance he had dreamed of growing up in Pawtucket. However, having survived his major-league debut, Ryan pitched in six more games for the Red Sox, in an abbreviated audition for the 1993 closer's role, highlighted by improved pitching and his first major-league save, on September 11 against the Detroit Tigers.
After the 1992 season, Ryan played for the Scottsdale Scorpions in the Arizona Professional Baseball League, a fall league made up of the best Double-A prospects and some Triple-A players. His pitching coach was Dick Pole, Pawtucket's pitching coach, who could keep a close eye on Ryan's development. At the same time the major leagues were holding an expansion draft to stock the new Florida Marlins and Colorado Rockies, and teams could protect 15 players in the first round of the draft. Ryan wondered if he had impressed the team enough to be placed on the protected list; his prayers were answered when the Red Sox put him on their list.
Still, his future was far from secure: The Red Sox had acquired former Texas closer Jeff Russell. Working out at the Rhode Island Baseball Institute, Ryan looked forward to the coming season, one that would bless him and his wife, Odalys, with the birth of his first child, a daughter, Julia. After a shaky start in spring training, Ryan strung together a number of good appearances, putting pressure on Russell. Asked if he thought he was a candidate to become the closer in Boston, Ryan said, "I hope I am. … I hope I make it real tough on them. I don't know where I stood when I came down here (to spring training), but maybe I've improved my chances. I don't want to know where I stand because it doesn't really matter. It's just one more thing to think about."13
Despite Ryan's impressive spring-training performance, it was only when Jose Melendez suffered an injury that he was placed on the Opening Day 1993 roster. Ryan pitched well in the early season, posting a 3.80 ERA, mostly as a setup man, through May 30, and earning his first major-league win on May 24 in Detroit against the Tigers. In a transaction that was motivated by the Red Sox needing to keep pitcher Joe Hesketh on the roster because of a guaranteed contract, Ryan was sent to Pawtucket again at the end of May. It proved to be a short stay; he was recalled in late June. Upon his return to Boston, Ryan retired 22 of the first 23 batters he faced. He earned three more wins before being sent down to Pawtucket again. Expressing his frustration at being sent down again, Ryan said, "I did everything they asked me to do. …What else can I do? I can understand (the business aspect), but it's not right. I should be a part of this bullpen. … It's been frustrating all year to always be the one who's going to go down. It's not the manager's fault. I have a lot of respect for Butch (Hobson). He told me his hands are tied, and that he's going to try to get me up here as quickly as he can. He wants me on this ballclub, and I believe everything he said. … It's a business decision, I guess. If I wasn't pitching well, I could swallow this. But there's nothing I can do going down there (to Pawtucket)."14
Again, Ryan's patience was being put to the test. But after his recall by the Red Sox in August, he was able to post a 3-2 record with one save for the remainder of the season. In his time with the Red Sox, Ryan was 7-2, but the season ended with a stiff elbow and shoulder as a result of an almost continuous year of pitching.
Trade rumors abounded during the offseason concerning Ryan, with the Houston Astros, Milwaukee Brewers, and Oakland Athletics all interested in acquiring the fireballing right-hander. However, the Red Sox kept Ryan and they were rewarded with his best season as a Red Sox pitcher, albeit a strike-shortened one. In 42 games, Ryan pitched 48 innings with a 2-3 record, and complemented that with 13 saves and a 2.44 ERA, becoming the closer on July 2, about five weeks before the players' strike ended the 1994 season. Ryan was named the Red Sox Fireman of the Year by the Boston chapter of the Baseball Writers Association of America.
Though he was the object of trade rumors during the offseason and the possibility of a John Wetteland-to-Boston deal looming throughout the winter, Ryan was still the odds-on favorite to be the Red Sox' closer in 1995. Realizing the potential damage that was being caused by the strike, Ryan, ever aware of the importance of fan support, commented on the strike situation: "They're the game. … We're the players, but the game belongs to the fans. We all have to do a little something – maybe go out and sign a few more autographs, do some charity work to bring (the game) back. I think both sides realize how important it is to get the game back to where it was before. … There's been so much negative stuff done in the last eight months, now we just need to get back on the field and concentrate on taking it one day at a time for right now."15
Eventually, the strike ended, the players returned to their teams, and the season began. Kevin Kennedy, the new skipper of the Red Sox (Hobson had been fired after the 1994 season), gave an early-season hint on how he intended to use Ryan: "As long as a guy can handle it, I don't think there's any book that says you go eight innings and let your closer just pitch one. … If he's fresh and he's your best, why not use him? If your middle-relief guy could go two innings, why not your closer?"16
Whether it was a new manager or how he was being used, Ryan regressed during the 1995 season, going 0-4 with a 4.96 ERA and seven saves. Despite his struggles, Ryan remained optimistic, although the Red Sox were beginning to have doubts about him as their closer and began using Stan Belinda in that role in midseason. Pitching coach John Cumberland suggested that Ryan's problems were related to his mental approach to the game and worked on bolstering the pitcher's confidence while continuing to work on his mechanics. In July Ryan was sent down to Trenton of the Double-A Eastern League, a move that affected his confidence greatly.
"I had a 'woe is me' attitude. I think that's natural, human nature," he commented in retrospect. "I was depressed … just because of the situation I put myself in. … Believe me, it's not easy. I sit in my room sometimes and say, 'Geez, why am I here, where did it all go wrong?' I was angry at myself. I had no excuses. I couldn't blame them. But I felt I was a lot better than I had pitched."17
Anticipating that a trade might be in the works given his disappointing season, Ryan resigned himself to going out to pitch and doing the very best that he could to show prospective teams that he could still pitch. At Trenton he began to develop a changeup and also worked on a flaw in his delivery. He was called up to Boston in early August and then sent to Pawtucket before earning a late-season call-up to Boston; he did not make the Red Sox Division Series roster. Meanwhile, Ryan and his wife welcomed their second daughter, Amanda Christine.
Ryan remained upbeat about his chances for the coming baseball season. "The only thing I want to do is go to spring training in the best shape possible, physically and mentally," he said. "I'd love to be the team's closer, but I'm not in any position to demand anything. I'm just going to try to make the team and do whatever they want. I know I can pitch better than I showed last year."18
Putting an end to the trade rumors involving Ryan, the Red Sox made a multiplayer deal with the Philadelphia Phillies in January 1996, sending Ryan and outfielders Glenn Murray and Lee Tinsley to the Phillies for closer Heathcliff Slocumb and two minor-leaguers. Although the trade ended Ryan's dream of starting and finishing his career with the Red Sox, it gave him an opportunity to show his skills with a new team in a new league. Working mostly as a setup man for Phillies closer Ricky Bottalico, Ryan had early success despite playing for the worst team in the National League. For the season, he had a 2.43 ERA in 62 games with eight saves, allowing 71 hits in 89 innings; he also got his only hit in the major leagues, a single against the New York Mets on July 1. In December he signed a two-year contract with the Phillies.
At the start of the 1997 season, Ryan was placed on the disabled list with a strained elbow ligament; he finally got back into action in early May for new manager Terry Francona, until June, when he was placed on the disabled list with an elbow strain. It wasn't until September that, after a few appearances with Triple-A Scranton, he pitched again for the Phillies. On October 17 Ryan had reconstructive surgery on the elbow. Facing a lengthy rehab period, but minus the searing pain that had plagued him, Ryan got through a difficult time with patience and optimism. After going through extended spring training in 1998, he returned to the Phillies in August, after a rehab stint in Scranton; he had a 4.37 ERA in 17 games, pitching a total of 22 innings. In December he signed a one-year free-agent contract with the Phillies after they did not offer him a new contract. He would be a middle reliever, and it was felt that Ryan's effectiveness would depend upon how well he was able to command his curveball. But after several weeks, Ryan was designated for assignment by the Phillies in May and went down to Scranton again. Acutely aware of the tenuous nature of his career, Ryan was pragmatic when assessing his status in the Phillies' organization. "I have to be patient," he said. "I have to trust whatever stuff I have on a given day. I've seen guys in the big leagues who have pitched a long time who never threw 95 miles an hour. It comes down to getting out there on the hill and using your strengths. I have to be more of a pitcher."19
Ryan was released by the Phillies on August 22, signed with the Pittsburgh Pirates on August 26, and pitched for their Nashville club in the Pacific Coast League. He was released after the season and signed with the Kansas City Royals. At the end of spring training, the Royals released Ryan, and, with no teams interested in his services, Ryan began to think that his career was at an end. But Butch Hobson, his former manager with the Red Sox, was managing the Nashua (New Hampshire) Pride of the independent Atlantic League and offered him a job. Ryan pitched well enough that the New York Yankees, who needed pitching help for their Columbus Triple-A team, gave him a contract. However, when the Yankees sent him down to Double-A Norwich, Ryan could see the handwriting on the wall and decided to retire from professional baseball at the age of 32. In February 2001, while contemplating the prospect of missing spring training for the first time in 14 years, Ryan seemed to be at peace with the idea, saying, "I don't know how I'll feel three weeks from now. … But this is a tough game and the game usually tells you when it's time. For me, I think it's time."20
Throughout his playing career, Ryan had always been involved with community projects like the Special Olympics, and helped to raise money for charity ventures. When the Phillies sounded him out about a minor-league coaching position, Ryan declined and, after a short career in sales, started a baseball academy that, as of 2015, was still in business. The stated goal of the academy was to "combine an experienced staff with a structured teaching agenda that challenges students while encouraging them to have fun and ENJOY THE GAME OF BASEBALL"; he also emphasized mental conditioning, overcoming failure, and how to make the adjustments needed to become a successful baseball player. He also got involved in coaching AAU baseball in Pawtucket.
A Lajoie-Start chapter meeting of the Society for American Baseball Research (SABR) in November 2009 provided an opportunity for Ryan to reminisce about his career. When asked about his most memorable pitching performances, Ryan, true to form, mentioned the feeling that comes with walking down the players' tunnel after winning a game knowing that it took the team to win the game. He also mentioned the first time he pitched on a major-league field, as well as facing future Hall of Famers Paul Molitor and George Brett and watching Nolan Ryan warm up. The last player Ryan faced on a major-league field was Mike Piazza, who memorably hit into a triple play. The best manager he played for was Jim Fregosi (1996 Phillies) because of the way he handled himself, but, more importantly, how he handled his players; he had a good sense of when to push a player, but also when to hold back.
Ryan was able to live the dream of becoming a major-league baseball player with the team that he rooted for as a child. But he also experienced the setbacks that are interwoven in the professional athlete's career. Ryan, in the words of Rudyard Kipling, met with triumph and disaster, and treated them both the same, with class and a positive attitude.
Last revised: February 9, 2016
Notes
Born
October 24, 1968 at Pawtucket, RI (USA)
If you can help us improve this player's biography, contact us.
/sites/default/files/RyanKen.jpg
600
800
admin
/wp-content/uploads/2020/02/sabr_logo.png
admin
2016-02-09 14:00:48
2016-02-09 14:00:48
Ken Ryan