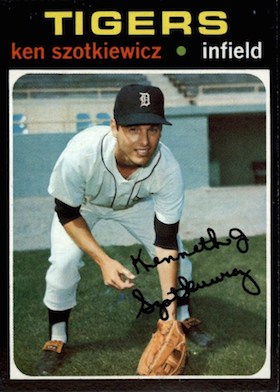 ---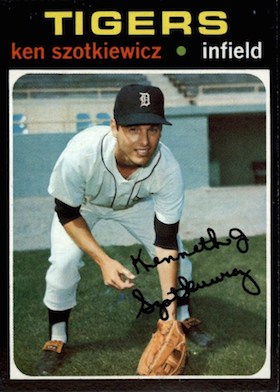 Years after Ken Szotkiewicz played in his final major-league game, his name still surfaces in baseball trivia. It is not often due to his on-field exploits; rather, it tends to appear on lists of big leaguers born in Delaware (of whom there are relatively few), or on lists of big leaguers with the most peculiar last names. Although his unusual name is arguably more memorable than the details of his brief big-league career, Szotkiewicz was nonetheless a fine multisport college athlete and highly regarded big league-shortstop prospect.1
Kenneth John Szotkiewicz (pronounced SOCK-uh-wits) was born of Polish descent on February 25, 1947, in Wilmington, Delaware, to parents John and Helen Szotkiewicz. Sisters Charlene, Christina, and Cynthia rounded out the family. Szotkiewicz displayed an interest for baseball at an early age that was stoked by his father, once a semipro player. In reflecting back on that time, his father noted, "When Kenny was 18 months old he was already holding a small bat, cross-handed at that. I kept correcting him, but I noticed the strong tendency he had towards swinging left-handed." As he got older, his father continued to encourage his enthusiasm for the game, often pitching to him for "hours on end" at a local park. Exhibiting his love for both baseball and the New York Yankees as a child, Szotkiewicz painted a picture of Mickey Mantle on his bedroom wall.2
Szotkiewicz's early training aided him as he began to play organized youth baseball, beginning with his St. Elizabeth Elementary School team. This progressed into his high-school years, where he was a standout in both baseball and basketball at Salesianum School, a Catholic school in Wilmington. During the summer months Szotkiewicz played American Legion baseball for the state champion R.C. du Pont Post No. 18 team. There he was named an all-star second baseman in 1964, but suffered a broken ankle in 1965 – the first in a series of injuries that would plague him throughout his baseball career.3
Despite the injury, Szotkiewicz's potential did not go unnoticed. On June 8, 1965, the Philadelphia Phillies drafted the high-school senior in the 10th round of the MLB June Amateur Draft. Although he was interested in playing for the Phillies since their ballpark was so close to his hometown, Szotkiewicz wanted to "go to college for two years." He accepted an athletic scholarship to attend Georgia Southern University to pursue a bachelor's degree in education. His first Georgia Southern athletic endeavors came on the basketball court, not the baseball diamond. Szotkiewicz finished his inaugural season as the leading scorer on the freshman Eagles basketball team. Later in his freshman year, however, he made his bigger mark – and quickly – in baseball, homering against the University of Kentucky in his first college at-bat while finishing the day 4-for-4. He continued the torrid early pace, collecting 20 hits in his first 10 games and finished the season hitting .328 with 9 home runs while "fielding almost flawlessly" at shortstop.4
The Georgia Southern coaching staff was surprised by the offensive power Szotkiewicz could generate from his thin 6-foot, 150-pound frame. Eagles coach J.I. Clements noted, "He has that classic left-handed swing, along with perfect timing, which gives him surprising power for a little man." They were also impressed with the right-handed throwing Szotkiewicz's speed and defensive abilities, calling the shortstop "the best infielder the Eagles ever have had."5
After his fine freshman baseball season and a physically exhausting sophomore season for the Eagles varsity basketball squad, Szotkiewicz continued to perform well on the diamond, setting or tying several team statistical records and being named an NAIA All-American infielder. Once again MLB teams took notice. According to Szotkiewicz, nine big-league teams expressed interest in him, including the Phillies, who had already drafted him in 1965. On June 6, 1967, Szotkiewicz was drafted by the Minnesota Twins in the first round. Although he seriously considered the Twins' offer, consensus could not be reached on a contract agreeable to both parties, so he opted to remain at Georgia Southern for his junior year.6
During the summer of 1967, Szotkiewicz briefly played for Pierre in South Dakota's former Basin League, before joining coach (and former big leaguer) Marty Karow's US baseball team to compete in the 1967 Pan-American Games in Winnipeg, Manitoba. Szotkiewicz saw only limited playing time in the Games after injuring a left knee ligament in a home-plate collision. He recovered in time for the Georgia Southern basketball season his junior year, but knowing that he wanted to finally make the move to professional baseball during the following spring, he decided not to play to avoid risking further injury.7
Szotkiewicz did indeed make the move to professional baseball in 1968. Scouted by Mercer Harris of the Detroit Tigers, Szotkiewicz appeared to fit the team's need for a left-handed-hitting shortstop with some punch who could take advantage of the short right-field fence at Tiger Stadium. On January 27, 1968, he was drafted by the Tigers in the first round of the January Secondary Amateur Draft. In February Szotkiewicz agreed to the Tigers' offer, and signed for a "substantial bonus" of $45,000. (He later admitted that he so desperately wanted to join his favorite childhood team, the Yankees, that he "wouldn't have asked for a bonus or anything" had New York drafted him.) The Tigers planned for Szotkiewicz to attend spring training with their farm clubs during his college Easter break, then report to Rocky Mount of the Class A Carolina League in June, once he completed his junior year at Georgia Southern. On his second day of spring training with the Tigers' farm clubs in Lakeland, Florida, the injury bug bit Szotkiewicz again. In trying to field a bad hop, he again injured his left knee, putting him a cast for two weeks. This injury setback, coupled with reporting to Rocky Mount two months into the season, perhaps contributed as Szotkiewicz struggled in his initial campaign in the minor leagues. He hit only .147 in 36 games at Rocky Mount, and underwent surgery at the end of the season to remove floating cartilage in his knee.8
Szotkiewicz opened the 1969 season with the Lakeland Tigers of the Class A Florida State League, hitting .247 in 71 games. His performance was enough to get him a midseason promotion to the Montgomery Rebels of the Double-A Southern League. Szotkiewicz finished the season there, hitting only .198 in 33 games. His struggles caused him to "skip meals and mope" – perhaps due in large part, as his father noted, to a tendency to keep his emotions inside. While the baseball season did not go as he hoped, Szotkiewicz did end the year on a high note when he married Kathryn Dale Strickland on September 6 with his father acting as best man. After honeymoon trips to Gatlinburg, Tennessee, and his hometown of Wilmington, they resided in Kathryn's hometown of Statesboro, Georgia, where they could both continue to attend classes at Georgia Southern.9
Szotkiewicz found a fresh start with the 1970 season. His knee was fully healthy after surgery during the offseason, and the Tigers added him to their 40-man roster. And attending spring training in Lakeland with the major-league club, Szotkiewicz – nicknamed "Socko" (or sometimes simply "Soc") by his teammates – was afforded the opportunity to improve his hitting skills with prominent hitting coach Wally Moses. Possessing a quiet and serious demeanor, he was admittedly nervous at the beginning of camp being in the presence of stars like Al Kaline and Willie Horton, and actually missed his initially scheduled flight to spring training in Florida – possibly due to anxiety, according to his father – nearly causing the Tigers to suspend him. The soft-spoken Szotkiewicz gained much-needed confidence as spring training progressed, however. Before a March 10 spring-training game against the New York Mets, Socko illustrated this newfound confidence in telling Tigers manager Mayo Smith how he would eventually be outhitting former All-Star Tom Tresh, his competition for the backup shortstop roster position. Szotkiewicz indeed backed this up with a strong offensive showing in spring-training games. And he also impressed defensively, with manager Smith declaring that Socko was a "better fielder" than the veteran Tresh. Although he had less than two full seasons in professional baseball, the Tigers decided to bring Szotkiewicz north at the end of spring training. His solid Grapefruit League play helped, but the decision was largely out of "necessity," according to manager Smith, with Tresh both struggling to overcome a knee injury and pondering retirement due to family reasons.10
Backing up starting shortstop César Gutiérrez, Szotkiewicz made his big-league debut on April 7 as a pinch-hitter, grounding into a force out in a 14-4 loss to the Washington Senators. A foot injury to Gutiérrez got him in the starting lineup for the first time on May 2 in a 3-2 loss against the Chicago White Sox. He collected his first big-league hit in the second inning of that game, a single to left field. Szotkiewicz remained in the starting lineup for the next eight games with Gutiérrez ailing, hitting his first big-league home run in a 5-2 victory over the Minnesota Twins at Tiger Stadium on May 6. His second and third home runs of the season were also memorable: a three-run shot on June 17 to give the Tigers a come-from-behind lead in a 9-7 win over the Oakland Athletics, and an eighth-inning solo shot on July 8 to break a 1-1 tie in a 3-2 win against the Boston Red Sox. He stuck with the Tigers for the remainder of the 1970 season, playing in 47 games, but despite these few bright spots, he struggled mightily. Although Szotkiewicz hit three home runs and had nine RBIs in 84 at-bats, he finished the season hitting only .107. In reflecting back on his hitting struggles, Szotkiewicz admitted, "I was trying to hit the ball out of the park every time I came up. That's what hurt my average. They tried to tell me I was not that kind of hitter, but I didn't listen. All I could think of were the homers." He also suffered a severe ligament strain to his troublesome left knee in late July, and missed more than a month of action before returning to finish the season.11
After their disappointing 79-83 season in 1970, the Tigers made numerous personnel changes for the 1971 season, including one affecting Szotkiewicz. Billy Martin was hired as the new manager. And with neither Gutiérrez nor Szotkiewicz having distinguished himself, veteran Ed Brinkman was acquired in a trade with the Senators to solidify the shortstop position. Martin thought it would benefit Szotkiewicz to play every day rather than spend significant time on the bench again, and Szotkiewicz became a victim in the first round of squad cuts during spring training. Although Martin said he viewed Szotkiewicz as being close to big-league ready before being sent down for more seasoning, Szotkiewicz never made another appearance in the major leagues.12
He spent the next four seasons in the minor leagues, bouncing around between teams in the Tigers and Chicago Cubs organizations, including Montgomery, the Toledo Mud Hens of the Triple-A International League, the Midland Cubs of the Double-A Texas League, and the Wichita Aeros of the Triple-A American Association. The best of those seasons, 1974, was Szotkiewicz's last, when he hit .322 with 7 home runs and 41 RBIs in 58 games to open the season at Midland in 1974. Drawing favorable reviews from Cubs minor-league instructor and future Hall of Famer Ernie Banks after his performance there, he was promoted in midseason to Wichita. Szotkiewicz regressed at Wichita, however, and was victimized by another knee injury 10 days before the season ended. Frustrated, he decided to return home to his wife and young daughter, Katie; son John was born subsequently. The recurrent knee problems combined with years of disappointment on the diamond caused the once-promising prospect to retire from Organized Baseball. After his baseball career ended, Szotkiewicz settled down to an unassuming life in Georgia, working in marketing for major flooring distributors. In addition to spending time with his family, he could also be found fishing and playing golf in his free time.13
According to his father, Szotkiewicz revealed that baseball became much less fun for him after college. Despite the good money, the frequent travel, daily grind, and personality conflicts he experienced in professional ball somewhat soured him on the sport. Still, when asked on a questionnaire whether he would play professional baseball if he had it all to do all over again, Szotkiewicz responded, "You're darn right."14
Last revised: September 8, 2016
Acknowledgments
The author wishes to thank Ken Szotkiewicz.
Sources
In addition to the sources cited in the Notes, the author accessed Szotkiewicz's file at the library of the National Baseball Hall of Fame and Museum in Cooperstown, New York; Ancestry.com; Baseball-Reference.com; Newspapers.com; and Retrosheet.org.
Notes
Born
February 25, 1947 at Wilmington, DE (USA)
If you can help us improve this player's biography, contact us.
http://sabr.org/sites/default/files/SzotkiewiczKen.jpg
600
800
admin
/wp-content/uploads/2020/02/sabr_logo.png
admin
2016-09-08 12:17:47
2016-09-08 12:17:47
Ken Szotkiewicz