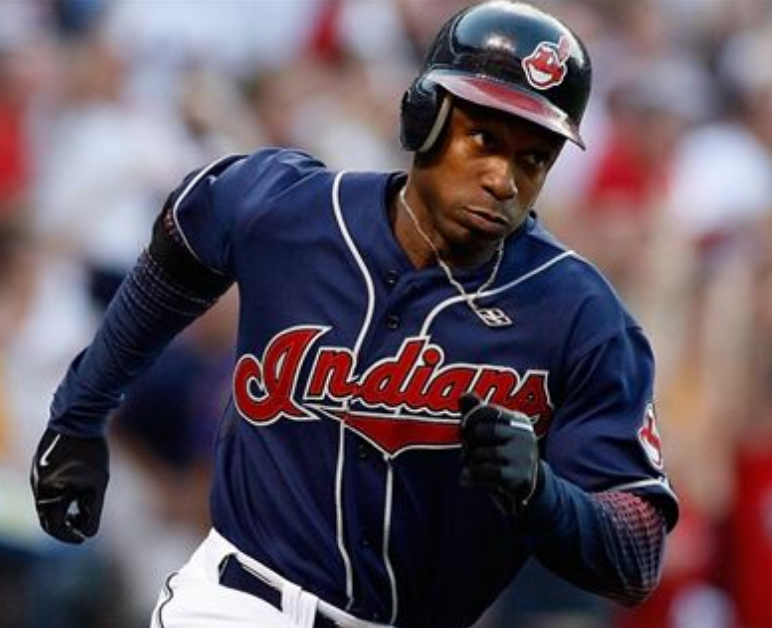 ---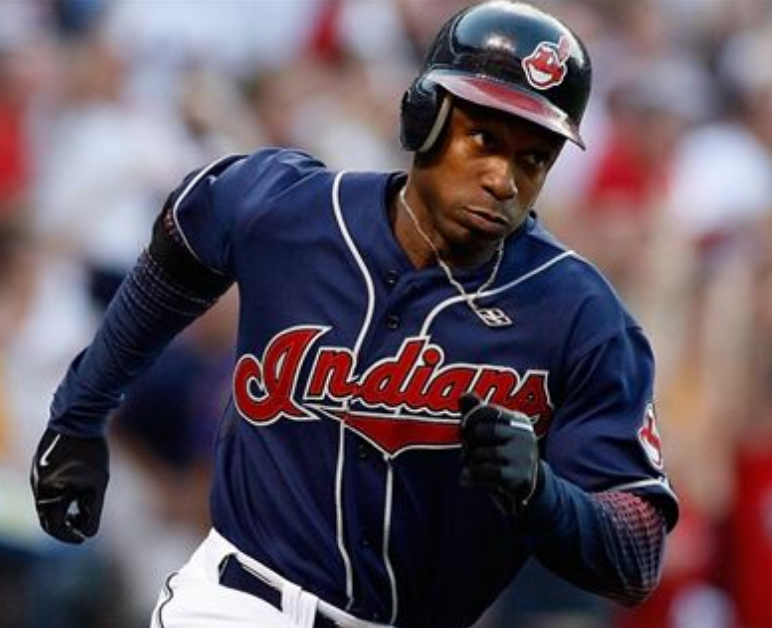 "In a way, Kenny Lofton is the real instrument of terror for the Indians," Los Angeles Times sports columnist Jim Murray wrote during the 1995 World Series. "He is kind of like the scout for the cavalry. He forages ahead of the main force, scans the terrain, probes for weak spots, sets the tone for the attack. Custer would have died in bed if he had one."1
Though 13 different Indians were named American League All-Stars from 1995 to 1999, Lofton stood out to teammates like Jim Thome, who called him "the most talented player in baseball."2 Opponents also deeply admired him. "Kenny Lofton is such a great offensive weapon," said Alex Rodriguez in 1998, in the wake of a confrontation that saw Seattle teammate Randy Johnson and Lofton ejected from an April game.3 Toward the end of his career, fans were often calling Lofton the "Mayor of Cleveland."4
As intense as Lofton could be during a game, in the spring of 1995 a Sports Illustrated profile noted that "when the season's over, Lofton avoids the spotlight."5 That largely remained true during the rest of his major-league career. "The Kenny Lofton that [he] shows the public is not the same Kenny Lofton those closest to him know," wrote Plain Dealer reporter Jodie Valade when Lofton's career was winding down in 2007. "He likes it that way, keeping the world at a distance from his private life."6
Still, details have trickled out here and there, and Sam Smith of the Chicago Tribune, for one, believed that some of those facts served to shed light on Lofton's personality off the baseball field. "Lofton's longtime personal reserve grew from the spartan upbringing" he experienced growing up in East Chicago, Indiana, in a home that "had concrete floors and broken windows," Smith wrote. "Food was made to last and extravagances were unknown."7
Kenneth Lofton was born prematurely to Annie Mae Person on May 31, 1967. Mentions of his birth weight have ranged from 2½ to 4½ pounds but sources tend to say he weighed about 3 pounds.8 Annie was just 14 years old when Kenny was born. She wanted to focus on completing school so she asked her widowed mother, Rosie, to raise Kenny. Annie eventually moved away. "Kenny never knew his daddy," Rosie said in 1995. "We don't know if he's dead or alive. It was one of those one-night stands."9
One of the first descriptions in a prominent media outlet of Lofton's modest upbringing came when he was a prominent college athlete. Two Chicago Tribune columnists wrote about Rosie's role in his life, noting that Kenny was just one of eight grandchildren whom she raised or helped to raise. She did that despite having been blind for a number of years. "She used to come to all the games when I was in high school," Lofton said, "and the people next to her would tell her what I was doing."10
Even before Rosie lost her sight, the glaucoma that eventually claimed it kept her from being employed, but she did not go on welfare and accepted only Social Security benefits. She enrolled Kenny in the local Head Start program and he would overcome a speech impediment. She also fostered a love of baseball in Kenny. She was a diehard Chicago Cubs fan and often listened to games on the radio. As a result, when Kenny was a toddler he would watch neighborhood games played in the street and occasionally scamper after a stray ball. Soon enough, he was the proud owner of a Wiffle ball and bat. Though he would grow up playing basketball often, baseball reportedly came first.11
It was Rosie who taught Kenny how to throw his first baseball. However, by the time he was 9 years old he would find himself providing additional play-by-play descriptions to his grandmother by watching their television. Kenny started attending East Chicago's Washington High School in the fall of 1981 and toward the end of that school year he made the baseball team. The lefty was a starter all four years, and did well as a pitcher and outfielder.12
Nevertheless, it was as a basketball player there that Lofton's name would regularly get into newspapers across Indiana. After spending his first season on the freshman squad, he leapfrogged the junior varsity and started playing for the varsity team in 1982-83 as a 5-foot-11 sophomore. The team improved from 3-18 that season to 11-9 in Lofton's junior year, and when he was a senior in 1984-85 the squad went 24-2 and went to the semifinals of the state championship.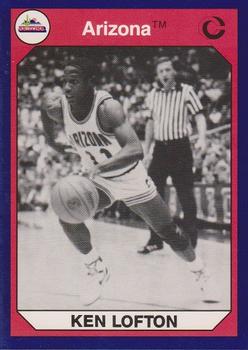 Lofton received a scholarship to the University of Arizona to play basketball. He started as a guard during his sophomore year to replace injured teammate Steve Kerr, later an NBA star. In his third season he played a crucial sixth-man role as Arizona reached the Final Four of the 1988 NCAA tournament. Lofton's high school, which had closed the year after he graduated, had the unusual distinction of producing the only two athletes to play in both a Final Four and a World Series, the earlier graduate being pitcher Tim Stoddard.
Lofton started playing for Arizona's baseball team on a limited basis as a junior, and at midyear he was signed by the Houston Astros as a 17th-round pick in the 1988 amateur draft. That summer he played 48 games for the Auburn Astros of the New York-Penn League. Though he struggled at bat, hitting.214, he stole 26 bases in 30 attempts. Success on the basepaths would become one of his defining attributes. Lofton declined an assignment to play in the Instructional League into October because he wanted to honor his commitment to his grandmother, Rosie, to earn a college degree. Thus, as a senior he was the starting point guard as Arizona reached the Sweet 16 of the 1989 NCAA tournament. Lofton "might be the quickest player in America," wrote one sportswriter.13
Lofton was awarded a degree in studio production, which he would put to good use years later, but it was back to minor-league baseball for the summer of 1989. He returned to Auburn and improved his batting average to .264, then was promoted to the Asheville Tourists in the South Atlantic League for 22 games, in which he hit .329. Rarely did Lofton hit below .300 for any team over the next decade. He next spent the 1990 season with the Osceola Astros of the Florida State League, where he hit .331. In 1991 he played at the Triple-A level with the Tucson Toros in the Pacific Coast League, where he hit .308. He was named to that circuit's all-star team and the Toros won the championship. Lofton earned a final-month call-up by Houston, and made his major-league debut on September 14, 1991, in a game against the Cincinnati Reds. Lofton impressed that day. In four at-bats he had three hits, one of them a double, and he added a walk while scoring three runs. But over his 20-game audition he hit only .203.
The Astros were committed to Steve Finley as their center fielder, so during the offseason Lofton and infielder Dave Rohde were traded to Cleveland for backup catcher Eddie Taubensee and pitcher Willie Blair. "There was nary a scout who didn't think the Houston Astros erred big-time in giving up speedy center-field prospect Kenny Lofton," said a Knight-Ridder news service report on the winter meetings.14 By mid-March, Associated Press baseball writer Jim Donaghy was proclaiming, "The closest thing to a favorite for the AL Rookie of the Year has to be Cleveland center fielder Kenny Lofton." He added that the trade "could be the steal of the year."15
Lofton, who wore uniform number 7, did not disappoint. He hit .285, and his 66 steals set a record for American League rookies. He led the AL in steals for the next four years as well. How fast was he? Sportswriter Wayne Stewart reported that Lofton could "rocket from home plate to first base in a blistering 3.1 seconds."16 Lofton finished second in AL Rookie of the Year voting to Pat Listach of the Milwaukee Brewers. After the 1992 season he signed a contract totaling $6.3 million over four years. In 1993 his .325 batting average was fourth highest in the AL, his on-base percentage was .408, he scored 116 runs, and he received the first of four consecutive Gold Glove Awards.
The strike-shortened season of 1994 was a special one for Lofton in several regards. On May 2, an open date before a series in Chicago, he went home to see Rosie, and the syndicated TV show This Week in Baseball recorded their visit for a segment about Mother's Day. That summer he was named an All-Star for the first of six seasons in a row. In the top of the seventh inning he rapped a two-run single. (The AL lost the game in the 10th.) "The funniest moment of the night was when Bob Costas suggested that All-Star Kenny Lofton did his communications thesis on [Bob] Uecker's Mr. Belvedere" TV series, asserted one reporter.17 Lofton concluded the season leading the AL in hits on his way to a .349 average, and finished second with 105 runs scored in his 112 games. His on-base percentage was .412. Most impressively, he finished fourth in Most Valuable Player voting, behind winner Frank Thomas, Ken Griffey Jr., and teammate Albert Belle.
The 1995 season was another solid one for Lofton. He hit .310 and led the AL in triples with 13. He had three multi-triple games, the first player to accomplish that obscure feat since the American League's expansion in 1961. In the American League Championship Series against the Mariners, he batted.458 in six games, and saved the best for last: "The biggest moment in a season full of them was Kenny Lofton's dash home from second base on a passed ball in the final game of the ALCS in Seattle," declared Bob Dyer in The Top 20 Moments in Cleveland Sports, ranking the feat number 9 in his list.18 In the World Series loss to the Braves, Lofton hit only .200, though in the third game, won by the Indians in extra innings, he was 3-for-3 plus three walks, a stolen base, and three runs scored.
The 1996 season was another productive one for Lofton. He batted .317 with 210 hits and 132 runs scored. However, in March of 1997 he and pitcher Alan Embree were traded to the Braves for outfielders David Justice and Marquis Grissom. Lofton hit .333 for Atlanta in '97 but went on the disabled list twice with groin injuries and stole only 27 bases while leading the National League in times caught stealing.
A free agent after the 1997 season, Lofton returned to Cleveland for the next four seasons. In three of those his average was below .300. He did score more than 100 runs in the first three of those years, and on September 3, 2000, he tied an American League record by scoring in an 18th straight game, matching Red Rolfe's achievement in 1939 for the Yankees. His salary peaked in 2001 at $8 million. That year, as part of the franchise's centennial celebration, a group of experts named Lofton one of the Top 100 Greatest Indians.
In February 2002 Lofton returned home by signing as a free agent with the Chicago White Sox. He donated $125,000 to create new ball fields in East Chicago, and the venue was christened the Kenny Lofton Little League Complex. In June, less than two weeks after his 35th birthday and on the day after he stole the 500th base of his major-league career, Lofton spoke to local youngsters at the site. "I started here just like you, and look where I am now," he said. "All your dreams can come true if you work hard enough. Maybe one day I'll be out in the audience clapping for one of you guys about what you've done for the city of East Chicago."19 That same year, Rosie's role in Kenny's life would be one of the stories told in a documentary called Apple Pie: Raising Champions.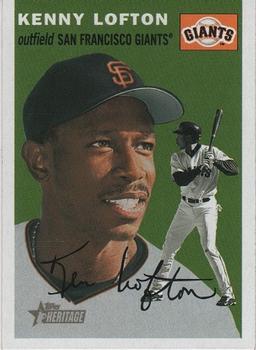 At the July waiver deadline, Lofton was traded to the contending San Francisco Giants and reached the World Series for the second time in his career. He was 9-for-31 as the Giants lost to the Angels in seven games. From 1995 through 2007 Lofton reached the postseason each year except for 2000 and 2005.
From 2002 through 2007 Lofton played with a different team — or two — in each season. He split 2003 between the Pittsburgh Pirates and the Chicago Cubs, toiled with the New York Yankees in 2004, played for the Philadelphia Phillies in 2005, and spent 2006 with the Los Angeles Dodgers. He started 2007, his final season, with the Texas Rangers but fittingly finished with Cleveland. Personal highlights were sprinkled throughout his travels. For example, from April 29 to May 30, 2003, he had a 26-game hitting streak for the Pirates.
Also, in 2005 Lofton's batting average was .335 in 110 games, and at age 39 the next year he had the second-most triples of his career, 12. In 2006 he stole 32 bases in 37 attempts. In 2007 he scored the 1,500th run of his career, and at the time that put him at number 54 on the all-time list, just behind Frankie Frisch. In the subsequent playoffs with the Indians he stole two bases to end his career with 34 in the postseason, breaking Rickey Henderson's record. Lofton's 622 regular-season stolen bases put him at number 15 on the all-time list, and he retired with a career batting average of .299.
Lofton and David Wells share the record for playing for the most different teams in the postseason, six. Lofton wore the uniforms of 11 teams overall, only three shy of the record held by Edwin Jackson at 14. Toward the end of his career Lofton's many relocations were made light of in a TV commercial aired by the DHL Express delivery service.
In early 2004 Lofton co-founded a television production company, FilmPool Inc., and as of 2015 was still its CEO. He has co-produced two TV shows, The Audition and Burnin'. He kept a foot in the baseball world as a pregame and postgame analyst for Fox Sports West/Prime Ticket broadcasts of Dodgers games.
In August of 2010 Lofton was inducted into the Cleveland Indians Hall of Fame. In 2011 the Indians hired him for spring training to coach baserunning and outfield defense, and in 2012 he was brought back for a weekend as a guest instructor. Lofton's relationship with his main team turned a bit sour in January of 2014. He appeared at the second annual TribeFest at Progressive Field (formerly Jacobs Field) and expressed his disapproval of considering the Indians' wild-card loss to have been a playoff appearance, ending their postseason drought since Lofton's final year. "People look at it as a playoff game, it wasn't a playoff game," he said. "A playoff is a series, not one game. It's not the Super Bowl."20
It wasn't widespread news until mid-March that Nick Swisher took such exception to Lofton's dismissive commentary that Swisher debated heatedly with him.21 Lofton then reportedly received numerous cold shoulders when he appeared at the Indians' spring training site. (His mood may have been decidedly negative around then for a very different reason: His beloved grandmother was very ill. Rosie Person passed away on February 25, 2014.)
Lofton became eligible for the National Baseball Hall of Fame in 2013. Leading up to the vote, Ted Keith of Sports Illustrated provided a long analysis of his Hall-worthiness. "Despite his excellence, Lofton was somewhat underrated in his day, and he scores surprisingly well by some measures when it comes to the Hall of Fame — better than some of the more heralded centerfielders on this year's ballot, at the very least," Keith wrote. "He's in danger of getting lost among the flashier candidates on the ballot, so it's important to give his case its due."22
Lofton received votes from only 3.2 percent of the voters and therefore didn't qualify to remain on the ballot. Matt Snyder, writing for CBSsports.com, flagged him as one of the three biggest names to have fallen out of consideration, characterizing Lofton's result as "amazingly low considering his body of work and how few voters appear to have voted for their maximum of 10 players."23 These form just the tip of the iceberg of what an Internet search about his candidacy will generate. Granted, there has been plenty of opining online that Kenny Lofton isn't a Hall of Famer, but for someone with so few votes the debate about his merits sure has been robust.
Last revised: January 1, 2019
This biography was published in "1995 Cleveland Indians: The Sleeping Giant Awakes" (SABR, 2019), edited by Joseph Wancho.
Notes
1 Jim Murray, "Indians Missing a Spark," Los Angeles Times, October 26, 1995.
2 Dave McKibben, "Teammates Think Highly of Lofton, Even If He Doesn't," Los Angeles Times, August 15, 1996.
3 Ken Berger (Associated Press), "In Lather over Shave," Pittsburgh Post-Gazette, April 17, 1998: C-5.
4 Kim Schneider, "Turn Back the Clock," Cleveland Magazine, August 2010.
5 Michael Silver, "Close to the Heart," Sports Illustrated, May 1, 1995: 97.
6 Jodie Valade, "Cleveland Indians' Kenny Lofton Wants His World Serious," Plain Dealer (Cleveland), October 15, 2007.
7 Sam Smith, "Lofton Ready to Run Again," Chicago Tribune, March 17, 2002. Several of the following details about Lofton's humble early years are also from Smith's account.
8 His weight was reported as 2½ pounds by Bruce Jenkins in "Lofton Is Starring in Leading-Man Role," San Francisco Chronicle, October 10, 2002, quoting from the Dayton Daily News in 1995. Lofton's weight was given as 4½ pounds in the 2002 documentary Apple Pie: Raising Champions. See applepiemovie.com/html/kennyandrosie.html. Additional information about Lofton's youth has been taken from the latter.
9 Bruce Jenkins, "Lofton's Grandmother Was Listening." San Francisco Chronicle, October 25, 1995. This is also the source of subsequent details about Lofton's youth.
10 Linda Kay and Mike Conklin, "Odds & Ins," Chicago Tribune, December 25, 1987.
11 Bonnie DeSimone, "A Leader of the Pack," Chicago Tribune, October 1, 1996.
12 Mark Stewart, Kenny Lofton: Man of Steal (Chicago: Children's Press, 1998), 15.
13 Steve Bisheff, "Wildcats Looks Similar to Bruins of Old," Orange County Register (Anaheim, California), March 13, 1989: C8.
14 For example, see "Many Free-Agent Players Didn't Strike It Rich," The Telegraph (Alton, Illinois), December 22, 1991: C-4.
15 For example, see Jim Donaghy, "Solid Rookie Class for Baseball Season," Aiken (South Carolina) Standard, March 19, 1992: 7A.
16 Wayne Stewart, "Baseball's Greyhounds," Boy's Life, May 1994: 10.
17 Jeff Hasen, "Uecker Underutilized During All-Star Game," Deseret News (Salt Lake City), July15, 1994: D3.
18 Bob Dyer, The Top 20 Moments in Cleveland Sports: Tremendous Tales of Heroes and Heartbreaks (Cleveland: Gray & Company, 2003), 260.
19 Jim Masters, "Lofton hits a home run in E.C.," The Times (Munster, Indiana), June 9, 2002.
20 Stephanie Storm, "Indians Notebook: Former Ace Pitcher Charlie Nagy Glad to Be Back in Organization," Akron (Ohio) Beacon Journal, January 25, 2014.
21 For example, see Jonathan Lehman, "Why Nick Swisher Is Beefing with Kenny Lofton," New York Post, March 18, 2014.
22 Ted Keith, "JAWS and the 2013 Hall of Fame Ballot: Kenny Lofton," SI.com, December 17, 2012.
23 Matt Snyder, "Murphy, Lofton, Williams headline those falling off Hall of Fame ballot," CBSsports.com, January 8, 2013.
Born
May 31, 1967 at East Chicago, IN (USA)
If you can help us improve this player's biography, contact us.
https://sabr.org/sites/default/files/LoftonKenny-CLE.png
600
800
admin
/wp-content/uploads/2020/02/sabr_logo.png
admin
2012-01-04 19:50:24
2012-01-04 19:50:24
Kenny Lofton