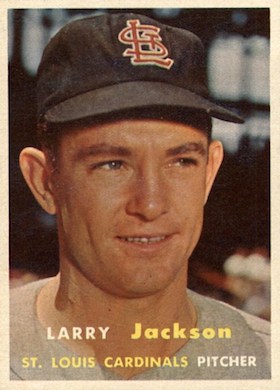 ---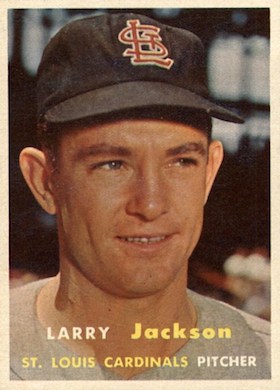 Almost. That's Larry Jackson's career in a word. He almost led his junior college football team to an undefeated season. In baseball's major leagues, he won almost 200 games, almost pitched a perfect game, and almost won a Cy Young Award.
Jackson was one of the National League's top pitchers for almost a decade. His adjusted earned run average (ERA+) is better than that of a dozen Hall of Famers, including Nolan Ryan. Yet he is neither famous nor infamous. Bill James wrote, "In his entire career, as best I can determine, Larry Jackson was never in the vicinity of a humorous anecdote."1 Extensive research confirms James's judgment.
Jackson didn't get a lot of publicity because he was a dull interview, reluctant to talk about himself. Besides, the right-hander was stuck on bad to mediocre ball clubs for most of his 14 years in the majors. Fellow players admired him as a bulldog of a competitor. Teammate Ron Santo said, "He can go out there alone, even when he doesn't have his good stuff, and his guts and courage alone will carry him into the seventh or eighth inning." Tapping his chest, Santo added. "He's got it here."2
Lawrence Curtis Jackson was born on June 2, 1931, in Nampa, Idaho, a town in the Snake River Valley. He was the oldest of three sons of the former Aldythe Lanore Curtis and Lawrence Leopold Jackson, who was also called Larry and who worked at one time as a supervisor for the Greyhound bus line. When young Larry was six, the family moved 20 miles east to Boise, the state capital.
Jackson starred in football, basketball, and baseball at Boise High. He played shortstop and third base, but didn't pitch until his senior year because he was so wild that his coach was afraid he'd hurt somebody. He pitched and played short for the semipro Prospectors in Weiser, Idaho, where Walter Johnson had been discovered. The team twice went to the National Baseball Congress tournament in Wichita, Kansas,
Jackson entered Boise Junior College (now Boise State University) in 1949 and joined the football team as a 175-pound second-string tailback. The Broncos were unbeaten for the third consecutive season. The summer of 1950 brought a second trip to the national semipro baseball tournament with Weiser, where scouts got a good look at the young right-hander. He was offered a professional contract, but decided to return to school.
In his second year he took over as the starting tailback in Boise JC's single-wing offense, equivalent to the quarterback position. Jackson was rated a better passer than runner; one of his touchdown passes went to his brother Jerry. Playing both ways, he was a defensive back and also the team captain and punter.
The Broncos finished their 1950 regular season undefeated in 40 games stretching back to 1946. The streak ended when they fell to Long Beach in the Little Rose Bowl in Pasadena. Sportswriters said the Idahoans wore down in the unbearable (for them) 82-degree heat.
In the spring baseball season in 1951, Jackson started and won both games of a doubleheader, each seven innings, against Eastern Oregon College of Education. He struck out 11 in the first game, then pitched a no-hitter in the second with eight strikeouts. He finished the season 8-0.
Major-league scouts were hovering, but Jackson's parents wanted him to complete his education. He had football scholarship offers from the University of Texas and other four-year schools. Instead, he accepted a $5,500 bonus from the St. Louis Cardinals on the day before his 20th birthday.
The Cardinals sent him to their Class C club in Pocatello, Idaho, about 240 miles from home. His first professional season was painful. He finished 3-11, 4.25, and walked 113 in 127 innings. In the fall he enrolled at the University of Idaho. He never got a degree from the university, but he did get a wife, Dinah Jane Ketchen.
Repeating Class C in 1952 at Fresno, Jackson lit up the California League with a 28-4 record, 2.85 ERA, and 351 strikeouts (and 144 walks) in 300 innings. He rose through the St. Louis farm system for the next two years, improving his control and perfecting a slider with the help of minor-league coach Johnny Grodzicki, a top Cardinals pitching prospect before he was wounded in World War II. The slider would become Jackson's out pitch, working off a fastball that he could sink or sail and a slow curve he learned from the Dodgers' Carl Erskine. He never lacked confidence – he lived up to his nickname, "Cocky" – but he credited Triple-A manager Harry Walker with convincing him he was ready for the majors.
When the 23-year-old won a spot in the Cardinals' starting rotation in 1955, he joined a team in turmoil. With owner August Busch Jr. impatient to recapture their glory days, the Cards shuffled five managers and three general managers in Jackson's first seven years. The ever-changing leadership couldn't decide what to do with him. First he was a starter, then a late-inning reliever, then a starter again, then a bit of each. The Cardinals hung onto him because of his live arm, even while GM Frank Lane was trading practically everything except the birds on their shirts. Stan Musial, Jackson, and his roommate, third baseman Ken Boyer, were the only constants through the upheaval.
St. Louis charged into a pennant race under manager Fred Hutchinson in 1957, the only time the club contended while Jackson wore the uniform. He opened the season in the bullpen. After he allowed only two runs in 24 2/3 innings, he moved into the rotation and was chosen for the All-Star team. He was the first Idaho native to be an All-Star; in his honor, the state's governor, Robert E. Smylie, sent a sack of potatoes to every member of the National League team.
The Cardinals were tied for first place on August 6, but lost eight in a row to drop behind the Milwaukee Braves. They finished eight games out. Jackson's 15-9 record tied Lindy McDaniel for the most victories on the club.
In 1958, with the team struggling, Hutchinson whipsawed Jackson between starting and relieving until July 19, when he shut out Cincinnati for 10 innings. That was enough to cement his place in the rotation. He finished 13-13, 3.68, and completed 11 of 23 starts.
St. Louis brought in another new manager in 1959, Solly Hemus. He named Jackson his number-one starter, ahead of Vinegar Bend Mizell and rookie Ernie Broglio. In his fifth season Jackson finally had a regular job, and he seized it. Although his record was 14-13 with a seventh-place club, it was his best year by some measures. According to Baseball-Reference's calculations, he was the league's most valuable pitcher with 7.2 wins above replacement. He allowed the NL's lowest home run rate, and his 3.30 ERA was 28 percent better than average. Jackson was now established, in Musial's description, as "the ace of our staff."3
He had a nearly identical season in 1960, putting up 18 victories as the Cardinals climbed to third place. He led the league in starts and innings. But during a spring exhibition game in 1961, he sawed off Duke Snider's bat and the fat end hit him in the face, breaking his jaw. Returning to the mound after four weeks on a liquid diet, he was predictably weak. He struggled in the bullpen until yet another new manager, Johnny Keane, took over in July and put him back into the rotation. Jackson reeled off a spectacular three months, with an 11-3 record and 2.86 ERA.
The Cardinals were developing young pitchers who showed signs of coming into their own in 1962: Bob Gibson, Ernie Broglio, Ray Washburn, and Ray Sadecki. Jackson led the staff with 16 wins, but the club made him available as they pursued a trade for a left-handed power bat to replace the fading Musial. In October St. Louis swapped Jackson, reliever Lindy McDaniel, and catcher Jimmie Schaffer to the Chicago Cubs for outfielder George Altman, pitcher Don Cardwell, and catcher Moe Thacker. Altman fizzled in St. Louis, but the Cardinals salvaged the deal by flipping Cardwell to Pittsburgh as part of a trade for shortstop Dick Groat, who became a leader of their 1964 World Series champions.
Baseball's grapevine said St. Louis had gotten rid of the 31-year-old Jackson because he hadn't pitched up to his potential. The usually quiet Jackson fired back at his old team. He said the Cardinals' poor defense dragged down the pitching staff and they had failed to develop power hitters to support Ken Boyer.4
His new team had finished ninth in 1962, losing 103 games, but boasted a nucleus of rising stars – Billy Williams, Ron Santo, and Ken Hubbs – to go with two-time MVP Ernie Banks. The Cubs were desperate for pitching. They touted Jackson as their ace.
Cubs owner Philip Wrigley gave up his bizarre experiment with rotating coaches and installed Bob Kennedy as head coach for 1963. Wrigley also hired an athletic director, a retired Air Force colonel, who outranked the head coach; Kennedy had been a captain during his Air Force service.
The two pilots lifted the Cubs to an altitude they hadn't seen in 17 years: a winning record, 82-80. Jackson won nine games before the All-Star break with an ERA near 2.00. But he lost his last seven decisions in August and September as the Cubs scored a total of 12 runs in those games. He finished 14-18, although his 2.55 ERA was sixth-best in the league. His adjusted ERA (ERA+) of 138 was the best of his career, but his won-lost record made his season feel like a failure.
Jackson spent several off-seasons writing a sports column for the Idaho Statesman in Boise, with plenty of time for hunting elk and other game. After the 1963 season he spent a lot of time thinking. Disappointed with his losing record, he told himself over and over that he was a 20-game winner. In 1964 he made the wish come true.
While the Cubs slipped back into their losing habit, Jackson started strong and picked up his 10th victory on June 30. The game against Cincinnati was scoreless in the fourth when he stood up in the dugout and told his teammates, "Listen, I'm not a shutout pitcher, much less a no-hit pitcher…. So let's go out and get some runs."5 Jackson set down the first 18 batters in a row, then the Cubs pushed across a single run in the bottom of the sixth. The Reds' Pete Rose led off the seventh with a line single over second base that broke up the perfect game. Jackson retired nine more to complete a one-hit shutout.
He went on to win nine straight starts in August and September. On September 15 he beat Cincinnati again for his 20th victory. He credited positive thinking during the winter. "No, I don't think I've been a better pitcher this year than in my other nine in the majors," he said. "But I am convinced that setting a goal for the first time helped."6 His final line: 24-11, 3.14 in a career-high 297 2/3 innings, with an eighth-place team.
Jackson's 24 wins led the majors, but the 1964 Cy Young Award went to Dean Chance, who finished 20-9 for the Los Angeles Angels. (At the time there was only one Cy Young Award for both leagues.) Chance dominated the American League with a 1.65 ERA and 11 shutouts. He received 17 votes from sportswriters to 2 for Jackson and 1 for Sandy Koufax.
Whatever Jackson was thinking after his big year, it didn't work. He went from 24 victories to 21 defeats in 1965 as his ERA climbed to 3.85, worse than average in a low-scoring environment. He had a lot of help; the Cubs lost 90 games. After he lost his first two starts in 1966, Chicago traded him to Philadelphia shortly before his 35th birthday.
The deal turned out to be a colossal blunder by the Phillies. They acquired Jackson and 37-year-old right-hander Bob Buhl for two outfielders and 23-year-old right-hander Ferguson Jenkins. Jenkins won 167 games for the Cubs in the next 10 years, and 284 in his career, before he was elected to the Hall of Fame.
Buhl won six games for Philadelphia and was released the following year. Jackson posted a 41-45 record over three seasons, despite a 2.95 ERA. He turned into a productive mid-rotation starter behind Jim Bunning and Chris Short. The highlight of his tenure was a shutout of the Mets on June 20, 1967; Tommy Davis's second-inning double was the only hit. It was Jackson's 18th consecutive victory over the Mets, going back to the first game in the expansion team's history in 1962.
In 1968 Jackson's 2.77 ERA was the best on the Phils staff, although his record was 13-17. But he was 37, and the club elected to protect younger players from the expansion draft that would stock the new Montreal and San Diego franchises. Jackson told Philadelphia general manager John Quinn that he would retire unless he could be sent to a West Coast team, closer to home.
After Montreal chose him in the draft, he made his decision public and wrote to the league office requesting retirement forms. That touched off a tug-of-war that lasted most of the winter. Montreal general manager Jim Fanning said, "A lot of ballplayers retire in the fall and unretire in the spring, especially those making good money."7 The Expos manager, Gene Mauch, who had managed Jackson in Philadelphia, urged him to join the team and serve as a mentor for its young pitchers.
When the Expos finally realized Jackson was serious, they demanded another player from Philadelphia to replace him. The Phillies owner, Robert Carpenter, agreed that Montreal deserved compensation. He offered a choice of four players; the Expos took Bobby Wine, who became their regular shortstop.
Jackson retired six victories short of 200 with a 194-183 record and 3.40 ERA. Obviously he had more wins left in his arm, but his two sons and two daughters were in school in Boise and he had a job offer from Boise-Cascade, the giant pulp and paper company. Although he was well paid for the time, he had never made as much as $50,000 in baseball. He needed to look after his and his family's future.
His new job, as a lobbyist for Boise-Cascade in the state capital, was Jackson's entrée into politics. He was elected to four terms in the state house of representatives, becoming co-chairman of the Joint Finance Appropriations Committee, which oversaw government spending. He also served as executive director of the Idaho Republican Party.
In June 1972 Jackson's wife, Dinah, was kidnapped at gunpoint from their home in front of two of their children. Police found her several hours later, walking on a country road. Her attacker was arrested the same night and charged with kidnapping, rape, and armed robbery.8
Jackson entered the race for governor in 1978. Described as the moderate in a field of six candidates in the Republican primary, he told a reporter, "[B]eing a moderate in Idaho would make me an ultra-conservative in New York."9 Idaho's other famous ballplayers, Harmon Killebrew and Vern Law, campaigned for him, but he finished fourth. He was appointed to the State Industrial Commission, where he served for the rest of his life. Jackson died of cancer at 59 on August 28, 1990.
Dwight Gooden and David Cone won the same number of games as Jackson, but they recorded some memorable highlights and spectacular seasons. Even Jackson's biggest year was only almost spectacular. He piled up his victories with little fanfare. It's a good way to be forgotten.
Sources
Paul Green, "Larry Jackson Interviewed," Sports Collectors Digest, May 4, 1990.
Idaho Statesman (Boise), 1949-1951.
Notes
Born
June 2, 1931 at Nampa, ID (USA)
Died
August 28, 1990 at Boise, ID (USA)
If you can help us improve this player's biography, contact us.
http://sabr.org/sites/default/files/JacksonLarry.jpg
600
800
admin
/wp-content/uploads/2020/02/sabr_logo.png
admin
2016-03-29 17:19:54
2016-03-29 17:19:54
Larry Jackson