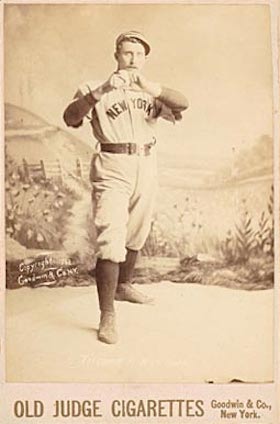 ---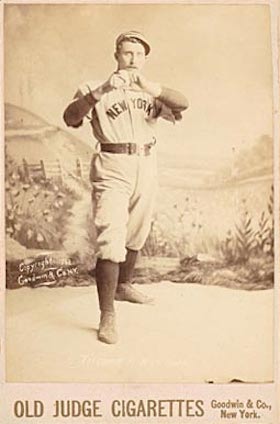 While he was hardly a late-nineteenth-century pitching standout, left-hander Ledell Titcomb's six-season major-league career was not without accomplishments. As a spot starter, he contributed 14 victories to the National League pennant-winning effort of the New York Giants in 1888. Two seasons later, Titcomb authored a no-hitter for Rochester in its only campaign as a big-league club. But soon thereafter, arm miseries brought his hurling days to a premature end. Titcomb spent the remainder of his long life in quiet obscurity, mostly working as a shoemaker.
Shortly before Titcomb's death at age 83, a curious phenomenon occurred. He was given a nickname that had never appeared in newsprint during his actual playing days: Cannonball. The moniker was premised on a likely apocryphal tale about Titcomb in his youth published in his former hometown newspaper. In June 1950, this newly coined nickname was embraced by the Associated Press in circulating an obituary for Titcomb. And Cannonball Titcomb is how our subject is listed in Baseball-Reference, Retrosheet, and other baseball reference works today. A forensic examination of the events that spawned this historically dubious appellation appeared in an issue of Nineteenth Century Notes, the quarterly newsletter of SABR's 19th Century Committee.1 For present purposes, suffice it to say that the Cannonball nickname is highly suspect, and in need of serious reassessment by baseball historians. In the meantime, the instant piece is devoted to telling the life story of the player known to family, friends, and the baseball world of his time as Ledell Titcomb.2
Titcomb3 was born on August 21, 1866, in West Baldwin, Maine, an apple-growing village not far from the border with New Hampshire. He was the second of four children born to carpenter Joseph J. Titcomb (1834-1908) and his wife, Fannie (the former Mary Frances Burnell, 1838-1893).4 By the time Dell (as teammates sometimes called him)5 was a teenager, the family had relocated to Wakefield, Massachusetts. A smallish (5-feet-6, 157 pounds) lefty batter and thrower, Titcomb began playing ball on local sandlots before graduating to faster competition. In April 1884 he became a charter member of an amateur club formed in nearby Haverhill.6 Originally a first baseman but near-helpless with the bat, Titcomb was converted into a pitcher later that season.
When Haverhill entered the professional Eastern New England League in 1885, Titcomb remained with the nine and pitched effectively during the early going. But in August, a lackadaisical performance against Lawrence – perhaps the first manifestation of the attitude and maturity problems that would surface periodically during Titcomb's pro career – led to his indefinite suspension. Titcomb responded by demanding his release by the Haverhill club.7 In time, club management capitulated, leaving Titcomb free to offer his services elsewhere. Taking note of these developments was renowned manager Harry Wright, then in charge of the National League Philadelphia Quakers. Previously in June, Titcomb had impressed Wright by pitching Haverhill to a 2-1 exhibition-game victory over the Quakers. Once Titcomb became available, Wright signed him for the 1886 season.8
Despite his unimposing stature, the 19-year-old Titcomb threw hard. But he also got outs with a puzzling assortment of breaking pitches. As spring camp approached, Sporting Life's Haverhill correspondent predicted success, for "under the handling of an expert manager like Harry Wright, [Titcomb] should make a good record as he has great speed and all the curves. All he needs is a good coach."9 Dell got off well, dominating the Brown University varsity in a spring exhibition contest. But against National League competition, his fortunes changed. On May 5, 1886, Titcomb made a creditable major-league debut, holding the New York Giants to three hits while striking out eight, but dropped a 4-2 decision. He was hit hard, however, in two of three subsequent starts, all losses. Then, off-field horseplay with fellow Quakers pitcher Ed Daily left Titcomb sidelined with a broken right arm.10 He returned to action in time to take a late-season 11-0 clobbering from Detroit. Dell finished the 1886 campaign at 0-5 in five complete games pitched for a first-division (71-43) Philadelphia club. Notwithstanding his winless log, manager Wright retained high hopes for Titcomb and re-signed him for next year.11
Titcomb reported for Quakers spring camp "in much better shape than ever before, and display[ed] much better judgment in handling the ball," reported Sporting Life.12 But plagued by control problems and a lack of pitching savvy, he did not make the club's roster. Instead, Titcomb began the 1887 season with a local rival, the Philadelphia Athletics of the American Association. Reunited with former Haverhill batterymate (and future Hall of Famer) Wilbert Robinson, Titcomb was expected to excel. But he proved a bust. He eked out a 10-9 victory over Brooklyn on April 30 to record his first major-league win, but was ineffective the next two times out, dropping both decisions. Widely deemed "a failure for the Athletics,"13 Titcomb was unconditionally released in early May. Several days thereafter, he signed with the Jersey City Skeeters of the minor International League.14
Paired with catcher Pat Murphy, Titcomb finally began to fulfill expectations. He got off well with Jersey City, winning his first three starts. He then attained the dubious distinction of losing a game in two separate cities on the same date. On the morning of May 17, Titcomb dropped a 3-2 decision to Newark in a game played in Jersey City. That afternoon, the clubs reconvened in the nearby Newark ballpark where Titcomb was an 11-1 loser. That unhappy couplet, however, proved anomalous. Titcomb pitched consistently excellent ball for Jersey City, and by late August, Sporting Life's local correspondent was calling him "the best hurler in the International League."15 The little lefty's good work did not go unnoticed, and several major-league clubs expressed interest in him, and in catcher Murphy as well. In late August, the battery was sold to the New York Giants for a reported $3,000.16
On September 2 the duo made an impressive debut in a 2-1 victory over Detroit, with the New York Herald rhapsodizing, "Titcomb … scored an emphatic success, his left-handed delivery being an enigma to the Titans from Detroit. He was splendidly supported by Murphy whose back up work and throwing were as fine as any seen in the Polo Grounds this season."17 The New York Tribune was equally enthusiastic about the newcomers: "Titcomb has plenty of speed, marvelous curves and reasonably good control of the ball, and ought to be of good service to the nine. Murphy caught nicely and his throwing to the bases was exceptionally rapid and accurate."18 But after that, their work was sketchy. Titcomb finished his brief tour with the Giants at 4-3, with a 3.88 ERA in 72 innings pitched, while Murphy batted .241 in 17 games for the fourth-place (68-55) club. Still, their showing was sufficient for New York to retain the pair for the following season.19
Over the winter, Titcomb purchased property in Haverhill and apprenticed in a local shoemaking shop, learning the trade that he would pursue for most of his post-baseball life.20 On 1888 Opening Day in Washington, he was the unlikely starter for the Giants and turned in a three-hit, 6-0 victory over the Senators. With Pat Murphy serving as his personal backstop,21Titcomb won his next four starts as well before dropping a 9-3 decision to Chicago in mid-May. Thereafter, he settled into a spot starter role, reliably spelling staff aces (and future Hall of Famers) Tim Keefe (35-12) and Mickey Welch (26-19), each of whom hurled over 400 innings. On October 10 Titcomb recorded a one-hit, 1-0 victory over Pittsburgh to bring an excellent season to a close. For a NL pennant-winning (84-47) Giants club, he went 14-8, with a 2.24 ERA in 197 innings pitched, and ranked second among league hurlers in strikeouts per nine innings pitched. But Titcomb saw no action in the postseason championship match against the American Association title-holding St. Louis Browns until after the Giants had already clinched the best-of-10-games-played series. Dell was charged with the loss in the meaningless final contest, but most of St. Louis runs scored in that 18-7 farce came off the pitching of Giants infielder Gil Hatfield while Titcomb was stationed in center field.
Although he was only 22 years old, Titcomb's pitching prime was now behind him. He began the 1889 season shakily, staggering to an 11-10 win over Boston on April 25. Then he was shelled in an 11-2 loss to Philadelphia on May 4. Thereafter, Titcomb and Billy George, another young left-hander equal parts promise and immaturity, got themselves into Giants owner John B. Day's doghouse. With Mickey Welch taken ill and second-line pitcher Cannonball Ed Crane injured, the club was in dire need of a starter for a May 11 game against Boston. But Titcomb and George were "out of condition" and unavailable,22 necessitating the use of infielder Hatfield in the box. New York lost, 4-3. Amid rumors that his release was imminent, Titcomb received the ball on May 14 and threw six scoreless innings at Cleveland, only to collapse in a five-run seventh that spelled a 5-0 defeat. Shortly thereafter, the Giants released him.23
Despite his youth and recent success, there were no major-league bidders for Titcomb's services. But he received an outpouring of offers from minor-league clubs. From these, Titcomb signed the contact proffered by the Toronto Canucks of the International League,24 touching off a fleeting circuit controversy. The widely reported $500-per-month salary tendered Titcomb surpassed the $400 IL limit.25 Toronto management promptly denied the salary report, only to have Titcomb himself confirm it.26 In fact, Titcomb and Detroit Wolverines right-hander Lev Shreve were believed the highest-paid pitchers in the International League.27 Whatever his wage, Titcomb amply repaid Toronto. Pitching for the middling (56-55) Canucks, he posted only a 15-13 mark, but led IL hurlers with a sparkling 1.27 ERA in 245⅔ innings pitched.28
Although a strong and vocal union man,29 Titcomb was not sought by any of the teams in the newly formed Players League. Thus, he began the 1890 season where he had left off the previous year, pitching in the minors for Toronto. He went 10-11 in 22 games for the Canucks. But indirectly, the expansion of major-league ranks precipitated by the Players League accrued to Titcomb's benefit. When the International League disbanded in mid-July, the first-year Rochester Hop Bitters of the struggling-to-survive American Association grabbed Titcomb. He quickly solidified his status with his new club by winning his first three decisions. Thereafter, Titcomb struggled amid reports that his shoulder had gone lame.30
Given such reports, the game-of-a-career performance turned in by Titcomb on September 15 was wholly unexpected. Taking the box against the Syracuse Stars before a sparse home crowd of 543,31 Titcomb was "phenomenal and the Stars did not make anything that had a semblance of a hit."32 He struck out seven, walked two, and was aided by several brilliant defensive plays behind him in completing the 7-0 masterpiece, one of only two no-hitters thrown in the majors during the 1890 season.33 On October 11 Titcomb near-repeated the feat, throwing a six-inning one-hitter in a 4-3 win over Baltimore. Sadly, he ended the season and, as it turned out, his major-league career on a sour note, giving up 19 hits in a 16-11 loss to that same Baltimore club.
Titcomb, 10-9 in 20 games pitched for the Hop Bitters, was reserved by Rochester for the 1891 season,34 but the Flour City's tenure as a major-league venue expired over the winter. So did Ledell Titcomb's pitching arm. He re-signed with the Hop Bitters, now demoted to the minor Eastern Association, for the 1891 season but was shellacked in an early-season outing against Buffalo, losing 18-1. He was released shortly thereafter.35 A one-game audition for a league rival, the Providence Clamdiggers, yielded similar results. On May 27 Titcomb was knocked out of the box in the first inning of a 14-7 drubbing by Albany. Although he was still only 24 years old, the professional pitching career of Ledell Titcomb was over.
In parts of six major-league seasons, Titcomb had gone 30-29 (.508), posting a 3.47 ERA in 528⅔ innings pitched and completing all but one of 62 career starts. Control had often been a problem, as Titcomb's walks/HBP/wild pitches total (298) exceeded his strikeouts (283). But before his arm went bad, the little southpaw had formidable stuff. His attitude and maturity were another matter. Looking back a near-quarter century later, a non-bylined New York Times sportswriter observed, "Ledell Titcomb … did remarkable pitching during the season of 1888. In fact, he was sensational. [But] Titcomb was too much a comedian to take baseball seriously. [Still], the fellow had rare skill and was a puzzle to all big league batsmen when he felt inclined to do his best."36 In addition to accumulating deportment demerits, Titcomb had also been a poor baserunner, a worse fielder (.833 FA), and among the most pitiful hitters of the nineteenth century, the possessor of a microscopic .098 career batting average.
Although his baseball days were done early, Titcomb still had near 60 years yet to live. He returned to Haverhill where his father, by now a builder, put Dell to work as a carpenter. In January 1896, Titcomb put bachelorhood behind him, marrying 21-year-old Margaret O'Herne.37 Their union would endure for 54 years but produce no children. From 1900 on, Haverhill directories list Titcomb's occupation as shoemaker, although from 1914 to about 1920 he served his employer, the United Shoe Machinery Company, as a sales representative. Around 1920, the Titcombs relocated to rural Kingston, New Hampshire, although wife Margaret continued working in nearby Haverhill as a domestic for city gentry, while Dell returned to shoemaking.
For the most part, Titcomb spent these years in obscurity. On occasion, however, the exploits of his baseball playing days were recounted in the local press.38 Conspicuous by its absence from these Titcomb retrospectives was any reference to his having been nicknamed Cannonball. This, however, was hardly noteworthy as contemporary reportage of Titcomb's playing days was equally bereft of this putative moniker.39 As best as can be determined, the nickname debuted when Titcomb was 82. According to a late 1948 profile published by the Haverhill Gazette, "Those who remember Titcomb will recall that his pitches were so fast that the only fellow who could catch them was Bill [sic] Robinson, who later became manager of the Brooklyn Dodgers. His mates at Haverhill nicknamed him 'Cannonball' after he split a plank with a pitched ball."40
As he grew into old age, Titcomb developed heart disease. In early June of 1950 he was admitted to a hospital in adjoining Exeter, New Hampshire, and died there several days later from heart failure.41 He was 83. Titcomb's death, in turn, triggered propagation of the Cannonball nickname. Although the recently coined moniker found no mention in the obituary published locally,42 the Associated Press began its brief, but error-filled, wire-service story: "Ledell (Cannon Ball) Titcomb … died today," and expanded the plank-splitting yarn into a feat observed by "old-timers … any number of times."43 Thereafter, the uncritical acceptance of the Cannon Ball nickname and its underlying story by The Sporting News cemented the AP misinformation in baseball stone.44 To this day, the player known to his contemporaries as Ledell Titcomb is identified as Cannonball Titcomb in Baseball-Reference, Retrosheet, and other current reference works.45
Back in Kingston, meanwhile, a funeral service for Titcomb was conducted at the First Congregational Church, followed by interment at nearby Greenwood Cemetery. Immediate survivors were confined to the deceased's wife, Margaret, and his sister, Flora Titcomb Hoague.
Sources
Sources for the biographical info provide herein include the Ledell Titcomb file maintained at the Giamatti Research Center, National Baseball Hall of Fame and Museum, Cooperstown, New York; Titcomb family tree and US Census data accessed via Ancestry.com; and certain of the newspaper articles cited below. Unless otherwise noted, stats have been taken from Baseball-Reference.
Notes
Born
August 21, 1866 at West Baldwin, ME (USA)
Died
June 8, 1950 at Exeter, NH (USA)
If you can help us improve this player's biography, contact us.
http://sabr.org/sites/default/files/TitcombLedell.jpg
600
800
admin
/wp-content/uploads/2020/02/sabr_logo.png
admin
2016-10-03 13:19:06
2016-10-03 13:19:06
Ledell Titcomb