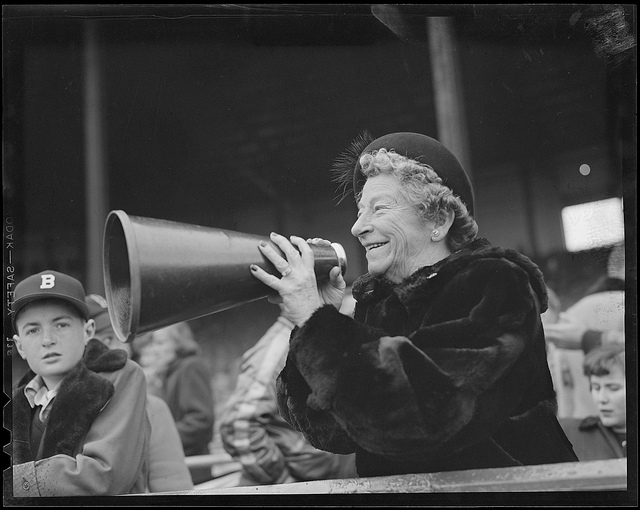 ---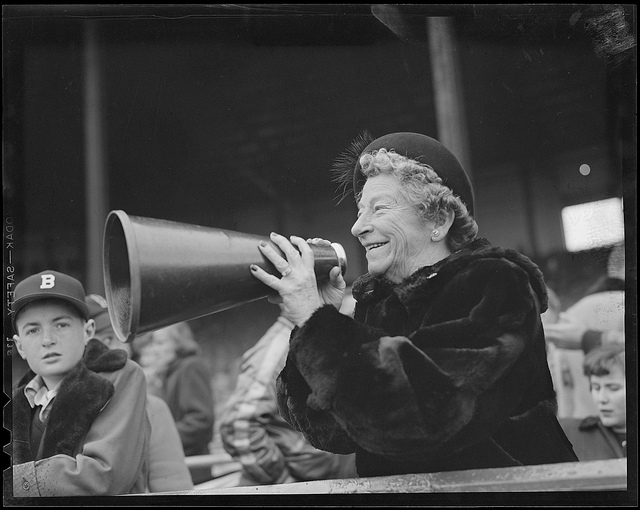 As a devoted fan of major-league baseball in Boston for more than a quarter-century, Lolly Hopkins was widely known as the "Woman with the Megaphone."1 Hopkins was one of the last bipartisan baseball fans in Boston, who followed the Braves and Red Sox with equal fervor until Boston ceased to be a two-team city in 1953.
Lillian "Lolly" Hopkins was born Lillian Viola Glover on February 25, 1890, in Providence, Rhode Island.2 She was one of seven children of William and Sarah Glover.3 Her father worked as a carpenter, which allowed him to take off an occasional afternoon to attend a baseball game in Boston, 50 miles north of Providence.4 Lolly became a Boston baseball fan as a little girl when her father took her to games at the South End Grounds (to see the Boston team in the National League) and the Huntington Avenue Grounds (to see the Boston team in the American League).5 Their ballpark destination was determined by the day they could get away to see a game, not by a preference for either team, which initiated Lolly into a lifelong bipartisan attitude as a Boston baseball fan.
Lolly and her father likely went to the Boston ballparks when there was a doubleheader being played, to see two games for the price of one, or when a Ladies Day was scheduled, and she received free admission by being with a male escort. Ladies Day became a popular promotion at the Boston ballparks during the first decade of the twentieth century, after its limited offering the previous two decades during the rare periods when there was a rival Boston team that offered the promotion to sway fans away from the established National League team.
The first Ladies Day at a Boston ballpark was conducted on September 4, 1884, by the Boston team in the Union Association, when "all ladies with escorts will be admitted to the game without charge."6 Six years later the Boston team in the Players League held the first of several Ladies Day events at the game on July 11, 1890.7 The following year the Boston team in the American Association offered a Ladies Day at the July 20, 1891, game.8 Ten years later the Boston team in the American League offered its first Ladies Day promotion on June 10, 1901.9 Unlike the previous rival Boston teams that all went out of business, the Americans had staying power, so the National League team begrudgingly adopted the Ladies Day practice. The free admission was so popular that by 1904 the Boston Americans had to limit its use to just one female per male escort.10 However, due to the fabulous success of both Boston teams during the 1910s, with five World Series appearances between 1912 and 1918, the concept of Ladies Day gradually faded from use in Boston.
Lolly married William J. Hopkins on November 20, 1912, in Providence, and gave birth to their only child, Lillian M. Hopkins, on September 22, 1913.11 Lolly's husband worked for the railroad and she stayed home to be a full-time mother.12 Since Lolly was a common nickname for women named Lillian, she likely adopted that name as a young mother to distinguish herself from her daughter.
During the late 1920s, Lolly probably followed baseball by reading the game accounts in the Providence newspapers and occasionally attending a Providence Grays minor-league game. She might have taken the train to Boston to see an occasional baseball game on Ladies Day, which returned to both Boston ballparks in 1923, following a change in ownership at both teams.13 Because neither the Red Sox nor the Braves won many games during the 1920s, women were given free admission to the ballpark even without a male escort.14 Since Lolly had a discount train pass (due to her husband's job with the railroad) and free admission to the ballgame, a Ladies Day excursion to Boston was an inexpensive day trip now that her daughter was approaching her teenage years.
In 1930 Lolly could follow the Boston ballgames on radio, when WEAN in Providence became the first non-Boston radio station to air the WNAC game broadcasts by announcer Fred Hoey.15 By now, the Boston teams were the only pro teams available to Lolly, since the Providence team had gone out of business. Because Hoey broadcast the home games of both Boston teams (and no road games), Lolly deepened her bipartisan perspective to root intensely for both the Red Sox and Braves.
In 1932 Lolly began traveling several days a week between Providence and Boston to watch games at either Braves Field or Fenway Park, depending on which team was playing at home that day.16 She had more time now to devote to baseball, since there were fewer domestic duties at home as her daughter was 18 years old and working full-time as a bookkeeper.17 Lolly typically went to games in Boston three days a week. "I usually come up Wednesdays, Ladies Days and Sundays," she once told a Boston Globe writer between games of a Sunday doubleheader. "This morning I left the house at 7:50, went to church, and got the train. I'll get the 8 o'clock train tonight and be home by 9:30."18
Sunday was another bargain day, like Ladies Day, since doubleheaders were often played on Sunday (initially to maximize attendance during the Great Depression) and provided fans with two games for the price of one. Additionally, WNAC stopped radio broadcasts of Sunday games in 1932, as part of a strategy by the Braves and Red Sox to increase Sunday attendance at the ballpark.19 In 1932, a Ladies Day ticket was no longer free, though, as women were required to pay the federal amusement tax of 10 cents; a service charge of 15 cents was added in 1936 due to the increased demand.20 Even at 25 cents for a ticket, women continued to flock to games on Ladies Day to take advantage of the bargain price.21
Lolly sat behind first base near the home team's dugout. Her seat at Fenway Park was Section 14, Row 1, Seat 24, and at Braves Field was Section M, Row 1, Seat 1.22 She liked the first-base side of the field "because that's the angle I'm used to," she explained, since "that's where we used to sit when I was a little girl and my father brought me up from Providence to see games."23 When she traveled to see the Red Sox or Braves play on the road, in New York or Philadelphia, she would try to sit behind the visiting-team dugout at those ballparks.
The megaphone was acquired in 1938, when sporting-goods salesman Smokey Kelleher, who had grown weary of her constant yelling at the games, gave her a megaphone under the guise of helping to save her voice.24 But the megaphone just amplified her voice, as she shouted comments not just to players, managers, and umpires, but also to the official scorer and the public-address announcer. Lolly had three megaphones, each a different color depending on the ballpark. She used a grayish-green one at Fenway Park, a red one at Braves Field, and a blue one at road games.25 Ushers at the Boston ballparks stored her megaphone at the ballpark for her, so she didn't need to tote it back and forth from Providence.
While spectators at the Boston ballparks knew of Megaphone Lolly, fans who followed the Red Sox and Braves solely by radio or newspaper became more aware of her existence in 1943, when Harold Kaese wrote a profile of her in the Boston Globe.26 Baseball fans nationally were then alerted to the antics of Megaphone Lolly, when the Associated Press distributed a slimmed down version of Kaese's article, which called Lolly "the nation's No. 1 woman baseball fan."27
Her dedication to Boston baseball was rewarded in 1944 when the Braves and Red Sox both gave Lolly a free pass to their games. The Sporting News reported that "she was beyond words" after being informed that "her loyalty was appreciated to the extent she no longer would have to pay to see games."28 Following her husband's death on January 10, 1945, Lolly became an even more frequent spectator at the Boston ballparks, even though she now had to pay for train fare.29 "For the most remarkable of all Red Sox fans, there is Mrs. Lolly Hopkins, who every day occupies the same seat in Section 14, just behind the Red Sox dugout," Kaese wrote in a 1946 feature about Red Sox fans. "Although she has season passes from both the Red Sox and Braves, it cost her $1000 in train fares from Providence to Boston this season."30
Lolly reportedly had an 11-year span from 1945 to 1955 when she didn't miss a Red Sox game (except when she was hospitalized in 1948) and "was almost as faithful to the Braves," who played more night games than did the Sox.31 Lolly was a good omen for the Braves, though. In April 1948 the Boston Globe ran a photograph of her making hotel reservations for October, since she predicted the Red Sox would play the Braves in the World Series that fall. "It'll be a subway series," Lolly said, "and I'll have to be neutral."32 When the Braves clinched the pennant in 1948, she danced with ballclub President Lou Perini in the clubhouse celebration.33
As the Braves' number-1 feminine fan, Lolly was the logical choice to pick the lucky winners of an automobile from a barrel of 30,000 ticket stubs at the inaugural Appreciation Day event at Braves Field in 1947.34 Lolly also selected the winning fans at the next three Appreciation Day events, before the promotion was discontinued in 1951 (when there were far fewer fans for the Braves to appreciate). She gained national recognition after Appreciation Day in 1948 when a photo of her and the winners appeared in The Sporting News.35
Between 1946 and 1951, Lolly's two favorite ballplayers were outfielder Tommy Holmes of the Braves and second baseman Bobby Doerr of the Red Sox. When Doerr retired in 1951, he gave Lolly a present of a cigarette lighter embossed with a pair of tiny red hose.36 When the Braves fired Holmes (now manager) in 1952, "there were tears in Lolly Hopkins' eyes. She's New England's No. 1 femme fan and her No. 1 boy is Tommy Holmes."37
Lolly may have also shed tears nine months later, for two reasons. She was hit by a foul ball in the last Sox-Braves preseason game on April 12, 1953, just before the Braves departed Boston for their new home in Milwaukee.38 Bipartisan Lolly was now a one-team fan, who became part of the fabric of the Red Sox ballclub during the 1950s. When Red Sox player Harry Agganis died suddenly in 1955, Lolly was the solitary fan included in the tributes printed from other dignitaries such as the Massachusetts governor, Boston mayor, ownership and management of the Red Sox, and famous ballplayers.39 She was the first fan mentioned in an article entitled "Loyal Red Sox Fans Tell Why They See Every Home Game.40
In 1957, the Braves returned to Boston in July to play the Red Sox in the inaugural Jimmy Fund exhibition game. Although she wasn't specifically identified in the newspapers as one of the 30,572 attendees at the game, it's hard to imagine that Lolly, the staunch bipartisan fan when Boston was a two-team city, was not there. Later that year, a Boston newspaper paid her way to Milwaukee so she could watch the Braves play the Yankees in the World Series.41
During the spring of 1959 it was big news when Lolly wasn't spotted in the stands at Fenway Park, as the Boston Globe ran a photo of her empty seat.42 Lolly died a few months later, on September 23, 1959, in Providence.43 The Red Sox honored her with a moment of silence before the ballgame on July 9, 1960, as part of the Rhode Island Day ceremony.44
In 1963 sportswriter Dan Daniel, writing in The Sporting News, cited Lolly as one of the top three women fans in baseball history. A photo of Lolly accompanied Daniel's article, which labeled her as the "Hub's No. 1 Howler." Daniel wrote: "Now Lollie [sic] is gone. No woman fan has risen in her place. No woman fan could replace her."45 Not only did Lolly pass away, but so did Ladies Day at Fenway Park, which was phased out in the mid-1960s.46
In 1996, ten years after the death of Lolly's sole heir, her daughter, Leland's auctioned "The Lolly Hopkins Collection" of more than 1,200 artifacts that Lolly had collected during her lifetime as a Boston baseball fan. Included in the collection were team-signed baseballs, programs with hand-scored game accounts, and autographed photographs of her two favorite ballplayers, Holmes and Doerr.47
Lolly was honored at the Baseball Hall of Fame 55 years after her death, through her inclusion in a display of three-dimensional fabric-maché sculptures depicting diehard baseball fans.48
Acknowledgments
This biography was reviewed by Len Levin and fact-checked by Alan Cohen.
Notes
Full Name
Lillian Viola Glover Hopkins
Born
February 25, 1890 at Providence, RI (US)
Died
September 23, 1959 at Providence, RI (US)
If you can help us improve this player's biography, contact us.
https://sabr.org/sites/default/files/HopkinsLolly.jpg
600
800
admin
/wp-content/uploads/2020/02/sabr_logo.png
admin
2017-11-16 12:52:35
2020-04-09 14:40:29
Lolly Hopkins