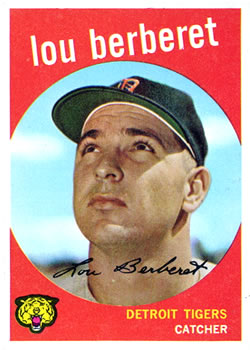 ---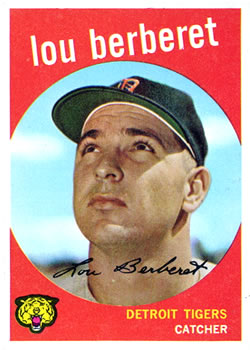 Lou Berberet was a very solid defensive catcher. With a fielding percentage of 1.000 as a catcher in 1957, he joined an elite group as only the third catcher in major-league history with zero errors in more than 350 chances. Since that time, eight other catchers have had error-free seasons with that number of chances.1 For his career, Berberet had a .992 fielding percentage.
In his 1957 season, which was his best year on offense, Berberet handled 397 chances as a catcher without an error. In all, from September 4, 1956 to April 17, 1958, he handed 441 consecutive chances without an error.2
Louis Joseph Berberet was born in Long Beach, California on November 20, 1929. His father, Emmit Berberet, was active in real estate into the 1950s. At the time of the 1930 census, the Missouri-born Emmit Berberet worked as an appraiser for a building and loan enterprise. His wife Beatrice (Caspar) was a New York native. The couple had five children, of whom Louis was the youngest. They were sufficiently prosperous that they had an 18-year-old servant living with the family. The family was of French and German ancestry.
Lou attended St. Anthony's parochial school all the way from kindergarten through high school, and was a three-sport athlete at St. Anthony's High. In 1947, Long Beach won the Southern California high school baseball title; Lou was the second-team catcher on the Southern California All-C.I.F. team (Del Crandall was the first-team catcher.)3 Lou was named Long Beach Athlete of the Year.
Lou accepted a football scholarship to attend the University of Santa Clara.4 He was a student there for two years. He played for the Santa Clara baseball team and the 1948 university yearbook observed, "Catcher Louis Berberet displayed some powerful hitting ability." In his freshman year, he hit safely in 18 games of the 19-game season, including the first 17 in a row, and batted in 19 runs.5
Berberet left college to sign a professional baseball contract offered by Joe Devine of the New York Yankees; the contract included a $21,000 bonus.6 SABR's Scouts Committee gives Santa Clara baseball coach John "Paddy" Cottrell shared credit for the signing. In a 1954 article for the Boston Traveler, Berberet wrote of the four men who had the biggest influence on his career, and Cottrell was one. When Berberet was playing football for the university, Cottrell "would rub my arm after games to make sure I hadn't hurt it for baseball."7 As to Devine, Berberet wrote, "Lots of people have asked me why I happened to sign with the Yankees. I don't feel I signed with the Yankees. I always figured I signed with Devine. I didn't talk to any other scout but Devine. I didn't want to. I thought Joe Devine was the most sincere and most likeable man I ever met. That's why I signed with the Yankees."8
Berberet was first sent to work out with former Yankees catcher Bill Dickey for a couple of weeks, and then to a "fast New Hampshire semi-pro league."9 Dickey was also one of the four men Berberet said had influenced him the most; the last of the four (and first to work with him) was his American Legion coach in Long Beach, Mike Romero. Vern Stephens was another Long Beach player Romero had gotten started in the game.
In 1950, the Yankees sent Berberet, who was listed as 5-foot-11 and 200 pounds, to play for the Binghamton Triplets, their Single-A affiliate in the Eastern League. The lefty-hitting, right-handed throwing Berberet appeared in 104 games and hit for an average of .297, and with 14 home runs perhaps showed some of the power the Santa Clara yearbook referred to. (The right-field fence at Binghamton's Johnson Field, however, had been brought in from 375 feet to just 305 feet.)10
On December 30, 1950, Berberet married Dora Lee Schuster. The couple had two daughters, Debbie and Mary Kay. They divorced much later, in 1973.
Baseball had begun to modify its 1947 "bonus rule" which required major-league teams to carry bonus players on their rosters, thereby preventing them from obtaining minor-league development. This made it possible for Berberet to continue with another team, likely at a higher level of classification, in 1951.
But with the Korean conflict heating up, the United States Army had other plans for him. Berberet had gone to the Yankees' rookie school in Phoenix for early spring training, but got the call and left for Long Beach where he was inducted on March 1. Initially stationed at Fort Roberts in California, he moved on to Fort Bliss (where he played on the baseball team with Ernie Banks), and served a full two years, through February 28, 1953.
He started the 1953 season with the Triple-A Kansas City Blues, but after 55 games and a .217 batting average, he was optioned to the Birmingham Barons in the Double-A Southern Association. There he hit .251 in 63 games. He spent 1954 with Birmingham, hitting .317 with 18 home runs in 136 games. He got called up to the Yankees in September.
These were heady times for Berberet. A poll of managers in the Southern Association had called him "the top major league prospect in the Southern."11 He had been a unanimous selection to the league's All-Star team.12 An article in The Sporting News was headlined "Berberet Billed As 'Next Berra' by Barons' Boss." Manager Mayo Smith was impressed, as was GM Eddie Glennon who said, "Berberet is one of the finest competitors I have ever seen in my years in baseball…He is a Yankee Stadium-type ballplayer and is the next Yogi Berra for the big club."13
Berberet appeared in five Yankee games, two of them only in late-inning defense. He had six plate appearances with a base on balls and two singles in five at-bats. He drove in three runs.
In 1955 Berberet was a .400 hitter for the second year in a row with the Yankees. Again it was in September (he'd spent the season with Toronto in Triple A, batting .265 with 15 homers – again named an All-Star) and again he drew one walk while going 2-for-5 in at-bats, driving in two more runs. That winter he played for Almandares in Cuban baseball. He also worked for an oil company in the offseason.14
Despite achieving a .500 career on-base percentage with the Yankees, Berberet's route to the big club was effectively blocked. Yogi Berra was only 30 and had another decade of Hall-of-Fame baseball in him. Elston Howard had joined the Yankees in 1955 and hit .290 in 97 games (mostly in the outfield, but the Yanks knew that in him they had a catcher). New York traded Berberet to the Washington Senators on February 8, 1956, as part of a seven-player deal that netted them pitcher Mickey McDermott.
Berberet, now a starter in the big leagues, played for the Senators for two-plus seasons. He was a slow starter at bat in 1956, though, only collecting one hit in his first 22 plate appearances. But the hits began to come and he ultimately played in 95 games, batting .261 with 27 RBIs. His biggest days on offense were July 15, in the second game of a doubleheader, when his three-run homer off Kansas City's Bobby Shantz provided three runs of a six-run Senators' fourth inning, and on July 28 against the Tigers. In the latter game, he hit a two-run homer in the top of the second and singled in two more in the top of the eighth. He only committed one error all year, on September 4.
In his error-free season of 1957, Berberet played in 99 games, driving in 36 runs. He hit for the same .261 average. On May 21, Ryne Duren was pitching a perfect game for Kansas City but Berberet's leadoff home run in the top of the sixth spoiled it and won the 3-0 game.
But Berberet may have considered his biggest thrill to have been the walkoff home run he hit in the bottom of the ninth of the second game of the July 24 doubleheader. It was a pinch-hit, two-out, two-run homer off future Hall of Famer Early Wynn and it catapulted the Senators from a 4-3 deficit to a 5-4 victory.
In 1958, Berberet started the season with the Senators again. After five games, he was batting .167, though he had drawn four walks and had an on-base percentage of .500. The Senators traded him to the Boston Red Sox on May 1 for infielder Ken Aspromonte. Washington was ready to entrust its catching chores to Clint Courtney; Boston's Haywood Sullivan had been injured earlier in April, and the Senators really needed a second baseman.
The Red Sox employed Berberet as the primary backup for Sammy White. They had Pete Daley as well, but were seeking someone who could provide more on offense behind White. For the year, White played in 102 games and Berberet, who hit .210 and drove in 18 runs, 57.
On December 2, 1958 the Red Sox traded Berberet to the Detroit Tigers for right-handed pitcher Herb Moford. Berberet had his busiest year in 1959. He played in an even 100 games and enjoyed career highs with 13 homers and 44 RBIs, although he batted only .216. He committed six errors. The one he probably felt worst about happened on September 15 when, in the bottom of the 11th inning, he dropped the ball as Albie Pearson of the Orioles bowled him over to score the winning run in a 2-1 game. Pearson was all of 5-foot-5 and 140 pounds.
Berberet played his final season in 1960. The year started nicely. In the bottom of the first inning of his fourth game, he faced Early Wynn again, this time with the bases loaded, and he hit a grand slam. There were two other grand slams in the American League that day, which was said to tie a league record for the number of slams in one day.15 Berberet played in 85 Tigers games that year, driving in 23 runs although batting only .194.
For his career Berberet batted .230 with 153 RBIs and 31 home runs, in addition to his .992 fielding percentage. Interestingly, his grand slam off Early Wynn in 1960 was his fourth career home run off that future Hall of Famer; he hit no more than one home run off any other pitcher.
Berberet might not have received a job offer in the big leagues in 1961, but near the end of February he let the Tigers know he was retiring. He was only 30 years old but left baseball because he decided he could do better financially outside the game. As noted by David Felton in his obituary for Berberet, "In a sign of how things have changed, Berberet retired from baseball because he could make more money as a salesman for a beverage company. He returned to Long Beach and helped coach youth teams, including the 1963 Peterson Post team that won the American Legion World Series. He was active in the Boys and Girls Clubs of Long Beach and Las Vegas."
Berberet was an assistant coach on that Long Beach team, which beat Memphis for the national championship. He took pride in his work with American Legion baseball, which he felt was an important way to teach a variety of skills – baseball and otherwise – to youngsters, and that it was respected as such by major leaguers.
Two incidents confirmed his belief. In one, Berberet was in New York to see some of the 1963 World Series and recalled, "I stopped by to say hello to Whitey Ford. The first thing he said to me wasn't, 'Hi, Lou. What are you doing these days?' but rather 'Congratulations on winning the Legion title.'"16 In the other, Ted Williams had come up to Keene, New Hampshire during an elimination game between Long Beach and Somerville, Massachusetts, and "shook hands with all our players and wished them luck while we were in Keene."17
Berberet moved to Las Vegas around 1977. After making the move, he coached football and baseball and served as an evaluator of officials for the Big West Conference. Berberet lived in Las Vegas the last 26 or 27 years of his life, with his second wife, Lila Faye.
Berberet suffered a stroke in 1993 and died on April 6, 2004 at the age of 74. The Associated Press offered an obituary on April 10,18 reporting that he had suffered six months of heart troubles prior to his death. He left behind Lila, son Tom Berberet, daughters Deborah Berberet Starmer, Lori Berberet and Mary Kato and step-daughters Brit Rodriguez and Erika Heaton. He was also survived by eight grandchildren.
Sources
In addition to the sources noted in this biography, the author also accessed Berberet's player file and player questionnaire from the National Baseball Hall of Fame, the Encyclopedia of Minor League Baseball, Retrosheet.org, Baseball-Reference.com, Rod Nelson of SABR's Scouts Committee, and the SABR Minor Leagues Database, accessed online at Baseball-Reference.com.
Notes
Born
November 20, 1929 at Long Beach, CA (USA)
Died
April 6, 2004 at Las Vegas, NV (USA)
If you can help us improve this player's biography, contact us.
http://sabr.org/sites/default/files/BerberetLou.jpg
600
800
admin
/wp-content/uploads/2020/02/sabr_logo.png
admin
2017-01-25 18:56:06
2017-01-25 18:56:06
Lou Berberet