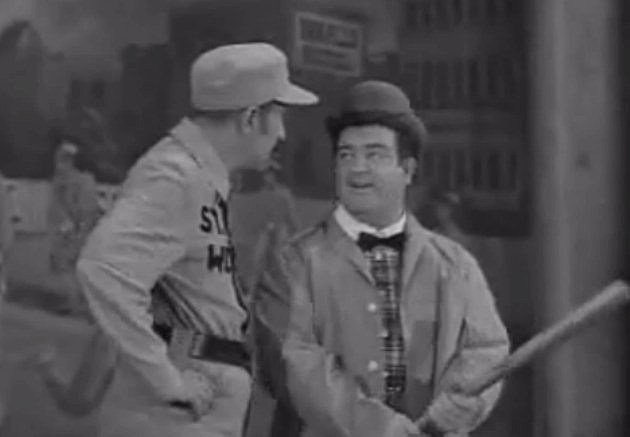 ---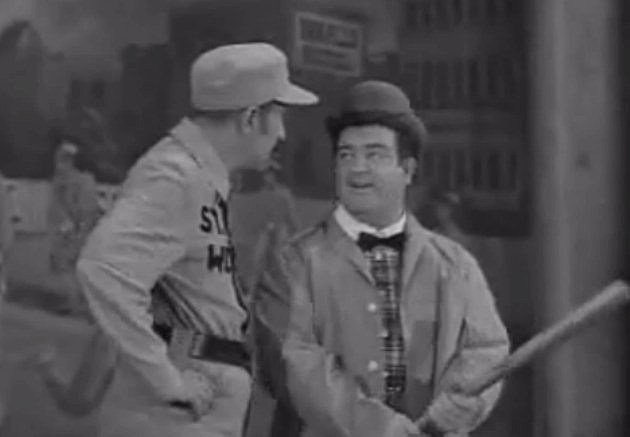 If laughter is the best medicine, then Lou Costello should have won a Nobel Prize.
Costello's legacy of laughter rests on a body of work encompassing burlesque, Broadway, radio, films and television. Its anchor is a baseball comedy sketch derived from a burlesque staple — straight man explaining to a friend that words known primarily for interrogatories are, in fact, names of people. The more frustrated the friend gets, the funnier the bit. Though the premise has several variations, the "Baseball Routine" — as it was known among performers — is the iconic version, thanks to Costello and his comedy partner Bud Abbott, who played the straight man: "Who's on First?"
In Paterson, New Jersey, on March 6, 1906, Louis Francis Cristillo was born to Helen and Sebastian Cristillo, who married four years prior, on January 1, 1902. Nicknamed "Silk City," Paterson employed thousands in the silk industry, including Sebastian, who also worked for the Prudential Insurance Company at one time.1
The Cristillos were examples of America's melting pot, with Helen's Irish-American heritage combined with Sebastian's Italian immigrant status.2 Paterson provided the name "Pat" for Lou's brother, Anthony, courtesy of a girlfriend. They also had a sister, Marie.
Lou's childhood in the Cristillo house at 14 Madison Street — later moving to 106 East 33rd Street — was an active one. The future comedian went to Public School 15, became an expert at free-throws in basketball, and went 11-1 as a boxer under the name Lou King. His pugilism ended when Sebastian discovered it.3 Lou graduated from Central High School.4
Later changing his surname to Costello, Lou entered the performing arts through vaudeville, performing at the Orpheum Theater in his home town.5 He got inspiration from Charlie Chaplin's movies and headed to Hollywood to see if he could break in to show business on a larger scale. Initially using his boxing surname King, Costello started as a carpenter and stuntman for studios. He later found work as a stage performer in burlesque, where he met his future in the form of a taller, more slender performer: Bud Abbott.6
"I was playing a little theatre in Brooklyn where Bud was cashier in the box office. Between shows I used to go out and gab with him," explained Costello. "One night I asked him how he'd like to fill in for my partner, who'd gotten sick. He said O.K., and when we went on he was terrific. We've been together ever since."7
Costello, like all good comedians, had an analytical mind that could break down a joke to reveal the process from conception to performance. "Me and Bud always pull a lot of 'skulls' on the stage," Costello furthered. "Now for a 'skull,' Bud feeds me a piece of business. I fall for it, start to walk away and then stop short, making out like I'm just wising up that something's wrong. When I say, 'Hey, what's the idea?' that's the 'skull'; that's where we get the laugh, for the piece of business becomes entrenched in the minds of the people in the audience during the few seconds I leave Bud. Since action is necessary to put his over, our problem in radio was to find a way to transmit the illusion of this action to the listening audience."8
Kate Smith, a zaftig singer whose signature was her version of "God Bless America," gave the team a slot on her radio show; success led to Broadway. The Streets of Paris, a revue, garnered the praise of iconic theatre critic Brooks Atkinson, who wrote, "Out of vaudeville and motion-picture stage shows some one has had the wisdom to bring Lou Costello and Bud Abbott to town with some remarkably gutsy stuff. They belong to the traditional school of mountebanks that pairs a dazed clown with an abusive straight man, and throws water freely in its most inspired moments."9
Abbott and Costello made their movie début in 1940's One Night in the Tropics, starring Allan Jones and Bob Cummings; it premiered at the Fabian Theatre in Paterson that October 30, complete with stars and glitz.10 They had supporting roles in Tropics and made their first starring appearance the following year in Buck Privates, a smash and the first of a trio of Abbott and Costello movies with military settings, appropriate for World War II audiences, who desperately needed humor to distract from the headlines. In the Navy and Keep 'Em Flying set the team firmly in Hollywood.
Gossip columnist Hedda Hopper stated that "Who's on First?" was the spark that lit the comedy fuse. Costello, according to Hopper's version, authored the piece and gave it to Abbott for feedback, which was positive. "The next day Abbott and Costello asked the show's producer to insert it in 'Hollywood Bandwagon,'" wrote Hopper.11
The team's success catapulted them to the top of the Hollywood food chain in 1942; they were the biggest earners among their movie star compatriots.12 It was a time when patriotism permeated America from Seattle and San Diego to Dallas and Detroit to Maine and Miami. Nowhere was that more evident than in show business; celebrities performed across the country at bond drives to raise money during World War II. A crowd of 17,000 showed up for an event in Central Park on August 26, 1942; $30,000 was raised. It was the last stop on a 34-day traipsing for Abbott and Costello, who appeared with Mayor Fiorello La Guardia, among others.
Their massive appeal triggered a spike in bond drives; as 1942 began, they set a record for individual sales at an event.13
Costello joked about the draft widening to admit those previously denied because of "minor physical defects" noted by doctors: "The way they're starting to take them now, if you can hear thunder and see lightning — you're in!"14
Abbott and Costello's success came at a steep price, known as paying your dues. Costello recalled, "We did play for years together, trying to make the grade. Why, I remember how we used to hit the tank towns and think we were lucky to make five bucks a night. Things looked pretty black for a long time. Until finally our friend Kate Smith invited us to appear on her [radio] program for one night. That was our big break."15
Costello took enormous pride in climbing the Hollywood ladder, reminding MGM chief Louis B. Mayer while filming Rio Rita, a rare non-Universal movie for the comedy duo. Costello inquired, "Do you remember a guy who worked here as a laborer — Lou King? Well I do, because I'm that guy. I've been thrown off this lot more times than you've got horses."16
Rheumatic fever struck Costello, but it did not prevent, in any way, the continuation of the team's success. Edwin Schallert of the Los Angeles Times described, "His progress is steady and favorable and, while he is still confined to bed, without any date set for his return to work, Universal, as well as M.G.M. [Metro-Goldwyn-Mayer], is planning for his early recovery."17
It was, nonetheless, a battle of mental, emotional and physical strength. Costello, who never lost his affinity for sports, revealed the difficulty of being bedridden in an article for Motion Picture Hollywood Magazine. "It wasn't easy, in those first, painful stages, to contemplate a future enclosed in four walls, bright as they were. It wasn't easy to listen to a ball game over the radio, when you want to be sitting smack bang in the front row of the bleachers shouting your lungs out. And it wasn't easy sometimes, knowing that everyone around you was able to do all the things that you yourself might never do again."18
In 1943, tragedy hit the Costello home at 4124 Longridge Avenue in Van Nuys, California, with the force of a Category 5 hurricane.19 After a year confined to bed, Costello was scheduled to make his first appearance on radio since the illness began. That day, his infant son, nearly 1 year old, climbed out of his playpen, crawled to the swimming pool, and drowned. Costello raced home from the NBC studio, but versions vary as to whether he knew or somebody drove him without telling him yet what happened. Costello went on the air that night, proving the performer's adage that the show must go on. It was an act of extraordinary, almost superhuman, fortitude. On the day that his son was to celebrate his first birthday, Costello and his family buried him after a service at Studio City's St. Francis de Sales Church.20
Costello's illness did not block the possibility of serving in uniform. Just a couple of weeks after returning to work, Costello got notice from Paterson's draft board that he fell into the 1-A category, which mandated a physical. Ultimately, Costello's service consisted of personal appearances for bond drives with Abbott.21
In 1944, Costello faced a threat requiring involvement of the Los Angeles district attorney. A contractor called Costello twice for "immediate payment." If Costello did not follow through, then bodily harm would result. Costello's press representative clarified that the original bill was paid.22
There were rough spots for the team. Even the best of partnerships suffer a shake of the foundation now and then. Such happened in 1945, only the shake threatened to uproot the team permanently. Costello explained to Elizabeth Poston of United Press in July 1945, "Why, I wouldn't trust that Abbott now as far as I could throw the Roxy [Theatre]."23 Up to that point, the partnership had been severed for five months; they performed together, but communication ended there. It was in the dressing room at the Roxy where Poston had her interview because the team was scheduled to appear there. Costello fumed at the notion that he refused Abbott's offer to repair the damage. "It broke my heart. People think I'm a heel. Why I'm the one who's made all the overtures. In California, and twice this last week."24
Abbott praised his partner, but Costello saw the words as condescending. "Lou is the funniest man in the world — when he wants to be. I trained for this job for a long time. I was in show business before Lou was born. I worked with many comics in burlesque, waiting for the right one to come along. When I saw Lou, I said, 'This is it!' I know every move of Lou's body; I know just how he is going to react. When we go out on the stage of the Roxy Theater in New York, we haven't decided what we'll do. Lou can choose from any of a thousand routines, and I'll have the questions for him."25
The team repaired their relationship.
Costello's largesse regarding children was boundless. He bonded with them off-screen and represented them on-screen with his childlike persona steeped in innocence with a dash of mischievousness. He played Santa Claus, complete with the requisite outfit, to give gifts at the Greater Los Angeles Press Club for children of members. Abbott, naturally, appeared as well.26
On February 3, 1946, Costello realized his dream of a safe and fun place for children when he helped break ground on the Lou Costello Jr. Youth Foundation at East Olympic Boulevard and Grande Vista Avenue. Costello joined forces with Abbott to underwrite the cost, reportedly more than $300,000.27 It opened on May 3, 1947.28 Four years later, the city of Los Angeles bought it for $97,500 and changed the name to Lou Costello Jr. Youth Recreation Center.29 Such was Paterson's respect for Costello that the Paterson Evening News had a highly significant part of its front page on February 5, 1947, dedicated to a photograph of the center and the beginning of a detailed article with a larger than usual font for the headline. It continued inside the newspaper with several photographs showcasing the center's amenities.30
Later that year, Costello suffered a household accident in 1947, which forced a delay of filming The Noose Hangs High: He tripped over a telephone cord, resulting in the tearing of several ligaments, pulled tendons, and a sprained knee.31 In 1949, he was hospitalized again for "major surgery."32
Television became another area of show business for Abbott and Costello to conquer. It began with the Colgate Comedy Hour, a variety show on NBC. It tired Costello, to the point of exhaustion. "That New York routine would send me to an insane asylum if I had to do a similar stint each week," revealed Costello. "We rehearsed for eight days from morning till late evenings and on the day of the actual show NBC had three husky characters following me around, apparently to keep me from deserting the ship. They wouldn't even let me wash my hands without one of the guards being at my elbow."33
Costello's physical challenges continued when he and Abbott got their own show, aptly titled The Abbott & Costello Show, which ran from 1952 to 1954 in first-run syndication. A collapse at an airport led to a diagnosis of "physical exhaustion" and a prescription for rest at home.34
Paterson never faded from Costello's heart and mind. His heritage was a source of great pride, often receiving mention in Abbott and Costello performances and, on occasion, being the site of the team's movie premieres, for example, the 1952 movie Jack and the Beanstalk at the Fabian Theater. Fifty years after the premiere, a native Patersonian recalled, "It was incredible. I thought my heart would almost break from sheer happiness. I remember seeing him come onstage to introduce the movie. For a 9-year-old, that was really a magical moment, at a time when Bud and Lou were the biggest starts in Hollywood."35
Another example is The Naughty Nineties, a movie where the team performs "Who's on First?" in front of a painting of a baseball field, which has the name "Paterson Silk Socks" on the outfield wall, an homage to the Paterson Silk Sox semipro team.
In 1956, toward the end of his career, Costello received praise from a childhood friend, Father Anselm Kreiger, who memorialized the comedian's generosity toward Paterson, first in the National Franciscan monthly publication Friar and then in a reprint in the Paterson Evening News. Costello, quietly, pled on behalf of a friend with whom he played basketball at the Paterson Armory in their youth.
John "Midge" Shields drove garbage trucks for Paterson's Public Works Department. Costello wrote a letter asking for a six-week leave of absence so Shields could visit in southern California. Given Costello's emotional bond with Paterson, the request was granted. "For six golden weeks he visited every well-known place in Hollywood and was introduced to the celebrities on every movie location. The Arabian Nights vacation over, Shields returned to Paterson with an accumulation of happy memories, ready once again to assume the drivers [sic] seat on his usual run."36
In 2006, what would have been Costello's centennial year, comedian and television personality Floyd Vivino, known as "Uncle Floyd" — a persona steeped in vaudeville-style appearance — noted that Paterson "would come alive" when Costello returned.37 His presence hovered over his hometown, even though he lived 3,000 miles away:
Lou Costello Theater in Rosa Parks High School
Lou Costello Sportsmen Club
Several donations to charity
Fans of show business knew the hometowns of other superstars, though they received scant mentions publicly: Dean Martin and Steubenville, Ohio; Frank Sinatra and Hoboken, New Jersey; Bob Hope and Cleveland, Ohio; Jerry Lewis and Newark, New Jersey; Don Rickles and Queens, New York; John Wayne and Winterset, Iowa.
Costello, in contrast, carried Paterson on his sleeve so that audiences knew where he came from.
Abbott and Costello made 36 movies and Costello made one solo film — The 30-Foot Bride of Candy Rock. A version of Don Quixote never got off the drawing board; it would have featured Costello as Sancho Panza and Abbott as Don Quixote. In 1955, the team split from Universal-International, the studio that launched their career in One Night in the Tropics and became a home — 28 of their 36 movies were made under the Universal banner for a reported figure of $150 million in box office grosses.38
Abbott and Costello finished their film partnership with Dance With Me, Henry in 1956; their comedy partnership, the year after. An item in the Los Angeles Times mentioned Costello making a movie about famed New York City Mayor La Guardia.39 Hollywood columnist Hy Gardner claimed that Costello and LaGuardia, given their physical similarities, forged each other's names when asked for autographs."40
The film never happened, nor did a Broadway musical for the kid from Paterson. Tom Bosley got that role in Fiorello! and won the 1960 Tony Award for Best Actor in a Musical. "He was actually ready to sign the contracts when he passed away," explains Costello's youngest daughter, Christine, author of the 1981 memoir Lou's on First. "My parents talked about possibly relocating to Connecticut."41
Ms. Costello identifies the mistakes, either innocent or nefarious, in Abbott and Costello scholarship, in addition to filling in the gaps of lore. "My father adopted the name 'Costello' because he did not want to bring shame on 'Cristillo' if he didn't' succeed. Dolores Costello, an actress, told him to go back to New Jersey and hone his craft. He took her name because of it. I've heard several stories about the genesis of the name, but that seems the most credible.
"When he made references to Paterson in his performances, it was a way to say 'thank you' to his hometown. He was a typical Italian-American boy of his time. Family was everything. He and Bud were not only great comics, they were great humanitarians who boosted the country's morale during times in our history when we needed it. They wanted to make people laugh, take them away from their sadness. Put a kid in front of them, they automatically performed. They paid for operations, made donations to children's hospitals, gave free performances and picked up dinners for the armed forces.
"My dad loved sports. He was very proud of my sister, Carole, because she was an athlete in high school. He was very supportive of her. Joe DiMaggio was my dad's favorite player, so that's why he was a Yankee fan. He was a fan of the prize fights and basketball, too.
"When Abbott and Costello dissolved, it was my dad's opportunity to expand into dramatic acting. His guest appearance on Wagon Train was his first dramatic role and he was very nervous about it. He really was very rattled in thinking if he could do it because he was so used to ad-libbing. This was the first time he really had to memorize a script and learn cues. Afterwards, he credited the child actress Beverly Washburn for him being able to do the show. The episode focused on their characters. It was hard for him but he realized he could do it. I remember the whole family sitting in the den. The phone rang right after the show and it was Bud Abbott offering congratulations."42
In the Wagon Train episode titled "The Tobias Jones Story," Costello played a drunk wrongfully accused of murder; Washburn played his young friend, Midge, who believed in his innocence, which was ultimately proven.
Like many comics, Costello had dramatic chops, evidenced by performances on Wagon Train and G.E. Theatre. But, like many who made funny their business, he was edgy about the lack of appreciation — respect, even — for humor. In a 1950 interview with Hedda Hopper, Costello shared, "I got a beef. Can you tell me why a comic never gets an Academy Award? I'm not talking about Abbott and myself. But what about a guy like Bob Hope?
"Why are comics regarded as such low-bodies? They're ignored by the social set — not that I personally have any hankering for society. It was the same in New York. If you worked in burlesque, the Ziegfeld crowd snubbed you. We're all in show business."43
Costello had visions of an autobiographical movie covering his family's emigration to the United States, childhood in Paterson, and comedy career.44 His premature death prevented that from happening.
It was not an easy trek for Costello to be a solo act because his partnership with Abbott was firmly cemented in the public's mind. You couldn't think of one without the other. Appearances on Steve Allen's show with Tom Poston and Louis Nye, plus the dramatic roles, were not enough. "Somewhere in this world, there must be a guy who has the format for me," wondered Costello. "I've been looking, looking hard, but I haven't had any luck. I've been accused of being too cautious, but I don't think that's the case. It's just that I can't afford to flop, not at this point in my career. What I'm looking for is something with pathos instead of slapstick. I don't want to be the brash, pie-in-the-face clown anymore."45
When Abbott and Costello went their separate ways, the latter mirrored the public's perception when asked about the split. "I guess, after twenty years, no one would believe that Abbott and Costello have split up."46
One of Costello's favorite pastimes was horse racing. His horse Bold Bazooka did not initially show promise, though. In 1955, Costello explained, "First time the horse ran he stumbled, hit the fence, got off last and got up to be fourth. Next time two horses slammed him coming out of the gate and he turned completely around. He straightened out and was second. His third start, he tied the world record."47
After Costello's death on March 3, 1959, Abbott performed with Candy Candido, but the chemistry wasn't the same. Abbott died in 1974.
Bud & Lou, a 1978 made-for-TV movie starring Harvey Korman and Buddy Hackett, was factually incorrect throughout, ignoring Costello's generosity to his friends, his home town, and children. It portrayed the rotund comedian as nasty and greedy rather than amiable and kind-hearted. The foundation bearing the name of Costello's son receives no mention. To fans, it is full of holes. To family, it is a slanderous abomination.
Costello's presence in popular culture extends beyond his career. In the late 1960s, Hanna-Barbera produced a series of short cartoons under the label The Abbott & Costello Show; Bud Abbott voiced himself, Stan Irwin voiced Costello with the catch phrase "I'm a baaaad boy!" — Costello's signature line reportedly stemmed from his school days in Paterson. Each show begins with Costello shouting, "Hey Abbott!!!"
In 1992, Paterson unveiled a Lou Costello statue in Lou Costello Memorial Park, formerly Federici Park. A bowler hat and a baseball bat recall Costello's fashion trademark and iconic comedy bit. The statue appeared in two episodes of The Sopranos, the HBO hit television series set in New Jersey.
Congressman Bill Pascrell, then mayor of Paterson, was a driving force behind the statue project. "Paterson is a town of personalities and Lou was bigger than life," explained Pascrell, a Paterson native, in 2017. "When you think of Lou Costello, you think of Paterson because he often mentioned the city in his performances. He meant a lot to the city and he meant a lot to me. When I was in the Midget League, Lou threw out the first pitch at a game. The kids that day went nuts. The adults crowded the area behind the backstop to catch a glimpse. This was around 1948. My favorite memory of Lou is the photo where the kids from all the teams surround Lou in front of home plate. Unfortunately, I didn't do too well in the game. I was the pitcher and I hit two of the first three batters! The coach moved me to center field."48
Robin Hood: Men in Tights, a 1993 movie directed by Mel Brooks, spoofing the swashbuckling title character, has a scene where an abbot, played by Dick Van Patten, walks through a crowd of underlings greeting him with proper salutations — except for one, who shouts, "Hey Abbott!"49
Saturday Night Live guest host Nathan Lane imitated Lou Costello as a cop trying to explain encountering a mummy on the December 6, 1997, broadcast.50
Abbott and Costello's comedic contribution to baseball is timeless. In 1953, the Greater Los Angeles Press Club dubbed "Who's on First?" as "the greatest comedy sketch of the 20th century."51 It was a worldwide bit; during a 1955 tour of Australia, Abbott and Costello found audiences clamoring for it.52 A walk down Main Street in Cooperstown will yield merchandisers selling jerseys and T-shirts with names of the players. They're easily available elsewhere and on the Internet. Jimmy Fallon revived "Who's on First" with added material on The Tonight Show in 2012.
The Fox animated series Family Guy parodied the routine twice. In the episode "Secondhand Spoke," a cartoon version of Lou Costello performs with an owl repeating "who."53 In the episode "Extra Large Medium," Peter Griffin pretends he's a medium, "channels" the ghost of Lou Costello, and engages in a back-and-forth with Joe Swanson about finding Melvin Hu.54
In 2007, Los Angeles Dodgers announcer Vin Scully noted the "Who's on First?" routine when he announced that Chin-lung Hu reached first base in a game. "Shades of Abbott and Costello, I can finally say, 'Hu's on First Base.' "
And in the Baseball Hall of Fame rests a printed plaque with the "Who's on First?" dialogue. Upon receiving the news, Costello exclaimed, "This is as wonderful as receiving an Oscar!"55
Acknowledgments
This biography was reviewed by Mark Pattison and fact-checked by Kevin Larkin.
Notes
Full Name
Louis Francis (Cristillo) Costello
Born
March 6, 1906 at Paterson, NJ (US)
Died
March 3, 1959 at Los Angeles, CA (US)
If you can help us improve this player's biography, contact us.
https://sabr.org/sites/default/files/CostelloLou.jpg
600
800
admin
/wp-content/uploads/2020/02/sabr_logo.png
admin
2018-01-09 03:06:53
2020-04-09 14:40:27
Lou Costello