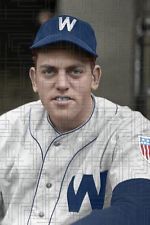 ---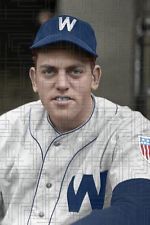 Right-hander Lou Knerr (pronounced Nerr) debuted in 1945 when big-league rosters were ravaged by World War II. He posted a modest 5-11 slate with the cellar-dwelling Philadelphia A's, but took umbrage with the label of wartime player. "Sure there were a lot of players who shouldn't have been in the major leagues, . . ." he said well after his career was over. "One factor a lot of people overlook is that many men who got to play in the majors because of the wartime shortage continued to play up there even after the stars returned."1 With rosters almost at full strength in 1946, Knerr won three games and tied two teammates for the AL lead with 16 losses. Traded to the Washington Senators in the offseason, Knerr was out of the majors by midseason, finishing with an 8-27 career record.
Wallace Luther Knerr was born on August 21, 1921, in Strasburg, a settlement of about 800 residents located 65 miles west of Philadelphia, in Lancaster County. His father, Reverend Wallace Randolph Knerr, was a Lutheran pastor in the historic town, situated on the former Great Conestoga Road connecting the City of Brotherly Love to all points west. Mother Alverde Jane (Miller) Knerr, like her husband a native Pennsylvanian, raised five children born between 1916 and 1927; four were daughters: Mary, Kathryn, Bessie, and Elizabeth. Luther, as the Knerrs called their only son, was the fourth oldest child. By 1930 the Knerrs had relocated 25 miles north, to Denver, also in Lancaster County, where Reverend Knerr served at St. John's Church.
Lou, as he preferred to be called throughout his life, was by all accounts an active and athletic youngster and was determined to play baseball even if that meant disobeying his father. Like many of the era, the elder Knerr objected for religious reasons to playing ball on Sunday. Strict Blue Laws prohibiting professional baseball on Sunday in Pennsylvania were finally rescinded by the state legislature before the 1934 season.2 According to one perhaps apocryphal story, Lou never took his spikes or glove into the house and preferred to go to a local gas station to change into his uniform.3 Diane Schantz, Knerr's daughter, told the author that as far as she knew, the elder Knerr never saw his son pitch in either the major or minor leagues.4 Always big and husky for his age, Lou got his start in baseball in a local American Legion league, where he made a name for himself in his early teens as a hard-throwing right-hander. At Denver High School, he played baseball, basketball, and tennis, and graduated in a class of 12 students in 1938.5 By that time he had helped his local Legion Post to several state tournaments.
Knerr's career in Organized Baseball got off to a bumpy start. According to sportswriter Stan Baumgartner of the Philadelphia Inquirer, Knerr was the property of the A's in 1940;6 however, the youngster, probably feeling the pressure from his father, matriculated at Muhlenberg College, a Lutheran school in Allentown, 50 miles from Denver. Never a good student, Knerr lasted just a year. In 1941 the A's assigned Knerr to the Newport News Pilots in the inaugural season of the Class-C Virginia League. Skipper Chief Bender, a former big leaguer who had won 212 games, was so unimpressed with the green recruit that he suggested to A's owner/manager Connie Mack that the club release the 19-year-old hurler. Given his unconditional release, Knerr signed with the Petersburg Rebels in the same league and finished his season with a combined 13-7 slate in 166 innings pitched. Back with the Rebels in 1942, Knerr went 16-13 with a 3.03 ERA in 220 innings.
With World War II raging and requiring the services of increasingly more professional baseball players, the number of minor leagues contracted greatly, from 32 in 1942 to 11 in the next two years. Designated 4-F (unfit for service) because of a back injury, Knerr was acquired by the Toronto Maple Leafs in the Double-A International League in the offseason and was subsequently assigned to the Albany Senators in the Class-A Eastern League to start the 1943 campaign. Facing more mature competition, the 21-year-old was 10-13, a record that was offset by a stellar 2.27 ERA in 194 innings. Another strong season (13-11, 2.97 ERA in 200 innings) followed with the Maple Leafs in 1944. In September the A's purchased a trio of Toronto hurlers, Knerr, Al Jarlett (18-9), and Woody Crowson (12-6).
Because of wartime travel restrictions prohibiting major-league teams from conducting spring training south of the Mason-Dixon Line (except for the two St. Louis clubs), the A's held camp in Frederick, Maryland, a historic town about 45 miles northwest of Washington. A contract mix-up resulted in Knerr's arriving three weeks late, leading to some speculation that he was a holdout. "He just didn't understand," said Mack, "[that] we bought him on approval instead of an outright sale."7[Mack had 30 days from the start of the season to make his final decision on Knerr, and eventually sent 39-year-old, rubber-armed graybeard Luke Hamlin north.] The A's were coming off a 72-82 campaign, their best since 1933, their last winning season. More promising for Mack was his pitching staff, whose top four starters, Bobo Newsom (13-15), Russ Christopher (14-14), Jesse Flores (9-11), and Don Black (10-12), returned in 1945; only Lum Harris (10-9) was lost to the military. Knerr, who possessed "indisputable promise," according to sportswriter Al Vermeer, was widely seen as a possible fifth starter for a staff that had finished third in team ERA the season before.8
Knerr's presence was immediately noticed when he finally arrived in camp. Standing 6-feet-2 and weighing 235 pounds or more, Knerr was described as "roly-poly"9 and "chubby."10 Over the next two seasons, Philadelphia sportswriters often made reference to his size. Stan Baumgartner wrote that he was "bigger than Newsom," himself a stout man (listed at 200 pounds on a 6-foot-3 frame). Despite his girth, Knerr surprised the A's with his athleticism and pitching. "Not the least of pleasant surprises," gushed Baumgartner, "was the speed exhibited by Luther Knerr."11 Frank Eck of the Associated Press opined that Knerr "possesses a powerful pitching repertoire" consisting of a fastball, curve, change of pace, and slider.12
Knerr debuted against the Washington Senators on Opening Day, April 17, in Shibe Park. After Newsom was shelled for four runs in three innings and 18-year-old reliever Carl Sheib for two more runs in one frame, Knerr took the mound to start the fifth, trailing, 6-2. After Walt Chipple was retired on a fly, Al Evans smashed a hot potato to third sacker George Kell, whom Knerr considered "a real great player" in an interview conducted by SABR member Harrington E. Crissey Jr.13 Knerr recalled with a laugh that the ball went straight to George and "he threw it way over the first baseman's head" [Dick Siebert] for an error which opened the floodgates.14 After a sacrifice bunt for the second out, Knerr yielded a walk and three singles to the next four batters, resulting in three runs, then threw a wild pitch, accounting for the fourth unearned run of the frame. The 23-year-old made his first big-league start on May 13 in the first game of a twin bill against the St. Louis Browns at Sportsman's Park. Knerr responded by tossing a complete-game seven-hitter to earn his first victory, 4-1, and also knocked in a run. (Steve Gerkin, another A's rookie, debuted and started the second game, but wasn't so lucky. He lost, 8-2, en route to an unsightly 0-12 slate in '45). A terrible team, the A's occupied last place from May 23 to the end of the season. Highlights for Knerr were few and far between. He lost 10 of his next 11 decisions. Even when he pitched well, such as in consecutive complete games on the road in early July, against the Browns and Chicago White Sox, yielding just three runs in 16⅓ innings, he lost when his teammates scored just once. In the second game of a doubleheader on September 10, Knerr held the third-place Browns, who were struggling to stay in the pennant race, to two runs in seven innings to improve his record to 3-11. Knerr and the A's were "playing the role of snipers," opined Baumgartner, "nuisances to a team with a chance to go places."15 Propelled by a three-game winning streak, Knerr concluded his rookie campaign with a modest 5-11 slate and 4.22 ERA in 130 innings for the A's, whose 98 losses were exceeded only by the 108 defeats of their Philadelphia brothers, the NL Phillies. Teammates Newsom (8-20), Flores (7-10), and Black (5-11) also produced losing records, while Christopher finished 13-13.
"In 1945 Connie Mack was 83 years old," Knerr told Kit Crissey about his manager.16 The venerable Tall Tactician had managed the club since 1901, when he became part-owner and treasurer, and managed the team through the 1950 campaign; however, Knerr thought Mack no longer possessed the quick, strategic instincts that had given rise to his moniker. "I felt he was too old to manage the ballclub. He still had a keen baseball mind, but he was too slow to react. He should have given the manager's job to someone like Jimmy Dykes or Al Simmons who was there at the time."17 Knerr, who roomed with veteran catcher Buddy Rosar on the road, noted that Mack was still the easygoing manager who gave his players lots of freedom, in part because he looked for men with character. "He didn't keep close track of the players after the game," said Knerr. "There was no curfew. If you wanted to behave, fine; if you didn't, OK. We were on our own. I don't think there were any players who stayed out all night, though. Most of us had a few beers after the game, and that was it."18
Knerr enjoyed an adventurous offseason courtesy of teammate Bobby Estalella. "Nobody could ever find out how old [he] was," joked Knerr about the Cuban-born flychaser, who debuted with the Senators in 1935 at the age of 24. "My locker was right next to his and … he convinced me to go to Havana to play in the winter league."19
The excitement in major-league baseball was palpable as the 1946 season kicked off. Attendance skyrocketed; the average game attendance increased from 9,122 to 14,747, and total attendance increased by more than 7 million to 18,315,756. Attendance at Shibe Park improved by almost a third, from 6,008 to 7,972 per game, which placed the A's 15th of 16 teams in average attendance. Players returned en masse from military service, too, and by one count two-thirds of everyday players from 1945 were back on the bench or in the minors in 1946.20 The A's staff once again had the service of Phil Marchildon and Dick Fowler, both of whom had missed almost three seasons. Big Luther Knerr was also back and was poised to play an even more central role following his first start, described by beat writer Stan Baumgartner as "one of the finest games of his career," at Yankee Stadium on April 22.21 Knerr came out on the short end of a pitchers' duel with Bill Bevens, losing, 2-1. Another tough-luck, complete-game loss followed in his next start, 2-1 to Boston on April 28, and a pattern emerged: the A's were offensively challenged and the lowest-scoring team in the league. Knerr finally picked up his first win of the season by pitching a complete game and knocking in a run in a 13-2 laugher against the Browns in the second game of a twin bill on May 19 in the Gateway City. Knerr won only two more games all season, one of which occurred at Yankee Stadium on June 30. "Had the atomic bomb they dropped on the Pacific fallen in the arena," opined New York sportswriter John Drebinger sarcastically in the Times, "it would not have caused greater consternation."22 Knerr had a two-hitter and a four-run lead entering the ninth before walking the bases full with two outs. After two quick balls to Snuffy Stirnweiss, Knerr was yanked and replaced by reliever Bob Savage, who eventually walked the batter but also retired Tommy Henrich to preserve Knerr's win. Knerr must have had thick skin or learned it from all the losses he and the A's suffered. The Mackmen emerged victorious in only three of the 30 games Knerr appeared in, and finished with the worst record in baseball, 49-105. "When you're in the cellar," Knerr told Crissey, "you go through the motions at the end of the season"; however, Knerr rejected any claims that the A's didn't care about winning. He noted that there were still incentives to play for better contracts and to keep a job. Knerr finished the 1946 season with 16 losses to tie teammates Marchildon (13-16) and Fowler (9-16), marking the only time in big-league history (as of 2016) that a trio of pitchers on the same team led either the AL of NL in losses. Knerr's 5.40 ERA (in 148⅓ innings) was the AL's highest among hurlers who had pitched at least 120 innings while the A's staff finished with the second worst team ERA (3.90) in the league.
Just as teams were scheduled to report to spring training in 1947, Knerr was traded along with moundmate Lum Harris (coming off a 3-14 record and 5.24 ERA) to the Washington Senators for outfielder George Binks. "You can't hold a pitcher's record against him when he pitches for the A's," said Senators skipper Ossie Bluege, who anticipated Knerr vying for a starter's job. "He doesn't get many runs to work with and the A's infield is worse than my own."23 Coming off a 76-78 season, Bluege's remarks were not a ringing endorsement of his own club, whose 142 errors were just one fewer than the A's. According to one report, Knerr shed 27 pounds at the Senators camp in Orlando.24 The weight loss apparently didn't help Knerr, especially after he was shelled for five runs and surrendered eight hits in two innings of relief against the Browns in St. Louis in his season debut on May 1. He made only six appearances, logging nine innings with an 11.00 ERA, which resulted in his demotion to Chattanooga in the Double-A Southern Association in mid-June.
Knerr bounced around in the minors over the course of the next four seasons while arm and shoulder miseries limited his effectiveness. After a 6-10 slate with the Lookouts, Knerr was transformed into a long reliever with the Jersey City Giants in the Triple-A International League in 1948, posting a 7.04 ERA in 69 innings. He hurled briefly for Albany in the Class-A Eastern League in 1949 and Shreveport in the Double-A Texas League in 1950.
In parts of three big-league seasons, Knerr posted an unenviable 8-27 record and a 5.04 ERA in 287⅓ innings. He also logged in excess of 1,000 innings in the minors.
Save for baseball seasons, Knerr never ventured far from the rolling hills and picturesque landscape of Lancaster County. He had married Helen (Gensemer) Knerr, a local woman, and together they raised two daughters, Diane and Christine. Knerr was an avid and accomplished golfer, and a member of the Mountain Springs Gold Club near Harrisburg. He was employed at a gas station, S&H Exxon in Denver. "My father was a quiet man," said Diane Schantz, "and never talked about his playing career or bragged about what he had done." She added, "He was strict with us and didn't relate much to girls. He didn't play baseball with us. In those days girls didn't play many sports anyway. He coached little league in Denver and enjoyed baseball, though, but didn't have pictures or mementos from his playing days hanging around the house."25
Wallace Luther Knerr died unexpectedly at the age of 58 on March 23, 1980, from a heart attack at his home in Reading. Services were held at St. John's Lutheran Church in Denver, where his father had been pastor and the Knerrs members, and he was buried at Fairview Cemetery.26 In December 2016, his wife was laid to rest beside him.
Sources
In addition to the sources noted in this biography, the author also accessed Knerr's player file and player questionnaire from the National Baseball Hall of Fame, the Encyclopedia of Minor League Baseball, Retrosheet.org, Baseball-Reference.com, the SABR Minor Leagues Database, accessed online at Baseball-Reference.com, and The Sporting News archive via Paper of Record.
The author expresses thanks to Diane Schantz, Lou Knerr's daughter, for a telephone interview on February 28, 2017.
Notes
Born
August 21, 1921 at Denver, PA (USA)
Died
March 27, 1980 at Reading, PA (USA)
If you can help us improve this player's biography, contact us.
http://sabr.org/sites/default/files/KnerrLou.jpg
600
800
admin
/wp-content/uploads/2020/02/sabr_logo.png
admin
2017-03-14 17:46:28
2021-09-24 08:46:52
Lou Knerr